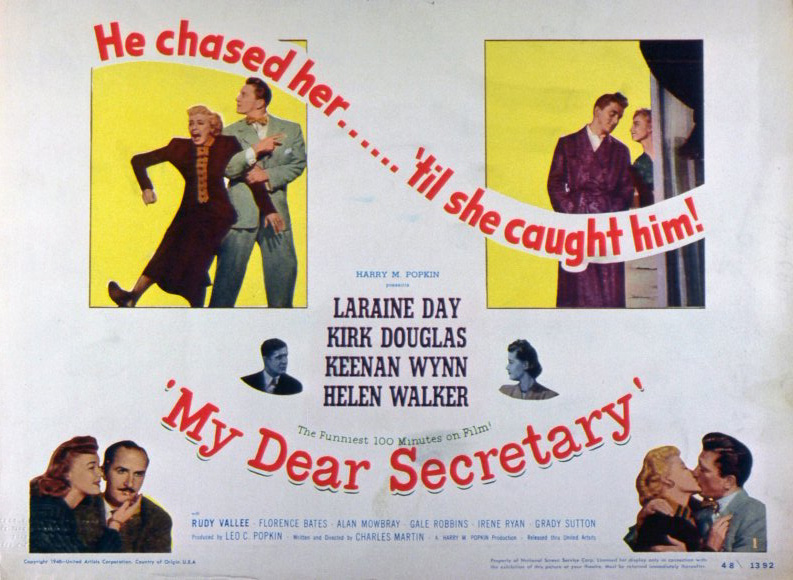 Director-writer: Charles Martin
Producers: Joseph H. Nadel; Leo C. Popkin; Harry M. Popkins
Music: Heinz Roemheld
Cinematography: Joseph F. Biroc
Starring:
Kirk Douglas as Owen Waterbury
Laraine Day as Stephanie "Steve" Gaylor
Keenan Wynn as Ronnie Hastings
Helen Walker as Elsie
Rudy Valllee as Charles Harris
Florence Bate as Horrible Hannah Reeve
Irene Ryan as Mary
Produced by comedy specialist Harry M. Popkin and his brother Leo Popkin, My Dear Secretary stars Kirk Douglas as Owen Waterbury, a best-selling novelist with an eye for the ladies. This is Douglas's first appearance in a comedy, and a romantic one at that. He's at his best as a womanizing playboy who's supposed to be an author. When he selects the sensuous coed Laraine Day to be his secretary, her job qualifications are the least of his concerns. Douglas proceeds after Day in a way that would make this picture a sexual harassment courtroom drama if it was filmed today. Instead, My Dear Secretary remains a lighthearted and giggly good time.
Synopsis:
While giving a lecture at a night school, best-selling romance novelist Owen Waterbury meets aspiring writer Stephanie Gaylord, who is called "Steve," and asks her to become his secretary. Steve immediately quits her job of five years with publisher Charles Harris, who is in love with her, and reports promptly to Owen, only to discover that, unlike the serious, sensitive man she fell in love with while reading his novel, Owen is a gambling playboy and spendthrift. He buys minks as bonuses for his string of pretty secretaries and spends his days at the racetrack with Ronnie Hastings (Keenan Wynn), his ne'er-do-well neighbor. Ronnie's endless wisecracks and bad cooking, and spontaneous visits from their eccentric widowed landlady, Mrs. Reeves, keep Owen's concentration in constant chaos.
After spontaneous trips with Owen and Ronnie to the racetrack and to Las Vegas, Steve finally takes dictation for Owen at a beachhouse. Owen outlines a story in which the novel-writing protagonist is in love with his secretary, then kisses Steve, who quits. Owen hires a detective to follow her, then at a nightclub, where she is dining with Charles Harris (Rudy Vallee), asks her to dance and proposes. They elope to Las Vegas that night, and after she learns that he has spent $20,000 in advanced royalties from his next novel, they go to a mountain retreat to write. Four months later, Owen's publisher, Fulton, rejects the novel out of jealousy over his wife, Birdie, who used to be Owen's secretary. Owen now believes that having a wife as a secretary has proved too great a distraction for his writing, and fires Steve. Steve goes to Harris with a copy of Owen's manuscript, as well as a manuscript of her own first novel, which Owen has neglected to read.
Owen later accuses Steve of having an affair with Charles, unaware that he preferred Steve's novel to Owen's, and that she turned down an offer to be published in order to spare Owen's ego. When Owen confronts Charles, Elsie (Helen Walker), an ex-secretary of Owen who now works for Charles, tells him that she is going to marry Charles, and that Steve sacrificed her career to save her marriage. The Waterburys separate, and Steve becomes a prize-winning author. After being served divorce papers, Owen finds Steve living upstairs and walks in on her as she is interviewing a male secretary. Owen finally admits to his wife that she is the better writer, then offers to take dictation for her. She wryly dictates the story of a secretary who meets an egotistical novelist in need of a psychiatrist. When Owen asks if the secretary loves the writer, she answers, "of course." Ronnie then enters with Mrs. Reeves (Florence Bates)–his new wife–and Owen and Steve kiss.
Whenever the film's pace lags, one can count on the farcical expertise of Keenan Wynn, borrowed from MGM to play Douglas' sardonic confidante, to save the day. Along with The Strange Love of Martha Ivers, My Dear Secretary is one of the most accessible of Kirk Douglas' early films, and predates, by one year, his evolution into a screen tough guy in his starring role in 1951's Champion, the first of his three Oscar nominations; the second came in 1952 for The Bad and The Beautiful; the third in 1956 for his portrayal of Vincent Van Gogh in Lust for Life (which did earn him a Best Actor award from the New York Film Critics Circle). Still ahead were his iconic portrayals of Colonel Dax in Stanley Kubrick's Paths of Glory; of the title character in Anthony Mann's Spartacus; and of Doc Holliday in John Sturges's Gunfight at the O.K. Corral. In 1991 he was awarded the AFI Life Achievement Award; in 1996 he was given an Honorary Oscar for "50 years as a creative and moral force in the motion picture community." He was written 11 books, fiction and non-fiction alike, with his autobiography, The Ragman's Son (1988) and My Stroke of Luck (2003), his account of recovering from a devastating stroke he suffered in 1992 and the life reflections it spurred, both being best sellers.
Casting note: Owen's maid, Mary, is played by Irene Ryan, who would become far better known come 1960 when she was cast as Granny on The Beverly Hillbillies.
Selected Shorts: The Animated Beatles (not Yellow Submarine)
Episode 1, premiered on September 25, 1965, 10:30 a.m.
'A Hard Day's Night'/'I Want to Hold Your Hand'/'Not a Second Time'/'Devil in Her Heart.' The Beatles are in Transylvania rehearsing in a haunted house with "monstrous" visitors; to hide from their fans, The Beatles run inside a diving bell which drops them into the ocean with a lovesick octopus. Sing Along: 'Not A Second Time'/'Devil in Her Heart'
Thirty-nine episodes of The Beatles' cartoon series were broadcast between 1966 and 1969. Each episode was divided into two separate segments (78 segments in all), with each segment portraying the band members involved in wacky, nonsensical adventures and featuring a Beatles song.
To describe the segments as juvenile and puerile is possibly an understatement–in one, the boys encounter a lovesick octopus, in another they are upstaged by an intellectually gifted ape named "Mr. Marvelous," and in another they encounter a boxed-up elephant named "Beethoven" and try to get him released.
In between each set of two segments was a "sing-along" portion of the show, in which a Beatles song was played with its lyrics printed onscreen, encouraging the viewers to do just that: sing along.
During season one, each show opened with a guitar riff from "A Hard Day's Night," then switched to the song "Can't Buy Me Love" as the foursome is seen being chased by a mob of crazed girl fans (a la the movie A Hard Day's Night). During season two, the theme from Help! was used. For season three, "And Your Bird Can Sing" was used over a different cartoon sequence.
Episode 2: 'Do You Want to Know a Secret'/'If I Fell'/'A Hard Day's Night'/'I Want to Hold Your Hand.' The Beatles go to Dublin, Ireland for the weekend where they meet a leprechaun named Willomena Morris; John is kidnapped by Dr. Dora Florahyde and Igor, both of whom want John's brain for their monster. Sing Along: 'A Hard Day's Night'/'I Want To Hold Your Hand'
The creative team wasn't much concerned with nuances, such as which Beatles voice was in the lead–John seemed to be the team's favorite lead singer, even if Paul or George were actually handling the lead vocal, and it wasn't unusual to find Paul or George doing a John lead. In one episode, during the song "I'll Be Back," left-handed drummer Ringo is seen playing a guitar right-handed.
The Beatles characters on the show were based on the early "moptop" Beatles, an image that the band had already completely discarded early in the series' run. The John and Paul characters sported ties and collarless Beatles jackets, while the George and Ringo characters wore more casual turtleneck outfits that at least conformed to the look the band adopted with the release of Rubber Soul the same year the cartoon series made its debut. The early look persisted through the series' entire run, even after the members had grown moustaches, longer hair and sported psychedelic clothing.
A brief nod is given in a later episode, as John is seen singing while wearing his trademark pince-nez, but this was the exception to the rule.
Episode 28 (1966): 'Help'/'We Can Work It Out'/'The Night Before'/'Day Tripper.' Paul and Ringo go to a fashion show in Paris. Later the designs are stolen by Jacque Le Zipper. Paul chases Jaque to the Eiffel Tower, and has trouble with heights; George becomes superstitious. The Beatles encounter the Lucky Wizard who is really a thief trying to give them bad luck and rob their money. Sing Along: 'The Night Before'/'Day Tripper'
The early Beatles image and stereotypes can clearly be seen in the show, i.e. John, the brash and confident group leader; Paul, clearly second in command, the smooth and well-spoken one; George, rather less-defined than the others; and Ringo, the clown, the band's comic The Beatles' manager, Brian Epstein, is also glimpsed, albeit very briefly, in one of the series' later segments.
John and George were both voiced by an American voiceover actor Paul Frees, while British voiceover actor Lance Percival voiced Paul and Ringo. The voices of the animated band sounded not even remotely like the actual Beatles. (Paul Frees said he did John as "a Rex Harrison voice," which he thought was quite good.) Lance Percival recalled voicing Paul as "bright and cheerful" and Ringo as "the low-voiced fall guy for the humor." Jack Stokes, director for the series at TVC, says that the voices sounded nothing like the Beatles' own Liverpool accents, "just some daft idea of how we English sound to Americans."
"The Beatles hated them," he added.
Episode 14: 'Don't Bother Me'/ 'No Reply'/ 'It Won't Be Long'/ 'I Should Have Known Better.' In Rome, Italy, The Beatles are being followed by two spies who are after their songbook, 'New Beatle Songs,' marked 'Top Secret.' The Beatles movie Help! and Oddjob from the James Bond movie Goldfinger are spoofed; In Japan, The Beatles are warned about a jewel thief named Anyface who comes in disguised as Paul, which causes double trouble. There is a spoof of detective Charlie Chan. Sing Along: 'It Won't Be Long'/'I Should Have Known Better'
For those working on the show, the clear highlight of the run was the day the Beatles actually came to visit them at the show's New York studio and watched a few episodes of the series. For the visit, each of the Beatles was assigned his own personal bodyguard.
One of the members of the crew recalls the band being friendly and communicative, George less so than the others. A strip club was located across the street from the animation studio, and another crew member recalls the strippers "hanging out the windows" trying to get a glimpse of the boys.
Ed Vane of ABC-TV recalls the Beatles being "very positive. They were extremely amused" by the cartoons. "Ringo especially. He was chuckling away and making little comments and joshing with the others."
Episode 35: 'And Your Bird Can Sing'/'Got to Get You Into My Life'/'Penny Lane'/'Eleanor Rigby.' The Beatles and a couple of hunters hunt for a rare bird called a green double-breasted tropical woosted that can sing anything, including 'Hound Dog' and 'She Loves You.' The Beatles are in India, learning how to escape from their bodies from Swami Rivers. It works, but the problem is that the souls' bodies are moving by themselves, and they must get them before it's too late. ('Love You To' is heard in the background) Sing Along: 'Penny Lane'/ 'Eleanor Rigby'
"They liked it at first," says Lance Percival. "It was an ego thing, but then they got picky. Ringo was okay with it all, and he said to me, 'I see you made me the dumb-dumb.' I told him afterwards, 'No, that's just the way the scripts were written.'"
A smash hit in season one, the show's ratings slowly fell off in the intervening years. By the fourth—and final—season, it was switched from Saturday mornings to Sundays, and only reruns were shown. By September of 1969, when the show limped to a close, the episodes seemed hopelessly dated and irrelevant.
The Beatles' reported lack of initial interest in the animated film Yellow Submarine (1968) was mainly based on their less-than-positive memories of cartoon series. (The film's director, George Dunning, and one of its animators, Al Brodax, worked on both projects.) After viewing Yellow Submarine, the Beatles agreed to film a brief 52-second cameo appearance at the film's conclusion.
Episode 39 (in two parts), end of Season 3 (9-10/1967): 'Wait'/'I'm Only Sleeping'/'Penny Lane'/'Eleanor Rigby.' The Prince of Krapotkin's girlfriend is in grave danger. The Beatles help him to save her from the Prime Minister who wants to marry her; John falls asleep while telling a story to a couple of children. In his dream he volunteers to help King Arthur and Merlin slay a vicious dragon. However, John and his mates opt instead to play music to put the dragon to sleep. Sing Along: 'Penny Lane'/'Eleanor Rigby.'
Despite their initial animosity toward the show, The Beatles mellowed towards the show in later years. "You know, I still get a blast out of watching the Beatle cartoons on TV," John once said. Even George, often the surliest of the Beatles, was quoted as saying of the Beatles 'toons: "I always kind of liked them. They were so bad or silly they were good, if you know what I mean.
"And," he added, "I think the passage of time might make them more fun now."
Sources: Wikipedia; "The Beatles Cartoons," by Eddie Deezen, Mental Floss