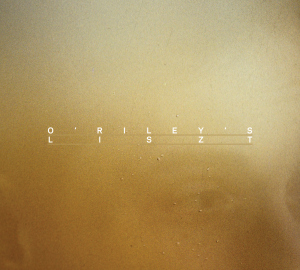 Hungarian pianist and composer Franz Liszt (1811-1886) was "the consummate concert showoff" (according to C. Michael Baily writing at All About Jazz.com), and Christopher O'Riley is making a strong bid to be his contemporary counterpart with O'Riley's Liszt (Oxingale Records), a two-CD set of piano transcriptions by Liszt, who championed "the artist as hero." When not engaging in Liszt-ian piano pyrotechnics, O'Riley is hosting one of NPR's most popular shows, From the Top, in which he performs with gifted young musicians, some not even yet in their teens. In addition to demonstrating, with humor, empathy and insights, how classical music remains relevant to and is being energized by the younger generation, even in the age of rap and EMD. (The show's website describes it as "celebrating the energy of America's kids & the power of classical music.") Classical music is not O'Riley's be-all and end-all, however. He has released acclaimed transcriptions of songs by Radiohead (True Love Waits); Elliott Smith (Home to Oblivion: An Elliott Smith Tribute), whom he has declared to be the greatest American songwriter since George Gershwin; and Nick Drake (Second Grace: Music of Nick Drake). O'Riley's Liszt is a high-water mark for him, a disc filled with scintillating virtuosic displays, executed with wit and warmth. That is has received rave reviews is the least surprising fact about it.
'…a glorious–indeed, somewhat hilarious–anachronism…'
Liszt, O'Riley's Liszt performed by pianist Christopher O'Riley (Oxingale, two discs). In one sense, this is a glorious–indeed, somewhat hilarious–anachronism, a throwback to the 19th and early 20th century age of the most outrageous virtuoso classical pianist, good taste be damned. It's full of fortissimo pyrotechnics and no unseemly dawdling at the altar of digital (i.e. of the fingers) perfection. What we have here is Christopher O'Riley–a classical pianist who hasn't been bashful about making adaptations of tunes by Nick Drake, Elliott Smith and Radiohead–having a two-disc field day with some piano transcriptions by Franz Liszt in what a large share of critics always thought of as Liszt's mode of "vulgarity and claptrap." On disc one, you've got Liszt's adaptation of Mozart's "Don Giovanni," Schumann's "Spring Song," Wagner's "Prelude and Liebestod" from "Tristan and Isolde" and two lieder of Schubert. The piece de resistance is the second disc. O'Riley plays Liszt's adaptation of Berlioz's "Symphonie Fantastique," usually presumed to be one of the great masterworks of orchestration in the history of music but which O'Riley, with typical cheek, claims came from an orchestra that was "a really heavy metal band." He also claims to prefer Liszt's piano version, which you can find an utter absurdity of the first rank while still enjoying immensely O'Riley's performance of it. With Earl Wild no longer among us, thank heaven for O'Riley. Three and a half stars. (Jeff Simon, The Buffalo News, May 5, 2013)
Christopher O'Riley, from O'Riley's Liszt, performs Frank Liszt's transcription of the March au supplice (March to the Scaffold) from Berlioz's Symphonie Fantastique. Video posted at YouTube by Oxingale Records.
'…O'Riley has a field day with it all…'
Christopher O'Riley is one of classical music's most visible populists, as host of NPR's "From The Top" and as an arranger and performer of tunes by Radiohead, Nick Drake and Elliott Smith. His interest in pop and rock adaptations seems to flow naturally to his latest project, which consists entirely of Liszt transcriptions–an adaptation of Mozart's Don Giovanni; Schumann's "Spring Song;" the Prelude and Liebestod from Wagner's Tristan und Isolde and two lieder by Schubert. The second disc is devoted entirely to Liszt's gaudy arrangement of Berlioz's Symphonie Fantastique. O'Riley has a field day with it all, making him an inheritor to the tradition of the late Earl Wild. –(WQXR.org Album of the Week, June 02, 2013)
From his piano tribute album to Elliott Smith, Home to Oblivion, Christopher O'Riley performs 'I Didn't Understand'
'…the Franz Liszt of our time…'
Pianist Christopher O'Riley's virtuosity, showmanship and iconoclast status make him the Franz Liszt of our time. In O'Riley's Liszt, Chris delves into the transcriptions of that master interpreter, adding his own touches and insight to the music of Mozart, Wagner, Berlioz, Schubert and Schumann. This multi-layered audio and visual experience is available as a 2-CD set and HD audio/video Blu-ray, as well as on iTunes and other digital sites, in both standard and high definition versions, and both stereo and HD 4-channel surround sound. Each music track has a corresponding music video. The Blu-ray also includes an artist commentary audio layer in which O'Riley brings his From-The-Top-honed speaking voice and extensive musical and historical knowledge to enliven and enlighten the listening experience. (Oxingale Records)
From his piano tribute album to Nick Drake (Second Grace: Music of Nick Drake), Christopher O'Riley performs his transcription of 'Northern Sky' at UCLA's Royce Hall, February 16, 2007
'…superbly programmed…'
…O'Riley's performance of choice Liszt transcriptions blows the top off the conventional wisdom that piano transcriptions are just background music. O'Riley's Liszt is superbly programmed to demonstrate both Liszt's breadth of musical interest and O'Riley's considerable pianistic and dramatic chops. There is a complete creative package here just waiting to be discovered.
O'Riley's Liszt is a 2-disc set that highlights the best of Liszt transcriptions other than the Beethoven. Disc 1 is capitalized by two opera transcriptions: Mozart/Liszt—"Reminiscences de Don Juan," drawing inspiration and notes for Mozart's Don Giovanni and Wagner/Liszt/Moszkowski/O'Riley—Prelude und Liebestod from Tristan Und Isolde (O'Riley transcribing Moszkowski's transcription of Liszt's transcription of Wagner…got that?). The two remaining short pieces are "Spring Songs" by Schubert and Schumann. In all, O'Riley's playing is scintillating. He performs with a crazed confidence that lingers erotically on the edge of falling apart altogether only to be completed as Liszt certainly would have approved. The wow factor is pretty big here.
But it is the second disc where O'Riley runs the flag up the pole and fires the cannons and, on no better piece that Hector Berlioz's Symphonie Fantastique. Liszt loved to play "Marche au supplice," ending his concerts with the final falling note. O'Riley does the same and lives up to all of his accolades here, capturing Berlioz's nervous energy as interpreted by his friend Liszt. The "Un Bal" waltz is beautiful and fragmented as the march in "Marche au supplice" is hesitantly determined. This is a whirlwind performance that properly approximates the hubris necessary to transcribe and play this music. (C. Michael Bailey, All About Jazz, May 3, 2013
For an entertaining discourse on Liszt and Berlioz, written in their own time by the German poet Heinrich Heine (a friend of Berlioz's), visit this month's Pleasures of Music installment.