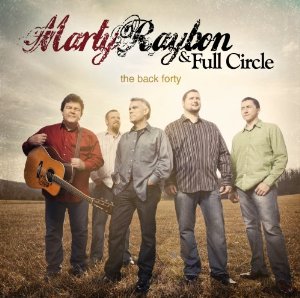 THE BACK FORTY
Marty Raybon & Full Circle
Rural Rhythm
Five new Marty Raybon co-writes; superb instrumental support from his band Full Circle supplemented by a bevy of high-level stringed instrument masters; and arguably the finest singing the main man has ever laid down in a studio (recording in Muscle Shoals will do that for you). Not a bad way for Marty Raybon to begin his 40th year in the business, with one of his finest long players yet.
The early buzz around The Back Forty centered on its driving opening number, "That Janie Baker," one of three songs Raybon co-wrote with John Fountain. Featuring Tim Crouch's frisky fiddling and tasty solos from Scott Naiper on mandolin and Chris Wade on banjo, the song lauds both the uncommon beauty and the uncommon oratorical gifts of a gal who can "bring religion to a bad man or make a good man see his wicked ways," and thus spends her days "moving mountains." This presumably is an update of the Dennis Linde-penned song Raybon recorded in 1993 with the band he founded, Shenandoah, a hitmaking aggregate if ever there was one. Back then, in "Janie Baker's Love Slave" (a #15 country single), the lady in question was so desirable the singer gave up bowling, fishing and drinking ("..since I've been exposed to her kind of kissing/there's nothing else I wanna do"); twenty years later it appears she's as alluring as ever but is using her super powers for a greater good. As heartfelt as his vocal is on "Janie Baker," Raybon is deeply soulful and doubly moving in delivering John Schweers's plaintive heartbreaker, "She's Just an Old Love Turned Memory," a midtempo number keyed by the emotional, richly textured lead vocal and high, soaring choruses, along with another superb Tim Crouch fiddle solo, all ache and cry. Against a backdrop of twin fiddles by the double-tracked Crouch, Raybon sends out a vocal so wounded on "The Late Night Cry of the Whipporwill" as to make his performance on "She's Just an Old Love Turned Memory" seem almost cheery by comparison, doing justice to the song's dark confessions of obsessive love and, as well, to the original, haunting version recorded in 1988 by the Virginia Squires.
Marty Raybon discusses the story behind The Back Forty in part 1 of a two-part interview
Marty Raybon, part 2 of his background interview about The Back Forty
Clearly there's plenty of hurt to go around on The Back Forty (the sprightly "Hurt Me All the Time," a feisty remake of a non-single track included on Joe Diffie's 1998 Greatest Hits album, might well have been the album subtitle), but lighter moments do surface from time to time. One of the most engaging of these is the final cut, a Raybon-Jerry Salley co-write, "Mountain Love," all upbeat, positive energy in mood and execution, with a folksy, joyous vocal from Raybon and a frolicking fiddle solo courtesy Mr. Crouch, the album's clear co-star. You have to go back to 1954 for Webb Pierce's original heart tugging confession of all consuming love, "Slowly (I'm Falling)," a mammoth hit single (17 weeks at #1 country, some 36 weeks on the chart in toto—one of 30 consecutive Top 10 singles Pierce charted as a hitmaking juggernaut between 1952 and 1957) almost as notable for Bud Isaacs's classic pedal steel intro as it is for Pierce's piercing vocal. Raybon and company aren't trying to compete with Webb's swooning treatment; instead, they pick up the pace with a bluegrass-centered strut fueled by Zach Rambo's fleet mandolin run and an exuberant lead vocal by Marty and high-spirited choruses in harmony with Tim Raybon, this being one of several tracks featuring the former Raybon Brothers duo. The Raybons save their best for a warm, reverent take on Rusty Goodman's classic hymn, "Look for Me (For I Will Be There Too)," with the brothers' voices uniting on the album's sweetest harmonies. It amounts to a breather between the songs of love and the songs of loss (and, of a different category, "The Big Burnsville Jail," Raybon's original, hard-edged tune about an unrepentant convict who's certain no jail can hold him) and may well be the one that stays with listeners the longest. For someone marking forty years as a professional entertainer, Marty Raybon hasn't run out of challenges and, more to the point, is still up to the challenge of making meaningful music. There's no end in sight.