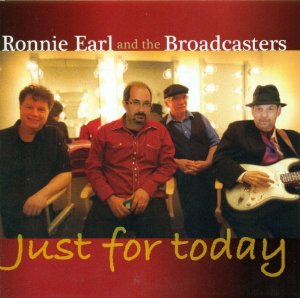 JUST FOR TODAY
Ronnie Earl and the Broadcasters
Stony Plain
Assembled from concerts recorded at three different venues in three different Massachusetts cities, Ronnie Earl and the Broadcasters' Just for Today is an invigorating live set from one of the masterful guitarists of our time and his seasoned band of co-conspirators. Together, Earl, Dave Limina (piano, B3), Lorne Entress (drums) and Jim Mouradian (bass) are into their eighth year (Earl has been playing with various configurations of Broadcasters for a quarter-century), and a listener can feel the bond between them in the band's no-frills musical discourses.
Born in Queens, NY, in 1953, Earl was 20 years old when he began learning guitar, and older still when a visit to a Muddy Waters concert inspired in him a dream of becoming a professional. He set about learning from masters in Boston, Chicago, New Orleans and Austin, and in '79 joined Roomful of Blues as lead guitarist; a year later he formed the first Broadcasters lineup. Only ill health has kept him from working the road more rigorously in recent years, and perhaps it's that intimation of mortality that inspires his touching liner note sign-off here, to wit: "Always carry hope and an open heart in your life. Don't quit before the miracle happens."
Ronnie Earl and the Broadcasters, album teaser for Just for Today
It's not a stretch to say Earl made some miracles happen on the nights in question here. One of the first and most memorable comes early on, in the set's second number, "Blues for Celie," which follows a rousing opening shuffle, the rumbling "Big Train." Settling into a reflective tone, Earl fashions a masterful seven-minute solo of sustained tenderness, comprised of soft, crying flurries of notes; a weeping bent note there, a sighing chord here, and, finally, heightening the intensity as Dave Limina starts shadowing him on the B3. The song's closing 2:32 is a heated dialogue between Earl's screaming guitar and Limina's wailing organ pushing him harder until it all comes down to a mutual exhale as the players cross the finish line. It's almost like two songs in one, of wildly disparate temperaments, and it keeps you strapped in for the full nine-and-a-half minute ride. Miraculous, indeed. There is, in fact, a song here titled "Miracle." It follows "Blues for Celie" and at first seems to share some of that song's gentle melancholy, but then it soars and howls, turns harsh and biting as Earl squeezes sparks out of the neck and Entress thunders on the drums, before Earl takes it inside for a soulful, muted windup.
'The Big Train,' the first cut on Ronnie Earl and the Broadcasters' new live album, Just for Today
Being a man who respects the deep roots of the music he plays, Earl has always paid homage to those who blazed the trail for him. So it is that this set includes a tough, spiky–and for a bit, ruminative–"Blues for Hubert Sumlin," set against the rich, humming backdrop of Limina's B3 and the punch of Entress's scattershot drum fills. "Robert Nighthawk Stomp" is as colorful and swinging as its title suggests, a real freewheeling workout of fast and furious guitar, honky tonk piano and cheerful vibes. "Rush Hour" salutes Otis Rush with a sizzling, muscular guitar solo–arguably the most gripping of this one-hour-plus set–featuring a scintillating balance of astringent, trebly passages and fat-toned phrases amidst deep blue moodiness and heated outbursts–the fleeting frailing at the 7:05 mark is startling in its abruptness–all setting up a cool closing dialogue between Earl, Limina and Entress. Then there's a sublime take on Coltrane's "Equinox," not as pensive as the original but retaining its slightly Latin feel. Earl gives Limina room for an extended, discursive solo before he returns with a top strings run that is prologue to him settling back into a more understated, deliberate exploration of the minor-key melody the rest of the way (I swear I heard him quote a couple of bars of Herbie Hancock's "Watermelon Man" in there).
From Ronnie Earl and the Broadcasters' new live album, Just for Today, 'Vernice's Boogie,' a boogie woogie showcase for piano man Dave Limina
Though Earl's reputation rests on his guitar playing, he knows from good singers–after all, the extraordinary Darrell Nulisch was the original Broadcasters vocalist back in '88. So it is that he brings on Diane Blue–whom he extols on her website as "one of the best singers in the world"–for a riveting, soul baring reading of "I'd Rather Go Blind"; and though Earl takes a tasty, haunting solo when the time comes, he's content to stay out of the formidable Ms. Blue's way and let her scorch the evergreen with a gritty, emotionally raw reading in a steamroller of a performance. Needless to say, after Ms. Blue leaves the audience and listeners limp Earl has the good sense to close the disc with beautiful meditation, "Pastorale," a quiet, introspective outpouring every bit as soothing as its title suggests. It's always good news when Ronnie Earl comes around again, and nothing about Just for Today changes that fact. Historically, live albums have been dicey propositions but no such qualms attend this one–real and immediate, its cup runneth over with the joy of life and of making music for public consumption.