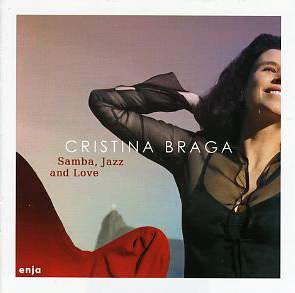 SAMBA, JAZZ AND LOVE
Cristina Braga
Enja Records
Being the foremost harpist in Brazil is about as unusual a distinction for a musician as being a classical harmonica player anywhere (a la John Sebastian Sr.). Cristina Braga is indeed Brazil's foremost harpist, and she has been an ambassador in that regard both for her country and her instrument. She's crossed genre lines to perform with classical and popular artists alike (both Sting and his Police cohort Andy Summers have employed her services), with symphony orchestras and in various competitions, including one held in 2009 by the Federal University of Rio de Janeiro, after which she was hired by the University as Professor of Harp. Her discography numbers 16 albums, released both independently and lately through the Enja label. The captivating Samba, Jazz and Love is the latest of those Stateside releases, and here's hoping it's followed by many more. Singing in English and Portuguese (with English translations in full or in part in the liner booklet to give listeners at least the gist of the song), Ms. Braga follows in the seductive footsteps of her illustrious, alluring Brazilian predecessor Astrud Gilberto, although the former's voice is even more feathery than the latter's, amazingly enough.
Cristina Braga, 'Preciso me Encontrar,' by Candeia. Cristina Braga on harp, Ricardo Madeiros on baixolã. A version with Candeia's sensitive lyrics is featured on Samba, Jazz and Love.
By harp ye shall know her, but Ms. Braga, in addition to emphasizing her growing facility as a vocalist, shows off one fine band here as well: producer Ricardo de Medeiros also handles the bass; Jesse Sadoc plays trumpet and cornet with Miles-inspired sensitivity and Chet Baker-like vulnerability; and Arthur Dutras's lyrical approach to the vibes demonstrates how much he's learned from the best sources, namely Milt Jackson and Gary Burton, and then built his own sound. The music they make is easy on the ear, but this degree of assured command of tone, tempo and texture is the fruit of hard-won experience and dedicated practice. Every bit her bandmates' equal, Ms. Braga has no trouble fitting right in. She adds wispy, fluttering glissandos underneath Sadoc's tender trumpeting on a touching reading of "Triste de Quem"–no small potatoes, this song: written by Vinicius de Moraes, a seminal figure in bossa nova history, it was first recorded in 1963 by the great Brazilian vocalist Elizeth Cardoso (often identified as Elizete Cardoso), whose career dated back to 1939 and who is credited with releasing the first bossa nova album, Canção do Amor Demais, which introduced the guitar work of João Gilberto on songs penned by de Moraes and Antonio Carlos Jobim (aka Tom Jobim). To the playful, shimmering groove of Só danco Samba ("I Dance Only Samba") she thrashes at the strings, adding an edgy flavor to the samba in setting up Dutras's robust trumpeting and a rumbling bass solo courtesy de Medeiros. The delicate introduction she strums in "Samba e Amor," accompanying her breathy vocal, is a tease, setting up the band's strutting entrance and shuffling, horn-punctuated groove in this Chico Buarque song of a different stripe–he's known for his socially conscious lyrics but the opening lyric here gives the song away as being of a more personal, and intimate, bent, to wit: "I make samba and love until late, and I'm very sleepy in the morning…"
From her 2011 album, Feito Um Peixe, Cristina Braga performs her original song, 'Peixe.'
No matter the language, Ms. Braga is never less than arresting when it's time to sing. Her English rendition of Jobim's classic "Desafinado" sounds a little too deliberate on first blush, but over the course of its 4:40 running time, the rhythm of her singing becomes near-hypnotic, even more so on repeat listenings when the performance really gets under the skin. More sophisticated still, the sense of wonder, youthful and invigorating even as it reflects an appreciation for a spiritual  moment in nature, infuses her reading of "Rio Paraiso," a song for which she and de Medeiros wrote English lyrics extolling Providence's guiding hand in the natural world: verses referencing "wind of the sea," "a sunny bath," "a kiss of light," beautiful mums," and when night falls, "Ah, it's gotten late/ the sunset comes/and shows how God/can improvise." In the end, its message is to live: "Not a soul wants to leave this stage/why should we dream/if paradise is today." It's not the only message Ms. Braga advances here: the dreamy, sensual album opener, "Rio Parfait" (co-written by de Madeiros and Bernhardo Vilhena), low-key and all come-on in the simmering heat coming off the vibes and the come-hither harp flurries, posits love in two forms: "I am yours/I love you/love and trust and faith/in the human race and entre nous/le parfait amour."  From the legendary Brazilian samba master and songwriter Candeia comes "Preciso Me Encontrar" ("I Need to Find"), emerging from Ms. Braga's hammered, dissonant chording into a medium-cool groove over which she fashions an arresting, firm vocal advancing lyrics that translate to "Let me go, I have to walk/I have to laugh so that I don't cry…/I want to see the sun rise, the rivers flow, the birds sing, I want to be born, I want to live"; in between verses, Sadoc cuts loose on a sputtering, insistent trumpet solo, then yielding to the harp, all delicate and sensitive by contrast. Finally, on Jobim-de Moraes's throbbing, silky "Canta Mas," Ms. Braga implores, "Sing, feel the beauty, sing, forget sadness/Sing so that you don't cry/the one who sings sends his sorrows away." Humanity abounds within this disc and in this artist and her co-conspirators. Bracing and beautiful, Samba, Jazz and Love is where content meets form in a most unforgettable way.