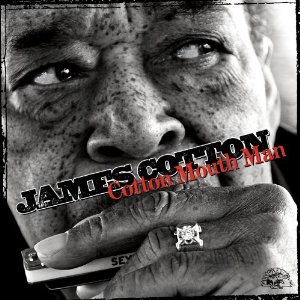 COTTON MOUTH MAN
James Cotton
Alligator
The once-robust singing voice of James Cotton has been all but silenced by throat cancer in recent years, but his full-bodied harmonica blasts have joyously survived unscathed to record and tour anew. Case in point: Cotton Mouth Man, the followup to his Grammy-nominated 2010 Alligator set Giant.
The real auteur of the disc is producer Tom Hambridge, the man behind Buddy Guy's recent album Living Proof. Recording in Nashville, Hambridge co-wrote every song on the set save one, variously collaborating with Gary Nicholson, Delbert McClinton, Richard Fleming, and Cotton himself (Hambridge plays drums on all but two tracks to boot). "Mississippi Mud," "He Was There," and the title track either chronicle events throughout Cotton's career or reference him directly, tastily accentuated by their subject's own heavily amplified harmonica.
Since James can't sing 'em, a parade of name guest vocalists roll through the proceedings, sometimes falling a tad short of Cotton's own fondly remembered front work. Gregg Allman does a vocal turn on "Midnight Train;" Warren Haynes tears through the rock-slanted one-chord boogie "Something For Me," which comes slathered in raucous slide, and Keb Mo largely keeps it low-key on "Mississippi Mud" (it's weird to hear him sing about Cotton's life in the first person) and "Wasn't My Time To Go."
'That's Alright,' James Cotton, at the Riverfront Blues Festival, Portland, OR, August 5, 2011, with Darrell Nulisch on lead vocal
Ruthie Foster contributes an emotionally charged vocal on the downbeat minor-key entry "Wrapped Around My Heart," and the ever-reliable McClinton steps up to the mic for a driving "Hard Sometimes," one of the set's highlights. Darrell Nulisch, the longtime regular vocalist in Cotton's own band, sings five more; he may not have the marquee value of some of the other singers on the set, but he's better suited to Cotton's needs. Nulisch delivers the disc's lone cover: Muddy Waters' "Bird Nest On The Ground" is a fitting choice, since Cotton spent a dozen years in Waters' employ after coming to Chicago with him in 1954 (he was gone by the time Muddy waxed it for Chess in '67). The opening title track romps along fine until Joe Bonamassa unfurls a bizarre rocked-out guitar solo that temporarily derails it (fortunately, it's his lone appearance).
Chuck Leavell provides a steady presence on the 88s throughout; solid Nashville sessioneers provide much of the backing, though Cotton's own bandsmen (guitarist Tom Holland, bassist Noel Neal, and drummer Jerry Porter) turn in nice work when called upon. The acoustic closer, "Bonnie Blue," lets us know that Cotton is still game for showcasing what's left of his ravaged pipes in the right situation; over Colin Linden's sympathetic resonator guitar and his own tough harp, he movingly tells us of his life with a gravitas that's impossible to replicate.
The Cotton discography harks all the way back to 1953-54, when he made two singles for Sun Records in Memphis; continues through a lengthy apprenticeship with Muddy; and picks up steam with the mid-'60s launch of his own career as a front man (his spectacular high-energy approach, where sweat would spray the stage in torrents as he bounced around like a manic pinball, was a sight to behold). We can be thankful he didn't give up when throat cancer threatened his livelihood–as Cottom Mouth Man proves, this invaluable artist continues to give all he can to the genre that made him an enduring star. The conversation about national treasures begins right here.
Bill Dahl has been writing about blues, postwar R&B, and soul music for 35 years. He specializes in producing, compiling, and annotating CD reissue collections and has written for numerous newspapers and magazines (his Reissue Roundup column appears in Blues Revue). His website, www.billdahl.com contains features and reviews covering a wide range of vintage music genres. 
Bill Dahl's review of Cotton Mouth Man was published originally in the Chicago Blues Guide, the Windy City's go-to resource for all things blues, and is reprinted with permission of the CBG and the author. On May 8, Bill won recently honored with a Blues Music Award in the Historical category, for liner notes he contributed to Bear Family's 12-CD collection, Plug It In! Turn It Up! Electric Blues, The Definitive Collection 1939-2005.