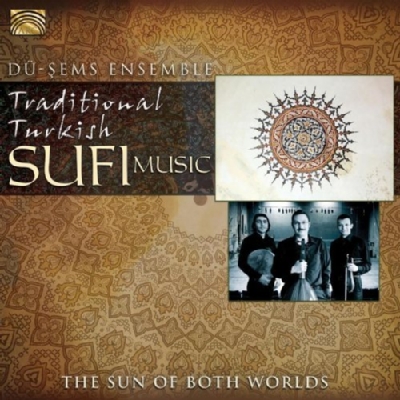 THE SUN OF BOTH WORLDS: Traditional Turkish Sufi Music
Dü-Şems Ensemble
Arc Music
Formed in 2010 by ud and sehrud player Osman Kirklilci, kemence player Emre Erdal and kdum, bendir and halile player Osman Oksuzoglu, Dü-Şems has set out on a musical journey to gain some international attention to traditional Turkish music, while encouraging and playing with other traditional musicians from Greece, Syria, Iran and the Balkan. Keeping carefully to original composition forms and original instruments, Dü-Şems offers a musical glimpse into the rich traditions of Turkish music.
The Sun of Both Worlds: Traditional Turkish Sufi Music isn't in any way light listening. No, the music on this CD is heady, powerful and breathlessly exotic. In a series of ilahis or hymms, kasides or poems and salats or prayers, Traditional Turkish Sufi Music takes the listener on an astonishing journey ripe with ud, kemence, bendir, kanun, ney and cello.
Backed by vocalists Ahmed Sahin, Bekir Buyukbas and Yunus Balcioglu and ney player Volkan Yilmaz, cellist Volkan Ertem and bendir and arbane player Can Akin, Dü-Şems Ensemble's sound glories in the rich musical traditions and profound faith of Sufism. Set without breaks, one track seamlessly flows into the next track, providing the listener with a collective of hymns and prayers that is both galvanizing and deeply evocative. –TJ Nelson, World Music Central, January 24, 2013
Dü-Şems Ensemble, Sufi Music 1
Two Worlds, A Single Sun: 'This is the music in our hearts, and if you'd like to join us, we can walk along together'
All three core members of Dü-Şems–oud player Osman Kırklıkçı, kemençe player Emre Erdal and percussionist Osman Öksüzoğlu–are currently members of the İstanbul State Turkish Music Research and Performance Ensemble and have previously performed in numerous projects with other Turkish musicians, which gave them the foundation they needed to come up with their own project–experience, knowledge and confidence.
But what makes Dü-Şems special is not the music they perform; it is their main goal in forming this ensemble in the first place: "To demonstrate the musical interaction between Turkey and its neighbors–Greece, Iran, Syria and the Balkans–by performing music from the same period from these countries," in the words of oud player Osman Kırklıkçı,
Their aim is to make the music of this corner of the world perceived and evaluated by audiences within its original context and the period in which it was made. Accordingly, their repertoire consists of music from Ottoman Turkey and neighboring regions from the 10th to the 21st centuries. Öksüzoğlu says they perform their repertoire using authentic period instruments, thus staying as true as they can to the original versions of the pieces they perform. And their repertoire varies in language, too, covering almost all languages spoken in a broad region stretching from the Balkans to Iran.
Dü-Şems Ensemble, Sufi Music 2
Dü-Şems Ensemble, Sufi Music 3
As for the name of the ensemble, "Dü-Şems" means "two suns." But what does it stand for? Kırklıkçı explains: "I'm from Konya. All three of us have a huge adoration for Mevlânâ Muhammad Jelaluddin Rumi and Shams. We wanted the kindness and protection of Shams to be with us. But we found out that an ensemble [named after him] already existed in Iran, so … we chose [10th-century] Islamic-Turkic philosopher al-Farabi's composition 'Dü-Şems' ['Du-Shams,' or 'Double Sun'], as the inspiration for our name."
Of course this is not the only allegory behind their name; the ensemble makes Sufi music but they're not into only one source of music; they're involved with music from the Balkans, Iran and the Arab world.
Dü-Şems Ensemble, Memorializing Ceremony for Mevlana's 739th lefting year
Dü-Şems Ensemble was founded in 2010 by Osman Kırklıkçı, Emre Erdal and Osman Öksüzoğlu in Istanbul. The ensemble was created with the intention of bringing traditional Turkish music to an international audience and of collaborating with traditional musicians from other countries such as Greece, Iran, Syria, and the Balkans. The name of the ensemble comes from the Turkish Islamic philosopher Alpharabius (870-950) who is known as "Muallim-i Evvel" (The first teacher) and who wrote the composition "Dü-Şems" /Du-Shams/ (Double Sun).
Dü-Şems Ensemble has been giving concerts and producing recordings to bring the riches of Ottomon Turkish music and the music from nearby regions to the world. Their repertoire consists of compositions that were written between the 10th century and 21st century and that have been passed down through written and oral traditions. In interpreting these compositions, Dü-Şems Ensemble carefully keeps to their original forms and uses authentic period instruments, recreating their historical sound as closely as possible.
One of the main of aims of Dü-Şems Ensemble is to highlight the way Turkish music has always interacted with musics from countries such as Greece, Iran, the Balkans and Syria by performing correlating pieces with musicians from these countries.
The repertoire of the ensemble is composed of various pieces from these different geographical regions and languages. In this way, Dü-Şems Ensemble conveys a unity of different languages and different identities through the common language of music.
The group's album title also refers to the Prophet Muhammad. Erdal says: "We're talking about two suns here, but it's actually two worlds and a single sun; a sun that illuminates both our physical world and our emotional spiritual world. We take on that concept musically, too; the two basic elements that make up music are the melody and the rhythm. They're like two separate worlds. We bring those two different worlds together."
Dü-Şems Ensemble, Sufi Music
The ensemble has three core members but they're joined on the CD, as well as in their live performances, by numerous well-known instrumentalists from Turkey, including cellist Volkan Ertem, ney (reed flute) player Volkan Yılmaz and Can Akın, who plays the percussion instrument bendir.
Despite the fact that Dü-Şems is involved with music from a wide region, their debut album includes select Sufi hymns. Kırklıkçı says the reason for their choice of repertoire for their debut CD was based on their efforts to first declare who they are. "Our perspective covers the entire world, but the center of the compass is here. We need to first put forward who we are. Only then we can come together with musicians from other cultures who feel close to what we're presenting," he says. "When you're introduced to someone, they ask you where you come from. The reason we decided to set out on our journey this way is that we wanted to be able to tell other musicians: 'This is who we are, we come from such and such a place. This is the music in our hearts, and if you'd like to join us, we can walk along together'." –Ali Pektas Istanbul, in Today's Zaman, February 3, 2013
Dü-Şems Ensemble, 'Kir Kostaki Elakona'
Meet the Dü-Şems Ensemble
Osman Kirklikci was born in Konya and performs on both the oud (a Turkish stringed instrument) and the shahrud (a larger version of the oud). He completed his bachelor's degree at Istanbul Technical University (ITU) Turkish Music State Conservatory and his Masters Degree in Social Science at the same university. He performed in The Ministry of Culture and Tourism Konya Turkish Tasawwuf Music Group between 1998-2007 as an oud player. In 2002, as a member of Bezmara Ensemble, he attended to The Silk Road Festival sponsored by the Smithsonian Institute and YO-YO MA. With this ensemble, he recorded an album called Spendlours of Topkapı released by Radio de France –Occora in 1998, followed by the abums Yitik Sesin Peşinde and Mecmua'dan Saz ve Söz. He has given concerts in the U.S.A., Russia, Germany, Holland, Denmark, France, Egypt, Pakistan. Currently he is working in the Istanbul State Turkish Music Research and Application Group as an oud player.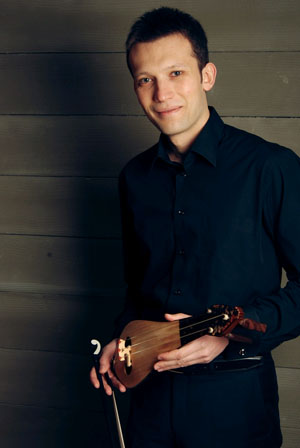 Emre Erdal (right): Born in 1981 in Ankara, he was admitted to İstanbul Technical University Turkish Music Conservatory, Department of Instrument Training Preparatory Unit as a student of classical kemence. After completing his secondary and high school education in 1998, he continued his undergraduate education in the Higher Instrument Training Department of the same university. Having taken lessons from Kamuran Erdoğru, Cüneyd Orhon, Erol Sayan, Alaeddin Yavaşça, Sadun Aksüt, Fikret Kutluğ, Haydar Sanal, Selahattin İçli, İhsan Özer, Mehmet Emin Bitmez, he graduated in 2004. Between 2003-2007 he participated solo and group performances in the broadcasts of the TRT Ankara Radio and Television, gave concerts in Middle East Technical University, Ankara University, Hacettepe University, Bilkent University and Gazi University. In 2004, he got sound master training in Turkish Radio and Television Corporation, Ankara Radio and performed as the sound master in concerts and tape recordings of Turkish Classical Music, Turkish Folk Music and Polyphonic music. In 2006, he took part in the Directorate of Religious Affairs Chorus of Sufi Music and being successful in the auditions in 2007, he was appointed to Republic of Turkey Ministry of Culture and Tourism The Directorate of Istanbul State Turkish Music Research and Application Ensemble. Between 2009-2012, he performed in a TV programme named "Gonul Makamı," broadcast in TRT.
Together with the groups he worked with, he gave concerts in Germany (Berlin), Denmark (Copenhagen, Aarhus), Bosnia-Herzegovina (Sarajevo, Mostar), Italy (Rome, Torino, Pisa), Saudi Arabia (Riyadh, Jeddah), Switzerland (Geneva), Egypt (Cairo) and Azerbaijan (Baku). Since 2007 he has been working in the Istanbul State Turkish Music Research and Application Group as a Kemençe player.
Osman Öksüzoğlu was born in Şanlıurfa. In 2000 he completed his Bachelor's degree at Harran University Music Department, after which he worked as an academic in Afyon Kocatepe University (AKU) State Conservatory between 2001 and 2007. In 2004 he completed his Master education in AKU Social Science Institute Music Department. He has worked with various groups to give concerts and workshops in Germany, Oman, Lebanon, Qatar, Spain, India, Bosnia-Herzegovina, Polish, USA and Azerbaijan.  Since 2008 he has been working in the Istanbul State Turkish Music Research and Application Group as a rhythm player. He is currently doing his doctorate at Marmara University Social Science Institute Islamic History and Arts Department.
Guest Artists
Ahmed Şahin – Vocal
Bekir Büyükbaş – Vocal
Yunus Balcıoğlu – Vocal
Atilla Akıntürk – Kanun
Volkan Yılmaz – Ney
Volkan Ertem – Çello
Oktay Özerden – Halile
Bekir Şahin Baloğlu – Ud
Can Akın – Bendir, Arbane
Sinan Çıtlak – Zakirhan
Abdurrahman Şişman – Zakirhan
Aygen Atay – Zakirhan
Ömer Çiçek – Zakirhan
Technical Support
İlhan Harmancı
Can Ceylan
Arzu Unal
Zeynep Yıldız