As I've made clear before here at 7-Imp, I'm a fan of the illustration work of Komako Sakai (who even visited for a brief interview last year). So, I was happy to see that she's illustrated a new book, this one written by Hatsue Nakawaki. It's called Wait! Wait!, and it's for very young children. It will be released by Enchanted Lion Books in June, but I've got a sneak-peek of it today.
In a story mirroring the staccato rhythms of a toddler, we meet a young child dressed in overalls, ever-curious about the natural world. The child spots a butterfly—"Wait! Wait!"—and watches it flutter away. With each animal seen, the child reaches out to touch and learn, yet the creature flees — flying in the air, wiggling away. In the end, an adult (whom we assume is the parent) picks up the child, saying "Wait! Wait" in the same manner in which the child was trying to secure and hold other creatures. He then places the child on his shoulders, saying "Here we go!"
Sakai's delicately-colored acrylic and oil pencil illustrations are beautiful. Her tight focus in these spreads puts us right with the toddler, exploring and reaching. She also includes pretty much the essentials here — the child and the creatures with which he or she (this could easily be either a male or female child) is fascinated, with the addition of a few supporting details, barely outlined in some cases, and generous white space. It really works. And I'm taken with her flying pigeons, as you can see below, and the compelling sense of movement here.
This is a gentle and perfectly paced story for very young children, originally published in Japan as Korya Mate Mate in 2002. (This First American Edition is translated by Yuki Kaneko.) Here's a bit more art.
WAIT! WAIT! First American Edition copyright © 2013 by Enchanted Lion Books, New York. Text copyright © 2002 by Hatsue Nakawaki. Illustration copyright © 2002 by Komako Sakai.
Up-and-Coming Illustrator Elisabeth Craster
It's the first Sunday of the month, when I give the 7-Imp breakfast table over to student or new illustrators, and this morning I welcome newly graduated Elisabeth Craster. Craster is "a phenomenal draftswoman," in the words of her instructor (and the award-winning illustrator) Shadra Strickland, who taught Elisabeth at the Maryland Institute College of Art. I believe Shadra also told me Elisabeth is a fan of the illustration work of Susan Jeffers, and you'll understand why when you see more of her artwork below.
Elisabeth—who writes at her site, "It takes a special brand of crazy to go to school for art"—is visiting today to say a bit more about her work. She also writes at her site that she "aspires to create illustrated storybooks, book covers, and posters for children and young adults." I thank her for visiting
Elisabeth: My name is Elisabeth Craster, and I recently attained my BFA in Illustration. I started my education at the Delaware College of Art and Design and finished at the Maryland Institute College of Art.
My interest in picture books was basically inevitable–my parents kept me in books, and trips to the library were frequent. As a child, I preferred books that portrayed even the most fantastic subjects with some degree of realism. (Michael Hague and Jan Brett were two of my favorites.) Drawing on lined paper in elementary school, my goal was to make the drawing look "real." That was a tall order, because here I am a decade later, still in hot pursuit.
I ran the art school media gauntlet, but ultimately the pencil and I are meant to be. I color my graphite drawings digitally and prefer an earthy palette. I also confess to the occasional affair with pen and ink.
I have always been around and worked with animals, and my graduating thesis project, The Ugly Unicorn, is the result of that mania.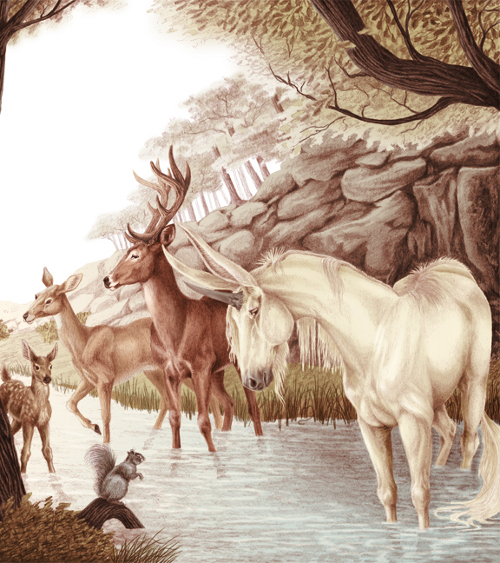 Published May 5, 2013 at Seven Impossible Things Before Breakfast
This and many more of Jules's adventures in books, kids' lit and illustration can be found at her acclaimed blog, Seven Impossible Things Before Breakfast, where the blog about Komako Sakai was published on May 12, 2013 and the blog about Elisabeth Craster appeared on May 5, 2013. Visit often. It'll do your body and soul good.