'a textbook P&M album…'
SIMPLY WORSHIP
Marica Chisolm
DS2 Music Group
Recorded live in July 2011 at Greater Victory Christian Center in Atlanta, Marica Chisolm's Simply Worship is a textbook P&W album.
The live and clearly audible audience, the compulsory celebratory opening selections, the dynamic ebbs and flows of the music, and the concluding "Corporate Worship," which gives everyone an opportunity to sing along, follow the spirit and tone of a twenty-first century worship service.
A vigorous singer and practiced worship leader, the Atlanta-born Chisolm uses her Baptist and COGIC influences to stretch her performance so every ounce of utility is eked from each song. As a result, with eleven selections representing a variety of songwriters, the CD nearly surpasses its 80-minute limit.
Marica Chisolm, 'Desperation,' from Simply Worship
After the energetic and rhythmically thumping "Oh Give Thanks" and Darius Paulk's "Hallelujah to the King," Chisolm settles into a groove of simple and gentle worship songs, such as "Breath of Glory" and the current single, Tasha Cobbs' "Used." Chisolm's pulpit-tough voice, in fact, bears some resemblance to Cobbs's, as well as to Tonya Baker, another fellow P&W songster.
Interestingly, the most dynamic performance of Simply Worship occurs during the reprise of the P&W song, "Desperation." First Chisolm and then Bishop Stephen B. Hall break into what sounds like an impromptu version of "I Need Thee Every Hour." The power of the old hymn appears to wreck pew after pew until it ushers in a spirited praise break. It reinforces how the old songs of the church, when skillfully rendered, are the columns upon which all else stands.
Marica Chisolm is minister of music at Gathering of Champions International Cathedral in Marietta, Georgia.
Pick: "Desperation Worship."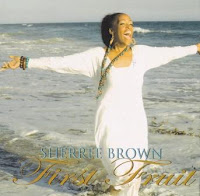 '…like prayers whispered at sunrise…'
FIRST FRUIT
Sherree Brown
NSB Music Group/The House of Zion (2009)
"Perfect Peace," one of 17 selections on Sherree Brown's debut album, First Fruit, deftly expresses the CD's musical and lyrical sentiment. Brown's unshackled voice and limitless style restore the soul like a refreshing sea breeze as she seeks the wisdom and understanding needed for inner tranquility.
First Fruit, which set the stage for Brown's more recent gospel café outing, Soul Thirsty (2012), contains mostly introspective pieces, like prayers whispered at sunrise, with free flowing melodies, soft chords, and an atmospheric feel. At points you expect to hear birds singing.
An alumna of Walt Whitman and the Soul Children of Chicago who led "The Race" on the choir's We Are One (CGI, 1992), Sherree Brown (formerly Sherree Ford-Payne) is a professional vocalist who can sing anything because she has sung everything. The list of artists she has worked with in her career includes star talent from just about every style of music, including gospel. Interestingly, Michael Jackson seems to have left the most explicit impression on Brown; her light vibrato in the high register bears an uncanny resemblance to Jacko the balladeer.
Promotional video for Sheree Brown's First Fruit album
Sheree Brown, 'O Come Let Us Adore Him,' at Borders bookstore, Chicago, December 19, 2009
"The Water" is First Fruit's most radio-friendly track. It is an acoustic guitar-led selection with a brisk tempo that crackles with freshness as Brown seeks to be cleansed and born again. On the other hand, "Lord Most High" is the loveliest selection on the album and arguably the most representative of the set. Brown's breathy vocals, a lithe piano and guitar backdrop, and delicately sweet harmonies evoke the ethereal soundscapes of Loreena McKennitt and Sarah MacLachlan. Brown lowers the blood pressure as she vamps praises over the musical ostinato.
Brown's philosophy is as uncomplicated as her style. "Music is a gift in the form of nourishment for the soul and spirit," she has said, "one that fuels the physical body to enjoy and fulfill the journey of life through song."
Even if you like your inspirational music a little more on the churchy side, you cannot deny the musicality of Sherree Brown for its quality and brilliance.
Picks: "The Water," "Lord Most High."
'…comes alive on the gutsier, grittier songs…'
Bishop Jerry L. Maynard Presents
The Cathedral of Praise Choir
Jelama Records
The self-titled album by the Cathedral of Praise Choir was recorded live in September, 2011, at its home church, Cathedral of Praise COGIC, in Nashville, Tennessee, where Bishop Jerry L. Maynard is pastor.
On inspirational and empowering tracks, such as the opener, "Positioned for Destiny," and "Orchestrate," the cheery-voiced and professionally-sounding choir is blissfully in the throes of deliverance. "Orchestrate" also features a fine solo contribution by Darward Davis. The CCM-influenced praiser "Mighty God" finds the choir building in vocal intensity to a sonorous apex as the track evolves into an out-and-out jam session.
The album comes alive on the gutsier, grittier songs, such as the frenetic hand-clapper "Just Believe," the album's current single led by Michelle Prather; and "I'd Rather," a neo-traditional piece led by Emily Harris and Marva "Penny" Starks. This may well be one of the last recorded tracks that the late Sister Harris, formerly of Bobby Jones and New Life, led before her death a little more than three months later.
A live concert clip of The Cathedral of Praise Choir at work
The Maynard- and Phil Hughley-penned "God's Gonna Give It Back To You," with its simple antiphonal structure, struck me as an ideal song to teach a youth or children's choir.
What really sells the CD is "Bishop's Medley," a string of traditional congregational songs that evoke the late Bishop G.E. Patterson's multi-disc package, Singing the Old Time Way. From "I Was Praying at the Altar" to "Jesus Said It," the medley, with Maynard on lead, conjures up the time-honored COGIC singing tradition unaffected by modern contrivances.
Picks: "Just Believe," "Bishop's Medley."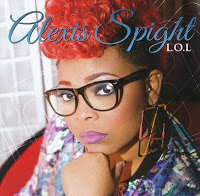 '…the artist set free to be herself…'
L.O.L. (LIVING OUT LOUD)
Alexis Spight
Music World Gospel
www.musicworldgospel.com
During "Musiq," a selection from her debut CD, L.O.L. (Living Out Loud),  BET Sunday Best season five First Runner Up Alexis Spight sings that music is part of her DNA, that if you cut her open, "harmonies and lyrics I'll drain."
That is an interesting image, but I get it.
Indeed, the sounds on L.O.L seem to pour out of her. They are nearly as kaleidoscopic in color as the cover photo of the redheaded, bespectacled Spight depicts. There is no better example of this than the new single, "Steady," where Spight appeals for grounding in a shaky world, as manic drums seem to be the sonic source of the earthquake.
But there's also much about the album that feels autobiographical. The Buffalo-born Spight, who now lives in Kansas City, has experienced her share of life's challenges. Spight dedicates Kirk Franklin's "Imagine Me" to "special, unique people like me, outcasts who you never cast out," and goes on to cite Jesus as the ultimate friend in need. Jesus as friend is also the theme of "Yet I'm Still Saved," another song about life's dark valleys. On "Live Right Now," Spight is ready to "forget about yesterday" and "live right now."
'Steady,' the first single off Alexis Spight's debut album, L.O.L. (Living Out Loud)
For all her soul searching, however, nineteen-year-old Spight is sassy and confident, her over-the-top energy evocative of Kierra Sheard during her early solo days, especially on her cover of Myron Butler & Levi's "Set Me Free."
The most fascinating selection is an a cappella arrangement of the spiritual-turned-civil-rights-anthem "Ain't Nobody Gonna Turn Me Around."  At the vamp, Spight's background vocalists repeat the melody while she sings like a die-hard quartet lead. Spight unveils her inner evangelist on the congregational classic "Power in the Blood" where, after a false intro, the musicians embark on a '60s garage band beat.
If Sunday Best validated the musical DNA of Alexis Spight, L.O.L.: (Living Out Loud) is a portrait of the artist set free to be herself.
Pick: "Ain't Nobody Gonna Turn Me Around."

'…the Nat King Cole of gospel…'
CARL LAVON SINGS, JESUS SWINGS
Carl Lavon Bell
Tate Music Group
The second half of the title of Carl Lavon Bell's new album refers to its opening track, "Jesus Swings." Backed by a hip jazz combo, Bell strings together gospel and spiritual song titles into a call for divine assistance.
The resonant baritone delivering the lyrics sounds right at home with the small, uncredited jazz group. Hailed as the "Nat King Cole of Gospel," Chicago's Carl Lavon Bell has the easy delivery and relaxed pacing of the crooner, who was in fact a distant relative, as well as big band alumni Sinatra and Bennett. In the liner notes, Bell jokingly refers to himself as "an unknown artist who sounds like he fell out of the '50s and '60s," but in reality he sounds as if he also fell from the '40s, when big band vocalists were at their apex. He would have fit in swimmingly.
Album trailer for Carl Lavon Bell's Carl Lavon Sings, Jesus Swings
Bell wrote or arranged the eight songs on the album, including "The Gospel Train," which bathes the "get on board" classic in a laid back Sunday afternoon feel, but chugs to a halt one stop too early. "Love and Amazing Grace" is performed in a minor key, unusual for gospel but ideal for Bell's musicians. On "Bless His Holy Name," Bell interpolates a few bars of Gershwin's "'S Wonderful," and falls into a steady rhythm on "J-E-S-U-S."   He and his group seemed to be having so much fun with the latter number they could have gone another round.
Carl Lavon Sings, Jesus Swings makes it plain that Carl Levon Bell ought to consider recording a full album of gospel classics with his combo, the kind of songs that were originally printed in four-page octavo format. Of course, having fallen from that golden era, he will know exactly what songs those are.
Pick: "The Gospel Train."
'…a world tour of praise and worship…'
LIVE AT THE APOLLO
Muyiwa & Riversongz
For their new project, Live at the Apollo, Muyiwa & Riversongz spirit the audience on a world tour of praise and worship.
One clarification: the Apollo where the group performed was not the NYC landmark but the Hammersmith Apollo Theater in London. An affable emcee, Muyiwa Olarewaju made several references during the program to the superstars who played this particular Apollo recently, including Nicki Minaj. He also evoked laughter from the audience when he spoke directly to those unfamiliar with worship music: "If you don't go to church, that's okay, we're nice people…we're not going to eat your sister!"
The live program opened with Pandit Dinesh's Indian drone and chant on "The Name of the Lord."  Michele Chueng sung in Mandarin Chinese on "Holy Holy Holy." Muyiwa sang in French during the "African Medley," which in its vibrant repetition was the most rhythmic piece on a generally rhythmic project. On the other hand, the pop-rock "Hey Ya" and "Glory to God" fell more squarely within Riversongz' multi-genre style, as did their arrangement of "The Lord's Prayer.
Muyiwa & Riversongz, 'Only You Be God,' live at the Apollo
Throughout the program, the group performed spirited songs from their Declaring His Name All Around the World project, including the contemporary "Here and Real," and the rock steady "Jehovah Jireh." Unlike many live albums these days, some mikes were trained on the more than 5,000 in attendance, whose enjoyment and appreciation contributed greatly to the project's overall ambiance.
Although not as well known in the U.S., Muyiwa, from Africa, is popular throughout his home continent, as well as in Europe and the U.K. He is the host of award-winning programs Gospel Tonight and Worship Tonight on U.K.'s Premier Radio. His personality, along with the bouncy praise songs he and his group offer, confirm two truisms: that worship should be fun, and that in African cosmology, there is no distinction between sacred music and secular music.
Picks: "Here and Real," "African Medley."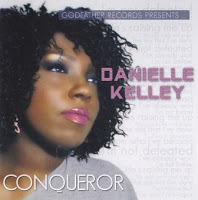 '…a fine debut…'
CONQUEROR
Danielle Kelley
Godfather Records
Conqueror is the debut solo album for Danielle Kelley, a gutsy singer who honed her chops as part of the New York Fellowship Mass Choir, directed by the late Rev. Timothy Wright. The choir is now called the Timothy Wright Memorial Choir, and she led its single, "God Has Been So Good."
On this mix of live and studio tracks the flavor of her singing comes out best on the live selections. These were recorded in January 2012 at her home church, Brooklyn's Christ Fellowship Baptist, where her father, Rev. Dr. David L. Kelley II, is pastor and she serves in the music department.
Wright's son, Rev. David Wright, produced Conqueror and is among the live and studio musicians. He also cameos on the title track, a lovely inspirational ballad about overcoming adversities and declaring one's self a winner and champion.
Introducing Danielle Kelley
Several of the songs on Conqueror are praise ballads, which makes sense, given Kelley's participation in the praise and worship team at Christ Fellowship. While "You Are" and "Lift Up Jesus" are conventional P&W, "Yours" and "New Life" have more character and give Kelley room to explore her vocal range, which moves from lilting trills to extroverted shouts.
In fact, nearly every slow song finds Kelley shuttling along that spectrum, putting everything she's got into her delivery. By "Yes Praise," she is in full evangelistic mode and sends the audience into a praise break.
"Yes Praise" is not the only traditional moment. At one point, Kelley announces they are going "old school…just a little," and launches into the lively congregation favorite, "Glory Glory," the album's high point.
Conqueror is a fine debut for Danielle Kelley, well-paced and produced.
Picks: "Glory, Glory," "Conqueror."
Bob Marovich is a gospel music historian, radio announcer and author. His "Gospel Memories" radio program of vintage black gospel music and artist interviews airs live first Sundays from 3 a.m. to 7:30 a.m. on Chicago's WLUW 88.7 FM, and streams live at the station's website. Snippets of recent broadcasts can be heard online at the Gospel Memories Radio Show. Bob is also founder and editor of The Black Gospel Blog.