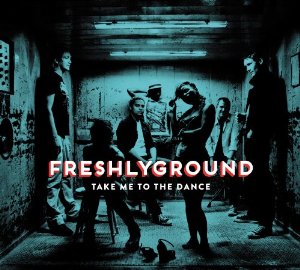 TAKE ME TO THE DANCE
Freshlyground
WOMMUSIC
From the hot banter of a late-night radio DJ ("Mina noBhiza") to the blistering bass of kwaito house ("Nomthandazo"), from American country-inspired harmonies to urbane beats, South Africa's Freshlyground welcome it all. From wildly diverse raw sonic materials, the band crafts catchy, danceable songs that shimmer with layers of guitar, rich strings, and multipart harmonies on Take Me to the Dance, produced by Steve Berlin.
Wry and sensual, deeply personal yet taking on political complexity, the music of this seven-member collective has finally embraced every sound the band loves. "We opened up our sound with this record, really tapped into something else and spread our wings a little bit," recalls violinist Kayla-Rose Smith. "We captured diversity of the band, and found a more global, cosmopolitan feel, while keeping a common thread running through the record."
Some of the band's signature elements—outspoken, vivid lyrics; sparkling afropop guitar; irrepressible grooves—unite songs that dance from club anthems ("Take Me to the Dance") to delightfully quirky Xhosa/Afrikaans rockers ("Party Time"). The band's looser, upbeat jams have tightened up, finding a taut energy that pushes at but never violates the boundaries of a damn fine pop song.
This energy bursts out of Take Me to the Dance, and will be in full effect at Freshlyground's live shows, which American audiences in New York, Boston, Philadelphia, Northampton, MA, and Burlington, VT will get to savor.
Freshlyground's official video for the title song from Take Me To the Dance, produced by Los Lobos' Steve Berli
Caught in South Africa's remote, arid Karoo region, camped out in a small local theater, Freshlyground threw caution to the wind and simply got into the groove. Guided by the low-key, spot-on advice of veteran rock producer and Los Lobos keyboardist and saxophonist Steve Berlin, the band got to places in the studio they'd never quite managed before.
Known for their collaboration with Shakira (the infamous World Cup anthem "Waka Waka"), Freshlyground came together in the bohemian Cape Town music scene, made up of players from different ethnic and musical backgrounds and of different generations. Fronted by a dynamic, big-voiced singer and lyricist of Xhosa heritage, the band hails from across Southern Africa and incorporates instruments that rarely take the lead in pop configurations.
"We've always been different from other bands, in part because we have the flute and violin as mainstays," notes the Zimbabwe-born, classically trained Simon Attwell, who plays flute and mbira (thumb piano) in the group. "That's always been integral to what we're about and what people enjoyed: the mix of different influences and instruments."
But the band's freewheeling, democratic approach need an injection of new energy. Turning away from their usual open-ended jam sessions, the band had worked separately on material, cutting rough demo tracks on home computers, or working out parts by sending files back and forth. Hunks of this gritty, sometimes lo-fi material made it into Take Me to the Dance's finished track, adding a fresh dimension to the band's sounds.
A profile of Freshlyground from PRI's 'The World'
A complete Freshlyground concert, in Masai Mara game reserve in Narok County, Kenya
"Some of the songs were in almost finished form, but the setting influenced what came out," explains lead singer Zolani Mahola. "Even though there was time pressure, there was also a feeling of this generosity of space. It informed the recording. It's not a tangible thing, but it really lent the whole process an ease that shows."
The process was eased by Berlin, who flew down to South Africa for a few weeks to record. His guidance proved vital to getting the record done. "Democracy, even with only seven people, is cumbersome, and we needed him to put his foot down, as someone we respected," says drummer Peter Cohen with a laugh. "We might have needed two years if left to our normal ways.
"With a band of seven brilliant musicians, sometimes you really just need an arbiter who doesn't have a stake in the game, who doesn't have an emotional history tied up in the proceedings," Berlin reflects. "It wasn't so much a fresh approach, but another voice, someone who wasn't part of the band."
A band with a conscience and a sense of humor: 'Chicken to Change,' a collaboration between Freshlyground and ZA NEWS, a satirical South African Web-TV puppet show. The song 'Chicken to Change' is from Freshlyground's 2010 album, Radio Africa
Yet Berlin did encourage experimentation that proved both fruitful and fun. "When we were trying to record 'Party Time,' we were all in the control room discussing it with Steve and talking about how we're going to do it. While we did, we started jamming. Peter was playing a box and Simon took up the ukulele. Steve thought it sounded great, so we recorded it, right there."
"We wanted to make that song work, but we couldn't really find the way," Cohen notes. "Steve had us just try it, so casually, and it finally clicked."
Freshlyground's moment in the sun with Shakira on 'Waka Waka (This Time for Africa),' the official song of the 2010 FIFA World Cup
They also tried an innovative approach to collaborating with a dancefloor DJ, South African DJ Headroom, known for his trance tracks. Instead of sending a finished set of tracks for Headroom to remix, the band opted for something different, that lends songs like "Take Me to the Dance" their distinct balance of organic and electronic.
"The band decided we should just send Headroom demos, the cool and not always finished ideas they had," explains Berlin. "He would send it back to us and we would make songs from the building blocks he had treated. That made it much closer to what the band is. It was a remix inverted." By turning things on their head, Freshlyground has pushed the boundaries of global pop.
Review courtesy World Music News Wire