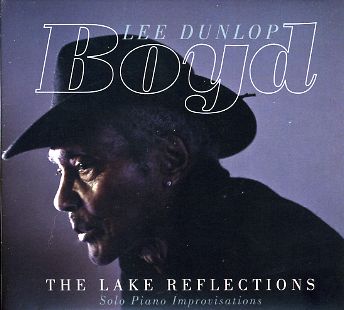 THE LAKE REFLECTIONS
Boyd Lee Dunlop
Mr. B. Sharp Records
Less than a minute into The Lake Reflections, Boyd Lee Dunlop's beautiful new album of solo piano works, a snippet of the pop classic "Deep Purple" emerges from the artist's "Scattered Showers." This contemplative tune is largely defined by Dunlop's interpolation of other songs—a passage from Liszt's "Leibesträume" is central to the composition's evocative denouement—but the "Deep Purple" quote is interesting, because, apart from some witty alterations the pianist makes in the melody line, its opening lyric reads, in part, "in the mist of a memory, you wander back to me/Breathing my name with a sigh…" Of course you have to know the lyrics, because Dunlop doesn't sing on the album, but if you've made it five songs into The Lake Reflections to arrive at "Scattered Showers," the "Deep Purple" appropriation should strike you as revelational, because the whole album seems to exist in the mist of a memory the 86-year-old virtuoso is reclaiming with a vengeance.
Dunlop's fascinating backstory is that he was discovered in a Buffalo nursing home last year. Although a virtuoso pianist, he was virtually unknown—his only two recordings had been as a sideman for saxophonist Moe Koffman in 1948 and on three 1953 sides for legendary R&B sax showman Big Jay McNeeley ("Rock Candy," "Texas Turkey" and "Nervous, Man, Nervous"—save for his work around Buffalo nightclubs following his shift at Bethlehem Steel and in various nightspots he played in around the country when he chucked his steelworker's job and went pro with the music. (His brother, Frankie, was a different story: he played with a Who's Who of jazz titans—Monk, Ellington, Mingus, Hampton, et al.—and can be heard on more than 100 recordings.) But the big time never summoned Boyd Lee, and he always returned to Buffalo, scrapping out an existence as best he could, until finally he wound up a resident in the Delaware Nursing and Rehabilitation Center, where he would entertain staff and fellow residents by summoning music from the Center's ailing piano with its broken keys.
Boyd Lee Dunlop, live at Asbury Hall, Buffalo, NY, January 20, 2013, performing for the CD release of The Lake Reflections, his second album.
Then, come the spring of 2010, freelance photographer Brendan Bannon visited the Center to discuss an art project with the powers-that-be, and was introduced to Dunlop, who proceeded to knock out a few tunes on what was left of the 88s. Not long after that, a nursing home bake sale raised enough money for the Center to hire a local piano tuner, and when Bannon returned and heard what Dunlop could really do, he sent word to a music producer friend, Allen Farmelo, who came out to listen and knew instantly he had stumbled onto someone with a story to tell, and it was all surging out of his soul and through his bony fingers, beautiful music, great standards reimagined and flecked with distinctive individual touches—a wash of dissonance here, a major-to-minor turnaround there that fleetingly altered the mood of a well-worn standard and gave it a new, more complicated complexion, or deeply introspective rummagings around familiar melodies that made them more dense with intimate details than what they had long seemed to be.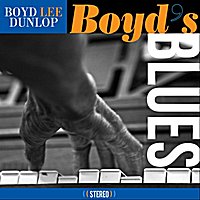 Fermelo and Bannon knew what to do: rent a recording studio and introduce Boyd Lee Dunlop's music to a world that hardly knew he existed. They recruited superb sidemen—bassist Sabu Adeyola and drummer Virgil Day—as accompanists and went to work. Dunlop showed up for the first session and didn't even both to discard his coat; instead, he sat down at the keyboard and launched into an original number that became one of the ensuing album's many "Blues" titles—e.g., "Boyd's Mellow Blues," "Boyd's Bowed Blues," "Boyd's Swinging Blues," "Boyd's End of the Day Blues," et al., along with "St. James Infirmary Blues," "Boyd's Solo Flight," "Boyd's Place" and—how true this one—"Boyd's Epic Journey." When word of Boyd's epic journey reached the mainstream press, the New York Times came a-calling, so did NPR, so did the Buffalo News, so did a host of specialty jazz websites and another website, This Gives Me Hope.com (subtitled "Cathryn Weller's 1001 Reasons to Be Optimistic"), all exulting over Dunlop's late-life breakout.
Then, wouldn't you know it, with everything finally going his way, Dunlop's heart gave out on him. He suffered a heart attack and was literally dead for six minutes before being revived. Unlike Evie Branan, the 79-year-old woman who recently awoke from a five-year coma and asked to go to a Bob Seger concert, Dunlop, when resuscitated, was ready to do another album. No band this time, just him in close communion with his instrument, summoning in his style the voices he learned from—Tatum, Monk, Ellington, Basie—along with references to latter 20th century stylists of stature, such as Bill Evans and Vince Guaraldi. But that's technique; the soul of the man surfaces in silences, in expressive outbursts of emotion, in the subdued reflections of an artist carefully crafting every phrase so it means exactly what he wants it to mean, summoning feelings of abject loneliness at times, but more to the point, always arriving at a place of peace, where he is at rest with the statement he's made, and with the man he has become and would have us know.
A profile of Boyd Lee Dunlop, filmed at the Delaware Nursing and Rehabilitation Center, where he lives and was discovered by photographer Brendan Bannon and producer Allen Fermelo, and in rehearsal at the Hallwalls Contemporary Arts Center in Buffalo
Peace, it turns out, is a dominant theme of The Lake Reflections. Its eight songs are inspired by Bannon's haunting photographs of Lake Erie, several of which are reproduced in the CD's accompanying 16-page liner booklet. As Fermelo reveals in his liner notes: "…Boyd gravitated toward Brendan Bannon's large photographs of Lake Erie and the single word peace. That pairing on Boyd's part was a stroke of brilliance. We studied and talked about these photographs in the studio, their composition, their composition, their colors, their moods and feelings and seasons and ice and waves and ripples and sunlight. Boyd dove into these photos with an impassioned eye, and he then dove into these improvisations, inspired by the artwork of his great friend, Brendan. I knew that natural beauty and great music are often in conversation, but I didn't foresee this artistic collaboration between friends. This discovery of how to make this record was itself an improvisation.
"But why peace?
"When I asked Boyd to play anger, a fight, thunder, even sadness, he wouldn't do it. 'That's not my thing, man. That's not what music is for.' Ask him to play peaceful water, he takes to the keys, and makes you weep it's so beautiful…"
The Boyd Lee Dunlop Trio (including Sabu Adeyola on contrabass and Virgil David on drums) at the CD release concert for Boyd's Blues, December 10, 2011, Hallwalls Contemporary Arts Center, Buffalo, NY. Introduced by photographer Brendan Bannon.
Peaceful water. Is it any wonder that a man of Dunlop's years and experiences would gravitate toward water, given its mystical and spiritual significance—water figures into five of the eight song titles on The Lake Reflections. "First Drops of Rain," a mere 1:05 of cascading notes like Vince Guaraldi patented well before the Charlie Brown scores, but flowing continuously to an abrupt end—a passing shower ahead of the sunlight emerging in "America the Peaceful," a five-and-a-half minute piece of totally unpredictable contours, a few bars of Gershwin-like urban rhapsody, some Cecil Taylor zigzags into dark alleys, a slightly irreverent quotation from "America the Beautiful" that seems to evoke the good and the bad of the country Dunlop's known in his 86 years,  a hint of Grofé's wide open spaces, and, if I'm hearing it right, the final bars of "Autumn Leaves" (at the point where the lyric reads, "when autumn leaves start to fall") as a haunting coda. "The Lake" is serene and pastoral, at times summoning a variation on a Stephen Foster melody that adds a wistful tinge to a lyrical flight (as does the wisps of "Danny Boy" surfacing in a few bars here and there). Maybe "From the Creek Bed" evokes not so much the presence of water but rather the lack of it—it's hard and dark, and you wonder if Dunlop has been studying not Bannon's photographs here but rather the heartbreaking images showing the horrific impact of the drought in Texas and Oklahoma—fields burned off, cattle withering and dying next to dry creek beds—and maybe that's why Dunlop exits the piece in a tidy 3:12 for the refreshing ambience of "Scattered Showers." Arguably the most soulful performance on the CD, "Snow on the Water" is 6:18 of conflicted emotional salvos, with Dunlop turning the melody inside out and following his muse into odd angles and genuinely amusing detours (gotta love that melodramatic "slowly I turned…" moment beginning at the 3:18 mark), evoking snowfall with an occasional trill and leavening the occasional turmoil with a bright, sublime pop melody.
In the mist of a memory, Boyd Lee Dunlop has taken hold of something vital in his history. The Lake Reflections breathes his name with a sigh.