Linda Clark is a self-proclaimed "old head."
A devotee of many types of music but particularly the soul and R&B artists of the 1960s, 1970s and 1980s, Clark has fashioned herself into an able gospel singer. Her latest single, "New Beginnings," was a recent Pick of the Week at The Black Gospel Blog.
Born in Detroit, Clark moved South with her family when she was very young. One wonders, however, if she absorbed more than she realized as a toddler in the Motor City, since her music inspirations run from Aretha Franklin and Marvin Gaye to the Winans and Stevie Wonder. She laughed. "I gleaned something from everyone I listened to!"
That included her mother and father. Both sang, and her father played multiple instruments. Her parents' repertory included R&B, jazz and gospel. The entire family sang gospel. "We used to travel throughout Alabama on singing outings," Clark recalled. "We knew that's what our weekend would entail!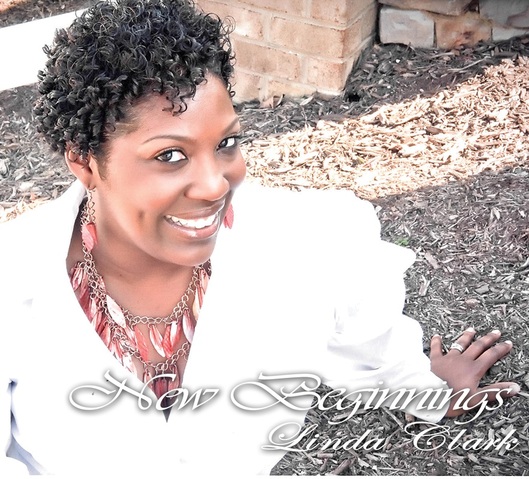 In high school, Clark landed a spot in the choir's elite jazz ensemble. Her vocal and piano proclivities earned for her a full scholarship to Lurleen B. Wallace Community College in Andalucia, Alabama, where she became the first African American member of its Jazz Performance Ensemble.
But college turned out to be overwhelming. "I honestly felt I was at a point of self-destruction," Clark said, "if I continued in the way I was headed." She made the tough decision to drop out of college, relinquish the scholarship, and join the Army.
Stationed in Fairbanks, Alaska, Clark became a missile maintenance technician. Someone heard her sing at a talent show and invited her to join the 6th Infantry Division (Light) Army Jazz Band. In addition to her job as a technician, Clark started singing with the band. A highlight was serenading General Colin Powell.
Clark entertained the notion of becoming a popular entertainer; after all, she could sing a variety of music genres. "The sky was the limit to what I could achieve," she said, "but I gave my life to Christ. I was sold out for Him. I believed that if I served Him, I wouldn't have to sing pop or R&B. This was a gift He'd given me, and I wanted to give back. In doing that, I knew He would open the windows and doors for me."
The singer continued doing what she had done since high school: serve as a church musician and worship leader. Although she was raised Baptist, Clark was just as comfortable playing and singing for non-denominational churches, Pentecostal churches, and churches in the Church of God denomination.
She dabbled in recording, but eventually realized "I had an EP here, a single there, not a complete project, not something that represented what I had been working on for years. I felt like I couldn't do something new until I completed this chapter in my life."
Her debut album, New Beginnings, was released on February 25. The title track is an original composition, birthed from "confession to delivery," and based on 2 Corinthians 5:17: "If any man be in Christ, he is a new creature: old things are passed away; behold, all things are become new."
"I tend to reflect a lot," Clark said, "whether it's about dropping out of college and joining the army or the divorce of my first marriage. I used to dwell on the mistakes that I made rather than the successes I have had. Sometimes I'm very hard on myself and unable to move forward because I'm so stuck in the past. The Scripture reminded me that my strength is in Christ and regardless of past mistakes, past failures, every day with Christ is a new beginning.
Clark has since returned to college, earning a bachelor's degree and an MBA. She is currently Overseer and Worship Leader at Richmond, Virginia's Mt. Gilead Full Gospel International Ministries, under the pastoral care of Bishop Daniel Robertson Jr. and Co-Pastor Elena Robertson. She sings for weddings, is scheduled to minister at a women's conference in North Carolina, and will be one of the new artists featured at the One Love Getaway in Nassau, Bahamas.
The response to her album has been positive, gaining special plaudits from Jamaica. "Jamaicans have really gone for my music," she said, "and I am loving the feedback I'm getting.  It's always a blessing to hear that someone is being encouraged and inspired by music that you've written."
For more information, visit www.lindaclarkmusic.com.
Bob Marovich is a gospel music historian, radio announcer and author. His "Gospel Memories" radio program of vintage black gospel music and artist interviews airs live first Sundays from 3 a.m. to 7:30 a.m. on Chicago's WLUW 88.7 FM, and streams live at the station's website. Snippets of recent broadcasts can be heard online at the Gospel Memories Radio Show. Bob is also founder and editor of The Black Gospel Blog.