'..stone-cold genuine in P&W, love for God'
UNITED TENORS: HAMMOND, HOLLISTER, ROBERSON, WILSON
Fred Hammond
RCA Inspiration
As United Tenors, Fred Hammond, Dave Hollister, Eric Roberson, and Brian Courtney Wilson offer more muscular singing than a Welsh male chorus.
Whether bearing down like a freight train of sound on "Unshakeable" and "I Need You," or sharing intimate and expressive moments on the achingly lovely ballads, "I'm in the Midst" and "I'm Reminded," the men are stone-cold genuine in their praise, worship, and love for God.
Listening to the bold mid-tempo workouts on this CD, I also couldn't help but think this is how Commissioned would sound had the group still been around in 2013.
It's clear Hammond had a hand in writing all of the songs. While the public has focused on the more flamboyant artists pushing the gospel envelope, Hammond has been quietly innovating in songwriting—-his God, Love, and Romance proved he can write a heartfelt love song to Jesus with the soulful sensibility of Babyface. For example, on United Tenors, Hammond and co-author Harold Martin offer "That's the Only Way to Love," a ballad about the unifying elements of love.
Fred Hammond/United Tenors, 'Never a Day'
Hammond noted that women vocalists have been in the forefront of gospel music and the album intends to show what men worshiping together sounds like. I get where Hammond is coming from, and they achieve this, but I would also posit that the male gospel quartet community has demonstrated singing brotherhood for eighty-plus years. If it were not for the radio stations and other media outlets that treat gospel quartets as non-essentials, these harmonizing men (and women) would have just as much a share of the public's attention today as gospel groups.
The only criticism of United Tenors is that several songs that pass the six-minute mark could have been shortened without loss of any impact. Outside of that, it is a very fine, very enjoyable gospel CD. It continues the tradition begun by The Three Tenors in showcasing the rugged beauty of the male voice.
Picks: "I'm in the Midst," "I'm Reminded."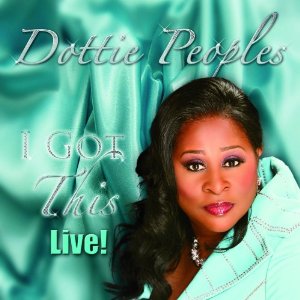 'a pro's testimony'
I GOT THIS–LIVE!
Dottie Peoples
DP Musik Group
Dottie Peoples and live performance go together like biscuits and gravy.
The Ohio-born and multi award-winning gospel singer's light shines through on her latest CD, I Got This–Live! Recorded in April 2012 at Siloam Church International in College Park, Georgia, and released February 5, 2013, I Got This–Live! is a kaleidoscope of styles that work well in concert.
Peoples eases into the live program with two praise and worship songs, "Welcome" and "Manifest Your Glory," though by the conclusion of the latter, she has pulled out her shouting stops to expose her trademark churchy side.
Naturally, the album's traditional songs are its finest. These include the title track and current single, the kind of hand-clapping song of reassurance most associated with Dottie Peoples, whose "On Time God" and "Do It!" were gospel hits. Her take on Eddie Robinson's bluesy "Until Whenever" celebrates a God who is with us "until whenever and through whatever." "Back to the Old Church," another slow, bluesy piece, is a dramatization of the Sunday morning rituals of the church mothers, deacons, and pastor, and naturally transitions into a praise break. Peoples fills the feisty "Breakthrough" with vocal furor.
http://www.youtube.com/watch?v=EYcCszm18Do
Dottie Peoples, 'I Got This,' the title track from her new live album
On the other hand, the singer showcases her jazzier side with a lovely reading of the wistful "Everything Must Change," a song recorded by George Benson.
Special kudos to Billy Rivers and the Angelic Voices of Faith of Memphis for backing Peoples admirably with the full-throated enthusiasm of Ricky Dillard's New Generation Chorale, circa 1990, and Douglas Miller's work with the True Way COGIC Choir, circa 1982. Monica Lisa Stevenson's husband, Derrick, is among the album's capable musicians. Dottie Peoples is a pro and I Got This–Live! is testimony.
Picks: "I Got This," "Breakthrough."

'a cold bucket of needed reality'
TALENTED XTH
Sho Baraka
Lions & Liars Music
Stellar Award-nominated Amisho Baraka Lewis, known as Christian hip hop artist Sho Baraka, tosses a cold bucket of needed reality on the public with his third studio album, Talented Xth (Talented 10th).
Blend the indignant frustration of Stokely Carmichael, the insight of Nelson George, and the intellectual oratory of Cornel West, and you have some sense of how Sho delivers his meaty social commentary. His unflinching declarations spill out as if he had been waiting for this moment to purge his soul.
The "talented tenth" concept comes from W.E.B. Du Bois, who wrote in 1903 that "it is the problem of developing the Best of this race that they may guide the Mass away from the contamination and death of the Worst, in their own and other races." Sho takes on the Worst of all peoples in its various disguises: corporate and personal greed, racism, classism, thuggin' rappers, egomaniacs, war, corrupt pastors, the AIDS epidemic, and those who consider life of no value. For Sho, class behavior trumps swag, and shames those for whom "life is a slam dunk when you're living with low goals."
On "King," Sho outlines his dream of an ideal world, one filled with skillfully established peace and harmony. That he released the CD a week before Dr. King's birthday was no coincidence: Sho's dream was King's own.
http://www.youtube.com/watch?v=xjDaXuJA20g
Sho Baraka, 'Nicodemus,' from his album Talented 10th (featuring Diamone)
In the backdrop of Talented Xth is Jesus as shelter and rock, and Sho takes to task those who use the name of Jesus to advance their own agenda.
Some may be offended by the edgy language on some of the tracks, but not listening for that reason is like refusing to read Steinbeck's Of Mice And Men because it contains curse words. Sho lets loose to depict reality, not for titillating shock value. The message of his creative and clever rhymes is clear: humankind is a mess and needs to clean up its act today, before it's too late.
Talented Xth could well establish Sho Baraka as one of the most refreshing and influential voices of his generation.
Picks: "Jim Crow," "Madoff," "King."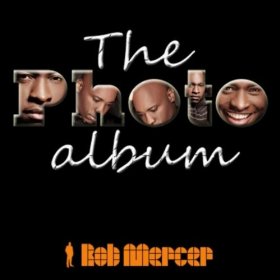 'seeking God's intercession'
THE PHOTO ALBUM
Rob Mercer
Kingdom Access Music Group
"Wherever I am in life, I want God to take a snapshot of me."
Thus says praise and worship leader Rob Mercer. Indeed, photos capture moments in time, some good and some bad. Moments captured in time comprise the underlying premise of Mercer's debut solo album, The Photo Album, released this past December.
The lyrics are a cornucopia of ways to describe God's greatness, a directive Mercer received while "complaining to God" after a painful divorce. He heard God's reply: "Instead of telling me your problems, talk about me. Talk about all I have done for you." That is what Mercer does in his songs, although in "Worth It All," the listener gets a glimpse of the pain behind the praise. In "God, Be the Center," Mercer seeks God's intercession in global issues of war, poverty, injustice, and health epidemics.
Mercer's photo metaphor extends also to the styles of music that he employs to underpin his praise and worship lyrics. The CD moves from brisk pop/CCM melodies ("The Rock," "A Song For You," and the mesmerizing "Promises") to mellow acoustic ("At Your Feet" and the especially fine "God Alone") to urban AC ("More and More," "Amazingly").
The two-part "The Marvin Medley" showcases Mercer's interpretation of Marvin Winans classics, such as "Bring Back the Days of Yea and Nay," and of soul stylist Marvin Gaye. He provides a finger-popping, jazzy version of Gaye's still-relevant rage against the machine, "What's Going On," which is the highlight of the album. "Jennie," Mercer's heartwarming tribute to his mother, will undoubtedly get radio spins on Mother's Day.
Rob Mercer, 'Amazingly,' official video from his new album, The Photo Album
As a vocalist, Mercer is reminiscent of Stephen Hurd and Philip Carter, two singers he thanks in the liner notes. Carter hosted Mercer's CD release party and included the singer on the Together In Unity: DC Gospel Artists United.
The Photo Album is a string of portraits of the artist at work, using a variety of music palettes, although he seems especially at ease in the urban AC vibe. A powerfully smooth vocalist, Mercer is a native of Jacksonville, Florida now living in Maryland, where he is praise and worship director at Upper Marlboro's Antioch Baptist Church.
Pick: "God Alone'
'sacred affirmations to cleanse the mind and soul'
GOD CHASER
William Murphy
RCA Inspiration
When on the title track of God Chaser, William Murphy declares, "because I love you, I'll chase you forever," it brought to mind the two lovers eternally out of reach in Keats's Ode on a Grecian Urn.
It may be the first time gospel music evoked an image from nineteenth-century Romantic poetry.
"The essence of my ministry, my calling," Murphy said, "is to usher people into the presence of the Lord in a way so powerful that they become true God chasers. That is the essence of my life. So the CD is a collection of prophetic songs that came to us in prayer and in times of worship."
Murphy's God Chaser was recorded during a live worship service and, as such, is best listened to in its entirety. Throughout, Murphy's muscular voice delivers sacred affirmations to cleanse the mind and soul.
It may not be a coincidence that God Chaser has the flavor of a Shekinah Glory Ministry project. Murphy was the soloist on SGM's breakout single, "Praise is What I Do." Like SGM, the album's soundtrack drifts from snarling guitars to worship quiescence and back, concluding with a hypnotic beat evocative of Israel Houghton on "You Are My Strength."
William Murphy, 'In Your Hands,' from his new album, God Chaser
Whether as praise or hopeful prayer, the lyrics intimate that life may be tough today but things will get better. On "Higher," Murphy asserts that nothing can stand in the way of his blessings, and as if to illustrate, the proceeding praise break is a veritable stomping on life's problems. Similarly, "Praying For You" reminds listeners to hold their head up, let go, and let God.
The album's singular highlight is the current single, "You Reign," a modern day congregational song with simple P&W lyrics and melody.
One of the first projects from the new RCA Inspiration label (formerly Verity Records), God Chaser fits firmly within the current trend of worship experience albums. William Murphy combines a worship leader's theatrical touch with a preacher's authoritative command.
Pick: "You Reign."
Bob Marovich is a gospel music historian, radio announcer and author. His "Gospel Memories" radio program of vintage black gospel music and artist interviews airs live first Sundays from 3 a.m. to 7:30 a.m. on Chicago's WLUW 88.7 FM, and streams live at the station's website. Snippets of recent broadcasts can be heard online at the Gospel Memories Radio Show. Bob is also founder and editor of The Black Gospel Blog.