2013 is going to be a big year for St. Lucia's Taj Weekes. In February he was honored with the St. Lucia House Foundation's Humanitarian Award, and on April 9 he and his band Adowa will release a new live album, Pariah in Transit, advances of which have already produced a raft of positive reviews. Socially conscious in more than name only, Weekes makes improving the lives of underprivileged, at-risk and orphaned Caribbean youth a daily part of his life's work, mainly through the efforts of his charity, They Often Cry Outreach (TOCO), which he founded in 2007 and leads with a clear vision of its mission. This installment of Border Crossings honors Weekes's work, previews his new live album and, via an interview with World Music Newswire, talks to him about his acclaimed 2010 work, A Waterlogged Soul Kitchen, which features stirring original songs reflecting on the devastation–physical, social and psychological–inflicted by Hurricane Katrina, the continuing despoiling of the planet as exemplified by the BP oil spill, and the horrors of Darfur.
The Lush and Gritty Grooves of St. Lucia's Taj Weekes
'If the people suffer, no matter where they are—-on St. Lucia, in Darfur, in China—-we have to say it. We all have to hold each other's hand and walk the path together.'
St. Lucian singer-songwriter Taj Weekes makes music that grooves like waves on a beach: seemingly gentle yet insistently powerful. On stage and on albums like the recent A Waterlogged Soul Kitchen, Weekes and his band Adowa unite a vibrant diversity of sounds with thoughtful, lush arrangements and a long-honed penchant for telling tales of hardship and hope.
"I don't sit down and write socially conscious songs. I write songs about where I place my focus," Weekes explains. "I grew up listening to the power of the music, the lyrical content. That's what matters."
Taj Weekes, 'Rain Rain,' a song reflecting on the impact of Hurricane Katrina, from his 2010 album A Waterlogged Soul Kitchen
Weekes harnesses this power, using his gritty tenor as counterpoint to the lilting pulse of his guitar. He has reflected on the impact of Hurricane Katrina ("Rain Rain"), on the twisted tragedy of Darfur ("Janjaweed"), on the careless destruction of the Gulf oil spill ("Drill"). He knows how to sing with great tenderness (the subdued, poignant "Before the War") or with wry firmness ("Anthems of Hope"), balancing elegant melodies with rich strings, purring percussion, bluesy harmonica licks, and funky, funky keys. He hints simultaneously at José González, Merle Haggard, Jimmy Scott, Tracy Chapman, Peter Tosh.
Though long hailed by reggae fans, Weekes defies simple genre formulas. His intuitive, intense songwriting ties together the many threads of his Caribbean heritage and honors his unflagging engagement with the world as a musician, philanthropist, and lecturer.
Weekes grew up tossing country tunes and jazz standards around the family kitchen with his father and siblings, learning how to speak truth to power from local calypso musicians, and watching his Rastafarian brothers take on a violently critical society. The young Weekes was also a DJ at a local radio station, absorbing and playing everything: classical music, hard rock, reggae.
In this second of a multi-part interview with Taj Weekes by Lisa Joseph of DBS Television in St. Lucia, the artist talks about the musical and cultural factors that influenced his own art
More of the Lisa Joseph interview in which Taj Weekes discusses his musical journey
Classic country and calypso were also big on St. Lucia, and both are about telling stories, a vital part of Weekes' work. "We're a storytelling people," muses Weekes. Early calypso singers, as well as reggae performers, were the town criers of their communities, taking stands on local issues and calling out corrupt politicians. At the same time, country songs poured from the radio, and boot-sporting, cowboy hat-wearing music fans on St. Lucia couldn't get enough of their real-life tales of heartbreak and faith.
Though deeply connected to the musical life of his island home, Weekes came into his artistic own while spending time in New York City, where he eventually gathered a group of musicians from across the Caribbean diaspora to form Adowa (named for the 19th-century battle when Ethiopians beat back an invading Italian army). Adowa has both serious reggae cred and rock-solid musicianship. Weekes and Adowa have played major jazz, rock and global music festivals, like a recent headliner gig in front of nearly 30,000 fans at the Austin Reggae Festival, as well as garner critical acclaim from reggae writers and lovers.
Though well loved in reggae circles, Weekes has evolved his own approach to making music that combines genres and vibes, incorporating sounds from vintage Ethiopian funk jazz to roots rock, from Deep South blues to West African percussion. These diverse elements interweave in Weekes' intuitive, reflective songwriting, often spurred by a single word or story.
As Weekes & Adowa were finishing up A Waterlogged Soul Kitchen, Weekes was reading a newspaper story about the BP oil spill. "'I stopped the session and told the guys I had a new song," Weekes recalls. "And I starting laying down the guitar for 'Drill' on the spot." Weekes' inspiration also struck guitarist Mike Pinera, who's played with Iron Butterfly and Alice Cooper, who had dropped by the studio. Pinera was so enthused when he heard Weekes' song that he dashed out of the studio to grab his guitar and upon his return blasted out a heartfelt solo for "Drill."
Taj Weekes and Adowa, 'Orphans Cry,' from the 2010 album, Deidem
Weekes also inspires live. An engaging performer, he learned early from his father that playing music was about talking to listeners one on one. "Since he taught me that," Weekes notes with a smile, "I have always focused on reaching people, not just playing music." And moving people extends beyond the stage, to the lectern, college classroom (where Weekes often shares his experience nurturing social responsibility through his art), and the streets of poor neighborhoods across the Caribbean.
Weekes founded his own non-profit, They Often Cry Outreach (TOCO), to provide everything from post-hurricane humanitarian aid to shoes and soccer balls to children in need across his native region. It's a way of walking the talk of his songs' messages. "I still play soccer when we're on the road touring, at rest stops," Weekes says. "It's great stress relief, especially for children who face all sorts of problems. Their responsibility is just to play, and we help them do that."
Named a Goodwill Ambassador by the International Consortium of Caribbean Professionals and recognized by a division of the United Nations, Weekes sees no boundary between his work as a singer-songwriter and as a benefactor and consciousness-raiser. "If the people suffer, no matter where they are—-on St. Lucia, in Darfur, in China—-we have to say it, " states Weekes. "We all have to hold each other's hand and walk the path together."
(Interview courtesy World Music Newswire)
Where Intellect Meets Entertainment
'In Taj's music, disparate elements cohere, contrasts become complementary. Gorgeous, bittersweet melodies are conveyed through parched, compassionate vocals. Complex arrangements and varied textures flow organically, unpretentiously. Sturdy roots rhythms support fresh, hard-edged lyrics whose sophistication renders most of the genre's beloved 'reality' lyrics wimpy by comparison.'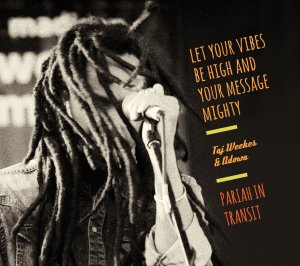 PARIAH IN TRANSIT
Taj Weekes & Adowa
Album review by Ted Boothroyd
(Posted at Taj Weekes's website)
A live album documents–in an unforgiving, public kind of way–the exact point where humble art meets brash showbiz. Where intellect meets entertainment. Where solitary craft (song writing) meets public emotion (adoring fans) and the imperfect realities of performance meet idealistic expectations of the Big Event.
On the evidence of many previous examples, those massed meetings of paradoxes can become messy collisions, with art usually at the bottom of the pile-up. But it comes as no surprise that with Pariah in Transit, Taj Weekes and his band Adowa easily maneuver their way through the dangers. It seems that Taj's inner introvert is on very good terms with his inner extrovert. The poet and the entertainer co-exist.
So what are the specific dangers that had to be avoided? For one, the spontaneity of the performance has to reflect the same sparkle the song had when brand new. It's called soul. You dare not betray the tedium of rehearsals or the dulling effect of multiple repetitions in gig after gig, particularly when this particular version is to become the forever-enduring one. The technical elements have to be right on, too; poor sound quality can completely screw up the artistic side of any live album. Then there's the ego/diva/star factor: is the emphasis on the showmanship or on the music, on showing off or on communicating?
Taj Weekes & Adowa, 'Angry Language,' live at the Sierra Nevada World Music Festival, June 17, 2011
Let me offer reassurance. The performances come across as thoroughly soulful–though all but one of the songs are familiar from previous studio recordings, mostly Deidem, the presentation is fresh and unique in each case, with the band in absolutely top form. It's called professionalism.
As for sound, no screwups, crisp and full. And, especially for a live reggae album, this one is refreshingly free of egomaniacal displays. Taj is a relaxed, confident performer; obviously he is secure enough in his talents that he doesn't need to pander to his audience and then bask in whatever adoration he can drag out of them. (Anyway, it would seem unlikely for someone so well admired as a true humanitarian to suddenly go all self-indulgent on us.)
Taj Weekes & Adowa, 'Anthems of Hope,' from the 2010 album, A Waterlogged Soul Kitchen
You may conclude that in its particular coming together of art and showbiz, Pariah in Transit lacks some of the usual trappings of a live album. Yes, it does, but they are ones you won't miss a bit. Unless, of course, you like pompous drum-roll introductions, jolting disruptions to the musical flow, silly "Are you feeling irie?" exhortations, and gratuitous, melodiously deficient sing-alongs. Would that every musician pondering a live recording realized that what might be tolerable at the original concert, or even enjoyable, can clutter up the subsequent album. It, after all, has to stand strong on its own terms and be worthy of repeated playbacks by the listener at home.
Forget, then, what is "usual" when it comes to live albums. What Taj Weekes and Adowa have given us is not the usual. There are meetings, but no collisions. Entertainment shares the stage with music, music with poetry, poetry with humanity, humanity with entertainment. The required courage yielded a sturdy balance; if any element does come out on top, it's the art, appropriately enough. (Although, by the way, the audience clearly was feeling irie, even though they weren't prodded into saying so.)
'I don't know if I started music; I think music started me': A Jatta Records promotional video for the album A Waterlogged Soul Kitchen. This video EPK takes the viewer through Weekes' creative process in crafting songs for the album as well as provides a window into the many landscapes that make up Weekes' world, from the stage to touring with his band Adowa to walking the streets of St. Lucia to the comfortable homes of friends made along the way. The soundtrack exclusively features songs from A Waterlogged Soul Kitchen, with excerpts of footage from the videos for 'Rain Rain' and 'Peace and Love.'
Foundation Honors Taj Weekes, Humanitarian
The legendary St. Lucian artiste and philanthropist Taj Weekes has been selected for the St. Lucia House Foundation's Humanitarian Award for his selflessness and dedicated humanitarian efforts. Weekes received this prestigious award at the 33rd Anniversary of Independence Gala on February 25 at the Grand Prospect Hall in Brooklyn, NY.
In addition to inspiring many through his artistic and humanitarian endeavors, in 2007 Weekes founded a charity—They Often Cry Outreach (TOCO)—aimed at improving the lives of underprivileged Caribbean children through a variety of sports, health, and enrichment programs.
Weekes was named a Goodwill Ambassador by the International Consortium of Caribbean Professionals and recognized by a division of the United Nations. Through his music, Weekes addresses several crucial issues, including global warming, casualties of war, domestic and youth violence, diabetes and health, poverty, and the welfare of children.
In 2011, the internationally celebrated artiste returned home to participate in the Saint Lucia Jazz Festival for the first time. Later that year, TOCO collected generous donations of balls, uniforms, shoes, socks, and gear, as well as money to fund its mission trips. TOCO also collected 5000 shoe donations from various elementary schools. The shoes were sent to Haiti as earthquake recovery aid. In addition to its annual collection of soccer equipment, TOCO has expanded its program to include an annual toy drive and educational workshops.
In December 2011, Weekes returned to St. Lucia to launch TOCO's First Annual Holiday Toy Drive, distributing toys to children in need and feeding the elderly at community center in Castries, Saint Lucia. In 2012, TOCO expanded to other Caribbean islands, with stops in Trinidad, Tobago, and Haiti; the group also undertook lecture tour targeting high schools and colleges across the Caribbean.
The Independence Gala marked the end of activities in New York to celebrate St. Lucia's 33rd Anniversary of Independence from Great Britain. The activities were organized by the Saint Lucia House Foundation, an umbrella group of St. Lucian organizations based in New York City, Connecticut and New Jersey in collaboration with the St. Lucia Consulate General in New York. (Source: Caribbean Life)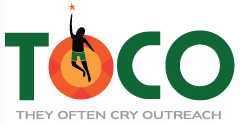 For more information and to donate, visit the website of They Often Cry Outreach (TOCO).
For more on Taj Weekes's music and other activities, visit his website