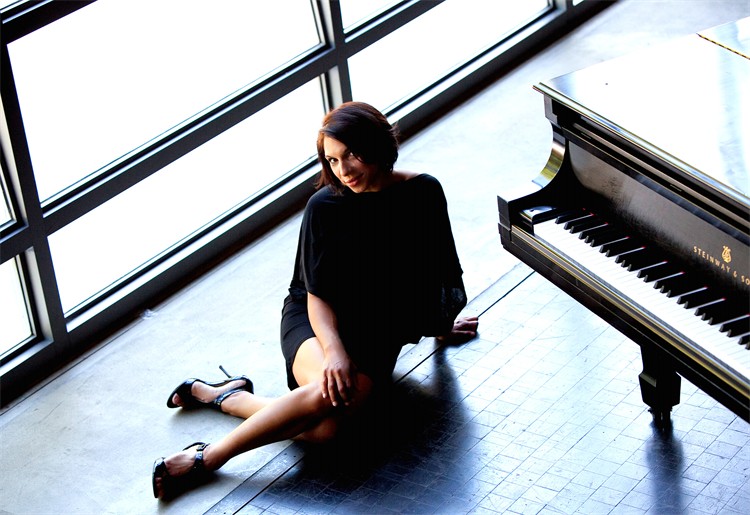 I
Discovering Links Between Exiled Composers
EXILES' CAFE
Lara Downes
Steinway and Sons
Over the last decade, the San Francisco pianist Lara Downes has made several recordings around some stimulating themes, including American Ballads as interpreted by a broad swath of composers, and Dream of Me, featuring various nocturnes and reveries.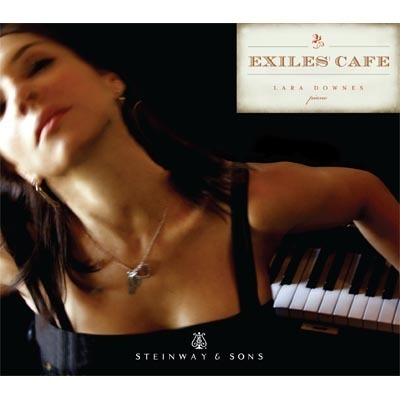 Downes's latest album, Exiles' Café, focuses on the concept of music written in exile, expressed through short pieces by composers including Chopin, Milhaud, Bartok, Weill, and Rachmaninoff. As Downes recently explained, "Cafes have historically housed and sheltered exiles and emigres in every corner of the globe, through so many journeys and displacements." In other words, think Cafe Centrale or Les Deux Magots, rather than your typical chain coffee shop.
"The project illustrates the global currents of diaspora and exile, which create artistic confluence among people from many different backgrounds of time and place," Ms. Downes told blogger Frances Wilson of the Cross-Eyed Pianist blog. "I think the theme of displacement is one with which everyone is familiar at some level, and also I think that this goes back to my answer to your earlier question, which touched on my deep emotions about the tradition that has built our concert repertoire. Often it has been breaks in that tradition that have actually carried it forward–the historical and political situations that have carried composers from one place to another (Chopin from Poland to France, Rachmaninoff out of Russia, Korngold to Hollywood where he made a legendary career as a film composer and defined the future of that genre) have influenced the development of concert music in a profound way. So once again challenges sometimes prove essential!
Displacement due to war and political turmoil is a major thread on the album. Two of Chopin's Mazurkas—Op. 6 No. 1 and Op. 68 No. 4—reflect his 18-year exile in France, prompted by revolution in his native Poland. Bartok's three Hungarian folksongs from the Csik District were composed in 1907, long before he was exiled in New York, but they have the spirit of nostalgia for a simpler place and time.
Trailer for Lara Downes's Exiles' Café
The gathering war clouds of the 1930s forced many composers to leave for the United States. Among those featured here are Kurt Weill and Erich Korngold, and while the latter composer is represented by an early work (a movement from his Second Sonata in E major of 1910), Weill's "Lost in the Stars" is from 1949, and is heard in an arrangement by New York pianist-composer Jed Distler.
Rachmaninoff and Prokofiev both went into exile around the Bolshevik seizure of power in Russia in 1917-18; the former is represented with his Fragments, the latter with the Pastoral Sonatina in C major. Among the album's gems are two Dumkas by Bohuslav Martinu, a composer who spent a greater proportion of his life in exile from his native Czechoslovakia.
Finally, not to be overlooked is Mohammed Fairouz's Piano Miniature No. 6, "Addio," a piece which draws on his Arab-American roots. Downes plays with a sensitivity and alertness to the many styles represented on "Exiles' Cafe."
In conjunction with the album release, Ms. Downes has developed The Exiles Project, an interactive micro-site designed to collect and share individual stories of exile. Visitors can submit their own experiences or reminiscences of exile, displacement and discovery, in the form of text, images, audio and video. The Exiles Project will develop into a wide-reaching forum for exploring the narratives of exile, on both universal and personal levels.
(Sources: WQXR Album of the Week; Cross-Eyed Pianist blog)
II
'Of Vanished Worlds and Altered Lives…'
Lara Downes on Exiles' Cafe
Years ago, I heard a lovely little piece called Tango from the Exiles' Café. The music and the title captured my imagination, and I started fantasizing about this café as a place both real and metaphorical. I thought about the places where people gather, all over the world, to find a home away from home–all the travelers: the nomads, explorers, gypsies and vagabonds following a hope, a dream or a promise. And the refugees, thrust into undesired journeys by the forces of natural disaster or man-made tragedy. I thought about the state of exile, the no-man's-land where home no longer exists in the place left behind, yet perhaps can never truly be found anywhere else.
This is a quote from the German novelist Hermann Kesten: "If one lives in exile, the café becomes at once the family home, the nation, church and parliament, a desert and a place of pilgrimage, cradle of illusions and their cemetery…"
Sometimes, I think, one must make a kind of home, find a kind of peace, at the Exiles' Café.
I thought about the Exiles' Café as a place that becomes everyplace, a space where journeys converge and histories collide, where the refugees and wanderers of every time and place magically gather across centuries and continents to share their stories.
And I thought about all the artists, writers and musicians who have carried their gifts with them on their journeys of exile–the beauty that has been found on those journeys, no matter how difficult or painful.
The music on this record reflects the transformative passage from what is left behind to what is discovered ahead. This music speaks of vanished worlds and altered lives, of the fragility of destiny, and the possibilities of new beginnings. In these miniatures we find glimpses of their composers' journeys, like messages on postcards sent from the Exiles' Café.
Ms. Downes also has launched an online studio on Powhow, explaining its purpose thusly: "As an active concert pianist, I share my love of the piano repertoire and my perspectives as a performing and recording artist with intermediate to advanced students in private lessons and…"
Teaching via live webcam, Ms. Downes and her students will "explore technical and musical questions within a wide range of piano repertoire. Your questions about interpretation, practice tools and techniques, performance and audition preparation, repertoire development and much more, can be addressed in a personal style that is uniquely tailored to your own musical goals and realities. The live webcam format allows for a wonderfully interactive teacher-student dialogue that includes both discussion and demonstration."
She hopes the online studio will "let me stay connected with students I encounter on my concert tours around the country and beyond. I'm excited about the potential for continuing relationships that begin in masterclass or other situations."
As of this writing, a five-class package of private lessons with Ms. Downes was priced at $297 (a $425 value, according to the website). Visit the website for the complete schedule and cost of live online classes being held in March.
(Source: Piano Addict, Feb. 5, 2013)
III
'Know What Your Music Means To You': Chatting Up Lara
Who or what inspired you to take up the piano, and make it your career?
I started at the piano as a toddler and simply never stopped! I just never found anything I loved as much. In my teens, I had passing fantasies about being an archaeologist or an actor "when I grew up," and then I realized that I could incorporate aspects of both of those careers into my musical path. My work involves a lot of archaeological excavation of the repertoire in search of historical narrative and context, and I think that I channel my inner actress into the task of interpreting the emotions and messages of the composers whose works I perform.
Lara Downes discusses her 2011 album, 13 Ways of Looking at the Goldberg, a set of 13 new variations re-imagining Bach's Goldberg Variations
Who or what were the most important influences on your playing/composing?
It's been a collage of many things: my very first teacher, Maria Cisyk, was my first love! She was a wonderful woman who integrated a true understanding of and curiosity about music into the first steps at the piano. As soon as I could cover a five-finger position, she had me playing little and Bach and Bartok pieces, and learning the stories behind them so that I had a sense, from the very beginning, of the scope of a history and a tradition in music.
A little later I went on to work with Adolph Baller, a wonderful Austrian pianist with whom I studied at Stanford when I was still very young. He gave me, again, another layer of understanding about the importance of tradition. Having come out of the Viennese tradition himself–he studied with a former student of Franz Liszt!–he was a direct link to the European Romantic school that I, an adolescent in California, could only vaguely imagine. Tragically, Baller had suffered tremendously during the Nazi regime (he was interred in a concentration camp and his fingers were broken), before escaping to the U.S., where he was able to rehabilitate his hands and resume his career as Yehudi Menuhin's accompanist and a member of the Alma Trio. His story gave me some insights into the power that music can have in a life, the strength that can be found in one's calling throughout personal tragedy and upheaval. That was an important turning point.
Lara Downes on Long Time Coming, her multimedia  homage to the legacy of Duke Ellington and the 'transformative power of music in our American past, present and future.' It combines music (including a new piece written for Ms. Downes by acclaimed composer David Sanford), spoken word, and film in a poignant reflection on Ellington's enduring legacy, the power of hope in troubled times, and the dramatic impact of American music on our nation's history.
Lara Downes, 'New World A-Comin',' by Duke Ellington. This composition was premiered at Carnegie Hall on December 11, 1943. This work's title and content were inspired by Roi Ottley's best-selling book on the Negro in America. Ottley looked forward optimistically to better conditions for his people after World War II, and his final statement was that 'in spite of selfish interests, a new world is a-coming with the sweep and fury of the Resurrection.' Ellington visualized this new world 'as a place in the distant future where there will be no war, no greed, no categorization, no non-believers, where love is unconditional, and no pronoun is good enough for God.' His composition emerged as a kind of piano concerto, and it was performed for the first time by the composer and his fifteen-piece band. Subsequently, it was orchestrated for symphonic performance, and Ellington recalls that even Don Shirley, a pianist of prodigious technique, had trouble with a ragtime 'Iick' for the left hand. (Source: Stanley Dance)
Later on, as a teenager, I studied myself at the Hochschule in Vienna and the Mozarteum in Salzburg with the great Hans Graf, and was able to touch that grand tradition for myself, which brought everything full circle. I remember a winter morning in Vienna, the first heavy snow of the year, when an Argentine classmate came running into Graf's class saying "I went to the Mozart house and I walked in Mozart's snow!" That's how it felt for me during those years, working in the birthplace of the tradition, treading the same ground as the composer whose works I was studying. Very magical.
What have been the greatest challenges of your career so far?
I think that I've come of age in a challenging time to be a musician, but also a very liberating one. So I see the challenges also as advantages. The limited opportunities in the concert world (especially in the U.S. where funding for the arts is such a tremendous issue) present a constant difficulty, but ultimately that difficulty has been an inspiration to me to develop a real creativity and innovative spirit in my approach to presentation and programming, to build a unique profile as an artist, to identify what it is that I have to offer and share with audiences that is uniquely mine, my genuine voice in the world. I think we are living in a time when an artist with something significant to say can take a significant amount of control in determining how, when and where he or she is heard. There is a really interesting and diverse mix of artistic personas on the concert stage these days, reflecting a commitment to different ways and means of musical expression. I think it's very exciting.
And then of course there have been the challenges of combining my professional and personal lives–the same challenges we all face as musicians, finding ways to integrate my roles in my family and in the professional world. Being a mother of two young children has meant making some choices. But that too, I think, has been a very positive thing for me. I'm certainly a more centered, more thoughtful musician than I was when I was younger, and obsessed solely with the day-to-day mechanics of being a pianist, practicing six hours a day. Having a wider landscape to tend has been very good for me. I've built a career that encompasses performing and recording, writing, and also concert curating and presenting, which I love to do. Being active as a concert and festival curator/presenter allows me more space to bring my many (too many??) ideas to life! It's important to me to have some impact in shaping the future of an art form that is changing so quickly, and has so much potential to reach new audiences in new ways.
Lara Downes performs John Cage's 'Dream'
Which performances/compositions/recordings are you most proud of?
I'm proudest of the multi-faceted projects I've created and produced from start to finish, which have encompassed everything from commissioning and premiering new works, to writing and delivering narrative commentary from the stage, co-producing multimedia/visual enhancements, and self-producing and releasing recordings on my own label (Tritone).
Who are your favorite musicians?
Arthur Rubinstein, Billie Holiday, Richard Goode, Nat "King" Cole, Chet Baker, Etta James, Charles Aznavour, the Beatles, Pablo Casals, my son playing the trumpet, Lucio Dalla… you see it's pretty all over the place!
What do you consider to be the most important ideas and concepts to impart to aspiring musicians?
Know what your music means to you. Find your voice. Learn what you alone have to give. Don't try to be like anyone else. Be flexible in your thinking and let your path take you in unexpected directions. The future can surprise you.
(Excerpts from an interview with Lara Downes at The Cross-Eyed Pianist blog by Frances Wilson, February 7, 2013)
IV
 'I want audiences to come away with a real understanding of who the artist is, what drives him/her, and how that shapes the music.'
In addition to The Exiles Project mentioned above, Lara Downes has a multitude of new and ongoing projects designed to stimulate artist-audience interaction and communication so that, as she says, "the concert tradition can be healthy and energetic."
In April, for instance, she's launching The Artist Sessions at Yoshi's San Francisco with a performance of Exiles' Café on April 24 at 8 p.m., and on May 28 is featuring Christopher O'Riley with "O'Riley's Liszt." Future events include pianist Conrad Tao (2012 Avery Fisher Career Grant recipient, composer, violinist, explorer of repertoire); cellist Matt Haimovitz (a pioneer of the move out from the traditional concert hall), Gabriel Kahane (with a new project of pieces based on WPA texts), pianist Tony de Mare (with commissions called Liaisons, Imagining Sondheim from the Keyboard), and others.
Lara Downes discusses her multimedia recital The Americans, 'a celebration of what I've found in my own experience of traveling around America.'
Says Ms. Downes: "The concerts will be unique in the sense that they will be presented as immersive encounters with the artists–each evening will be begin with an onstage conversation between the guest artist and myself, and will conclude with an audience talk-back session. I want audiences and artists to come together as people, and for listeners to find context and connection in the work being presented.
"As a pianist, one of my main goals in performance is to create a conversation among composer, interpreter and listener that stretches backwards and forwards to find context and relevance across time and place. Now, as a presenter, I'm hoping to expand that goal to encompass a range of artists and audiences."
Ms. Downes is founder and president of the 88 KEYS Foundation, a nonprofit organization that fosters opportunities for music experiences and learning in public schools; curator of the Young Artists program at the Mondavi Center for the Performing Arts at UC Davis, where she serves as Artist in Residence and host and co-curator of the Studio Classics series. Downes is also member of the Recording Academy Classical Music Outreach Committee, and Artistic Director of Music Programming at Opus 40 in Saugerties, NY.
Lara Downes performs The Americans at Meany Hall, University of Washington, as the opening concert of the 2010-2011 President's Piano Series
"The projects and events of my concert career over the last few years have brought me to some important understandings about how musicians and audiences can better interact and communicate so that the concert tradition can be healthy and energetic," she told Music News. "I've learned a lot about what works and what doesn't, what really draws an audience into a deeper relationship with a performer, what can put our music in a new light for a seasoned music-lover or illuminate it for a brand new listener.
"Of course my artist residency at Mondavi Center, which weaves together solo performances, collaborations with artists across genres, curatorship and hosting, audience development, and mentorship, has been a wonderful training ground and stomping ground. The broad scope of what I do at the Center has had huge impacts in what I do overall as an artist!
"My experiences touring last year with my CD 13 Ways of Looking at the Goldberg were also tremendously formative/informative. Along with the circuit of festivals and recital series, I made a strong effort to bring the music to nontraditional audiences, which meant presenting concerts in alternative venues: art spaces, clubs, salons of many kinds, in cities from S.F. to Chicago to Toronto.
Lara Downes performs Oscar Peterson's 'Hymn to Freedom'
"It was just a tremendous pleasure to connect with audiences made up of young people, newbie concert-goers, listeners attracted by the adventure of hearing something new in a space familiar to them, by the promise of an exciting night out. I realized that the ability to attract new audiences has a lot to do with simple aesthetics and atmosphere. When we take music out of a traditional setting, we open up new possibilities for people to socialize, relax, find a place to be that feels comfortable, find their own community.
"During the past year I was asked to contribute to planning and strategizing discussions by some major presenters around the country, and those conversations have helped me crystallize my ideas about programming and presenting. In a conversation last spring with the board of a major piano festival in the NW, I talked with the members of the board (some serious music-lovers, some less informed) about what compels them to go out to concerts.
"One member, who turned 80 last year, said, "Well, I love going to the symphony because I know I'll see my friends there." That was a real catalyst in my thinking about attracting audiences to live concerts. Because the truth is that there isn't one audience for classical music—there are many. And we all want to be where our friends are. So I think that we should create as many spaces (physical and otherwise) as possible for various audiences to find community, to "see their friends there." For me, as a busy professional and a parent of two young kids, that means one thing. For a retired couple in their 70s, maybe it means something else. For a 20-something hipster, still something different.
"The space I want to create for The Artist Sessions is a flexible one, where many groups of people can find their friends. An engaging space, a space for truly intimate encounters with artists who are working in especially compelling and thought-provoking areas of their discipline. A space for talk, food, drinks, friends and some of the best music—classical and beyond—happening right now! I'll be curating these evenings with an eye to giving a close-up look at each artist's current work, core focus, and musical landscape. I want audiences to come away with a real understanding of who the artist is, what drives him/her, and how that shapes the music."
(Source: Music News: Jan. 15, 2013)