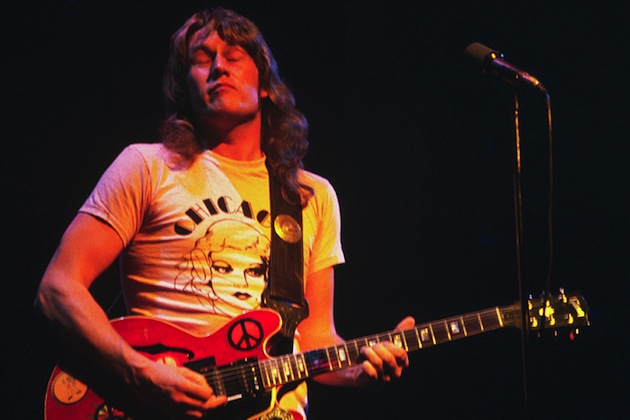 It was less his appearance on the Woodstock stage than his larger than life performance of "I'm Going Home" captured in split-screen grandeur in the Woodstock movie that catapulted Alvin Lee to bona fide Guitar Hero status in an era with no shortage of same. The svelte, shaggy-haired, high-cheekboned Lee not only looked the rock star part, but he delivered as an artist, singing with soulful conviction and playing impeccable, lightning-fast guitar licks, as fluid and flawless as a bluegrass picker's fleet runs.
Following Woodstock, the band–Lee, bassist Leo Lyons, Chick Churchill on organ and drummer Ric Lee–signed with Columbia, released the album A Space in Time and began selling out arenas all over America. Woodstock, though, was but the culmination of the goal the band had been aiming for since releasing its self-titled debut album on the Deram label in 1967. Three solid albums of rock and blues followed, and with 1969's Stonedhenge and Ssssh and 1970's Cricklewood Green, the band was fast gaining credibility on underground FM radio stations. All that was left for them to do in August of 1969 on Max Yasgur's farm in upstate New York was to deliver live what it promised on record. So it did, spectacularly so.
Ten Years After, one year before…Woodstock. On the French TV show Baton Rouge, performing 'Rock Your Mama'
Ten Years After's overnight success was the product of nearly ten years of working for it in the Nottingham/Mansfield clubs after forming in late 1960 as Ivan Jay and the Jaycats. In 1966 the band moved to London, hired Chris Wright as its manager and adopted the band name that would become famous (the name marked the tenth year since the release of Elvis's breakthrough single) after first billing itself as Blues Trip and then Blues Yard. Wright secured the band a residency at the Marquee and an invite to perform at the Windsor Jazz Festival in 1967, which in turn led to the contract with Deram. The next year brought TYA to America, along with its second album, Undead, out of which came a signature song, "I'm Going Home." Stonedhenge, released in '69. Included what became another fan favorite, "Hear Me Calling." The momentum continued with a July appearance at the first Newport Jazz Festival to book rock bands, followed then by its August 17 set at Woodstock. The ensuing Cricklewood Green album gave Ten Years After its only U.K. hit single, "Love Like a Man."
Ten Years After at Woodstock: 'I'm Going Home'
Ten Years After, 'I'd Love to Change the World,' 1971
TYA's tenure with Columbia was notable for, one, the idealistic, psychedelicized hit "I'd Love to Change the World" from the A Space in Time album, and two, Lee's decision to break up the band in 1974, at the height of its success, and pursue solo projects, a path he had explored in 1973 with On the Road to Freedom, a duo project with gospel singer Mylon LeFevre that was a mix of introspective ballads; rootsy, Band-influenced reflections; and howling, guitar-driven rockers featuring some of Lee's most dynamic playing on record, with guest spots by artists such as George Harrison, Mick Fleetwood, Ron Wood and Steve Winwood. There would be TYA reunions in 1983, 1988 and 1994, but Lee always returned to his solo work, showing no interest in rekindling his Guitar God adulation.
Much to his satisfaction, apparently, Lee was happy to live out of the spotlight and quietly release new musical projects–his catalogue numbers 14 albums, including 2004's In Tennessee, with Elvis's bandmates Scotty Moore and D.J. Fontana, and his latest, Still On the Road to Freedom, released last year.
Ten Years After, 'One of These Days,' August 4, 1975 at the Fillmore West, San Francisco
Alvin Lee & Mylon LeFevre, 'Fallen Angel,' from On the Road to Freedom (1973)
Alvin Lee died on March 6 in Spain. His website attributed the cause of death to "unforeseen complications following a routine surgical procedure." He was 68. His death alternately stunned and saddened his fellow musicians and gave music writers who remembered him from back in the day pause to reflect. Glen Boyd, writing at Blogcritics.com, likely spoke for many in the press in his March 9 piece titled "Remembering Alvin Lee" when he admitted:
"The truth is–even though the widespread press coverage of his death brought it all flashing back–I had nearly forgotten about him. What makes this all particularly sad, is that I suspect that a lot of other folks from my generation–the same people who grew up listening to Alvin's work with Ten Years After, and who were as spellbound by it as I was–had much the same reaction.
'Oh, yeah…Alvin Lee. I remember him…hell of a guitar player.'"
Alvin Lee & Mylon LeFevre, 'The World is Changing,' from On the Road to Freedom (1973)
Alvin Lee & Mylon LeFevre, 'So Sad (No Love of His Own), from On the Road to Freedom (1973), with George Harrison on dobro.
At sfgate.com, Joel Selvin offered a broader perspective on what Lee meant to the music scene from which he emerged a star: In 1968, the British blues-rock guitar hero was the archetype of the day and Lee's fleet-fingered fusillades–sometimes jazzy, always bluesy–set him apart from the myriad of B.B. King acolytes produced on the English blues-rock scene of the day.
But chart numbers and album sales don't properly represent the significance of Ten Years After and Alvin Lee. The band appeared as the firmament of British rock was only beginning to crack open, spread globally by an underground culture outside the boundaries of the traditional music business, nurtured in head shops, college campuses, nascent FM rock radio stations and a burgeoning circuit of psychedelic rock halls like the Fillmore West in San Francisco, where Ten Years After was a regular attraction in 1968-69.
'I play purely by instinct, and I play purely from adrenalin': A rare interview with Alvin Lee from I.R.S. Records' Cutting Edge Happy Hour Guitar Speak special, August 1988
Ten Years After, 'Good Morning Little Schoolgirl,' live in WDR Studio in Cologne, Denmark, and broadcast on January 22, 1970
This underground rock movement, of course, was transformed into a mainstream phenomenon, in large part, by Woodstock, but Alvin Lee's moment in the sun was brief after that. The entire British blues-rock guitar hero model rapidly evolved. Clapton and Beck abandoned the form, which was quickly supplanted by the more raucous sound of British hard rock guitarists such as Ritchie Blackmore of Deep Purple or Tony Iommi of Black Sabbath, and Alvin Lee, outmoded and uncelebrated, never received his due.
At Classic Rock, various musicians and friends who knew and worked with Lee weighed in with their thoughts upon hearing of his passing. A sampling:
Ric Lee of Ten Years After: "We are all stunned. All of us. I don't think it's even sunk in yet as to the reality of his passing. We are all thinking of his family and friends today, and offer our own condolences."
Leo Lyons of Ten Years After: "It came as a complete shock to me. I still haven't taken it in. I feel very sad. He was the closest thing I had to a brother. We had our differences, but we shared so many great experiences together that nothing can take away. I will miss him very much. He was an inspiration for a generation of guitar players. Keep on rockin', Alvin!"
Joe Satriani: "A big influence on my playing. He was a great musician and a gentleman too. I still have the pick he gave me a few years back…"
Keith Emerson: "Dear Alvin, you checked out way too early my friend. I'll miss the fun we had on mini-motorcycles, you as 'Awful Knawful' and our failed attempt to swim back to England from the Bahamas. That was some time ago but we made it through. Above all everyone will remember the fun and the music you made."
Chris Wright, chairman (non exec) BMG Chrysalis UK: "My career, and the foundations of the entire Chrysalis organization, started when Alvin and his group, who soon changed their name to Ten Years After, came up to Manchester in 1966 to play in a small student blues club I operated with a friend. I immediately signed them to a management contract, and later they joined both Chrysalis Records and Chrysalis Music. They went on to be an integral part of the British rock and blues invasion of the States, and starred at both the Woodstock festival, and in the subsequent film. For a while in the late 60s and early 70s they were on a par with any group in the world in terms of popularity. He was known as the fastest guitarist in the West, but that belied the fact that he was also one of the most talented, and certainly the most proficient. He was also a great on stage performer. It is really sad we will never see him again. His passing leaves a tremendous void in an era of great British music."
Brian May (writing on his website): "(Lee was) a legendary and influential guitarist and very nice bloke. His speed and dexterity, in the days when I would go as a student to the Marquee Club to see Ten Years After, was scary and exciting. He was daring enough to play and sing close to his limit every time."
Ten Years After, 'Slow Blues in C,' a 1983 reunion performance at the Marquee in London, marking the venue's 25th anniversary
Alvin Lee, 'Ain't Nothin' Shakin',' recorded at the 'Night of the Guitars' at Hammersmith Odeon, London, Nov. 26, 1988
As a reality check, consider the remembrance posted at the website of the Corvallis Gazette-Times by Graham Kislingbury. Headlined, "Forty-one years later, New regard for the late Alvin Lee," Kislingbury's article recounts how, as a college freshman in 1972, he attended a stadium concert headlining Ten Years After with supporting acts Wild Turkey (a Jethro Tull offshoot) and Tower of Power. "The music was great," Kislingbury recalls. "Alvin Lee and Ten Years After ripped through 'I'm Going Home' and 12 of their other hits–but the mood was ominous."
In addition to numerous vicious fights breaking out in the stands, "every motorcycle gang in the San Joaquin Valley showed up that day." A 19-year-old male from Modesto was killed by gunfire that afternoon and another was wounded.
"It wasn't Ten Years After's fault that things went awry," notes Kislingbury, "but I always associated Alvin Lee and his band with that bad afternoon and never listened to them much after that."
Then…
Last week as I was posting stories to the web, I came across the AP obituary for Alvin Lee, who died Wednesday in Spain at age 68 following complications from a routine surgery.
For me, the obituary shed new and positive light on Lee, who was eulogized by a friend as "great guitarist … great musician, writer, producer, performer, and a gentleman."
His daughter Jasmin, wife Evi and former companion Suzanne signed a statement saying, "We have lost a wonderful, much loved father and companion."
Tonight, I went to YouTube and watched the video of Alvin Lee and Ten Years After doing "I'm Going Home" at Woodstock in 1969. What a masterful performance.
Rest in peace, Alvin Lee.
Ten Years After performs Count Basie's 'Boogie Woogie (I May Be Wrong)' and 'Good Morning Little Schoolgirl' live in 1970