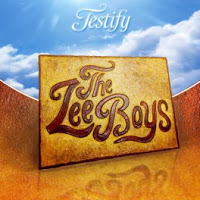 In the sacred steel tradition…
TESTIFY
The Lee Boys
Evil Teen (2012)
The sacred steel tradition developed out of the Church of the Living God, the Pillar and Ground of the Truth, the Keith and Jewell Dominions. In the hands of the right musician, the pedal steel as a gospel instrument can become another voice, just like the Hammond B3, electric guitar, or the brass instruments in the United House of Prayer.
Listening to his sacred steel work on the Lee Boys' Testify, it's safe to say Roosevelt Collier is one of those right musicians. He pulls a full range of human emotions from the strings, everything from mournful moans ("Wade in the Water") to holiness shouts ("We Need to Hear from You").
Testify is a collection of original and classic gospels. The opening track and debut single, "Smile," is a cheerful anthem of encouragement, while "Going To Glory" demonstrates how steel and the sanctified beat go together like bacon and eggs. A funky rhythm section, the warm warble of a B3, and Collier's pedal steel make "Always By My Side" sound like it emanated from Rick Hall's Fame Recording Studio in Muscle Shoals, Alabama. Actually, much of the album was recorded in Louisiana.
In gospel, the focus is often on the singer, but here the ear is squarely directed to the musicians. Not that the Lee Boys can't hold their own vocally—they do—but Collier is particularly potent when combined with electric guitarists Alvin Lee, Warren Haynes, and Jimmy Herring. The endings of tracks such as "I'm Not Tired," "So Much To Live For," and the title track are all-out jam sessions.
Born and raised in Miami, the Lee Boys grew up in the House of God, where Elder Robert E. Lee was pastor and also a steel player. The group is comprised of brothers Alvin Lee (guitar), Derrick Lee and Keith Lee (vocals), and their nephews Roosevelt Collier (pedal steel guitar), Alvin Cordy Jr. (seven-string bass), and Earl Walker (drums).
Testify is nothing less than a joyful listening experience, an album fit for fans of southern soul gospel and roots music alike.
Picks: "Testify," "Wade in the Water"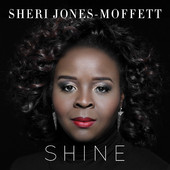 on sewing righteous seeds…
'Shine'
Sheri Jones-Moffett
EMI Gospel
The former member of Donald Lawrence's Tri-City Choir ("Encourage Yourself") and one-half of the duo Ted and Sheri interpolates the lyrics and theme of "This Little Light of Mine" into a perky, brassy, contemporary reflection on the importance of sowing righteous seeds.
"This is the right time to shine your light," Jones-Moffett sings. No doubt about that. Her indirect reference to Trayvon Martin—-"Some think you're a criminal because you have a hood on"—-makes the appeal even more relevant.
'Rhythm & Light'
CHURCH MUSIK & INSPIRATION
Half Mile Home
Select-O-Hits/Church Boy Musik (2012)
Last November, Ohio-based trio Half Mile Home released Church Musik & Inspiration, an album showcasing two sides of their musical style.
Member Terence Burton described that style as "Rhythm & Light. We definitely have rhythm, and we're trying to show our light." Essentially, they have fused their church background–a non-denominational church "with a real foot-stomping atmosphere"—-to their soul/funk roots as Solar Records recording artist 1-900 and experience working with some of R&B's leading artists.
The Church Musik portion contains plenty of muscular singing, which is particularly effective on "So Good," the trio's extroverted reworking of Billy Preston's "Nothing From Nothing." "Super Jesus" pays homage to He who is better than any superhero, "because He's real." The album includes the group's 2010 single, "Change My Lyfe," as well as a newer live version. Although the live recording contains the passionate testimony that audiences love, the studio version has more kick. "Won't Let Him Go" is a foot-tapping quartet drive song, uniquely suited to the trio's meaty vocalizing.
The six tracks that comprise the Inspiration portion are R&B dipped in electronica and driven by heavy beats. As such, it has plenty in common with the trio's previous album, 2010's Change My Lyfe, though some of the Inspiration selections lack the sparkle of the earlier offering.
Nevertheless, "Time," from the Inspirational portion, is one of the album's best selections, a wistful elegy about days slipping by too quickly. "Even When," also from Inspiration, is a melodic ballad about God's fatherly love with equally lovely vocal harmonies. Had the vocals not been burdened with a heavy musical backdrop, it could have been one of the best tracks on the CD. It might be worth a remix down the road.
Picks: "So Good," "Time"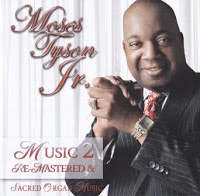 'Dean of the Hammond B3' Returns
MUSIC 2 REMASTERED & SACRED ORGAN MUSIC
Moses Tyson, Jr.
TYMO Gospel Music (2012)
www.facebook.com/OfficialMosesTysonJr
Growing up in his father's Vallejo, California, church, Moses Tyson, Jr. absorbed the sanctified sounds of the Church of God in Christ worship service and exudes them on the Hammond B3. He can make the organ sound like an anointed gospel singer one moment, and a whooping preacher the next.
On Music 2 Remastered & Sacred Organ Music, Tyson's keyboard aptitude is on fabulous display. Released this past November, the album contains most of the contents of Music 2, his September 2002 release, and meditative instrumentals on classic church hymns. It is also an effective single-disc follow-up to Tyson's 2010 double-disc re-master of his initial 1999 Music (disc one) & Sacred Organ Music (disc two).
Nicknamed the Dean of the Hammond B3, Tyson displays keyboard virtuosity, especially on instrumental versions of "Near the Cross," and "You Brought Me," where he stretches out and improvises with aplomb. Both versions of "My Soul Says Yes" employ the praise break rhythm and feature the organ as preacher/call to the background vocalists' congregation/response. The same up-tempo, aisle-dancing rhythm propels the eight-plus minute opening selection "Let Me Lean On You."
With "Thank You," Tyson pays tribute to his cousin, funk legend Sly Stone, by riffing on the chorus of "Thank You (Falettin Me Be Mice Elf agin)." He does the same on the Staples' "I'll Take You There."
The final four tracks are more contemplative organ instrumentals, a cool down from the more frenetic sacred music in the first two-thirds.
Music 2 Remastered & Sacred Organ Music will help rekindle acquaintance with, and introduce new fans to, Moses Tyson, Jr.'s old-school organ playing.
Picks: "My Soul Says Yes,"  "Let Me Lean On You"
Delivered from an unsaved life…
EXPOSED
Speak Life
Speak Life Productions (2012)
Speak Life is a vocal quintet from Ohio whose album, Exposed, finds the members glorifying God for having delivered them from an unsaved life. The passion seems genuine; the young adults who comprise the group seem as squeaky clean as gospel groups come.
They call their sound "Christian Contemporary Urban Pop." That is as explanatory as any adjective I could supply. Producer and vocalist Christopher Michael blends dance beats and hip-hop with neo-soul and CCM melodicism. Speak Life's amalgam of sounds fits with their multicultural, multi-denominational resume.
The group is at its most musically confident when at their energetic apex, as on "I Will Speak Life," "Out the Bocks" (the strangest spelling of 'box' I've ever seen), "Not Addicted," and the aptly-titled "Confidence." "Inhabit This Praise" is a slower, more thoughtful piece, but its melody makes it the best track on the album. On the other hand, "Hide Me," with Michael exhorting like James Fortune, is an interesting pick for single, because it is not as captivating as "Inhabit" or "Free," which I will get to in a moment.
"I'm An Ex," in both its regular and remix versions, has potential, as it is a clever conceit on freedom from one's past iniquities, but I personally couldn't get past the cry of "ex-homosexual" by one of the members. I will say this as delicately and discreetly as I can: I do not believe lyrics about sexual preference belong in gospel music.
If there is one song that sums up the group's philosophy, it is "Free," which contains echoes of Tom Petty's "Free Falling" in its chorus. Here the group celebrates deliverance in a way that is calming yet straightforward.
Speak Life received the 2011 I Hear Music Award for Group of the Year and Youth Performers of the Year. The quintet has also been nominated for the 2013 Rhythm of Gospel Awards in seven different categories, including CD of the Year.
Picks: "Inhabit This Praise"
Bob Marovich is a gospel music historian, radio announcer and author. His "Gospel Memories" radio program of vintage black gospel music and artist interviews airs live first Sundays from 3 a.m. to 7:30 a.m. on Chicago's WLUW 88.7 FM, and streams live at the station's website. Snippets of recent broadcasts can be heard online at the Gospel Memories Radio Show. Bob is also founder and editor of The Black Gospel Blog.