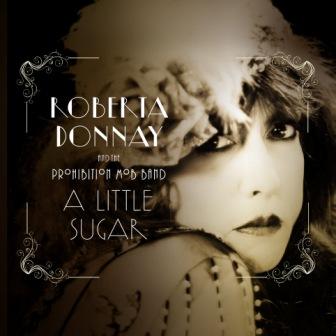 A LITTLE SUGAR
Roberta Donnay and the Prohibition Mob Band
Motéma
As one of the fabulous Lickettes in Dan Hicks and His Hot Licks since 2005 Roberta Donnay has been ideally situated to pursue her love of the music of yore, but in fact she has been doing that virtually the entire duration of her laudable career. She seemed to make her ultimate statement in this regard with 2008's Orrin Keepnews-produced What's Your Story, an album of jazz standards, but she's topped herself, conceptually and aesthetically, on her new long player, A Little Sugar, a salute in song to the grand, cocksure gal singers of the Prohibition Era in the '20s and '30s.
The new album is the result of serious deep drilling into America's musical past. When she discovered Billie Holiday, Ms. Donnay wasn't satisfied with simply knowing Billie's repertoire; she wanted to know where Billie came from, as an artist. This question led her, of course, to Bessie Smith (who is honored twice on A Little Sugar, first with a lowdown reading of a Smith double-entendre classic, "[I Want a Little] Sugar In My Bowl" and with a horn-infused Donnay-penned blues of the most laconic sort, titled after another Smith monument, "Empty Bed Blues"). Studying the Queen of the Blues as she had studied Billie led Ms. Donnay further into the past, to the true Empress of the Blues, Bessie's mentor, Ma Rainey. This lineage is honored at the outset of A Little Sugar in the understated swing (fueled by a lively horn section, John R. Burr's empathetic piano retorts and a soothing sax solo courtesy Sheldon Brown) of "Oh Papa," originally recorded by Ma and later interpreted by Bessie as "Oh Daddy" and here treated with moaning, scintillating sensuality
Part 1 of a multi-part video exploring the background and making of Roberta Donnay and the Prohibition Mob Orchestra's A Little Sugar
Part 2 of an inside look at A Little Sugar
Unlike Ma and Bessie, unlike the "Uncrowned Queen of the Blues" Ida Cox, Roberta Donnay is not blessed with a hefty voice and the weight to throw it around, you might say. Hers is lighter, airier, more like a cornet or muted trumped, but her frisky, assured attack is that of a woman in charge; moreover, she's entirely credible singing these wonderful, wise, well-observed songs from a time long ago and far away but ever relevant to the human condition, especially as it concerns men and women together or coming apart. Whereas Cox stomped her way through her own "You Got To Swing and Sway," Ms. Donnay gets the horns jumping, the percussion driving and flits along the melody line like a hummingbird, and with bracing insouciance—here, as at other points on the album, she summons memories of the light, bright vocal flights of the young Ella. To those that simply can't abide her teasing, girlish persona, the artist has a response in her despairing take on Hoagy Carmichael's "Rocking Chair." Dispensing with the father-song call-and-response structure of Carmichael's original, Ms. Donnay turns the song into the piercing soliloquy of a woman at road's end, immobilized and awaiting Judgment Day, nothing left to give. On the piano Burr fashions a lonely, evocative backdrop and the occasional deep moan from co-producer Sam Bevan on bass enhances a moment made more sorrowful for the emotion suffusing the singer's lament. By contrast, the youthful spirit of her sultry reading of Irving Berlin's "(Tropical) Heatwave," in a bouncy, horn-driven arrangement that breaks out into a sprint about halfway through, when Rich Armstrong takes off on an energetic romp of a cornet solo, imbues the tune with an appealing blend of sensuality and joie de vivre in a cool, carefree delivery; similarly, her nuanced, brisk reading of Fats Waller-Billy Rose's witty ditty, "I've Got a Feeling I'm Falling," is beautifully shaded between higher- and lower-register passages to communicate both her wariness and her anticipation of a new love on the horizon, as Burr on piano and Wayne Wallace on trombone urge her on with high flying solos.
Part 3 of an inside look at A Little Sugar
Part 4, the final installment of an inside look at A Little Sugar
Ms. Donnay is not playing around here. The fancifully named Prohibition Mob Band is populated by pop-jazz and blues veterans with sterling resumes. Her co-producer/bassists Sam Bevan has worked with David Grisman and Geoff Muldaur, among others; as a producer and trombonist Wayne Wallace has five Grammy nominations to his credit, is a major figure in the jazz and Afro-Latin jazz worlds, teaches at San Jose State University, Stanford and the Jazzschool in Berkeley and is a member of the Stanford Jazz Workshop, and heads his own Patois Records label, which is focused on chronicling the diversity of the San Francisco Bay Area music scene; John R. Burr has long been a favorite of banjo titan Allison Brown and has also played with Maria Muldaur, whose own historical excursions into the music of pioneering female blues singers is clearly a model for what Ms. Donnay does here; composer and woodwind multi-instrumentalist Sheldon Brown has led his own combos, composed scores for a number of films (including silent such as Fritz Lang's classic Metropolis and Buster Keaton's Sherlock Jr.) and, like Wayne Wallace, teaches at the Jazzschool in Berkelely; drummer Michael Barsimonto has backed Freddie Hubbard, Brian Auger and Jean-Luc Ponty, among others. These players understand the sanctity of the song and respect the message Ms. Donnay wants to deliver. A listener can't help but be struck by the band's resourcefulness, how it makes the most out of largely understated arrangements—Burr and Bevan are spectacular in their quiet ways on piano and bass in conjuring a desperately lonely mood behind the singer as she rummages around wounded in the heartbreak of Irving Berlin's pleading ballad, "Say It Isn't So"—and its unerring feel for a song's emotional textures, be they subtle or overt. Here's hoping this is not a one-off project but rather the start of a beautiful friendship.