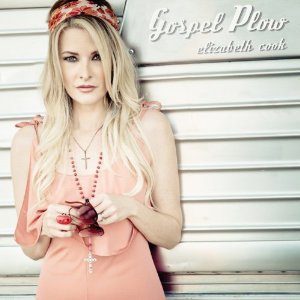 GOSPEL PLOW
Elizabeth Cook
31 Tigers Records 
In a statement she sent out with her new Gospel Plow EP, Elizabeth Cook admits she was feeling "jaded, tired or lazy" when the promoter of the Strawberry Festival in northern California asked her to play the Sunday morning Gospel Brunch. Nevertheless, she and her bandmates Tim Carroll (who is also her husband) and Bones Hillman "lugged our hangovers down to the lakeside stage."
But as she and the band dug into "holy-roller numbers we'd worked up, in the style of what I recalled from my childhood" (she ordered Carroll to play guitar "like Credence"), something clicked between artists and audience; moreover, that spirit sent Cook's mind reeling back to her youth, summoning sense memories of "good rocking country bands twanging for Jesus," and thoughts of the gospel road that brought Elvis to rock 'n' roll, along with a recognition that "I get giddy at the thought of Jake Hess, Dottie Rambo and Vestal Goodman.
"I guess I forgot that I am simply a fan of this music, and how that came to be."
Elizabeth Cook, 'If I Had My Way, I'd Tear This Building Down,' at The Station Inn, Nashville, 2012
For Cook personally, this music came to be at the Sunset Park Church of God in Sumter County, Florida, where she grew up. There, in the church's "bleached-out shell," people were transported, for hours, to an ecstatic place where they passed out, wept uncontrollably, spoke in tongues, claimed to be healed–"it was a hell of a throw down and completely music driven."
Steeped in memory, history (personal and musical) and conviction, Gospel Plow is Cook's most personal testimony in a concise seven songs with Carroll and Hillman augmented by keyboardist Tim Atwood, Matt Combs on mandolin and Greg Davis on banjo. She doesn't have a hefty voice, but her pinched, high-pitched, biting timbre carries considerable urgency in its tone. And let it be said that the artist who is noted for singing hard-edged, tough-minded country songs such as "Sometimes It Takes Balls To Be a Woman" and "Heroin Addict Sister" (dare we omit "Yes to Booty"?) is every bit as convincing singing of spiritual matters, starting with the dark, thundering ruminations on Samson and Delilah in Blind Willie Johnson's "If I Had My Way, I'd Tear This Building Down" (her version incorporates some lyrical alterations crafted by the Grateful Dead in their version on Terrapin Station).
Elizabeth Cook, 'Hear Jerusalem Calling' (written by Jerry Sullivan and Marty Stuart) at the Green River Festival, July 2012, also on The Gospel Plow
Apart from the Blind Willie number, though, the approach is more in keeping with her directive to Carroll to play guitar "like Creedence." That is, energetic, edgy, rocking and intensely emotional–as Carroll does in his fuzzed-out electric guitar soloing in the traditional "Gospel Plow," in which the thick sonic backdrop and the repetitive command to "keep your hand on the gospel plow" hit with jackhammer force. With burbling keyboards and her own forcefully strummed acoustic guitar, Cook blurs the line between love song and salvation plea in "Every Humble Knee Must Bow," another traditional number almost completely remade by her arrangement. The EP's most dramatic moment comes with "The Other Side of Life," a traditional song Vern Gosdin has owned, here couched in a reverent, somber arrangement keyed by a softly humming organ that heightens the mix of melancholy and buoyant anticipation the singer emits in the voice of a woman seeing visions of heaven as her life ebbs away. It's stunning, precisely because Cook doesn't overdramatize it but rather makes the transition from one world to another seem as natural as breathing.
Elizabeth Cook hosts the 'Gospel Plow Power Hour' on Sirius XM Outlaw Country: nearly a full hour of her own gospel songs from her Gospel Plow EP plus her hand-picked selections from the gospel recordings of Johnny Cash, George Jones, Billy Joe Shaver and others.
Following the respite of "The Other Side of Life" Cook kicks out the jams on two rousing bluegrass gospel numbers, "Hear Jerusalem Calling," a Jerry Sullivan-Marty Stuart co-write originally featured on the Sullivans' Tomorrow album (2002) that turns into a rousing salvation celebration fueled by Carroll's relentless, rockabilly-esque electric guitar, Davis's rocking banjo and a howling, unbridled Cook vocal; a tad less raucous but no less heated, Cook's strutting version of the bluegrass gospel gem "These Men of God" spices it traditional strut with punctuations from Carroll's twanging guitar. (Anyone who's heard Dolly Parton's bluegrass albums might be surprised at how much Cook sounds like the Parton of those masterpieces on these two cuts.) Most unexpected, perhaps, but in keeping with the approach here, Cook closes the EP with a take on the Velvet Underground's "Jesus" (written by Lou Reed for the group's legendary first album, 1967's The Velvet Underground & Nico, and as such is Cook's second foray into VU territory, the first being her version of "Sunday Morning" on 2007's Balls) that retains some of the original's spaciness but adds a country flavor to the understated arrangement and a southern gospel feel to the vocal approach (it's ripe for a quartet in this style), although lyrically the song is little more than an appeal for divine guidance ("help me in my weakness/'cause I'm falling out of grace/Jesus, Jesus").
Finally, that a record this assured and moving ends after seven songs in less than 20 minutes seems a darn shame. You know Elizabeth Cook is not going to transform herself suddenly into a gospel artist, but she needs to pass this way again some time and help us all get Satan behind us. Can I get an amen, brothers and sisters?