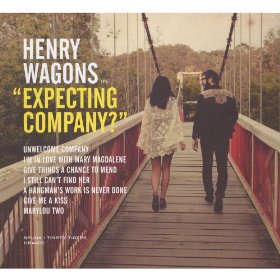 "EXPECTING COMPANY?"
Henry Wagons
Thirty Tigers
Australia's Henry Wagons made a good impression in the States last year as part of Wagons, a zany troupe of roots rockers of indeterminate number all sharing a wildcat soul that was on vivid display in the band's U.S. debut album, Rumble Shake &Tumble. Henry is back in 2013 with "Expecting Company," a solo effort immersed in the spirit of Wagons the group even though Henry's mates Down Under are on holiday here while he plays almost all the instruments himself. Otherwise, it's familiar Wagons (artist and band) territory ranging across seven original tunes. Which means you find Wagons musing about sleeping with Mary Magdalene, imagining what must go through a hangman's mind as he attends to his deadly duties, contemplating a family history of adultery, trying to make sense either of a dream or an hallucination in which angels with "malicious intent" and a "putrid scent" terrorize him, and lamenting plain old paralyzing heartbreak.
Henry Wagons and Alison Mosshart, 'Unwelcome Company,' from the EP 'Expecting Company?'
A unique sampler of Henry Wagons's 'Expecting Company?'
Driving these tales is music of varying textures and pedigrees. Melodramatic cabaret rock fuels "Unwelcome Company," the one about the malicious angels, which evolves into a nightmare scene in which he kills a "sea of mice" swarming his house; he gets a demonic vocal assist here from the Kills' Alison Mosshart as the tune churns and roils behind gunshot drumming by Si "The Philanthropist" Francis and a screeching lead guitar by either Wagons or Richie Blazé); the dry, dusty, southwestern twang of "I Still Can't Find Her" underpins the tale of a family's adulterous history, which may be addressed to a significant other who's gone astray, with Wagons's heavy baritone betraying the cosmic weight of betrayal in his mournful "I still can't find her" refrains. Appropriately, "I'm In Love with Mary Magdalene" starts with a somber chant before breaking into a stampeding, guitar-driven charge (a la "Ghost Riders in the Sky") with fellow Melbourne artist Sophia Brous contributing a striking guest vocal to a tune that foresees condemnation to "the fiery den below" for lusting after "the last one to stand beside Jesus at his death." It's not all fevered scenes with Wagons, even though he's clearly adept at those. The EP's gem is the straight-ahead country weeper, "Give Things a Chance to Mend," about a couple trying to repair their shattered love, complete with a weeping pedal steel and a beautiful wounded vocal by Canadian pop singer-songwriter Jenn Grant; close behind that would be the shimmering, aching "Please Give Me a Kiss," a lovers' dialogue in which each party recognizes the inevitable and irrevocable split to come, with the distaff part articulated by fellow Aussie Helen Croome (aka Gossling) in her sweet, lighter-than-air voice, while Wagons affects a little Hank Jr. in his foreboding rumble (he also works in a variation on George and Tammy's "We're Gonna Hold On" at the end of his first verse, as does Croome later on), all of which plays out over a rich, rootsy soundscape populated by subdued steel moans, acoustic guitar and chime-like keyboards. In the end, "Expecting Company" plays like as a collection of short stories in musical form; as such, and without going overboard given the slight body of work to his credit, his proclivity for finding the surreal in the quotidian finds him edging into Jorge Luis Borges territory. We'll see what he makes of that.