THE TIME JUMPERS
@City Winery
New York City
February 12, 2013
When the Time Jumpers came to New York City on February 12 and took the stage at City Winery, the undectet could boast no less than 54 major awards in its membership. Now, an astonishing 38 of those honors–20 Grammys and 18 CMA awards—are accounted for by one person, Vince Gill; Paul Franklin, heir to the throne of a long line of legendary Nashville steel guitarists (who succeeded one of those legends in this group, the late Papa John Hughey) is the recipient of 11 ACM Steel Guitarist of the Year awards (and has been inducted into the Steel Guitar Hall of Fame); on his mantel fiddler Larry Franklin has three Grammys as Instrumentalist of the Year for his work with Asleep at the Wheel; and Ranger Doug Green has carted home two Grammys with his long-lived western trio Riders in the Sky. Those TJs that haven't racked up awards have something to brag about as well, though, namely resumes of working with a veritable Who's Who in country music spanning the past 30 years: their ranks include one incredible vocalist in Dawn Sears; the other two fiddlers in the triple fiddle lineup, Kenny Sears (Dawn's husband) and Joe Spivey; standup bassist Denny Crouch; drummer Billy Thomas (who broke into the business as a member of Gill's band in 1987 and later became a founding member of McBride and the Ride); Jeff Taylor, a multi-instrumentalist whose duties with the Time Jumpers are mostly as a keyboardist and accordion player but who also plays concertina, mandolin, bouzouki and penny whistle; and ace studio guitarist Andy Reiss, whose credits include playing on two Grammy winning songs and crossing over for sessions with some top-flight jazz artists (his first Nashville session came in 1981, when he joined a dazzling crew of Music City's first-call pickers on album sessions for none other than Slim Pickens).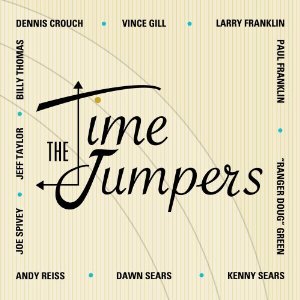 This all began in 1998 when a bunch of studio musicians took over otherwise-slow Monday nights at Nashville's Station Inn and were soon joined in their free-form forays into traditional country music by the likes of Gill, Bonnie Raitt, Emmylou Harris and…you get the drift…and a rabid audience. This went on for a few years, fans packing the Station Inn on Mondays and big names showing up to let their hair down playing the country canon. Calling themselves the Time Jumpers ("and we play timeless music," as group leader Kenny Sears says in introducing the band at the evening's outset), they released a live album, Jumpin' Time, in 2007, and lo, it merited two Grammy nominations. Cut to five years later, in September 2012, and another TJ album appears, simply titled The Time Jumpers. In addition to a couple of country evergreens done to a turn as if the TJs owned the songs, this beauty features original tunes—such as Larry Franklin's frisky triple fiddle-fired instrumental inspired by his home town, "Texoma Bound"; Dawn Sears's wrenching country tearjerker, "So Far Apart"; Ranger Doug's lilting, western-flavored heartbreaker, "Ridin' On the Rio" (its vivid references to the parched Texas landscape reflecting the influence of Bob Nolan much as its close harmonies evoke the haunting sound of the Sons of the Pioneers); and a torchy rendition of Vince Gill's beautiful "Faint of Heart," from These Days, the artist's Grammy winning four-CD monument of 2006, but here with Dawn Wells delivering the smoky, plaintive vocal amidst a lush, romantic backdrop keyed by the steel guitar and the fiddle trio.
City Winery's packed house of Time Jumpers partisans was well-versed in this history (and some were clearly well lubricated) and greeted Kenny Sears's "we play timeless music" introduction with an enthusiastic roar. Over the course of some two hours the band's 30-years of practical experience in country music informed an astonishing night of virtuosic playing that the principles made look easy. The value-added portion was  a Dawn Wells clinic in emotionally raw country vocalizing informed by life experiences that have brought her an infallible sense of a story's nuances. Not exactly a support act, Gill was commanding on multiple fronts: singing, playing and as raconteur engaging the audience in easy, affable banter. He should take the act on the road.
The Time Jumpers, 'Sweet Memories,' Dawn Sears on lead vocal and the late, great Papa John Hughey on pedal steel
The Time Jumpers on the Grand Ole Opry perform Harlan Howard's 'Someone Had to Teach You,' from the band's new album. Dawn Sears, lead vocal.
Sears in fact stunned the audience into silence with a heart-piercing rendition of "Sweet Memories," her Grammy nominated number from the first TJ album. No one who was there will soon forget the sound of Franklin's steel, gloriously weeping and swirling Heavenward, or the creamy smooth, chillingly ethereal Sears-Gills harmonized "oohs" or the raw, soul baring testifying to abject heartache inherent in Sears's every lacerating cry. This performance even eclipsed a heartrending reading she had given earlier of "The Roots of My Raising," Merle Haggard's 1975 Tommy Collins-penned classic, a moment made all the more powerful by a stark, sober arrangement that gave Sears wide interpretive latitude to make her mark in her moving assertions of the sustaining strength of home and family. And though she couldn't remember that George Strait had originally recorded the Harlan Howard-penned "Someone Had To Teach You," she was quickly forgiven her senior moment with the first wide sweep of fiddles and even more so as she delighted in the song's pitiless schadenfreude, which was mitigated a bit by the weeping, cascading moans emanating from Paul Franklin's steel in a sparkling arrangement that recalled the glory days of New Traditionalism.
The Time Jumpers, 'Six Pack to Go,' with Vince Gill getting lowdown and bluesy on the Hank Thompson classic
Wearing overalls with white socks and sneakers, and in need of a shave, Vince Gill overcame his sartorial shortcomings to quietly dominate with several dazzling lead guitar forays (and some lead exchanges with fellow six-string wizard Andy Reiss) and, as always, with his scintillating vocals. Most notable of these was a slow, grinding blues treatment of Hank Thompson's "Six Pack to Go" during which he cut loose with a blues wail, the power of which drew roars from the assembled multitude. Earlier he had divested himself of a beautiful homage to Buck Owens with the familiar phrasing he adopted on "Together Again," and, at the end of the regular set, he gave "Corrine, Corrine" a new coat of paint in country blues colors.
The Time Jumpers, with Ranger Doug Green and Dawn Sears on vocals, perform 'Yodel Blues,' written by Johnny Mercer and Robert Dolan for the 1949 Broadway musical, Texas, Li'l Darlin'
Bob Wills loomed large on this night, not only in the sound of the triple fiddles (that would make Bob holler!) but in the sheer number of Wills tunes, including a genial, swinging take on Cindy Walker's "Sugar Moon" (an occasion for another amazing Paul Franklin steel solo), and lesser known entries, dotting the setlist and offering a showcase opportunity for the keening fiddles. And lest we forget, though "Corrine, Corrine" has been recorded by countless across in many styles, in his own day Wills adapted it to a western swing number. For his part, Ranger Doug Green did a fine job on three Wills songs. He also performed a previously obscure number off the new album called "Yodel Blues." Though its lyrics cast a rather harsh light on New York City ways and manners, those were crafted by Johnny Mercer and Robert Dolan to be sung by displaced Texans in the 1949 Broadway musical, Texas, Li'l Darlin' (it later became a wonderful Mercer-Jo Stafford duet; in the original Broadway cast it was sung by Kenny Delmar and Mary Hatcher, whose version can be sampled here). Lest the Gotham crowd be offended by the song's jaundiced view of city folk, Ranger Doug made sure to acknowledge Mercer as its composer before he receded into the background to resume rhythm guitar duties.
The Time Jumpers, 'Sugar Moon," a Bob Wills standard written by Cindy Walker
The Time Jumpers, Ranger Doug Green, his self-penned 'Ridin' On the Rio,' from The Time Jumpers album. Live performance captured at 3rd & Lindsley in Nashville, June 11, 2012.
Even two encores didn't whet the fans' appetite, but there were no more to come. It wasn't easy jumping back in time to the present day and the reality of a cold Manhattan night, but where the Time Jumpers took their audience was a great place to be. It was kind of like being in the Twilight Zone episode, "A Stop at Willoughby," in which stressed-out media buyer Gart Williams believes he awakens on his train ride home to the sight outside his window of a sunny, slow-paced world of long ago, 1888, to be precise. The town, Willoughby, is "a peaceful, restful place, where a man can slow down to a walk and live his life full measure." I don't know about anyone else, but when the Time Jumpers come around again, I'm going with them to Willoughby. But unlike Gart Williams, I won't be leaping to my death. I'll be leaping into their life affirming music and staying there.