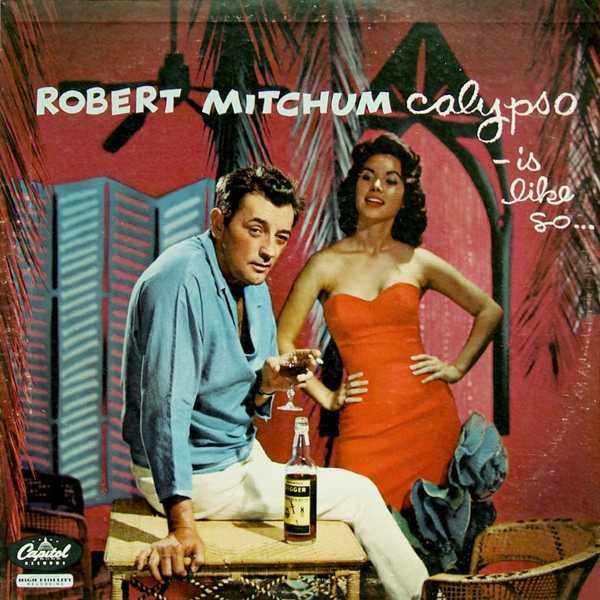 Think Robert Mitchum and you likely think babes, booze, brawls, drug busts, disdain for the Hollywood lifestyle and even for his own profession (he titled his autobiography It Sure Beats Working). You might also remember him as a commanding screen presence, regarded by many critics as the epitome of the strong, silent and deadly film noir anti-hero for his riveting performances in Cape Fear (1962), The Sundowners (1960), River of No Return (1954, co-starring with Marilyn Monroe), Night of the Hunter (1955, one of his most electrifying performances in what was Charles Laughton's only film as a director) and the 1957 Academy Award-nominated, John Huston-directed Heaven Knows, Mr. Allison.
In 1958 author and film critic James Agee (Let Us Now Praise Famous Men) told Mitchum the story of a moonshiner who in 1952 crashed and died on a road outside Knoxville, Tennessee. Mitchum co-wrote a screenplay based on Agee's tale and produced the resulting film, Thunder Road (rumor has it he directed much of it himself too). The film was a hit, especially with young audiences that made Mitchum a cult hero, and its theme song, co-written and recorded by the film's rumbling baritone star, was a modest hit, peaking at #62 (four years later, in '62, it was reissued and peaked at #65).
Robert Mitchum sings the title song he co-wrote for his 1958 film Thunder Road. It was his only hit single, peaking at #62 in '58; four years later it was re-released and peaked at #65.
But "Thunder Road" was only the latest manifestation of Mitchum's vocal talent. In films as early as Pursued (1947), he sang for the camera, specifically, "The Londenderry Air" and "The Cowboy's Lament." In The Night of the Hunter he was especially effective in delivering conviction when singing the hymns "Bringing in the Sheaves" and "Leaning on the Everlasting Arms." Mitchum also sang "Tell Me Golden Moon" with Ann Blyth in the 1952 military romance One Minute to Zero.
The best was yet to come.
In 1957, when Mitchum was on location in Trinidad shooting Heaven Knows, Mr. Allison, he and director Huston had become fast friends and running buddies, spending a lot of their free time together exploring Trinidad and Tobago. Mitchum fell in love with the local music, Calypso; a superb mimic, he listened with a discerning ear to local titans such as Lord Melody and Mighty Sparrow, memorizing intricate lyrics and oddly timed phrasings in small native bistros, while also absorbing the rhythmic excitement of such festivities as the great annual Jump Up Carnival. He spent close to a year in those heated, sensual climes before returning to the States with rapturous reports and persuasive demonstrations of the exciting, exotic new music he had found.
He wasn't the only artist who had discovered Calypso, though. Harry Belafonte had already put it on the American cultural map in 1956 in a big way with his #1 single, "Banana Boat Song," and 1957 album, Calypso.
In a moment of fortuitous timing, Mitchum pitched the notion of him recording a Calypso album to Capitol Records founder Johnny Mercer at the moment the label was looking to cash in on the craze Belafonte had ignited. A deal was struck, and Capitol sent Mitchum into the studio.
Mitchum was so je ne sais quoi and so gifted, it's hard to tell if the resulting album, Calypso Is Like So… (released in 1957), was intended as a novelty or a serious stab at establishing himself as a vocalist. There's no mistaking him for an authentic Trinidadian, but his accent is natural, his phrasing on the money, and his attitude properly free- (if not high-) spirited. The sonics are a bit odd in places–the horns in the Mighty Sparrow's "Jean and Dinah" sound tinny and distant, as if they were recorded in a different room–but other touches, such as ebullient interplay between the steel drum and woodwinds in "I Learn the Meringue, Mama," along with fanciful flights of banjo soloing, add interesting, rustic textures to the arrangements. The songs are almost evenly divided between ones drawn from known Trinidadian artists and ones newly written for Mitchum's album; but even with the arrangements tailored for the American commercial market (meaning less edgy and less primitive than the original recordings the Mitchum team drew from) the album is, in a word, cool. That is, it's quintessentially Robert Mitchum. If you don't like it, he don't care. If you can't enjoy his good time, good luck making yourself feel superior listening to the Lumineers.
It's like so…
(Note: This wasn't Mitchum's only album. In 1967 he cut an LP for Monument titled That Man, Robert Mitchum…Sings, featuring country and pop hits of the day, including "Sunny," "Gotta Travel On," and "Little Old Wine Drinker Me," and liner notes by Johnny Mercer, who observed: "The same carefree attractiveness that you find in his acting, you will find on this Monument album. The same independence of spirit. What some would call a 'maverick,' I would call a 'free palamino…'." Another album, Tall Dark Stranger (unissued), found Mitchum tackling jazz standards such as "I Get a Kick Out of You" (does anyone believe him when he sings, "I get no kick from cocaine…'?), "Dinah" and "Dream a Little Dream.
The Bear Family release of Tall Dark Stranger also includes some tracks Mitchum cut for Decca in 1948 for the film Rachel and the Stranger, including the title track, "Rachel" and "O-He-O-Hi-O-Ho," and his version of the title song from his 1969 Burt Kennedy-written and -directed western, Young Billy Young.)
SIDE ONE
1. 'Jean and Dinah,' Robert Mitchum, Calypso Is Like So… (written by the Mighty Sparrow)
2. 'From a Logical Point of View' (the model for Jimmy Soul's 1963 #1 single, 'If You Wanna Be Happy'), Robert Mitchum, Calypso Is Like So… The model for Jimmy Soul's 1963 #1 single 'If You Wanna Be Happy' (songwriter credit: Joseph Royster, Carmella Guida, Frank Guida), 'From a Logical Point of View' was based on the 1934 song 'Ugly Woman,' by West India calypsonian the Roaring Lion (aka Hubert Raphael Charles). In 1943 the Duke of Iron, recording for Jubilee, cut a version titled 'Marry a Woman Uglier Than You.'
3. 'Not Me,' Robert Mitchum, Calypso Is Like So… ("women of today are smarter than men in every way…")
4. 'What Is This Generation Coming To,' Robert Mitchum, Calypso Is Like So…
5. 'Tic, Tic, Tic (The Lost Watch),' Robert Mitchum, Calypso Is Like So…
6. 'Beauty Is Only Skin Deep,' Robert Mitchum, Calypso Is Like So…
SIDE TWO
7. 'I Learn the Meringue, Mama,' Robert Mitchum, Calypso Is Like So…
8. 'Take Me Down to Lover's Row,' Robert Mitchum, Calypso Is Like So…
9. 'Mama, Looka Boo Boo,' Robert Mitchum, Calypso Is Like So… (originally recorded by Lord Melody in 1956, covered by Mitchum in 1957, this was Harry Belafonte's second hit single, peaking at #11 in 1956 following the chart topping success of his 'Banana Boat Song.')
10. 'Coconut Water,' Robert Mitchum, Calypso Is Like So…
11. 'Matilda, Matilda,' Robert Mitchm, Calypso Is Like So…
12. 'They Dance All Night,' Robert Mitchum, Calypso Is Like So…
Bonus tracks on the Scamp label's reissued album include Mitchum's only hit single, "Ballad of Thunder Road," and its B side, the rockabilly-influenced "My Honey's Lovin' Arms."
13. 'Ballad of Thunder Road,' Robert Mitchum, Calypso Is Like So…
14. 'My Honey's Lovin' Arms,' Robert Mitchum, Calypso Is Like So…