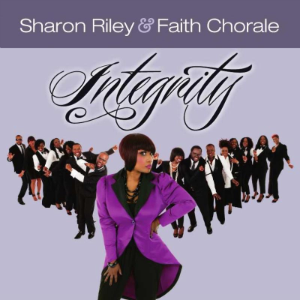 'a polished contemporary ensemble'
INTEGRITY
Sharon Riley & Faith Chorale
It's not often we hear from the Canadian gospel scene, although there is a thriving gospel community north of the U.S. border. From the Quebec Celebration Gospel Choir to the Sojourners in Vancouver and—-until recently Danny Brooks, who has now relocated to Austin.
The Juno Award-winning Sharon Riley & Faith Chorale from Toronto has been a gospel mainstay in Canada for more than twenty years. After a major auto accident in 1990 left Riley in a wheelchair for a spell (she still relies on a cane), she began singing with a group of friends that evolved into Faith Chorale. The first Canadian gospel artist to sign an international contract, Faith Chorale appeared at the 1999 Grammy Awards, supporting Ireland's legendary Chieftains.
The choir's album Integrity was recorded live at Toronto's Church on the Queensway. Led by Riley (I love her flapper 'do on the album cover), Faith Chorale is a polished contemporary ensemble that evinces training and a solid grasp of choral technique.
'Integrity,' the title track from Sharon Riley & Faith Chorale's new album
They almost blow out their gaskets on the opening selection, "Awesome," which is not the Fellowship Chicago hit but a composition by Nevon "Lyriq" Sinclair and Joel S. Chambers. "The Journey Medley" is a review of the group's most popular songs, and "You Don't Know" is Riley's testimony, although articulated in generalities (one assumes the audience already knew the basic story).
Special guest artists include Mali Music, who leads the choir on "I Shall Live" (a video of this performance is currently available on the Faith Chorale website), and Sean Simmonds on the fine "I Got It."  "Awesome" and "I Got It" are the album's high points and bookends.
Picks: "Awesome," "I Got It."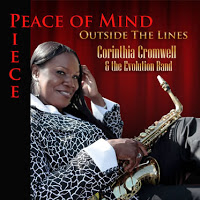 Gospel in varied styles…
PEACE OF MIND, OUTSIDE THE LINES
Corinthia Cromwell & the Evolution Band
MoCro Productions
The thematic premise of Peace of Mind, Outside the Lines, by saxophonist-vocalist Corinthia Cromwell & the Evolution Band, is its presentation of separate gospel and jazz sections. In actuality, the nine-track gospel section is a survey of music styles—-from jazz to rock, blues, fusion, and reggae, as well as traditional gospel.
The traditional track, "One More Day." is a fine gospel blues. While it could benefit from more lyrical variety, "One More Day" is satisfying, due largely to Cromwell's full-bodied vocals. Another phenomenal performance is the traditional "'Tis So Sweet," an instrumental duet between Cromwell on sax and virtuoso pianist Cyrus Chestnut. In their hands, the song lives up to its title in more ways than one.
Despite the cornucopia of musical flavors that Peace of Mind, Outside the Lines offers, the listener can definitely tell when the gospel section ends and the jazz portion begins. Most of the half dozen jazz tracks are energetic instrumentals that evoke the Rippingtons or latter-day Passport. One notable exception is the classic "Nature Boy," which once again unites Cromwell and Chestnut on a wistful duet. Their interplay, and especially Chestnut's playful solo, conclude the jazz segment and is its high point. With no disrespect to the other fine players on the album, an entire disc of Cromwell and Chestnut interpreting hymns and spirituals—like Charlie Haden and Hank Jones did on Steal Away (Verve, 1995)–would be breathtaking.
Corinthia Cromwell & the Evolution Band (formerly known as the Upfront Band), first made noise with their 2002 album Stick It In Ya' Ear. Since then, they have played live in auditoriums, festivals, and colleges; and on radio, television, and film.
Picks: "One More Day," "'Tis So Sweet," "Nature Boy."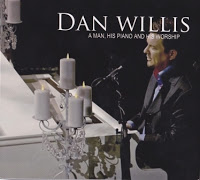 'a gentle and prayerful album
A MAN, HIS PIANO AND HIS WORSHIP
Dan Willis
Dan Willis Ministries
You may know Pastor Dan Willis as head of Lighthouse Church of All Nations in South Suburban Chicago, from his popular I'm Just Sayin' television program on TCT, or perhaps from way back when he fronted the Pentecostals of Chicago (POC) chorus.
If so, you know this blue-eyed soul child–my acknowledged "brother from another mother"–can sing gospel. What I learned from Willis' new CD, A Man, His Piano and His Worship, is that he is also an accomplished pianist. Not satisfied with merely accompanying himself with standard chording, he draws from an arsenal of arpeggios and other techniques to ornament his singing.
Rev. Dan Willis, 'I Know It Was the Blood'
The album, mixed and mastered by Tommies alum Darius Brooks, captures Willis in recital at Trinity Christian College in Palos Heights, Illinois. A polite but enthusiastic audience absorbs Willis' acoustic performance of contemporary inspirational favorites, which range from Kevin LaVar's introspective "A Heart That Forgives" and Malcolm Williams' "You Shall Live and Not Die," to Rolf Lovland's international smash, "You Raise Me Up." "You Love Me" is the album's most gentle, most heartwarming selection.
Willis can, and does, shout sanctified during the recital, but for the most part, he renders the songs in what can best be described as a musical theater voice. He even sounds startlingly like Michael Crawford on "Isn't He Good All the Time." The main focus is Willis on piano, but instrumentalists Marvalinn Stull and Katie Bern join in on "You Raise Me Up" and "In Your Embrace," respectively. Willis also gets assistance on the prayerful final selection, "Be Still And Know Your Time Has Come," by Kevon Carter, a young man with a handsome voice.  And yes, turntablist DJ Pookie of I'm Just Sayin' also cameos!
I was hoping that Willis would include a medley of old-school Baptist hymns in the recital, but "I'm Just Sayin'." A Man, His Piano and His Worship is a gentle and prayerful album with a high likability factor.
'likely to become a gospel classic, an essential'
BLESS THIS HOUSE
Kurt Carr & the Kurt Carr Singers
Verity Gospel Music Group
It is a great sign when the year begins with such a strong release as Bless This House. The two-CD live performance by Kurt Carr & the Kurt Carr Singers is not only destined to become one of the year's best projects, but is likely to become a gospel music classic, an essential.
Bless This House is the first Kurt Carr project in four years and marks his music ministry's Silver Anniversary. The project is worth the wait. It blends P&W with traditional gospel in a way that is familiar and yet refreshingly original. From the opening seconds, the Kurt Carr Singers sound like a senior choir trained by the late O'Landa Draper, dramatic and sonorous, though they demonstrate a palette of hues during the two hours of music.
Kurt Carr & the Kurt Carr Singers, 'I've Seen Him Do It,' from the album Bless This House
The songs and soloists sell this album, and Maestro Carr seems to have captured the market on powerful vocalists. Artists such as Nakitta Foxx, Michelle Prather, Nikki Potts, Jerard Woods, Dr. Judith McAllister, Vonnie Lopez (her work on "I've Got So Much" tears up the audience), Chrystal Rucker, and Lorraine Stancil-Lawson are present. Carr even pulls gospel dynamo Kathy Taylor out of the audience to sing on "Between Here and There." "Touched by the Fountain of Grace" features Troy Bright, whose vocals demonstrate gospel and classical training.
The live program almost fast forwards into Doxology after the group performs the misty-eyed "I've Seen Him Do It," a song of encouragement borne of testimony. "It's a Good Day" is Carr's take on the "I Smile" mindset, that any day above ground is a good day. Reminded me of the joke about the saddest blues in the world, which starts with "Didn't wake up this morning…"
Kurt Carr & the Kurt Carr Singers, live, 'Let Everything That Has Breath/I've Seen Him Do It'
Traditional songs are given all of the bluesy trills and flowers and the P&W songs are energetic and many also provide hope and encouragement, such as the title track, which is not the Mahalia chestnut but a new composition. There are Baptist shouts, Sanctified beats, and the program even takes a praise break, which was stirring for about two songs until it finally broke through. Towards the end, Carr dedicates a funky version of "Amen" to his godmother, the late Albertina Walker.
Bless This House would be a fine project if it ended with the first CD, but the fact that the group had more to give is extraordinary. If this project does not garner a Grammy nomination next year, I'll eat my hat.
Picks: "Bless This House," "I've Seen Him Do It," "It's A Good Day."
AWESOME
Tisa
Next Level Gospel
Awesome, by Latisia Renee Wood, aka Tisa (pron. tee-sah), is a live album produced by triple threat VaShawn Mitchell, who also contributes two songs to the project, including the title track.
The album offers a stack of devotionals from a variety of songwriters. This is a smart decision for an indie recording artist because, unless he or she is a supremely gifted writer, it enables listeners to evaluate the singing in the context of familiar tunes. Put another way, a not particularly powerful song can lessen the singer's impact in the ears of the beholder.
Mitchell's "Awesome" is the strongest song on the album, and a crowd pleaser, because Tisa sings it with plenty of confidence. She also does a fine job on the mellow "It Belongs To Him," a selection that sounds a little like Mitchell's "Turning Around For Me," but not deliberately, because it was written by Markeyta L. Sconiers-Boone in 2005
"Didn't Have To Do It" gives praise a rationale. Tisa sings that God is worth praising because, among other things, He didn't have to set us free. "Tell It," another Mitchell composition, is a head-bobbing, feel-good song. "Give Us This Day" is a dramatic recitative that could have been an extraordinary moment, but it does not reflect Tisa's strongest vocal work.
Tisa, 'No Sweeter Name,' from the live album, Awesome
Awesome was recorded live at Mt. Gilead Full Gospel International Ministries in Richmond, Virginia (Bishop Daniel and Co-Pastor Elena Robertson, Jr.). Among Tisa's collection of accolades is semi-finalist in Bishop Paul Morton's Gospel Dream Talent Search. So…does being a wife, mother, singer, and college basketball player make Tisa a quadruple threat? I'm thinking it does.
Picks: "Awesome."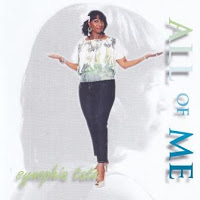 'exploring facets of praise, faith and hope'
ALL OF ME
Synophia Tate
Better Than Blessed Ministries
 Hailing from Durham, North Carolina, Synophia "Syn" Tate is a singer-songwriter whose easygoing, laid back pop alto matches the smooth jazz that accompanies her on her debut project, All of Me.
Dedicating the CD to her father, the late Norman Lee Turrentine, Tate delivers a handful of songs that explore facets of praise, faith and hope. She is most comfortable singing in mid-range and on numbers that do not require significant leaps above or below the stave.
The Brazilian feel that infuses the title track is the album's high point, and is superior to the mix version that concludes the CD. "Purified" would work better as a slow, emotional ballad instead of with the andante beat that does not give Tate much time or space to embellish and improvise vocally.
On the '80s electric soul-inspired "I'll Be There," Tate couldn't help but interpolate a line from the Jackson 5 hit of the same name. "Bring Them to Me" also gets a dominant synth treatment by album producer and musician Julius A. Petway.
"The Friend Medley" is a collection of hymns accompanied by classical guitar that benefits from simplicity and minimalism. Adding a second harmonic voice would have enhanced this selection. Nevertheless, Tate seems most at ease delivering the "Friend" hymns and a variant on "Be Still and Know."
Tate, who founded Better than Blessed Ministries, serves as a member of the Chosen Vessels Choir and as a praise and worship leader for Wake Chapel Church.
Picks: "All Of Me."
'a quartet program in a jewel box'
IT'S IN YOUR HANDS
The Clark Brothers
CE Records
If the Clark Brothers perform as many drive-tempo songs at their programs as they included on their album, It's In Your Hands, fans must leave their performances feeling a pound or two lighter from all the dancing, hand clapping, and shouting.
Raised in Tuskegee, Alabama, the Clark Brothers (no relation to Detroit's Clark Sisters) are a traditional-leaning quartet. Their release on the CE (Clark Entertainment) label, It's In Your Hands, includes four propulsive selections nestled among other meaty cuts. Hearing "He's Alright," "Strengthens Me," "Change In Me," and the closer, "That's Alright," one can imagine legions of church sisters cutting shapes in the aisles.
The Clark Brothers, 'It's In Your Hands,' the title track of the sextet's new album
In addition to providing steady doses of hand clap opportunities, the Clark Brothers also squeeze every ounce of utility from their songs by stretching them out like a jam band. For example, the vamp of the bracing "Mount Calvary" simulates Jesus' walk up the hill on Good Friday.
As is customary for quartets, the lyrics are packed with straightforward and uncomplicated religious wisdom and soothing words of encouragement. During "Strengthens Me," lead vocalist Christopher Clark puts the promises of prosperity theology in their rightful place in the hierarchy of human needs by shouting, "I may not have a fancy car, but I've got my strength." On "That's Alright," Minister Joseph Johnson of the Echoaires of Memphis and Pastor Anthony Clark make the inevitable journey to Glory so appealing that one is nearly dying to pack bags.
Some members of the group handle the lead vocal spotlight better than others, but put them all together with the music and the beat and It's In Your Hands becomes a quartet program in a jewel box.
Picks: "It's Alright," "Change In Me."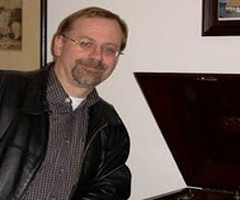 Bob Marovich is a gospel music historian, radio announcer and author. His "Gospel Memories" radio program of vintage black gospel music and artist interviews airs live first Sundays from 3 a.m. to 7:30 a.m. on Chicago's WLUW 88.7 FM, and streams live at the station's website. Snippets of recent broadcasts can be heard online at the Gospel Memories Radio Show. Bob is also founder and editor of The Black Gospel Blog.