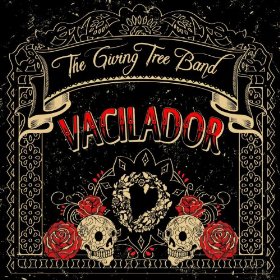 VACILADOR
The Griving Tree Band
Crooked Creek Records
In his introduction to the Penguin Classics edition of John Steinbeck's novel The Wayward Bus, Gary Scharnhorst, Distinguished Professor of English at the University of New Mexico, writes: "As for the title: The first synopsis of the story, Steinbeck remembered, 'was written in Spanish' and 'was called El Camion Vacilador. The word vacilador, or the verb vacilar, is not translatable unfortunately, and it's a word we really need in English because 'vacilando' means that you're aiming at someplace, but you don't care much whether you get there. We don't have such a word in English. Wayward has an overtone of illicitness or illegality, based of course on medieval lore where wayward men were vagabonds. But vacilador is not a vagabond at all. Wayward was the nearest English word that I could find.'"
Over at a Wordcraft forum, however, a response from a member identified online as Goofy insists "vacilar" is translatable, as per the Collins Spanish Dictionary: "to be unsteady; to falter; to flicker; to hesitate, waver; (persona) to stagger, stumble; (memoria) to fail." Goofy adds: "It's cognate with vacillate."
On Vacilador, its stunning fourth album (#1 on the Deep Roots Elite Half Hundred of 2012), the Giving Tree Band, the carbon-neutral Yorkville, IL, aggregate (some photos show the group as a quartet, some as an octet; five members are identified on the album liner credits, but four others are listed under "With" and a baker's dozen more–largely horn and string players–are ID'd as "Additional Musicians"; the band's website bio mentions seven members as does its Wikipedia entry) led by brothers Todd and Eric Fink references the Steinbeck explanation of the term's definition, or lack thereof, but adds: "And what is discovered along the path proves to be more valuable than what he was searching for in the first place."
The Giving Tree Band, 'Brown Eyed Women,' written by Robert Hunter and Jerry Garcia, as featured on Vacilador
Indeed, much leave-taking goes on in Vacilador, but it's the wanderings of people unmoored from each other and even from their own feelings. Vacilador is an album for a world fearful of commitment, for the hookup culture of no-strings intimacy, for a society diffuse and disconnected, even as it claims to be more connected than ever thanks to the wonders of modern technology. In the New York Times, Alex Williams reports on "The End of Courtship?" Among millennials, it seems, the time-honored courtesies of inviting a member of the opposite sex for a night out together have been supplanted by impersonal texts to tag along. Williams cites the case of a 30-year-old Philadelphia woman who thought she had been asked out on a date by a musician she had met online. By 10 p.m. on the appointed night of their rendezvous she was still awaiting communication from him; at 10:30 he sent a text inviting her to join him and his college friends at a local restaurant "for a drink or whatever."
Turned off, she fired back a text message, politely declining. But in retrospect, she might have adjusted her expectations. "The word 'date' should almost be stricken from the dictionary," Ms. Silver said. "Dating culture has evolved to a cycle of text messages, each one requiring the code-breaking skills of a cold war spy to interpret."
"It's one step below a date, and one step above a high-five," she added. Dinner at a romantic new bistro? Forget it. Women in their 20s these days are lucky to get a last-minute text to tag along. Raised in the age of so-called "hookup culture," millennials–who are reaching an age where they are starting to think about settling down–are subverting the rules of courtship.
Instead of dinner-and-a-movie, which seems as obsolete as a rotary phone, they rendezvous over phone texts, Facebook posts, instant messages and other "non-dates" that are leaving a generation confused about how to land a boyfriend or girlfriend.
"The new date is 'hanging out,'" said Denise Hewett, 24, an associate television producer in Manhattan, who is currently developing a show about this frustrating new romantic landscape. As one male friend recently told her: "I don't like to take girls out. I like to have them join in on what I'm doing–going to an event, a concert."
So kids have their own issues with technology, but older adults with cell phones doubling as umbilical cords have ways of terrorizing society as well: talking and texting while driving; failing to turn off the devices during public events (even church services–as Rev. Andrew Mead, rector of St. Thomas Episcopal in New York City, noted testily in a March 2012 Rector's Chronicle entry reprinted in part in the April 2012 issue of TheBluegrassSpecial.com); using the phones as LoJacks to constantly monitor their partners' whereabouts (a kind of warrantless wiretapping, from a certain point of view)…it goes on, with the populace so enamored of their tracking devices and their virtual voices as to be oblivious to others' feelings or to any reasonable code of civility.
The Giving Tree Band, official video for 'Cold Cold Rain,' the first track on Vacilador
In Vacilador the stronger one partner's feelings for another, the stronger the other's flight response. The key to what plays out in this most vivid treatise for a confused era, when the human touch has been so devalued, is buried deep in the album, on the twelfth of 14 songs, "River King," an allegory worthy of Dylan's John Wesley Harding, a kind of musical Matryoshka doll that reveals itself anew with each verse as a woman appeals to her man to stay put, enjoy some good lovin', only to despair at the obvious: "But it seems like these days/everybody wants to be somewhere else/it seems like these days/ain't nobody want to be themselves."
The men and women of Vacilador are restless and haunted, searching for love or God or mercy, or all three, a Holy Trinity of self-realization. Patience is unrewarded (as in Todd Fink's somber, hymn-like "Miss You Now," with its spare banjo and reverent organ underpinning–along with Abbey Road-era Beatles grandeur–all fomenting a rise to an anguished cry in the chorus); affection is so much small change, of little use in addressing the pressing existential dilemmas posed as a litany of rhetorical questions in the majestic blues-rock surge (magnified by a robust horn section) of Eric Fink's unsettling "Dead Heroes." Faced with a partner's earnest, avowed affection, the men and women of Vacilador would rather move on to points unknown, untethered from the hearts that love them. Two of the GTB's most poetic expressions, Scott Woods's brisk country shuffle "Silent Man" and Todd Fink's tender country ballad "Quiet Star," are especially cold kiss-offs. In the former, all are punish'd, to quote Shakespeare's Prince Escalus at the end of Romeo and Juliet, as Woods chides a woman who's been coming clean about her many faults, only to have him respond icily: "You can reside with your comforts/knowing you'll never be apart/from the silent man of support/who will continue to break your heart." In the latter, the singer issues a harsh sign-off, despite having spent the song extolling the sustaining force of he and his partner's love for each other–"I shined here and there/but you reflect the light back so well/like a pond that's clear and still/in you I see myself/so I smile from ear to ear/the way one plays/in front of the mirror"–with this thoughtless, selfish adieu: "Please don't be sad/when I leave on that train."
The wild card in the tunestack is the lone cover, a rousing version of "Brown Eyed Women," Robert Hunter and Jerry Garcia's wild and wooly saga set in early 20th century America, referencing the onset of Prohibition in 1920, the Wall Street crash of 1929 ("1930 when the wall caved in") and the untimely demise of one Delilah Jones (crushed to death when her cabin's roof caved in under the weight of a snowstorm), whose passing sent "the old man" spiraling into permanent despair, possibly with homicidal urges. In the context of Vacilador, it's ironic to find the one couple that really wanted to stay together rent asunder by nature's wrath. Any way you interpret it, though, "Brown Eyed Women" (which appeared on the Grateful Dead's Europe '72 and the 1977 collection titled What a Long, Strange Trip It's Been, where it is listed as "Brown Eyed Woman"), with its rocking, fiddle-fired and steel-drenched Dylan/Band treatment, is a mesmerizing track. It originally saw the light of day as the GTB's contribution to the Dead Covers project (see "The Giving Tree Band Offers a Personal Take on the Grateful Dead," News & Notes in the March 2012 issue of TheBluegrassSpecial.com), but otherwise sounds of a piece with the new material the band introduces here.
The Giving Tree Band, 'Dead Heroes,' from Vacilador. Performed on Audiotree Live and posted to YouTube by Audiotreetv.
At the end, in the boozy, honky tonk milieu of Eric's "Thief," nothing's been settled; ambiguity reigns as he sings, with ominous sincerity, "I've got you and you've got me/we're so chained we think we're free…" Everything proceeds to come apart as the song ambles along until the couple is uncoupled, leaving Eric and a celebratory chorus of voices to conclude, as the fiddle saws eagerly away, "But I got no time, so what can I do/Well, leave it to me to leave it to you." This is not the first GTB album to end on a note seeming to signal a sequel forthcoming; in fact, each of its four albums could be heard as picking up where the previous one left off. At first blush, turning the band's own words on itself might seem a clever response to what the musicians have put us through on Vacilador: from "Dead Heroes," You can run but you can't hide/I'm gonna find out what you have in mind.
Cleverl, except it ignores the most important message the fellows imparted, and which tells us exactly what they have in mind. It's there at the very end of "River King," that telling song mentioned earlier in this missive. It's a message for a world growing increasingly averse to the application of the human touch in everyday endeavors, including those relating to the heart. It's beautifully succinct and direct. It's completely unambiguous: "And it seems like these days, we all could use a drink from a lovin' cup!"
Next chapter, please.