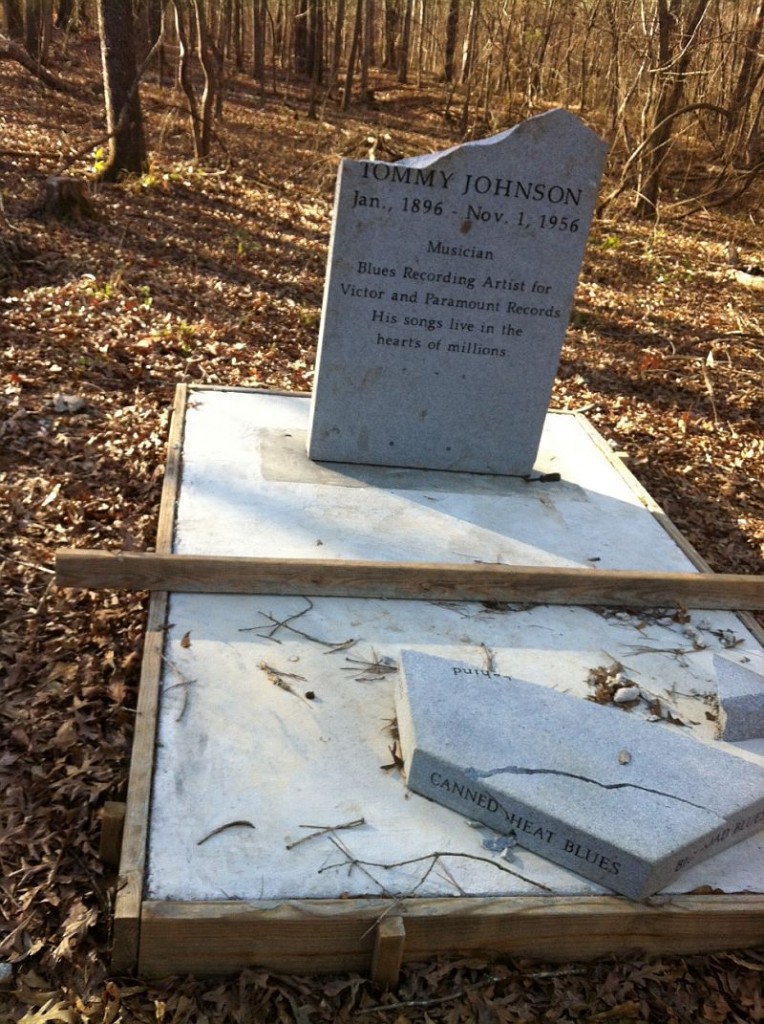 The headstone of Mississippi Blues legend Tommy Johnson was destroyed on the evening of Feb. 2 in what is being described as "an act of racist vandalism" at the Warm Springs Cemetery near Crystal Springs, Mississippi. No other headstones were damaged. Johnson's marker had been placed only this past October, owing to a dispute pitting the non-profit Mount Zion Memorial Fund against local landowners and the Copiah County Board of Supervisors over allowing public access to the cemetery. During that time the headstone, which exists thanks to the largess of Bonnie Raitt, who paid for it in 2001, was held at the Crystal Springs Public Library. According to an all-too-familiar notice from Mississippi law enforcement agencies, "an investigation is pending by the Copiah County Sheriff's Office."
Before there was Robert Johnson, there was Tommy Johnson (no relation). That is, the legend around Tommy (perpetuated, if not perpetrated, by his brother), whose family moved to Crystal Springs (way south in the state, near the Gulf area) when he was in his early teens, is that he sold his soul to the devil in return for becoming a superior guitarist. With Papa Charlie McCoy he made his first recordings in 1928, for the Victor label, and was often billed as "The Devil's Son-in-Law." A master of vivid lyrics; gripping, highly expressive singing; and intricate guitar accompaniment (and showmanship—he would play the guitar between his legs, behind his head and throw it into the air mid-solo—or as the great Delta artist Houston Stackhouse described it, "He'd kick the guitar, flip it, turn it back of his head and be playin' it. Then he'd get straddled over it like he was ridin' a mule–pick it that way."), Johnson was one of the kingpins of Delta blues in his time. Writer-guitarist Cub Koda (of Brownsville Station) linked him to Son House and Charley Patton as being the most important artists in the development of pre-Robert Johnson Delta Blues, and Johnson's biographer, David Evans, opines: "For about twenty years Tommy Johnson was perhaps the most important and influential blues singer in the state of Mississippi. He was one of the few black musicians to whom that much abused epithet 'legendary' rightfully applies."
Johnson's "Canned Heat Blues" (in which he sang of drinking methanol strained from Sterno cooking fuel, leading to the memorable refrain, "canned heat, mama, sure, Lord, killing me..") gave a beloved '60s blues-rock band its name, and his "Big Road Blues" was rewritten by that very band into one of its signature tunes, "On the Road Again." Howlin' Wolf, deeply influenced by Johnson's style, modeled his "I Asked for Water (She Brought Me Gasoline)" after Johnson's "Cool Water Blues." Apart from his 1928 Victor sessions, Johnson's only other recordings were for Paramount in December 1929. Yet he continued performing and was a major attraction in and around Jackson, MS, in the '30s and '40s. He died of a heart attack on November 1, 1956 after playing a party.
Tommy Johnson, 'Big Road Blues'
In his adopted hometown of Crystal Springs, every third weekend in October is devoted to the Tommy Johnson Blues Festival. No word yet on funding for the restoration of the Johnson tombstone, but further developments will be reported in Deep Roots.
'King of the Jungle' Eddie C. Campbell Ailing, Needs Financial Support; Benefit Set for Feb. 17
Blues great Eddie C. Campbell, Mississippi-born (in 1939), Chicago-raised, and accompanist to many of Chicago's West Side titans—Muddy Waters, Willie Dixon, Magic Sam, Little Walter–needs some outside help. Campbell recently suffered a heart attack and stroke while on tour in Germany. He is out of intensive care and stabilized but paralyzed on his right side. According to a Facebook note posted by his wife Barbara: "Time is of the essence; Eddie's prognosis for a full recovery is dependent upon him receiving the appropriate medical attention including neuro/physical therapy. Eddie has no medical coverage in Germany, and, due to his condition, he may only be able to fly commercially with a medical escort or, ideally, in an air ambulance. The costs will be staggering in the coming weeks and months. Donations are being accepted at my PayPal account:
Please donate to the the Eddie C. Campbell Assistance Fund at PayPal.
As his manager and mother of his children, I appreciate your good will, your prayers, and, if possible, your financial support."
Barbara (barbara.blues@gmail.com)
Administrator, Eddie C. Campbell Assistance Fund
UPDATE: "Bring Eddie Home," a benefit for the Eddie C. Campbell Assistance Fund, has been scheduled for February 17 at Rosa's Lounge ("Chicago's friendliest blues lounge"), 3420 W. Armitage Ave. in Chicago. The powerhouse lineup includes Billy Boy Arnold, Sugar Blue, Lurrie Bell, Deitra Farr, Eddie "The Chief" Clearwater, Sharon Lewis, Jimmy Johnson and others. Festivities get underway at 6 p.m. and continue until 11 p.m. Cover charge is $25.
Eddie C. Campbell, 'King of the Jungle,' live, September 2010