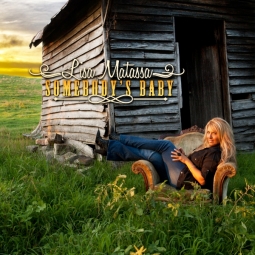 SOMEBODY'S BABY
Lisa Matassa
It Is What It Is Records
(Released 2012)
Born and raised on Long Island, New York, but having spent several years of her youth in Florida, Lisa Matassa is a product of her environment and her times. She credits her years in Florida–which took her into her mid-teens–with introducing her to the traditional country music of Loretta Lynn and Patsy Cline, whereas what's now called Classic Rock got into her New York bloodstream via the likes of Bon Jovi, Heart and NY native Billy Joel, among others. Add to this mix the opera training she had in her youth, studying with an alum of New York's Metropolitan Opera; the two top 10 dance hits she scored in '87 and '88 ("I've Got the Hots for You" and "Rock Me Baby," respectively); the settling down she did as a wife and mother of two for nearly 20 years, while at the same time staying active vocally with voiceover work and leading a popular club band on the Island. A chance meeting in 2010 with Joey Sykes, a childhood friend who had become a producer, led her to Nashville and the recording of her debut EP, My Time, which brought her into the orbits of producers Bobby Graziose (a Grammy nominee) and Tony Bruno and various musicians and songwriters with whom she has continued collaborating. On this, her third recording, this team has crafted a spot-on contemporary country product–that is to say, contemporary country of the sort built for large arenas and propelled by high-octane rock. Staunch traditionalists will have no truck with Somebody's Baby, her third EP, any more than they have had much use for the arena-ready stylings of Garth Brooks and/or Shania Twain, or more recently, Carrie Underwood and Taylor Swift. Or, yes, the fictional Juliette Barnes of Nashville and all she represents of the modern-day country business. But get beyond the sonic fury around Ms. Matassa and a solid songwriter emerges who's putting her life experiences to good use to add meat and muscle to her lyrics; beyond this, she deploys her formidable voice effectively, not merely belting for volume's sake but investing her readings with hard-won conviction. And intriguingly, a couple of the softer moments on the EP show off an appealing torchy side she might consider using more often.
Right now she's starting to gain traction in the contemporary country world with Somebody's Baby, and small wonder: the thundering percussion, heavy guitars and horn-like keyboards blast out of the speakers on the title track, a single, and Matassa cuts loose with a voice forceful and powerful enough to withstand the instrumental tsunami behind her on an anthemic tune that counsels taking strength from remembering your roots as you chase love and dreams.
From her EP Somebody's Baby, Lisa Matassa performs 'Wouldn't You Like to Know' 
The tumult of "Somebody's Baby" has barely died down before the guitars snarl their way into the stomping "Wouldn't You Like to Know" (a Matassa co-write with Don Rollins and Jody Gray), a saucy, teasing warning to men in heat that the gals know everything their dirty little minds are thinking, leading to this eagerly shouted putdown: "Ooh, maybe it's hot/could be you/but probably not/it's over your head/might as well let it go/wouldn't you like to know…" upon which Bruno cuts loose with a sizzling but wounded guitar howl that speaks for the tender male psyche the gals have just shredded. Another pounding rocker, "Girl with a Rock N Roll Heart," sounds like both an autobiographical account of Matassa's musical journey and the closing volley in a trio of loosely connected rocking manifestos of a personal nature. The real gem here is the contemporary country ballad "Learning As You Grow," another Matassa-Rollins-Gray co-write, that Matassa sells completely with conviction and deep feeling–the rising urgency in her delivery underscored by Guy "Fooch" Fischetti's steel swoops–in reflecting on the rocky path to understanding what love is all about, by degrees, as time and experience teach valuable lessons concerning "a little less holding on and a lot more letting go," as one of the song's pithy phrases has it.
http://www.youtube.com/watch?v=R4otsXj6pXA
Lisa Matassa performs a live version of the title track of new EP, Somebody's Baby
The EP is further fortified by three covers: a take on Bryan Adams's triumphant "Heaven" that rises from spare and rootsy to power ballad majesty, with Matassa seamlessly negotiating the dynamic changes, singing the delicate parts as effectively as she executes the explosive emotions at the song's center; a live version of "I Will Always Love You," an awesome vocal display but more Whitney theatrics than Dolly nuances; it would have been nice, and even more effective, had she kept it all a bit more reigned in and sensitive, but if you've got those chops, presumably you flaunt them. On the other hand, the countrified strains of her version of "The Christmas Song" and her measured, warm vocal (with a nice backing assist from the Broadway Youth Ensemble) really hit the spot, no matter the season (she should cut a Christmas album!). In "Girl With a Rock N Roll Heart," she sings, "I'm so much more than what you see/but I'll always be me…" –a telling phrase that suggests greater depth than she plumbs here but also a sure sense of self. In these tracks evidence exists of a sensitive, insightful singer-songwriter awaiting nourishment if Ms. Matassa dares explore that option. Reason enough, it is, to keep tabs on this artist's progress. She's going places.