There were some good performances during the 2013 Presidential Inauguration–James Taylor and Kelly Clarkson spring to mind most readily–but the mainstream press has been fixated on Beyonce lip-syncing the national anthem. Well, Beyonce is a phony anyway, so it shouldn't surprise anyone that she would do what she's been doing for years. This time, however, the bitterly cold weather was said to have made it difficult for singers, just as it did for instrumentalists four years ago when Yo-Yo Ma, Itzhak Pearlman and Gabriela Montero seemed to be performing a new John Williams composition for the incoming President, when in fact they were miming to a recording made two days prior to the swearing-in ceremony. Understandable enough, given that the inclement conditions might have resulted in "broken piano strings, cracked instruments and wacky intonation," as Daniel J. Watkin noted in the New York Times, although JT didn't seem to have a problem keeping his acoustic guitar and his voice in tune on his impressive rendition of "American the Beautiful."Nor did Kelly Clarkson seem encumbered by the cold during her stirring interpretation of "My Country 'Tis of Thee." But the real vocal story–and the most memorable real vocal–belonged to unheralded Alicia Olatuja, electrifying the million-strong crowd on the National Mall with a richly textured, Inauguration-stopping solo on "Battle Hymn of the Republic" while singing with the powerhouse Brooklyn Tabernacle Choir, whose members seemed equally oblivious to the big chill as they sent Julia Ward Howe's inspiring hymn Heavenward
The Brooklyn Tabernacle Choir, with soloist Alicia Olatuja, performs 'Battle Hymn of the Republic' at the 2013 Presidential Inauguration, Jan. 21, 2013.
To the New York Daily News's ever-reliable Jim Farber, Ms. Olatuja remarked of her appearance at the Inauguration: "It was just so surreal. It was such a privilege to be a part of that event, with all the members of the choir. At many moments I had to ask myself, 'Is this really happening?'"
(Of all the reports on Mrs. Olatuja's performance, Farber's was the most astute in its observation that "the 30-year-old from Marine Park soared above the escalating refrains of the expert choir, mixing elements of classical, jazz, gospel and pop into her fluid lilts.")
Alicia Olatuja may have expanded her fan base by hundreds of thousands on January 21, but she didn't exactly come in from the cold, if you will, in making her mark on Inauguration Day. With her husband, bassist/composer Michael Olatuja, she is part of the Olatuja Project, which released its debut album, The Promise, to rave reviews in 2011.
An accomplished woman who is going to be heard from, Mrs. Olatuja has already achieved much in a relatively brief career, while also carving out time to share her experience and knowledge with other aspiring musicians. Witness her official biography:
Alicia Olatuja, mezzo-soprano from St. Louis, Missouri, is a Vocal Performance graduate of the Manhattan School of Music Masters program. During her collegiate studies Mrs. Olatuja performed many musical theatre and opera roles as Despina in The Three Little Pigs, Mae Jones in Street Scene, Zaneeta Shinn in The Music Man, Rhoda in All That Glitters, Elsa Schraeder in The Sound of Music, Keisha in the World Premiere of the musical Elijah's Kite, Despina in Cosi Fan Tutte, Nina in The Consol, Zita in Gianni Schicchi, Sweeney Todd, Dialogue of the Carmelites, Carmen and the World Premiere operetta Corps of Discovery in which she made her professional debut as Sacagawea at the Opera Memphis. Mrs. Olatuja also performed selected scenes at Carnegie Hall, UVA, and The Kennedy Center. The following year she made her recital debut at Carnegie Hall. Recently Alicia performed as Sophie in the World Premier of the dramatic musical From the Fire in New York and presented the work at the Fringe Festival in Edinburgh Scotland. This fall she will begin the European tour of the musical commemorative work The LaMama Cantata.
Although musical theatre and opera are two of Alicia's studied musical passions, she also performs a variety of genres singing as a soloist with the Juilliard Jazz ensemble, the Brooklyn Tabernacle Choir as well as with various recording artists including Christian McBride, Chaka Khan and Bebe Winans. She regularly performs in various venues nationally and internationally with her husband in their African Jazz band the Olatuja Project in which Alicia sings in various African dialects such as Yoruba and Shona.
Alicia Olatuja is also a voice teacher, vocal producer, teaching artist for the Brooklyn Arts Counsel and diction specialist who finds New York City to be the perfect environment for her growing musical career.
'Music Can Truly Transcend Language'
Chatting with Michael and Alicia Olatuja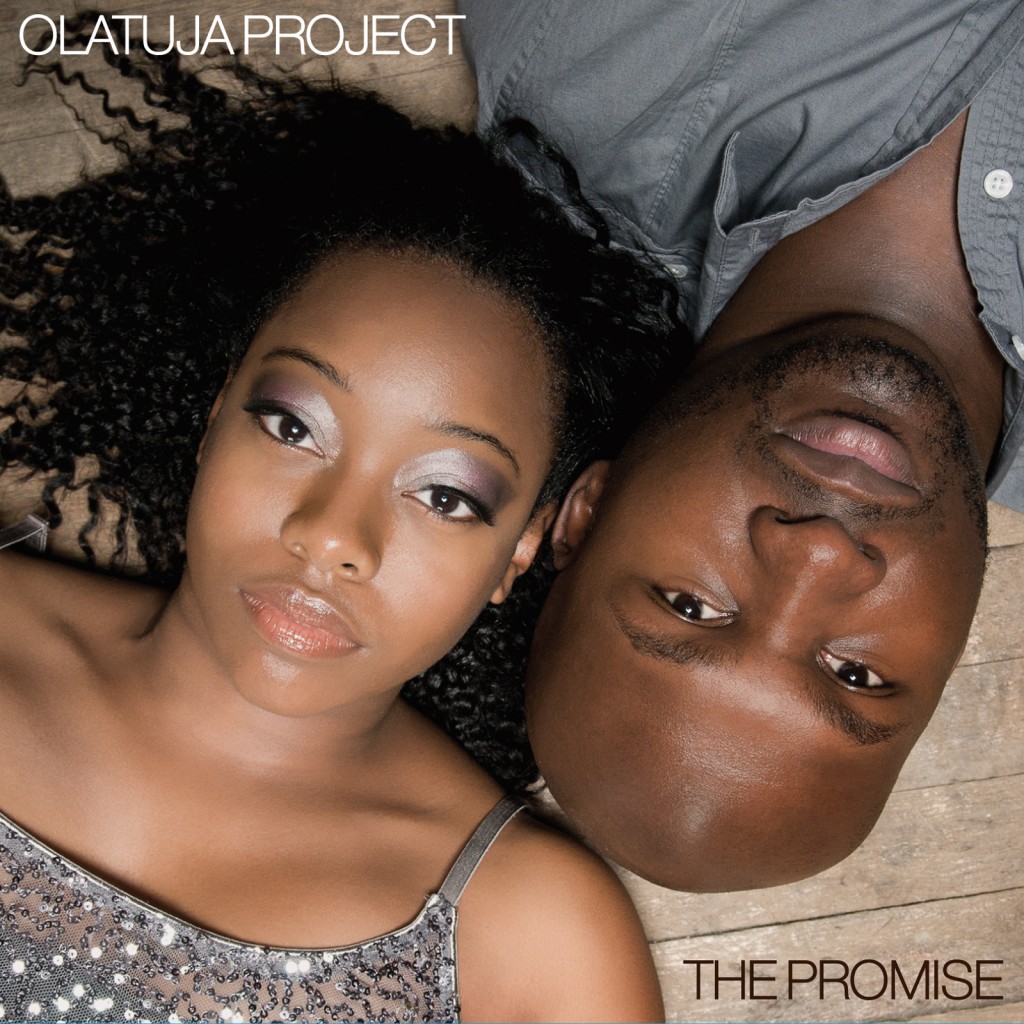 Upon the U.K. release of The Promise, Pete Lewis, assistant editor of the British publication Blues & Soul, spoke with Michael and Alicia Olatuja on a number of topics related to the album and their aims and the challenges facing them as independent artists. Here's a sampling of their responses to Mr. Lewis's questions, preceded by his introduction to the interview.
As their first full album collaboration, The Promise–the new LP from New York-based husband-and-wife duo Olatuja Project–finds bassist/composer Michael Olatuja and singer/composer Alicia Olatuja (alongside their virtuoso band) fulfilling their collective vision to create music that fuses such traditional elements of African music as the Yoruba tongue, the talking drum and call-and-response vocals with the more familiar Western languages of contemporary jazz, neo-soul, traditional gospel, R&B, and an underlying funky groove.
Indeed, fulfilling the promise of Michael's critically-acclaimed, 2009 solo debut LP Speak, the inspirational feel of The Promise takes in moods ranging from the seductive celebration of its percussion-driven title-track single and the warmly tender, jazzier "Sumo Mi (Draw Nearer)"; to the richly-arranged, inspiring "Soki (A Little While)" and the hypnotic, Brazilian-bossa-nova-flavored "Boju Woke (Lift Up Your Eyes)."
At Joe's Pub, New York City, the Olatuja Project performs 'Hold Me' during the release party for the group's 2011 CD The Promise
All of which–with its unique blend of Nigerian rhythmic complexity with the harmonies and production quality of contemporary American music–bears fitting testament to the couple's interesting, culturally-diverse backgrounds. With Michael (whose personal journey took him from Lagos, Nigeria to London before settling in New York) having established himself as a go-to bassist for the likes of Terence Blanchard, Phil Collins, Shakira and Stevie Wonder; and St. Louis, USA-raised Alicia having served as a soloist in The Brooklyn Tabernacle Choir (as well as working with Chaka Khan and BeBe Winans) before the twosome first met while both studying at The Manhattan School Of Music (when Alicia called Michael to play bass on one of her sessions!).
On The significance behind titling their new album The Promise
MICHAEL: Well, most of our music is basically about hope and inspiration and encouragement. You know, from the Speak album on, that does seem to be a theme that's been running through what we've been doing–and we're happy to keep it that way, particularly when there's so much negative music out there. And so the reason why the word 'promise' was so important to us for this project was because it tends to speak to the future, and towards something people can look forward to… You know, basically it speaks to hope concerning the future, and to better and greater things. Which was why we decided to title the album The Promise.
At Joe's Pub, New York City, the Olatuja Project performs 'Soki" in celebrating the release of the group's 2011 CD The Promise
On the uplifting, life-changing aspects of the lyrics on The Promise
ALICIA: One of the main themes that I feel runs through the entire album is that of reconciliation and moving forward. You know, I feel a lot of our lives are in limbo–and even put on hold–because of issues and situations that we've not been able to put to rest. And, though I do understand reconciliation is a huge concept to grasp onto and place into action, at the same time I also believe that music is one of those wonderful vehicles where you can take a huge topic, place it into a melody, and make it emotionally and mentally tangible very quickly. Which is why a lot of the songs on The Promise are about starting over, a new day, forgiveness–and of letting go of the past and moving forward. Because I do strongly believe that by doing so, one can find healing in the soul.
Olatula Project, 'Iye (Life in Abundance),' from the album The Promise
Alicia's ideas (as an English-speaking American) on the Olatujas' lyrics being a mix of both the English and Yoruba languages, and the reaction to it from the public
ALICIA: With Yoruba not being my mother tongue, to me that whole experience has been very interesting. Because working in the classical world, as I have done, you have to learn to speak French, Italian and German–so you can sing in all those languages convincingly, and express whatever the particular piece you're singing is about in an accurate fashion. And so for me working with Michael and learning to sing in the Yoruba language felt no different from that. So it wasn't something that I approached with any trepidation. Which, funnily enough, is exactly the way a lot of the audience have reacted to it! You know, they've basically just received the music for what it is! And the fact that the audiences we've performed to–both here in New York and in Paris–have all, whether they understand Yoruba or not, reacted in exactly the same way, to me makes it very interesting to watch! Because it does make you realize how music truly can transcend language.
Click here for Pete Lewis's complete interview with Michael and Alicia at Blues & Soul.com.
For much more about these gifted artists, visit the Alicia Olatuja/Olatuja Project website. For Alicia's Vocal Tip of the Day videos, visit her YouTube channel, AliciaOlatujaVoice.