'…a praise party…'
I OWE IT ALL TO THE WORD
Pastor Mitty Collier
Friars Point, Inc. & Bright Echoes, Inc./P-Vine (2011)
"I had a talk with God last night…"
Her voice may be a little lower these days and more pointed than poignant, but there's no mistaking Pastor Mitty Collier when she sings the re-gospelized version of her 1964 soul hit, "I Had a Talk With My Man."
You can hear her sing James Cleveland's "I Had a Talk With God Last Night," as it was written, on I Owe It All to the Word. The album is a collection of live and studio tracks by Pastor Collier who, according to soul music expert Robert Pruter, "must be counted among the best soul singers of all time."
Mitty Collier's 1964 soul classic, 'I Had a Talk with My Man,' from her secular days
Collier sang secular until getting saved, and has stuck to gospel ever since.
Most of the songs on I Owe It All to the Word were written or co-written by Collier's music director, the estimable Calvin Bridges, whose oeuvre includes "I Can Go to God in Prayer," made popular by Albertina Walker. Bridges provides an accomplished assembly of vocalists and musicians for Collier, who also performs "No Cross, No Crown," another Cleveland composition that Chess Records had her record as "No Faith, No Love" in the 1960s.
Although Collier delivers most of her lyrics with a preacher's unhurried deliberation, "He'll Make It Happen" and "If You Understood My Past" are rhythmic and up-tempo. The audience shouts in nostalgic delight when she begins "Talk with God."
As "If You Understood My Past" suggests, a theme running through Collier's selection of songs is triumph over life's troubles through belief in God. This becomes even more of a topic on the DVD. Japan's P-Vine label has manufactured and distributed a deluxe version of I Owe It All to the Word, which includes a 90-minute performance video, taped at Greater Walters AME Zion in Chicago, as well as a sermon delivered by Pastor Collier.
A sampling of Pastor Mitty Collier doing God's work
The DVD includes a couple of songs not on the album, including Collier's gospelization of Stevie Wonder's hit, "For Once in My Life," and live performances of two studio tracks from the CD. Collier shares the story behind her big hit–"when I got saved, I went back and got it!"–and other tidbits of her testimony, which help transform the second half of the gospel program into a praise party.
The audience is enthusiastic, if sparse, but when Collier walks the aisles at the conclusion, she is embraced and showered with love by her fans and supporters.
Picks: "I Had a Talk With God Last Night."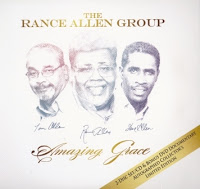 '…rooted in tradition, remarkably relevant'
AMAZING GRACE
The Rance Allen Group
Tyscot Records
Few longstanding gospel groups have managed to remain as classic and contemporary as the Rance Allen Group. Organized in the late 1960s in Monroe, Michigan, the trio of brothers continues to please audiences with music that is rooted in tradition but yet sounds remarkably relevant. They demonstrate this on their latest release, Amazing Grace.
The CD contains eleven new selections. "Still Working Miracles" is a lyrical follow-up of sorts to the group's 1991 hit, "Miracle Worker." A ballad, "Strength to Overcome," wraps the early '60s soul vocal chord progression of I-VI-IV-V-I around the assertion that "things are looking brighter…the best is yet to come." The trio reprises its hopeful message in a contemporary take on Curtis Mayfield's "People Get Ready." When a member intones, "The doors to the church are open," the song becomes an altar call.
"All Nite" begins with a come-hither Barry White-style intro, but the source of satisfaction is Jesus. "God Is Good" has a hand-clapping, quartet rhythm. The title track appears twice: once with a modern intro and again with a "down home" version, which opens more traditionally with guitar and organ.
The Rance Allen Group, 'Still Working Miracles,' from the group's new album, Amazing Grace
Trailer for the documentary, Music Majors: The Rance Allen Group
The bonus DVD, Music Majors, is a fascinating ninety-minute documentary produced by Tyscot Films. It is the story of the Rance Allen Group as told by the Allens, their team and those inspired by them, including Kirk Franklin and James Fortune. Always ahead of its time, the Rance Allen Group was the architect of contemporary gospel as the Hawkins Family and Andrae Crouch. Scores of sacred and secular artists alike were influenced or inspired by the Rance Allen Group.
Amazing Grace is everything listeners have come to expect from the Rance Allen Group and then some.
Picks: "Strength to Overcome," "Amazing Grace (Down Home Version)"
Holiday classics with a jazzy twist
A MANIFEST CHRISTMAS
Manifest
Manifest Music
A Manifest Christmas could be subtitled A Jazzy Christmas.
This EP by Brooklyn's male ensemble Manifest features smooth, inspirational jazz interpretations of holiday classics such as "Silent Night" and an instrumental version of "Away In a Manger," but also includes two new songs to celebrate Christmas.
The group's instrumental prowess is on display during "Jesus, Oh What a Wonderful Child," aka "Glory, Glory to the New Born King." It's a brassy, extroverted take on the Christmas chestnut with improvisation that is one part Earth, Wind & Fire (music) and one part Kool and the Gang (vocals).
Manifest director Jonathan Hicks handles the lead vocals on "Silent Night," his warm tone evoking shades of Lou Rawls in its lusty soulfulness. Chaz Shepherd's composition, "What Of My Son," takes for its inspiration the "Jesus is the reason for the season" motif.
Manifest is comprised of members of Men Voicing Praise, a men's choral ensemble at Emmanuel Baptist Church in Brooklyn.  The group made its performance debut last year at the Triad Theater in New York City.
A Manifest Christmas is urbane listening for bone-chilling late December nights. To be enjoyed with hot cocoa or tea.
Picks: "Jesus, Oh What a Wonderful Child."
'praise songs and odes of encouragement'
LIMITLESS
Trey McLaughlin & the Sounds of Zamar
On the introduction to Limitless by Trey McLaughlin & the Sounds of Zamar, Pastor Dr. Charles E. Goodman, Jr. preaches that God can do anything, that He literally "goes beyond beyond" in helping His people.
Dr. Goodman's message lays the foundation for the album's assortment of praise songs and odes of encouragement.
Augusta, Georgia native McLaughlin is a trained musician who serves as music instructor at the Jessye Norman School for the Arts and associate director of Barefoot Productions, Inc./Creative Impressions. He is also minister of worship and arts for the historic Tabernacle Baptist Church in Augusta.
Formed in 2009, the Sounds of Zamar boasts a penchant for warm, polished vocals and complex jazz harmonies that evoke the work of Thomas Whitfield. The group's studied musicality is on display on "Holy is the Lamb" and "More Like Him," on which the ensemble admits that none of us are perfect, but we are trying to be. McLaughlin composed all of the songs on the album and leads several.
Trey McLaughlin & the Sounds of Zamar, 'You Deserve the Highest,' from the new album, Limitless
"You Deserve the Highest" opens with a radio interview on which McLaughlin and the announcer build the track up to be a different sound than the ensemble's audience is used to, but it sounds much like the preceding cuts. Frequent interruptions by the radio interview disrupt the flow of the performance. It would have been better to have the radio interview introduce "I Represent Him," which has an electronic dance beat that is a departure for the ensemble, at least in comparison with the other selections on Limitless.
Where the group really dazzles is on "I Will Praise," a radio-friendly ballad that showcases the ensemble's fine vocal blend.  Similarly, "Help" (not a cover of the Beatles' hit!) is a prayerful solo by McLaughlin, who seeks divine assistance to make it through the rough patches of life and fight the temptations and traps laid by the enemy.
Talented vocalist Claude Deuce joins McLaughlin and crew on the finger-popping "It Will Be Alright (Victory)," which ends too soon. "On Calvary," one of two bonus tracks, is a well-rendered ballad about the crucifixion and its importance for humankind.
Trey McLaughlin & the Sounds of Zamar have put together a respectable representation of their capabilities, and demonstrate that gospel comes in many musical shades and hues.
Picks: "I Will Praise,"  "Help."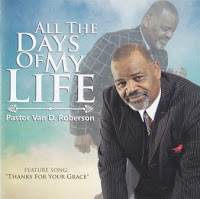 'having a little church…'
ALL THE DAYS OF MY LIFE
Pastor Van D. Roberson
www.cdbaby.com/cd/pastorvanroberson3
Pastor Van D. Roberson's CD All the Days of My Life could easily be subtitled Pastor Van D. Roberson and Friends. The Texas-based minister summons an army of ministers, singers, and musicians to join him in having a little church.
And they do have church. Roberson's gravelly, quartet-hewn voice is the ideal vehicle for his simple, down-home messages.  Joe Ligon of the Mighty Clouds of Joy joins him on "Momma Remembered," a song about a long-sacrificing mother who has passed on and in a better place. The heavenly reunion that awaits everyone who, like Momma, follows the righteous path, is the subject of the uptempo "Over In Zion." The implicit warning for those who do not is Roberson's take on the classic "This May Be My Last Time."
Promo spot for Pastor Van D. Roberson's All the Days of My Life CD
The album's single is "Good To Me," on which Pastor Roberson and Pastor M.O. Cooper join with the Pastors' Chorus of Bryan/College Station on an old-fashioned quartet hip-slapper.  Roberson is in his finest form on "Amazing Grace." Once he cranks his voice into a shout, the moment transitions into a praise break.
Not every song on the album is traditional. First Lady Kimberly Thompson gives a commanding performance on "Praise Him Now," a contemporary gospel song. Pastor Roberson sings the equally contemporary "Thanks For Your Grace," and his daughter Tiva gives "Solid Ground" an urban AC treatment.
The CD ends with "Going to a Place," a powerful track from Rest In Me (2006) by the Second Baptist Church Choir of Santa Ana, California. Rev. John Nix-McReynolds leads this joyous depiction of the great beyond. It is bittersweet in that Nix-McReynolds, who had just recovered from a heart attack at the time of the choir recording, departed this world in April 2011, at age 57.
All the Days of My Life is a genuinely enjoyable listening experience.
Picks: "Momma Remembered," "Amazing Grace."
Bob Marovich is a gospel music historian, radio announcer and author. His "Gospel Memories" radio program of vintage black gospel music and artist interviews airs live first Sundays from 3 a.m. to 7:30 a.m. on Chicago's WLUW 88.7 FM, and streams live at the station's website. Snippets of recent broadcasts can be heard online at the Gospel Memories Radio Show. Bob is also founder and editor of The Black Gospel Blog.