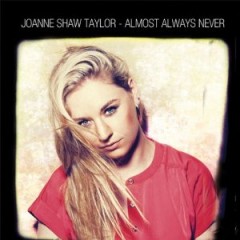 ALMOST ALWAYS NEVER
Joanne Shaw Taylor
Ruf Records
There's much to be learned from the jittery, funky rhythm attack opening "Soul Station," the first track on Joanne Shaw Taylor's eagerly awaited third album, Almost Always Never, and the husky, anxious, staccato vocal delivery she adopts is equally revelatory before she breaks into a heavily wah-wahed guitar assault of the scorched earth variety. In these elements alone—you don't even have to get to her closing two minutes' worth of howling, wailing guitar pyrotechnics–a listener can sense the album continues the fiery broadsides erupting from romantic disconnects that informed last year's searing Diamonds In the Dirt. The difference, in 2012, is a real reaching out on her part in an effort to salvage something she cares about—"Soul Station," for all the heat of its music and the angst in Ms. Taylor's voice, is about her efforts to restore another's self-esteem—"the new trend is to depend/on a head held high to reason/self-worth's your new best friend," she sings at song's end—in contrast to her 2011 ruminations on the wisdom of clinging to an unpredictable, ineffectual partner ("counting down my chances one at a time/my heart knows me better/than to seek the reasons in these rhymes…just another chance I'll be quick to dismiss/but I can't keep living like this," as she sang in "Can't Keep Living Like This").
Joanne Shaw Taylor, 'Soul Station,' from Almost Always Never
This is all to say Joanne Shaw Taylor's artistic growth, in all aspects of her artistry, continues unabated since her dramatic debut in 2008 with White Sugar. Her guitar playing is ever more concise and pointed, but she also knows when to simply cut loose and go where her passion takes her without being self-indulgent. Vocally she's obviously been woodshedding, too: as assured as she sounded on Diamonds In the Dirt, she's even more engaged and better able—or more willing—to expose her raw nerves on Almost Always Never, and fearlessly so. She's as much a blue-eyed soul singer as a blues singer at this point, with influences ranging from Bonnie Bramlett to Dusty Springfield to Chaka Khan to Mavis Staples, but as she said in a January 2011 cover story interview in TheBluegrassSpecial.com (when she was named one of 2011's Artists On the Verge) she has a passion for "hard hitting, go-for-it rock vocals with good tone" as well. It may be she's a kind of vocal Zelig: on June 4 she accompanied Annie Lennox at the Queen's Diamond Jubilee at Buckingham Palace, and on this album's affecting Stax-influenced gem, "Beautifully Broken," her voice and phrasing are reminiscent of Lennox's, but altogether less mannered (but Lennox could never play the striking, piercing guitar solo Ms. Shaw crafts impeccably about midway through "Beautifully Broken" and expands upon with even more fury as the song marches to its close). And on the slow-boiling soul of "Piece of the Sky," a memo of self-affirmation, the steely resolve she expresses in an otherwise tender, measured vocal brings to mind the balance of wisdom and sensitivity her labelmate Dana Fuchs achieved on her emotional ballad "Keep On Rollin'," one of the key tracks of Ms. Fuchs's acclaimed Love to Beg album. But again, these are mere touchstones, influences; Joanne Shaw Taylor takes a little from here, a little from there, and creates her own style—that's her reaching for something to believe in and underscoring her feelings with a tasty, trebly run up the guitar neck amidst the roiling ambience of "Almost Always Never"; that's all her clambering out of a hopeless relationship in the sturdy midtempo blues ballad, "Lose Myself to Loving You," the album's closing track and final assertion of self-affirmation.
Joanne Shaw Taylor, live in London, 2012, performs the title song from her new album, Almost Always Never
Which brings us to the fascinating storyline of Almost Always Never. The title itself is a giveaway in betraying the conflicted feelings herein. In contrast to the songs on Diamonds In the Dirt, though, in her new songs Ms. Taylor takes herself to task as much as she does her significant other, to the point where the album as a whole sounds even more personal than its predecessor, and in that context, more barbed. In "Beautifully Broken," her sanity is predicated on her escaping promises both vague and unfulfilled: "Tired of treading broken glass/same old story I can't read past/maybe love is just a losing game/and you've gambled more than you can gain/left me hanging on to words unspoken/all burned out and beautifully broken." Which is immediately followed by a fierce bit of self-laceration in "You Should Stay and I Should Go," in which she unequivocally falls on her sword in taking the blame for a once promising relationship suddenly gone sour, owing to her reticence to get in a little deeper: "I know I won't sleep tonight/so far from a dream and it was just in sight/so I'm spitting nails/and there's ticking clocks/waiting for the moment when I accept my loss/wine's gone stale, sun's burnt the curtains/my doubts turn to maybes/then double back to certains/you got too heavy/and my heart wasn't ready/never thought I'd be sad/to see it go bad." In fact, thanks to the sequencing, we get a schizoid panorama in which at one turn she's bolstering her partner's self-worth (the aforementioned "Soul Station" and, later, "Army of One," with its "keep on marching on, head held high" directive, again imploring "head held high" as she did in "Soul Station"; and "Tied and Bound" ("You're tied and bound/to the notion of pride/but you're slowly gaining ground…if the fall is small/I know you'll come to stand again") whereas at another she's taking herself to task ("You Should Stay and I Should Go"; "Jealousy," in which she blames her failure to control own green-eyed monster for upending a relationship); and at still another ("A Hand in Love") posits both parties being complicit in the success or failure of their union, once again referring to love, as she does in "Beautifuly Broken," as a loser's game but finding hope in being able to wait out the tough times, knowing "no love, no loss/no gain without cost…"
Joanne Shaw Taylor, live in London, 2012, performs 'Jealousy,' from her new album, Almost Always Never
All in all, it sounds like intimate events of the past year have really put Ms. Taylor through the wringer, but the same could have been said about Diamonds In the Dirt—and in fact were said, in TheBluegrassSpecial.com interview cited above. Her answer then is instructive when considering this new batch of songs. When it was pointed out to her that in advance press material she had described Diamonds as an "autobiographical" album, she offered a clarification: "When I say a song is biographical, I don't always mean it's, y'know, my biography. Things are taken from people happening around you really. The past two years have been a mixture for me. Overall, looking back, it's been very positive. White Sugar was very positive and completely changed my everyday life, really, in terms of what country I live in and where I tour. One thing was my mother did get very, very sick in that period, with cancer again, but fortunately she made a full recovery. And I was in a very good relationship. Eighteen months, is quite a long period of time, and over the course of 18 months, considering things that happened to you or to loved ones around you, those are the things I draw on for honest, heartfelt songs as opposed to making up any old kind of lyric."
Joanne Shaw Taylor, 'Beautifully Broken,' from her new album, Almost Always Never. Live at Schwarzer Adler, Rheinberg, Germany, Nov. 2, 2012.
Since that interview she's relocated from Detroit—to where she had migrated from her native Birmingham, England area, to be closer to her all-American band—to just outside of Houston, presumably to be closer to her beau, who is from the Lone Star State. Recorded in Austin with producer Mike McCarthy (best known for his work with Patti Griffin and Spoon), who not only clearly understands how to frame her smoky voice with the proper atmospherics and dynamics (whether those be punchy and gut rattling or quiet and reflective), Ms. Taylor was paired David Garza and Billy White, empathetic and inspired multi-instrumentalists whose resumes are rooted in rock, and drummer J.J. Johnson, who has worked with Doyle Bramhall II, John Mayer and the Tedeschi/Trucks Band. The sonic backdrop they provide is more textured and, indeed, impressively attuned to the new songs' shifting emotional sands. Exposure to the southern precincts of America is clearly having a salutary effect on Ms. Taylor's art, and as a 26-year-old young veteran (she started touring professionally at age 16, after being discovered by Dave Stewart of Eurythmics fame) she's still absorbing new influences and refining her style in a most exciting way. If you believe the mainstream music press, you'll think Gary Clark Jr. is the only blues artist worth discussing; but Joanne Shaw Taylor can hold her own with Clark Jr. as a guitarist, is a better writer and singer, and in Almost Always Never has made a better album than Clark Jr.'s debut. She may not be dating an Australian supermodel or have the dubious imprimatur of Alicia Keys with which to impress New York Times music writers (who otherwise never pay attention to the blues), but her evolution over the course of three solo albums would seem to fulfill the two great ambitions she enumerated at the end of our January 2011 interview. To wit:
"One, I would like to make a living out of music. I don't want to get a 'real job' ever again. And second, I would like the freedom to make the music I want to make. I didn't set out to make a blues album this time; I just set out to make an album. And the same really with White Sugar. So I can't say what the next album will sound like, but hopefully I can make the album I want to make and make to the best of my ability."
Don't expect to find her selling shoes at Macy's any time soon. And dig Almost Always Never, the album Joanne Shaw Taylor wanted to make and make to the best of her ability. So she did, and with gusto.