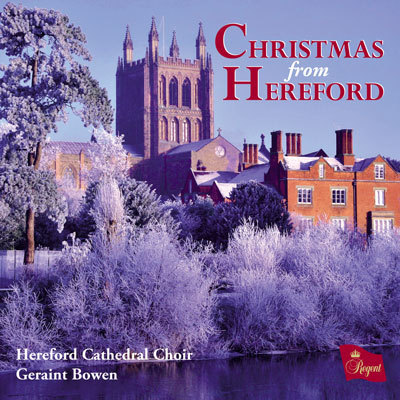 CHRISTMAS FROM HEREFORD
Hereford Cathedral Choir
Regent
This cozy, gentle, and varied collection of Christmas music from Hereford Cathedral is broken into three sections: Advent, Christmas, and Epiphany. The music ranges from the 14th-century Resonemus laudibus, a joyous piece arranged with a fanciful organ part by David Willcocks to offset the rigidity of the medieval melody, to a work by John Tavener (his glorious—and only—brief masterpiece, The Lamb), with stops in between, in each of the three sections, for one of Mendelssohn's short but imposing Op. 79 motets. The CD opens with Vaughan Williams' arrangement of the ascetic This is the truth sent from above (a/k/a The Herefordshire Carol), in a version he learned from a local folksinger in 1909; it begins in the treble and is then taken up by the basses, getting richer in its harmonies as its melody retains its simplicity.
Hereford Cathedral Choir, 'In the Bleak Midwinter.' Note: This performance is not included on the Choir's new Christmas from Hereford release.
Willcocks' large-scale arrangements of such familiar works as O come all ye faithful and Hark! The herald angels sing, with grand organ accompaniments (or riffs), are sung full-throatedly by the men and boys; by contrast, the mild delivery of the beautiful Jesus Christ the apple tree, an 18th century poem set by Elizabeth Poston, sung by the higher voices alone, is the soul of sweetness. The arrangement of O Holy Night by Mack Wilberg (director of the Mormon Tabernacle Choir) is beautifully complex if somewhat severe; it is also the only example of the trebles' singing a smidge off-key (their white tone edges north on the word "shining"), a flaw immediately forgiven.
Peter Dyke contributes a new, rich arrangement of Three kings, with daunting dynamic changes the choir is more than up to. It is followed by a simply lovely, noble, relaxed rendition of Bethlehem down by Peter Warlock (Philip Arnold Heseltine), making us regret this composer's early death. Two world premieres by Richard Lloyd, the Hereford Choir's music director prior to Geraint Bowen, impress: God from on high, with mellow organ accompaniment, sounds immediately familiar; An hymn to the Nativity of my Saviour tests and proves the solidity of the trebles' highest register. William Mathias' daring arrangement, with challenging, lively tempo fluctuations, of Sir Christemas (Nowell, nowell) takes an early 16th century carol and places it firmly in the 21st century. Throughout, Peter Dyke's organ playing ranges from discreet to imperious, and Geraint Bowen's leadership is as expected, combining warmth and accuracy. The cathedral's acoustic is intimate and inviting. A lovely and unusual disc. —ClassicsToday.com