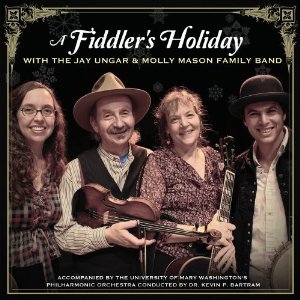 A FIDDLER'S HOLIDAY
The Jay Ungar & Molly Mason Family Band
Rounder
By the time this review reaches print, it's likely a few readers may have seen the Jay Ungar & Molly Mason Family Band on their local PBS affiliate performing the songs on A Fiddler's Holiday on stage at the University of Mary Washington in Fredericksburg, Virginia. Those readers will then know what a wonderful night of heartwarming, poignant and merry music making took place at that venue. The title says much about the music herein: Jay, his wife Molly and offspring Jay and Ruthy all play fiddles, but other acoustic instruments make periodic appearances: a guitar here, a piano there, a triangle (!), a ukulele, a banjo, with a certain seasonal sumptuousness supplied by the occasional appearance of the University of Mary Washington Philharmonic Orchestra–its full, lush sound arising in the first, autumnal half of "Theme from Harvest Home Suite" is a thing of beauty with a heavy emotional component in its expressed poignancy.
The Jay Ungar & Molly Mason Family Band, A Fiddler's Holiday EPK
Other than the rich, harmonized voices of Ruthy and Molly (and apparently, towards the end, the entire auditorium's) on a haunting "Silent Night" (which, by the way, mutates into a foot stomping, hand clapping Cajun-flavored jam, "Silent Night Two Step with Jay and Ruthy going to town on twin fiddles and the orchestra's tuba player gleefully burping along with them before the horns come storming in with a Dixieland swing), the family band eschews familiar seasonal fare in favor of original mountain-flavored compositions or versions of traditional songs handed down by the likes of Doc Watson ("Rovin' On a Winter's Night," a midtempo bluegrass lament sung by a wandering fellow nursing a broken heart–no one said this was a Christmas album, now). The tunes are highly evocative of the season–winter, that is. Molly's swirling waltz "The Snowstorm," with Jay on fiddle and Molly on piano, is so vivid in its evocation the event in question, you'll find yourself looking out the window to see if flakes are blowing around and piling up on the ground. From Mike Seeger by way of Tony Trischka, the band offers the delightful, jubilant "Christmas Eve," in a richly textured arrangement powered by Jay and Ruthy's exuberant twin fiddles but also spiced with an extra dollop of rusticity courtesy Mike's banjo and Molly's guitar. From friends in Quebec the band hits one of its many high points of the night in a simply beautiful pairing of "Waltz of the Little Girls" and "Waltz of the Toys" into a single composition Jay introduces as "Waltz of the Little Girls' Toys," delicate and sturdy all at once, with the orchestra's harp player adding a lovely, music box-like fillip along the way, enhancing the emotional intensity of Jay's gently swaying fiddle lines.
A PBS promo for A Fiddler's Holiday featuring the Jay Ungar & Molly Mason Family Band and the University of Mary Washington Philharmonic Orchestra performing 'Silent Night Two-Step'
Adding a little extra texture, Jay's "Lights of Chanuka," a fast-paced Klezmer-influenced tune he wrote for Ruthy when she was but a lass, that the grown Ruthy and her mother, Molly, sing with brio between Jay's fleet fiddle solos and a rousing trumpet solo from one of the orchestra members. And though it is almost impossible to separate it from Ken Burns's Civil War epic, Jay's "Ashokan Farewell" fits perfectly in a program so attuned to the mix of emotions and turning of the earth as we hear on A Fiddler's Holiday. A thing of beauty is a joy forever, so it's said, and what Jay, Molly and their offspring have fashioned here has the timeless feel of deeply personal music that will continue to reveal itself as the years wear on.
A Fiddler's Holiday is airing on PBS throughout the holiday season. Check your local PBS schedule for dates and times of its broadcasts in your viewing area.