'Christmas songs with an air of classicism…'
 GRACE GIFT
James Fortune & FIYA
Grace Gift
Light Records
Knowing how vocally and instrumentally explosive James Fortune & FIYA can be, I was fascinated to hear how Grace Gift, the ensemble's first holiday release, would sound.
I was more than pleasantly surprised.
Fortune and the ensemble give the album of new and beloved Christmas songs an air of classicism, complete with strings and brass. The touch is so deft and the collection of songs so deliberately sequenced that the entire project sounds like the soundtrack of a stage production about the Nativity. Nowhere is this more evident than on Cheryl Fortune's lovely "Mary's Song," a soliloquy about being chosen to give birth to the Son of God.
That doesn't mean Grace Gift does not include its share of "havin' church." The high-energy medley, "Go Tell It/Wonderful Child," gives the spiritual and gospel song, respectively, plenty of muscle power. Lisa Knowles, who also appears on Earnest Pugh's current holiday disc, joins Shawn Mclemore on this track.
From Grace Gift, James Fortune & FIYA perform Donny Hathaway's 'This Christmas,' sung by Isaac Caree and Minon Bolton
In keeping with the group's m.o., Fortune punctuates the proceedings with declarations or pleadings, and FIYA responds with music. FIYA alternates between sweet and sanctified, but they are always an ideal foil for their leader's bold exhortations. Also in keeping with FIYA projects, Grace Gift features several guest artists, including some who have gained wider recognition through their association with Fortune. They include Shawn Mclemore and Zacardi Cortez, who reprise their big hit, "I Believe," (as "I Believe–Part 2") to conclude the program. This version is not nearly as powerful as the original, but it also has to follow Isaac Carree and Minon Bolton's effervescent and spot-on rendition of Donny Hathaway's "This Christmas."
Grace Gift is a delightful Christmas album, made all the more appealing by the strong production Terence Vaughn and AyRon Lewis give it.
Picks: "Go Tell It/Wonderful Child," "This Christmas."
'getting better all the time…'
JESUS AT THE CENTER
Israel & New Breed
Columbia/Integrity
Jesus at the Center finds Israel & New Breed at the very top of their game.
The talented, hard-working, and seemingly genuine Israel Houghton leads his tuneful and turbocharged ensemble, with its distinctive amalgam of CCM, rock, and gospel, through 18 songs recorded live at Joel Osteen's Lakewood Church in Houston, where he serves as a worship leader.  The two CD set also contains three studio versions of the album's key singles.
With the exception of "It's Not Over (When God Is In It)," which benefits from the intense vocals of James Fortune and Jason Nelson, the studio versions pale in comparison to the hard-driving, full-throttle extended performances from the live programs. The first half-dozen tracks on disc one are particularly energetic, with "No Turning Back" punctuated by an extroverted horn section and "More than Enough" serving as the all-enveloping sing along for which New Breed is known.
From their new live album, Jesus at the Center, Israel & New Breed perform 'It's Not Over."
Other highlights include the trio of Daniel Johnson, Onaje Jefferson, and Charlin Moore giving the "Church Medley" of congregational songs a blistering reading, and Houghton teaching the crowd some Spanish so they can sing along to "Te Amo."
Although the second disc is calmer and more introspective than the first, the overall vibe still pulsates, like a heart beating after a 10K race. When on "Your Presence is Heaven," Houghton sings, "Jesus, you're the cup that won't run dry," you can almost feel the stillness of the crowd savoring the analogy. During another medley, Mariah Houghton performs Bob Dylan's "To Make You Feel My Love." Though it would have been more effective without the incessant rhythm, it nevertheless follows in the footsteps of the Staple Singers, whose June 1963 "Blowin' in the Wind" may have been the first-ever gospelization of a Dylan song.
Jesus at the Center demonstrates that Israel & New Breed are not resting on their laurels but are getting better all the time.
Picks: "Your Presence is Heaven," "Church Medley," "Jesus at the Center."
'tight harmonies amidst thunderous volume'
WE BLESS YOUR NAME
Israel T. Martin & God's Ultimate Praise
Power Move Management (2012)
Available on iTunes
Israel Martin and his ten-member P&W ensemble God's Ultimate Praise, or G.U.P., has released a promo EP, We Bless Your Name, showcasing three of their new songs.
The group is young, both in age and provenance, having formed in 2009, though Martin has served as musician for top-shelf gospel artists such as VaShawn Mitchell and Myron Butler. G.U.P.'s stock-in-trade is the male-led choir that has dominated the gospel music scene for the past twenty or so years.
"Set Me Free" is the EP's featured single. To a deliberate, funky groove, the group expresses its gratitude for being set free from destructive habits, while Martin punctuates the proceedings with declarations, a la James Fortune. "We Sing Praises" is a call-and-response piece that ends with seriously sanctified singing from a female member.
The title track is the EP's strongest selection because it is dominated by a whirlwind of complex chord changes that support the group's powerful vocals and polished harmonies. No doubt Martin's background as a keyboardist fueled the jazzy arrangements.
Israel T. Martin & G.U.P. distinguishes itself from other groups that perform in this style by the quality of the individual ensemble voices and their ability, as a unit, to maintain tight harmonies in the midst of thunderous volume. As they continue to venture forth, the group should identify and showcase the most distinctive soloists in the group and vary the energetic selections with slower, more passionate performances, even if written by other artists.  In the leader-ensemble subgenre, variety is indeed the spice of life
Picks: "We Bless Your Name."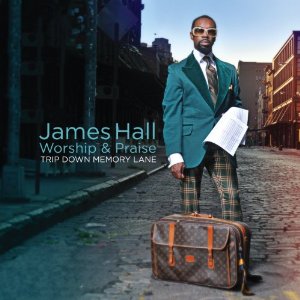 'a sonic blast-from-the-church-past'
TRIP DOWN MEMORY LANE
James Hall & Worship & Praise
Music Blend Records
Whatever happened to the church choir?
It's a question you hear in a day and age when small ensembles led by effervescent male singers-preachers drive the deal. These groups are church concentrated: small groups of congregants, if you will, responding to the leader's call.  But as popular as they are–and there are many excellent groups out there–they are not the same as the old-fashioned church choir, the one that sat behind the pastor.
James Hall and Worship & Praise's Trip Down Memory Lane is a salute to the big, brash church choir of the 1960s-1980s, when the techniques of O'Landa Draper and Thomas Whitfield blended with the dense, thunderous vocal harmonies of Harold Smith, James Cleveland, and Charles Craig. It was a time when groups vied for sheer numbers of voices, when less was most definitely not more.
The live album, recorded in Canada, is also a nod to Hall's past oeuvre, albeit rearranged and modified. Nevertheless, what you hear is Worship & Praise's signature full-throated, dramatic delivery. The choir integrates the round-chorded majesty of the senior choir with the swagger of the gospel chorus in its contrapuntal melody lines, lead singers, and tonsil-spraining volume. The result is a tsunami wave of sound.
From their new live album, Trip Down Memory Lane, James Hall and Worship & Praise offer a retooled version of their biggest hit, 'God Is In Control'
At the same time, Hall plays around with jazz, as on "Perfect Security"/"Leave Them There." An unidentified female vocalist with jazz in her veins fronts a big band, including a bluesy piano and warm B3, singing about the ultimate insurance policy: the Most High. The group returns to this style on "God Will," a reworking of the hymn, "God Will Take Care Of You."
While some lyrics are straight praise, others, such as "Pressing On" and "The Storm," are the songs of faith and encouragement, respectively, that have been the mainstay of gospel music for eighty-plus years.
Acknowledgement of the fine lead singers that appear here and there on the album would have improved the liner notes, which do indicate what musicians played on what track. Also a pew-burner like Hall's retread of the Davis Sisters' "Wont It Be Wonderful," recorded a couple of years ago with the Voices of Citadel, would have been a fine addition.
Nevertheless, for a sonic blast-from-the-church-past, you can't go wrong with Trip Down Memory Lane.
Picks: "Perfect Security"/"Leave Them There," "God Will"/"I've Got To Praise Him."
'step out on faith and just do it…'
WHOA TO WOW!
Renee Spearman
JDI Records
I first heard Renee Spearman on the multi-faceted JDI Records release, He Changed Me (2008), as one-half of the duo, Renee Spearman and Prez. The lovely singer-songwriter with the pop-inflected voice must have taken the motto of JDI Records—step out on faith and just do it—to heart, because she stepped out and released a solo CD, Whoa to Wow!
Although the album is not quite as genre spanning as He Changed Me, it does blend contemporary gospel, smooth jazz, and urban AC sounds with churchy traditional pieces. One might conclude that the album was built around Spearman's current hit single of the same name, a passionately sung duet with D.J. Rogers on God's ability to turn bad into good. However, there are other solid cuts on the album, most of them written by the singer herself.
The title track from Renee Spearman's From Whoa to Wow!, performed with D.J. Rogers
For example, Beverly Crawford appears in a big way on "Another Way," sounding for all the world like a twenty-first century Dot Love with her no-nonsense delivery and blue notes. On "Breakthrough," Spearman collaborates with vocal arranger Tony Jones and the E-merge Ensemble for a pulse-pounding aisle walker. Crawford should have been added to this track as well, roaring in like the Concorde or, if not her, DeNetria "Little 'Ree" Champ (what ever happened to her?).
Tonight Show guitarist/vocalist Paul Jackson Jr. and drummer Teddy Campbell create jazz scenery on the prayerful "Nothing Without You."
Whoa to Wow! is short but sweet and portends more to come from Renee Spearman as a singer-songwriter.
Picks: "Another Way," "Breakthrough."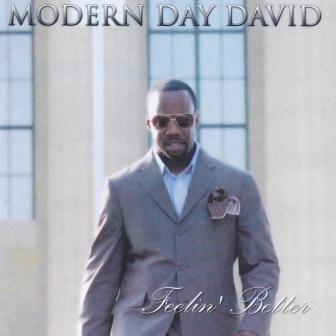 'electronic dance music-fueled inspirational songs'
FEELIN' BETTER
Modern Day David
Fresh Entertainment, Inc.
"Clap your hands for Jesus," Lawrence Williams—aka Modern Day David—exclaims on the single and title track of his album, Feelin' Better. The rhythm of this (literally) feel-good anthem evokes the steady beat of a Gap Band stepper, and sets the mood for an album of electronic dance music-fueled inspirational songs.
MDD forsook the pop world and is now an elder at Praise Tabernacle Ministries of Brooklyn, NY. His knowledge of modern day R&B is evident in the influence of Cee Lo Green's amped-up dusty soul throughout the project, especially on songs such as "Smile" and "Trust You," a former single for the artist. "Get There," yet another single, has a touch of Rockwell. The breezy ballad "Joy" is a gospelization of Michael Jackson's "Joy," written for and performed by Blackstreet in 1994.
Other songs, like "Diamond" and "Greatest Example of Love" are sacred love songs with backstory snippets of why MDD feels so blessed/loved/saved/hopeful. "Wow!!!," an expression of joy for being saved, grooves with the same club-ready beat of the title track and "Smile." The cool-down "It Don't Make Sense" is a lesson about getting through life's struggles without stress, because God has your back.
Maybe it was just my preview copy, but the lack of a printed sequence of songs made it a guessing game as to what song was next. If it hasn't already, this needs to be fixed to make it easy for radio programmers to cue up the right selections.
Feelin' Better is a fine independent project with a lyric that sums up our times: "Not everything is perfect, but I believe we're gonna make it."
Picks: "Feelin' Better," "Trust You."