This morning, I welcome new-to-the-field illustrator Melissa Guion. She's here to share some of her bright, gentle watercolors and talk about her debut title, Baby Penguins Everywhere!, a picture book as much for the parents and teachers of this world as it is for children (as Melissa herself notes below). It tells the story of a lonely penguin, suddenly visited by a gaggle of baby penguins. (Can penguins exist in gaggles? I'm going to pretend they can, even though I think gaggles involve geese.) Finding herself a bit frazzled by all the wee penguins in her care, she comes to understand that she needs a moment's peace. (Ah, isn't that the truth if ever the truth was spoken?) She needs, as Publishers Weekly put it in their review, time to recharge, though she comes to appreciate the company of the young penguins, even when it's chaotic.
I'll let Melissa tell you more about it–and her work. I certainly look forward to what she brings readers next. Also, please note that Melissa's online portfolio is here, if you'd like to see more art.
Melissa: Thanks for having me, Jules. I remember discovering 7-Imp when I began thinking about making children's books, which was not long after you launched. The Ann Patchett passage on your About page ("It is a kind of talent in itself, to be an audience") struck me as such a loving statement of purpose.
My first picture book came out last week. I've always written and drawn, but I only began trying to make it my profession about seven years ago. I've been a businesswoman. I've been a photographer. I went to clown school. It took me a while to land on this work, but it feels kind of inevitable now, and I hope I get to keep doing it.
I grew up in the 1970s, and my house and local library were full of all the extraordinary picture books that had been made in recent decades, and were still being made, by people like Arnold Lobel, James Marshall, Maurice Sendak, the Provensens, and Tomi Ungerer. I also went to a progressive school where we did lots of creative writing. Kids were still being taught that creativity was an end in itself, back then. When I was eight, a bunch of us formed a kind of literary circle, called Aardvark Enterprises. (The name now belongs to a custom-cast bullet factory in Washington. Coincidence?) My first drawings and stories appeared in our magazine.
I worked very hard on my writing as I got older, and I got good responses to it. As an artist, I was more of an amateur. Here are two pieces I made for friends' kids when they were born, before I was an illustrator. I used to make a lot of art for friends, which is what led to a literary agent friend suggesting I pursue books.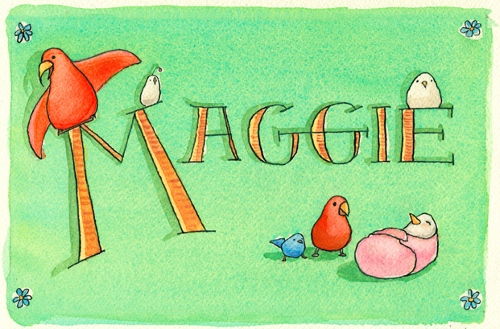 When I decided I wanted to illustrate books, as well as write them, I had to grapple with that. I signed up for drawing classes at the National Academy, including one taught by the artist Roger Winter, who turned out to be the husband of the great author/illustrator Jeanette Winter. Roger and Jeanette had me over to their house, and Jeanette talked to me for a long time about her work. Roger ended up being a rare kind of teacher, very positive, and with his help I found the confidence to focus on my strengths, such as they are, and stop worrying about what I can't do.
 
My first book, Baby Penguins Everywhere!, is a picture book for very young children and their parents (or teachers). It shows how quickly a grown adult can be overwhelmed by a handful of playful children no higher than her knee. I was starting a family when I began my illustration career, and I guess the book reflects my feelings about both activities.
The book took a long time to finish. I remember the day when I brought the dummy and some sketches into my daughter's preschool classroom. I hadn't met many fellow illustrators at that point, and I didn't have any readers. I finally got to experience what I was doing it all for. It's such a pleasure to share art with kids. First of all, they aren't reliant on mental shortcuts, so they're fascinating to talk to. They notice things and they volunteer their opinion, which can be scary if you displease them, but they're also generally impressed when they see art, because they haven't been looking at it in museums and books for so many years that they've forgotten how meaningful and hard-won each new creation is. Making things for them is a very, very satisfying activity. If only it weren't so solitary.
"And more than a bit tired."
The last thing I'll say, while I have this nice platform, is that it felt like an eternity between when I decided to make books and when I actually finished one. I hope that encourages people who want to do it and aren't there yet. If it's a quick and simple process, wonderful, but if it's not, don't despair. Keep going!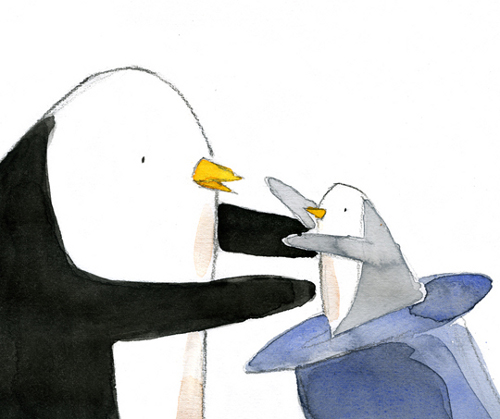 BABY PENGUINS EVERYWHERE! Copyright © 2012 by Melissa Guion. Published by Philomel Books. All images here reproduced by permission of Melissa Guion.
This and many more of Jules's adventures in books, kids' lit and illustration can be found at her acclaimed blog, Seven Impossible Things Before Breakfast, where the blog about Komako Sakai was published on May 12, 2013 and the blog about Elisabeth Craster appeared on May 5, 2013. Visit often. It'll do your body and soul good.