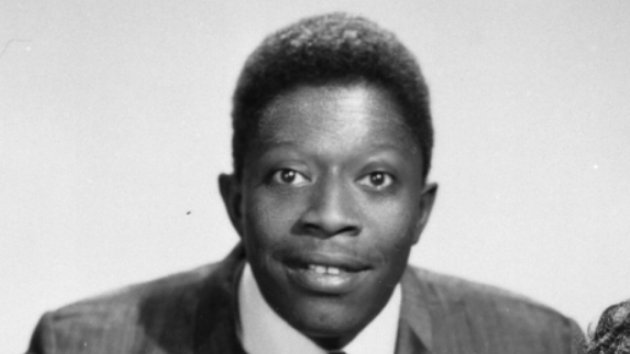 Let's simplify matters here. The Wikipedia entry on The Cadillacs lists no fewer than 21 past and present members of The Cadillacs, and it may well be off by a few names. Even by the time of the group's second hit, "Speedo," in 1955, two original members had already been replaced; in 1957, the group split into two separate entities altogether; thereafter, various permutations of the Cadillacs continued to perform, until the early '90s, when the legendary original lead singer, Earl Carroll, permanently re-formed the Cadillacs and began working regularly on the oldies circuit, on PBS doo-wop fund raiser and at casinos in Atlantic City and in Connecticut. (An interesting bit of Cadillacs trivia, fans: Bobby Spencer, a Cadillac in one of the 1957 splinter groups called The Four Cadillacs, wrote the song "My Boy Lollipop" for singer Barbie Gaye in 1956; in 1964, a ska version of the song by Millie Small was #2 in the U.K., #1 in Ireland and #2 in the U.S., sold more than six million records and helped its producer, Chris Blackwell, launch his Island Records label. Although Small's record came two years after Annette Funicello's Tutti Camarata-produced "Jamaica Ska," hers was the first international ska hit; Annette's recording was available only as an album track, not as a single.)
The Cadillacs, 'Gloria,' the insurmountable, undisputed classic version, with Earl Carroll on lead vocal, 1954
In the end, the Cadillacs that truly matter, the group that looms so large in early rock 'n' roll history, was the early iterations headed by Earl Carroll, one of the outstanding vocalists in group harmony history, against whom other group harmony and doo-wop vocalists was measured, both as a singer and as a showman. Signed to the Josie label (after changing their name from the Carnations to the Cadillacs), the Harlem-based quintet (other original members were Bobby Phillips, bass vocalist Lavern Drake, and Gus Willingham; James "Poppa" Clark was added as a fifth member before sessions for the group's first single) made its debut on record with "Gloria," a plaintive, intensely emotional R&B ballad contemplating the feelings of a girl the singer knows is "not in love with me." From his opening, distantly echoed chant of "Gloria…Gloria," Carroll owns the song; after Drake punctuates the arrangement with a descending "do-do-do-do," Carroll then swoops into a keening, sustained falsetto—one of the most difficult passages to sustain in all of doo-wop history, but absolutely key to establishing the singer's tortured frame of mind—before he makes sure the listener knows "it's not Marie, it's not Sherie," who's not in love with him. The song really has no storyline, just a singer wondering if Gloria might ever love or want him, while acknowledging he'll never know the answer to his burning questions. Still, as a testimony of unrequited love, "Gloria" is a classic of all classics in that category, owing to the raw, searing pain Carroll's voice expresses. "Gloria" was not a big hit—it didn't make the charts at all—but it quickly became a group harmony/doo-wop benchmark, an anthem, that was routinely performed by practically every other vocal group of the day, because to omit it from the program was practically sacrilege. Many a great vocalist tackled "Gloria," but Earl Carroll never lost ownership of it—even as supreme a vocalist (and Carroll contemporary) as Dion DiMucci insists no one ever sang "Gloria" better than Earl Carroll of the Cadillacs. (Written by Leon René in the 1940s, "Gloria" was first recorded in 1945 by the Buddy Baker Sextet featuring Duke Ellington's former vocalist Bob Hayward on lead, and again in '46 by both Ray Anthony and Johnny Moore's Three Blazers with vocalist Charles Brown, and in 1948 by the Mills Brothers. In the doo-wop/group harmony world, more than 30 groups have covered it, and an untold number have performed it on stage.)
But it was a year later, 1955, when Earl Carroll and the Cadillacs wrote their name indelibly in group harmony/doo-wop/rock 'n' roll history with "Speedo," a rollicking uptempo number inspired by Carroll's nickname of "Speedy" ("because I was always fast with the girls," Carroll once said to yours truly) and playing off his genial personality and winning way with the distaff side. With "Speedo" the full force of the Cadillacs' performance style was unleashed: although is balladry was on a par with the best of his time, Carroll's vocal style also reflected the jubilant, life affirming ethos Louis Jordan and his Tympany Five advanced in the late 1940s and early '50s. Like Jordan and his band, the Cadillacs took it one step further: they hired Cholly Atkins of the popular dance duo Coles & Atkins, to teach them some fancy choreography, blended that with sharp stage attire, loosed Carroll to take charge on stage, and became a model for all other vocal groups to emulate in hopes of achieving the frenetic audience reaction the Cadillacs generated. That many Motown groups emulated some of the Cadillacs' steps was no accident: Cholly Atkins moved on to be come the label's in-house choreographer, refining techniques he had taught the Cadillacs for a new generation and a new sound. (On his 1973 solo album There Goes Rhymin' Simon, Paul Simon paid tribute to "Speedo" by interpolating the lyric "she called him Speedo but his Christian name was Mr. Earl" in his song "Was a Sunny Day.")
The Cadillacs, 'Speedo' (1955)
Carroll would have no more hits after "Speedo," but he went on to spend 20 years with a reconstituted Coasters lineup, then re-formed the Cadillacs in the early '90s and continued to perform until ill health forced him into retirement in recent years. Suffering from the effects of a stroke, diabetes and a variety of other ailment, Earl Carroll (born November 2, 1937) died Sunday, November 24, in a New York City nursing home at age 75.
Much as he loved performing for fans in clubs, hotels, and at oldies shows, Carroll's favorite audience by far was the kids at elementary school P.S. 87 on Manhattan's Upper West Side, where he took a job as head custodian in 1982 and remained until his retirement in 2005. The kids flocked to him, and he was always ready with a smile and an encouraging word; it also wasn't unusual for him to break into an impromptu song and dance, using his broom as a partner and displaying the elegance of Fred Astaire cavorting with his umbrella in a famous scene from Funny Face. His proudest moments came when he sang at the fifth grade graduation ceremonies each year, and sent the kids off to their next challenge with words of encouragement that reflected his own values of discipline, dedication and commitment to a goal. Apart from his sunny disposition and warm smile, Earl was beloved for other reasons too: I remember talking to him the hallway of P.S. 87 one morning with my youngest son at my side. After asking Kieran if everything was going well in his classes, Earl looked around furtively, as if to make sure the coast was clear, reached into his pants pocket and pulled out a Jolly Rancher green apple hard candy and slipped it into Kieran's hand. He was so popular he inspired a P.S. 87 mother, Ann Morris, to write a well-reviewed children's book, That's Our Custodian, about his exploits with the kids.
A great latter-day Cadillacs performance on a PBS doo-wop special hosted by Jerry Butler. The group performs 'Zoom,' 'Gloria' and 'Speedo' with lead singer Earl Carroll.
Earl Carroll never had a better audience than the kids at P.S. 87, and he knew it. Of all the stages he had been on all over this country, he once told me, the one he was most proud to step on was in the P.S. 87 auditorium, with a roomful of kids—his "little pretties," as he called them–cheering for him. Mr. Earl never acted like a star, but with his passing you only hope he crossed over with some understanding that no star in the firmament ever shone brighter than his.
Read on for a thoughtful perspective on what it was like to be a student at P.S. 87 when Mr. Earl was taking care of business.
'The World's Coolest Janitor': A Student's Tribute to Speedo
By Travis McGee
Walking through the hallways, you often heard the voice before you saw the man. Sometimes he was talking, sometimes whistling. More often than not, he was singing; And it wasn't just singing; it was an incredibly rich voice with almost disarming vibrato. The pale green ceramic tiles that line those hallways helped carry the voice, although it surely wasn't necessary, since the sound was emanating from one of the most powerful and expressive singers in doo-wop history.
The voice belonged to Earl "Speedo" Carroll, who passed away on November 24 at the age of 75. The hallways belonged to P.S. 87 on the Upper West Side of Manhattan, where I attended kindergarten through fifth grade. The hallways also belonged to Earl, where he faithfully worked as the world's coolest janitor for 24 years.
To say that one of the most recognizable and beautiful voices of the 20th century seemed out of place in the hallways of an elementary school would be an understatement of epic proportions. Yet today, it's impossible for me to separate Earl's voice from my memories of P.S. 87, and I know I am not unique in feeling this way.
As almost everyone knows, life in elementary school is essentially comprised of a series of stations. At the beginning of the day, we lined up in the schoolyard at 8:50 a.m. before walking double-file to our classrooms at 9. On any given morning, we would head to the gym or art class, back to the classroom, before marching to the cafeteria for lunch, then being corralled back to the yard for recess. Then it was back to the classroom for the afternoon, before dismissal at the front of the school at 3 p.m. On the walk between these stations were the hallways. In the hallways, there was Earl. And where there was Earl, there was laughter and music.
Earl Carroll sings 'That's What Friends Are For' at the 1994 graduation ceremonies of P.S. 87, held at Martin Luther King High School in Manhattan
Earl was music. Any first-grader could see that. Even his natural speaking voice was musical—each syllable seemed to hit a different note, echoing off those walls.
When I began attending P.S. 87, I simply knew him as Earl, as did all the other students–nothing more or less. However, one day in first grade, my father, picking me up from school, recognized Earl as "Speedo" of the Cadillacs. Later that evening, he explained to me Earl's "past life"—or at least as much as you could explain to a 6-year-old kid.
The next day, when I saw Earl in the hall at school, I pointed at him and said, "You made a record, didn't you?" He laughed and said, in that sing-song voice, "Thaaat's right!" The day after that, emboldened, I ran up to him and yelled, "Hey, Speedo!" He sheepishly laughed and walked away. I can't remember if I stopped calling him Speedo by my own accord or if my father told me to stop to save Earl the embarrassment, but I'm pretty sure I went back to calling him Earl fairly quickly.
I was lucky enough to see Earl perform multiple times with the Cadillacs at doo-wop concerts around New York, and even luckier to hear him sing at my class' graduation from P.S. 87. Why we even bothered with the rest of the ceremony after Earl sang, I'll never know.
I'll leave it to much more talented writers to detail the significant contributions Earl made to rock and roll. It's been almost 25 years since I graduated from P.S. 87 and I've probably forgotten many of my best memories of Earl. Still, I'll never forget his voice, his smile, or the smiles he put on our faces. Out of thousands of former P.S. 87 students who have fond memories of Mr. Earl, I am but one. But there will only be one Earl "Speedo" Carroll.
'How Do You Call Your Lover Boy?':
Remembering Mickey Baker
By David McGee
Mickey Baker
October 15, 1925-November 27, 2012
That Mickey Baker became an architect of rock 'n' roll guitar was certainly not what he envisioned for himself when he took up the instrument as a 20-year-old with no formal musical training, no mentors, only a feeling that he could master the instrument and forge a brighter future for himself than what he had been experiencing scuffling on the streets of Harlem. But an architect he became, along with Carl Perkins, Chuck Berry, Scotty Moore and now-nearly-forgotten masters such as Danny Cedrone, guitarist for Bill Haley's Comets (whose intricate, advanced solo on Haley's breakthrough hit, "Rock Around the Clock"–almost the same solo he had crafted for Haley's 1952 single, "Rock the Joint"–is the first great rock 'n' roll guitar break in history, nigh on to impossible to reproduce by even the most gifted of players, and a clarion call to an entire generation of budding pickers in post-war America.), Cliff Gallup of Gene Vincent's Blue Caps and Paul Burlison of the Rock and Roll Trio. And though he had only one big success as a recording artist in his own right, he was one of those guitarists that other guitarists always paid attention to and "borrowed" from.
Mickey Baker died on November 27 at his home in Montastruc-la-Conseillère, near Toulouse in southwestern France. He was 87.
Mickey &  Sylvia, 'Love Is Strange'
Born in Louisville, KY, in 1925, Mickey Baker was a runaway orphan who at age 16 was living by his wits on the streets of New York City. He supported himself variously as a manual laborer, as a dishwasher, and as a pool shark. The glorious results of his misspent youth brought him into the orbits of jazz giants such as Charlie Parker and Dizzy Gillespie, whose powerful personalities and revolutionary music convinced Baker to "make a change in my life" and devote himself to the art of being a jazz musician, with a particular goal of playing guitar like Charlie Christian. Frustrated by the slow pace of formal training, Baker became a largely self-taught instrumentalist of distinction. He formed his own combo in 1949, but it was blues, not jazz, that paid the bills in those days. His path took him to the Savoy label, to King, to Atlantic, each stop affording him an opportunity to lend his tasty stylings to recordings by top artists of the day, including Ray Charles, Clyde McPhatter's Drifters, Joe Turner, Ivory Joe Hunter and others.
In the mid-'50s, a little-known R&B singer named Sylvia Vanderpool asked Baker to give her guitar lessons. But Vanderpool's expressive alto singing voice gave Baker other ideas. "I figured if Les Paul and Mary Ford could make money doing that nonsense of theirs, I could too," he said. And so the duo of Mickey and Sylvia was born, "and we started making rock and roll music." One of many shows they played with Bo Diddley yielded an offstage Baker-Diddley collaboration titled "Love is Strange," which was nothing more than Diddley's tune "Paradise" deconstructed, rebuilt and rolled out with a new coat of paint. Released in 1956 on the RCA subsidiary Groove label, "Love is Strange" sold a million-plus copies and was a Top 20 hit. Produced by Bob Rolontz—who later became one of the music industry's most respected and credible public relations reps when he headed publicity departments at Atlantic and then the WEA companies—"Love is Strange" signaled its arrival by way of Baker's searing, slashing six-string salvo before settling into a bluesy, midtempo, herky-jerky groove and Sylvia entered cooing, "Love…love is strange…," in a coquettish, flirty voice, delivered via a melody with vaguely Middle Eastern overtones. The spoken bridge—Mickey querying Sylvia, "How do you call your lover boy?" and Sylvia speaking/singing her lubricious response: "I simply say, 'Baby/my sweet baby'"—sealed the song's destiny as a classic by being a bit of salacious repartee between a man and a woman in which everything is suggested, but nothing is spoken outright.
Mickey & Sylvia, 'Love Will Make You Fail in School'
And that, in short, is the history of Mickey and Sylvia as far as hit records go—but "Love is Strange" was far from being their only compelling record. "There Oughta Be a Law" (available on the import Bear Family label's two-CD collection, on Love is Strange, which also includes the timeless title-says-it-all unacknowledged classic, "Love Will Make You Fail School") and "Baby You're So Fine" were both exemplary, lively singles that never rose above the chart's middle tier. They worked with various producers, including Jerry Leiber and Mike Stoller, but Rolontz was the only one who seemed to recognize—by virtue of the music he's associated with—that Baker's guitar playing was not only a thing of beauty but a drawing card as well. The Rolontz-produced sides almost always feature the guitar in a starring role, and even when the song is mediocre, Baker's intelligent choices and characteristic brio command attention. One of the interesting non-hits in the Bear Family overview, "No Good Lover," is a jump blues graced by Sylvia's sassiest vocal and some equally startling instrumental commentary from Baker.
Mickey & Sylvia, 'There Oughta Be a Law'
Mickey and Sylvia split up in 1961. Baker moved to Paris, formed a band and had some hits; after establishing permanent residency in France, he took a job as musical director at a record label, quit after a five-year stint and returned to playing live music and also began writing his own books on orchestration and composition (including a reputed epic titled 20th Century Composition that has never been published). He also returned to the woodshed to hone his blues chops a bit, studying the recordings of Robert Johnson, Blind Lemon Jefferson, Son House, Charley Patton and other Delta giants. The various paths he trod as a musician are impressively encompassed on his 1977 solo album, Blues & Jazz Guitar, which mixes country blues and a smidgen of jazz; 1992's Shanachie release, Blues Jazz & Rock Guitar; a stark, haunting vocal-and-guitar outing, Real Folk Blues, a program of original songs and roots standards; and his powerhouse instrumental album from 1959, Wildest Guitar. These are worth checking out for the deft, lyrical touch and immense passion—sometimes overt, sometimes reigned in to heighten the song's tension—Baker brings to the variety of styles he explores. "Corinna, Corrina," Robert Johnson's "Love in Vain" and Willie Dixon's "Spoonful" are performances rich in subtle guitar stylings and folksy country blues vocalizing—Baker's voice was light and airy, and he got the most out of it by affecting a casual, conversational tone. Nothing startling, but a voice that burrowed in and came to sound like an old friend reporting the day's events in a bemused manner.
Mickey Baker with the Coleman Hawkins Quintet, 'South of France Blues'
Sylvia Vanderpool married, resurfaced as Sylvia Robinson, and had several hits as a solo artist in the '70s ("Pillow Talk" hit number Three and topped the R&B charts in 1973). She also became a central figure in the birth of rap as a commercial enterprise, signing a number of the nascent genre's early standard bearers to her Sugar Hill label, including the Sugar Hill Gang, Grandmaster Flash and the Furious Five, and Funky Four + One. She died on September 29, 2011.