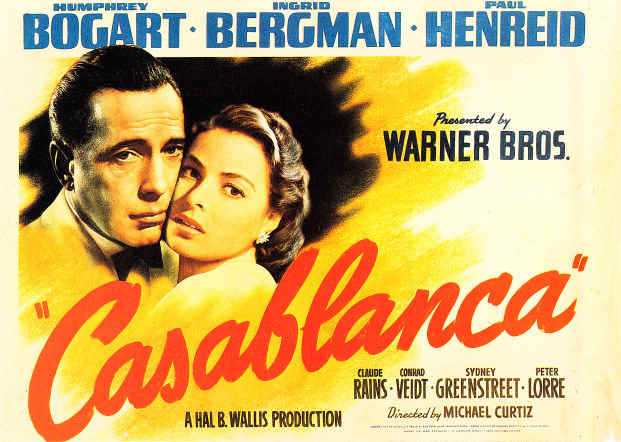 On November 26, 1942 Warner Bros. premiered its new Michael Curtiz-directed film, Casablanca, a romantic drama starring Humphrey Bogart, Ingrid Bergman and Paul Henreid, and featuring Claude Rains, Conrad Veidt, Sydney Greenstreet, Peter Lorre and Dooley Wilson. Its general release came on January 23, 1943.
Set during World War II, it focuses on a man torn between, in the words of one character, love and virtue. He must choose between his love for a woman and helping her Czech Resistance leader husband escape from the Vichy-controlled Moroccan city of Casablanca to continue his fight against the Nazis.
Although it was an A-list film, with established stars and first-rate writers—Julius J. Epstein, Philip G. Epstein and Howard Koch received credit for the screenplay—no one involved with its production expected Casablanca to be anything out of the ordinary; it was just one of hundreds of pictures produced by Hollywood every year. The film was a solid, if unspectacular, success in its initial run, rushed into release to take advantage of the publicity from the Allied invasion of North Africa a few weeks earlier. Despite a changing assortment of screenwriters frantically adapting an unstaged play and barely keeping ahead of production, and Bogart attempting his first romantic leading role, Casablanca won three Academy Awards, including Best Picture. Its characters, dialogue, and music have become iconic, and the film has grown in popularity to the point that it now consistently ranks near the top of lists of the greatest films of all time.
In 1992 writers Mark Salisbury and Simon Rose enumerated an interesting list of Casablanca factoids that was first published in Empire magazine. To honor the 70th anniversary of Casablanca's unveiling and ahead of the 70th anniversary of its general release, we reprise the ever-fascinating Salsbury-Rose factoids.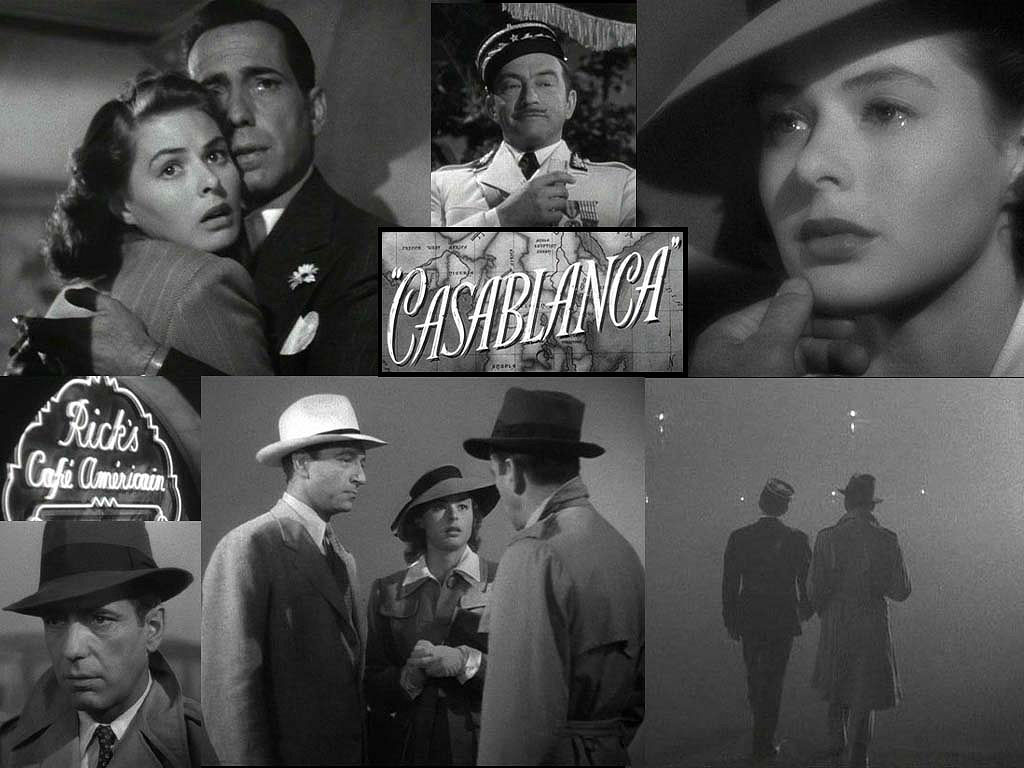 *Warner Brothers bought all rights to the unproduced stage play Everybody Comes to Rick's, by Murray Bennett and Joan Allison, on December 22, 1941 for $20,000, then the highest fee ever paid for an unproduced play.
*A memo from producer Hal Wallis dated December 31, 1941 officially changed the title of Everybody Comes to Rick's to Casablanca.
*On January 5, 1942 Warner Brothers announced in the Hollywood Reporter that Ronald Reagan, Ann Sheridan and Dennis Morgan were to star in a B-picture called Casablanca, though Reagan has stated he was never actually approached to play Rick, and anyway Warners' top producer Hal Wallis only made A-pictures.
Official trailer for Casbalanca (1942)
*Ann Sheridan, Tamara Toumanova and Michèle Morgan were all tested for the role of Ilsa, but on April 24, 1942 Warners reached an agreement with Gone with the Wind producer David O. Selznick to use Ingrid Bergman, who was under contract to Selznick.
*Casablanca started filming on May 25, 1942 with the Paris flashback scenes, scotching the myth-disseminated by members of the cast–that the thing was shot in sequence.
*Rick's Cafe was constructed at a cost of $ 9,200, more than half the film's entire set budget.
*Casablanca's opening montage was the work of Don Siegel, who went on to direct the original Invasion of the Body Snatchers (1956), Flaming Star (1960), The Killers (1964), Coogan's Bluff (1968), Two Mules for Sister Sara (1970), Dirty Harry (1971) and John Wayne's last film, The Shootist (1976), among many others in a distinguished, controversial career.
Bogart coined the phrase "Here's looking at you kid," adapting the original "Here's good luck to you."
*Before Dooley Wilson was cast as Sam, producer Hal Wallis considered changing the character's gender, with Ella Fitzgerald among those approached for the part.
*Dooley Wilson was a drummer, not a pianist, miming to pianist Elliot Carpenter, who sat off-camera and tinkled the necessary ivories.
Max Steiner hated "As Time Goes By," insisting that the six-note ditty was too simple for a love theme, and the song was almost cut from the film at the last minute. Only the fact that Ingrid Bergman had already had her hair cut for her role in For Whom the Bell Tolls prevented Wallis reshooting the scene in which she asks Sam to "play it, Sam–play, 'As Time Goes By.'"
*After Casablanca opened, Dooley Wilson received 5 000 fan letters a week–more than Clark Gable.
*Dooley Wilson was the only member of Casablanca's cast to have actually visited the city before shooting.
*A decision about how the film should end–and whether Rick should get Ilsa–was not reached until two months into shooting. Alternative endings included having Ilsa stay with Rick (considered too risqué to have a woman leave her husband); having Rick killed as Ilsa and Victor escape (too grim); killing Victor (too politically unsound).
*When Bogie recalls his last day in Paris with Ilsa he says: "The Germans wore grey, you wore blue," to which she replies, "I put that dress away. When the Germans march out, I'll wear it again." In the flashback to that day, however, Ilsa is seen wearing a suit, not a dress.
*Casablanca was filmed entirely on the Warners lot except for one scene in which L.A. Municipal Airport stood in for Casablanca airport.
Casablanca officially wrapped on August 3, 1942, though a decision about the film's last line wasn't made until 21 August, when producer Hal Wallis picked "Louis, I think this is the beginning of a beautiful friendship" over three alternatives: "Louis, I begin to see a reason for your sudden attack of patriotism. While you defend your country you also protect your investment"; "If you ever die a hero's death, Heaven protect the angels"; and "Louis, I might have known you'd mix your patriotism with a little larceny."
*Casablanca took $3.7 million on its initial release in the U.S. from a $950 000 budget.
*A sequel to Casablanca called Brazzaville was considered by Warners to continue the story of Rick and Renault directly after the action of the first film. No script was ever written.
*A TV series based on Casablanca debuted on ABC in America in September 1955 with Charles McGraw as Rick, but it was cancelled after a season. A second series in 1983 starring David Soul as Rick and Ray Liotta as Sasha the bartender was cancelled after three weeks.
*A poll by TV Guide named Casablanca as the most popular and most regularly repeated film on TV.
*In 1977 the American Film Institute named Casablanca the third best American film or all time after Gone with the Wind and Citizen Kane.
*A colorized version of Casablanca premiered on Ted Turner's TBS cable station in the US on November 9, 1988 to favorable reviews.
Bogie was also responsible for changing 'Of all the cafés in all the cities in all the world she walks into my café' to more memorable 'Of all the gin joints in all the towns in all the world, she walks into mine.'
 *Brazilian fan Joao Luiz Albuquerque took a print of Casablanca apart and re-edited the film so that Ilsa did not get on the plane with Victor. This unauthorized version received a special screening at the Rio Film Festival in 1987 and bore the credit: "Copyright infringements by …"
*The piano on which Dooley Wilson pretended to play "As Time Goes By" was sold to a Japanese firm in 1988 for $154 000.
*Wallis asked many writers to contribute material, resulting sometimes in three different versions of a scene for Wallis and director Michael Curtiz to choose from. When the complaint was raised that some of the changes were illogical, Curtiz replied: "I make it go so fast that no one notices."
'I'm shocked, shocked to find out that gambling is going on in here': On one occasion Bogart was told by Curtiz to come to the café balcony and nod, snapping, after Bogie asked what exactly he was nodding at, 'Don't was so many questions. Get up there and nod, and then go home.' Only later did Bogart discover he had been cueing the orchestra for the battle of the national anthems, one of the most emotional moments in the movie. Many of those working on Casablanca, including Conrad Veidt, Peter Lorre and S.Z. 'Cuddles' Sakall, were refugees from Nazi Europe. In all, the cast included 34 nationalities.
*Originally Austrian Paul Henreid refused the part of Victor Lazlo, but after entering the war, the U.S. began deporting many aliens, regardless of their politics. Henreid, a vociferous anti-Nazi, accepted the contract from Warners to save his life.
*Bogart kept his distance from Bergman, to give no cause for grievance to his third wife, Mayo Methot, an unstable, insanely jealous woman who had on more than one occasion threatened to kill him.
*The general release in 1943 had the good fortune to coincide with the Casablanca conference, attended by Roosevelt, Stalin and Churchill.
*False: Ingrid Bergman did not learn who she'd end up with until the last day of filming. Several scenes were shot in the fortnight after the final airport scene, including her nighttime visit to Rick's apartment to plead for the exit visas.
*False: Humphrey Bogart was the seventh choice to play Rick. Just signed to a seven-year star contract at $3,500 a week, the part was written specifically for him.
'What in Heaven's name brought you to Casablanca?' 'My health. I came to Casablanca for the waters.' 'The waters? What waters? We're in the desert.' 'I was misinformed.'
*False: George Raft turned the part down. He was never offered it. His earlier rejection of the leads in both High Sierra and The Maltese Falcon, however, had effectively made Bogart a star.
*"As Time Goes By," composed 11 years earlier, was specified in the play. Composer Herman Hupfield had been a college roommate of playwright Murray Burnett.
*The only song written for the film is "Knock on Wood," which the studio confidently expected to be a hit.
*Humphrey Bogart, at five foot-four, was five inches shorter than Bergman. He wore platform shoes throughout their scenes together.
*Although in Hollywood for 16 years by 1942, director Michael Curtiz was renowned for mangling the English language. Collecting his Oscar for Casablanca, he said: "So many times I have a speech ready but no dice. Always a bridesmaid, never a mother."
*Casablanca was nominated for eight Oscars, winning three–Best Picture, Best Screenplay and Best Director, with Hal Wallis picking up the Irving Thalberg award for his services as a producer.
'Louie, whatever gave you the impression that I might be interested in helping Laszlo escape?' 'Because my dear Ricky, I suspect that under that cynical shell you're at heart a sentimentalist.'
*Historical accuracy was not the film's strong point. The fabled letters of transit were signed by General De Gaulle, but why would De Gaulle, the Free French leader, be signing Vichy documents? The script specified Nazi puppet Marshal Weygand, but it was felt no one would recognize the name. In fact, there was no refugee trail to Casablanca, as claimed in the opening sequence.
*The Italian version of Casablanca cuts the ridiculing of the Italian at the airport when Major Strasser arrives.
*Warners' advertising campaign was "slightly" less polished than the movie: "As big and timely a picture as ever you've seen! You can tell by the cast it's important! Gripping! Big!"
*When the Marx Brothers' A Night in Casablanca was released in 1946, Warner Brothers threatened to sue. "You claim you own Casablanca and that no one else can use that name without your permission," barked Groucho, "but what about Brothers? Professionally, we were brothers long before you were."
©1992 Empire, posted at ReelClassics.com
And while we're on the subject, why not a 40th Anniversary tribute to the greatest movie Casablanca ever inspired?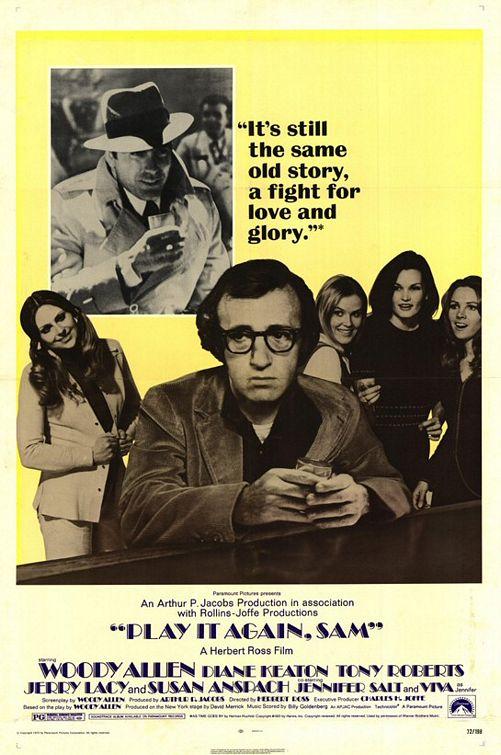 Official trailer for Play It Again, Sam (1972)
http://www.youtube.com/watch?v=stfZwwPfY38
'What were you thinking about while we were doing it?' 'Willie Mays.' 'Do you always think of baseball players when you're making love?' 'It keeps me going.' 'Yeah, I couldn't figure out why you kept yelling 'Slide!''
'I snapped my chin down on some guy's fist and hit another one in the knee with my nose.'
'And don't get nervous. The only bad break you could get is if she turns out to be a virgin—or a cop.' 'With my luck, she'll turn out to be both.' –Bogie gives dating advice
'Don't get those candles, they're for a Jewish holiday. Get romantic candles.' Bogie has an altercation with Allan's ex-wife in the supermarket.
'What are you doing Saturday night?' 'Committing suicide.' 'What about Friday night?'