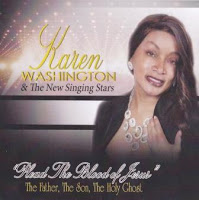 'melodic songs packed with Biblical instruction and mother wit…'
PLEAD THE BLOOD OF JESUS
Karen Washington & the New Singing Stars
Karen Washington and producer Eric Sharper team up on a new project, Plead the Blood of Jesus, another southern-fried quartet album from the duo. Backed by the über-competent New Singing Stars, Washington sings through a stack of bright, melodic songs packed with Biblical instruction and mother wit.
Washington eschews melisma and complex runs for entreating, tear-filled soprano blasts of angst and passion. As such, she sounds like a girl group alumna, a Shangri-La or Shirelle gone gospel. For that matter, "Thank God I'm Blessed" and the compelling, stroll-tempo "For the Love of God" have a '60s garage-pop feel in their rhythm and chord progression.
Karen Washington & the New Singing Stars, 'Jesus Is Alive,' official video. Directed and edited by Lewis 'Pandemic B' Peterson and co-directed by Jimmy Thomas aka J-Slim.
Meanwhile, the opening "Can't Nobody Do Me Like Jesus" and "What a Mighty God He Is" are full of gospel pep and vigor, the latter a congregational sing along with a quartet vamp.  "He's Sweet I Know" is the classic hymn given a contemporary arrangement.
The album would have been stronger had the heavy emphasis on synth been supplanted, or at least augmented, with a real brass section, or just simply the standard guitar-bass-drums-organ combo.
A stroke survivor and prolific recording artist, Karen Washington of South Georgia began her singing career in the mid-1970s as a young member of her family's group, the Family Starlites. She grooved into the quartet sound back then and continues to deliver music you expect to hear on gospel radio stations south of the Mason-Dixon: not melodramatic or necessarily shriek-inducing, but Sunday afternoon sacred enjoyment.
Picks: "For The Love Of God," "Can't Nobody Do Me Like Jesus."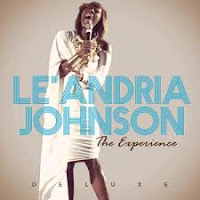 'the voice, the experience, live'
THE EXPERIENCE
Le'Andria Johnson
Grammy Award-winning Le'Andria Johnson returns with a vocal vengeance on The Experience, a live performance at St. Stephen's Baptist Church in Houston, Texas. Her oversized voice—more than twice the size of her sinewy frame—possesses the two-ness, the combination of ecstasy and sorrow, characteristic of the best gospel singers.
The first half of the program feels autobiographical. Johnson wears her heart on her vocal cords as she states some important truths about herself. At the outset, on "I'm Living," the singer asserts that she likes all kinds of music, but "it don't mean a thing if it can't carry you through." As if to drive home the point, her musicians give the track a hard-hitting rock soundscape. On "My Story Continues," Johnson uses tough words to affirm that she isn't going away, even if "they never thought I would make it this far." During "Complicated," Johnson sings that she has cried so many nights, but has overcome the pain.
Le'Andria Johnson, 'God Will Take Care of You,' from her new album, The Experience
The album's tour de force is "Revival Fire Fall." Johnson unleashes a full arsenal of gospel embellishment, including clenched teeth moans and gut wrenching shouts, to create a song that possesses the otherworldly intensity of Butterfly's final aria, "Con Onor Muore."
Having expunged the weight from her shoulders, Johnson proceeds to make the second half of the program a concert of traditional gospels and hymns. She eases into it with a relaxed version of the Caravans' hit, "Lord Keep Me Day By Day." The "Hymn Medley" features chestnuts such as "I Surrender All," sung to organ accompaniment.
From The Experience, Le'Andria Johnson, 'Complicated'
The "Church Medley" is the real crowd-rouser. Johnson opens with the Pentecostal classic "I'm A Soldier" sung with the gusto of the Gay Sisters. I anticipated the audience would put a coda on the medley by singing the "Yes Lord" chant, but if they did, it was not captured on tape. Speaking of the Gay Sisters, Johnson sings "God Will Take Care Of You," the hymn made famous by the "singing sweethearts" in 1951, though she gives it Aretha's more nuanced and deliberate 1972 reading. Johnson's award-winning single, "Jesus," concludes the concert.
On The Experience, Le'Andria Johnson demonstrates why she is among the most amazing female voices in gospel music today. The project is also available in a deluxe edition that includes a DVD of the performance.
Picks: "Church Medley," "Revival Fire Fall."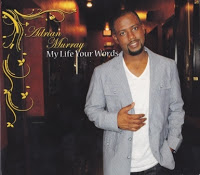 'prayer, praise and thanksgiving'
MY LIFE YOUR WORDS
Adrian Murray
Originally from Des Moines, Iowa, and now living in Florida, singer-songwriter, instrumentalist, and inspirational speaker Adrian Murray is formerly of N-Unity, whose 1997 CD, Mind, Body and Soul, made the Billboard Gospel Album charts.
My Life Your Words is Murray's first independent solo project. The sixteen tracks—he wrote, produced and engineered all of them—center on his personal relationship with God as articulated through prayer, praise, and thanksgiving. The influence on Murray's musical style of such groups as Take 6 and Dawkins & Dawkins are evident in the smooth jazz backdrop, dense harmonies, and complex chord structures.
As a singer, Murray has a smooth, soulful tenor. He demonstrates his ability to ornament the melodic line during "You Are" and on the soaring and dramatic prayer closet confessional, "Break The Cycle."
Promo trailer for Adrian Murray's My Life Your Words
Hip-hop elements find their way on "I Want It All," featuring Herve' "DaDa" Alce', and "My Favorites," where Adrian and Alicia Murray compare God to their favorite things, including "my favorite hit records that I can't get enough of." "Keep Holding On" is the album's message of encouragement, reminding the listener that God doesn't turn His back on the faithful.
The album's top two tracks are the bracing, funky, and polyrhythmic "I'll Do," an eager embrace of discipleship; and "The Rock," a jazz-infused version of the standard, "The Solid Rock." These are as good examples as any of Murray's musical philosophy.
My Life Your Words is a cool-down album bathed in contemporary techniques and a singular focus on living like Christ. Says Murray: "I'm not trying to be different or change the musical game in any way. I just want to remain obedient to what God desires, not just for me musically, but for my wife and son."
Picks: "The Rock," "I'll Do."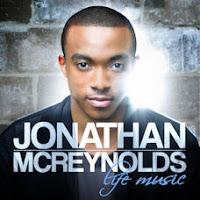 'intimate, heartfelt conversations with God'
LIFE MUSIC
Jonathan McReynolds
What strikes you immediately upon hearing singer-songwriter-keyboardist Jonathan McReynolds for the first time is his high tenor.
Gospel music is chock-a-block with men who can loft a few above the stave but are more comfortable maintaining a tessitura a couple of lines and spaces lower. McReynolds, on the other hand, has a distinctively fresh pop-fueled tenor that seems at ease in the upper atmosphere. While not as soaring as Roger Roberts and Carl Hall, and more like pop stars Bruno Mars and James Blunt, McReynolds nevertheless catches your attention.
Jonathan McReynolds, 'One Prayer Away,' from his new album, Life Music
The singer displays his craft on Life Music, a collection of songs that, save one, he either wrote or co-wrote. Lyrically, the selections are intimate, heartfelt conversations with God, and their soundtracks are gentle, easy, and contemporary.
A recurring theme on Life Music—it is the subject of "Lovin' Me" and "Why"—is thanksgiving for blessings undeserved or, as McReynolds sings, with the proverbial "pimples on my face." Another lesson is that God deserves the credit for our successes. McReynolds references this point on "I Made It," asserting that when he gets rich and famous, he will remember that God is the reason for it all. Similarly, on "Smile," McReynolds and duet partner Ashley Washington remind the listener to smile even when things are not so great, because God has already given you much.
Jonathan McReynolds, 'Comin' Out,' from his new album, Life Music
"I Love You" is the current single and the best song on the album. Its brisk pop melody and apologia for why the righteous praise out loud make it a contender for crossover to the Christian charts. Featuring Washington on "Smile" and Corey Barksdale on "Why" was well conceived, as they are ideal vocal complements to McReynolds.
Life Music is exactly that: simple, common sense lessons for a better life.
Picks: "I Love You."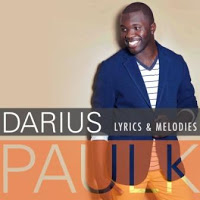 'minister, psalmist, songwriter'
LYRICS & MELODIES
Darius Paulk
It is very likely that songwriter Darius Paulk will never forget the 2012 Stellar Awards ceremony.
His composition, "Nobody Greater," had taken top honors in the Music Video of the Year and Urban Inspirational Song of the Year categories. When it did not garner the coveted Song of the Year, Kirk Franklin was so exasperated that he presented Paulk with his own statue. Franklin then heaped praises on the VaShawn Mitchell hit and its ministerial power.
Paulk sings "Nobody Greater" on Lyrics & Melodies, an EP he released this past August. The five-track album sets out to demonstrate that Paulk is not only a talented songwriter but also a talented vocalist. (His website identifies him as "Minister, Psalmist, Songwriter.") His pleading, throaty tenor makes a strong case on the energetic "This I Give." As for "Nobody Greater," those who know the Mitchell version will find Paulk's version more straightforward and without the changes in tempo and vocal dynamics.
'Nobody Greater,' Darius Paulk, from Lyrics & Melodies
Paulk's most impassioned singing on Lyrics & Melodies is on "Lead Me." It is an easy-as-Sunday-morning rearrangement of Doris Akers' "Lead Me, Guide Me." To a prominent B3, strong background vocalists, and a gospel waltz tempo, Paulk improvises with the gymnastic flexibility of a church singer singing to the congregation. He even interpolates "Where He Leads Me, I Will Follow" in the vamp. It is head and shoulders the EP's finest moment.
Darius Paulk certainly can sing as well as write gospel songs. He's also fortunate to be in the capable hands of Lady T'Mil Curtis, one of the hardest working women in gospel music promotion, who knows a promising talent when she hears one.
Picks: "Lead Me."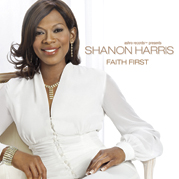 'an inspirational security blanket'
FAITH FIRST
Shanon Harris
For her debut album, Faith First, Shanon Harris from the Second Baptist Church of Joliet, Illinois, delivers a baker's dozen of love songs to the Almighty with a rhythm and praise sensibility underpinned by electronic dance music beats.
Harris, whose mother and grandmother preceded her as church singers, has a particular gift for rhythmic lyricism. She sings many of the songs on Faith First in the brisk poetic meter characteristic of neo-soul, while Keith Felix multitasks as co-writer, instrument programmer, and vocal arranger.
Much of the variety on Faith First comes from the varying music styles in which the songs are wrapped. These vary from urban AC, as on the opener, "He Gives The Greatest Love," or the jazz-rock fusion of "Look To The Hills," which finds its inspiration in Psalm 121 ("I will lift up mine eyes unto the hills, from whence cometh my help").
Harris's current single, "Worth It," is the album's high point. Countering the old adage that everyone wants to go to Heaven but nobody wants to die to get there, Harris eagerly anticipates the hereafter and its promises of eternal joy. Not at all maudlin or melodramatic, "Worth It" is breezy and insistent, its soft and fuzzy harmonies overdubbed by Harris herself. Harris proves capable here and on "Love" of lofting impressive high notes well above her otherwise comfortable middle-stave vocal range.
Faith First is an inspirational security blanket also ready-made for Christian clubs. It is a product of Ashro Records, a newish Chicagoland-based label whose mission is to present music that "embodies the African-American spirit."
Picks: "Worth It."
Bob Marovich is a gospel music historian, radio announcer and author. His "Gospel Memories" radio program of vintage black gospel music and artist interviews airs live first Sundays from 3 a.m. to 7:30 a.m. on Chicago's WLUW 88.7 FM, and streams live at the station's website. Snippets of recent broadcasts can be heard online at the Gospel Memories Radio Show. Bob is also founder and editor of The Black Gospel Blog.