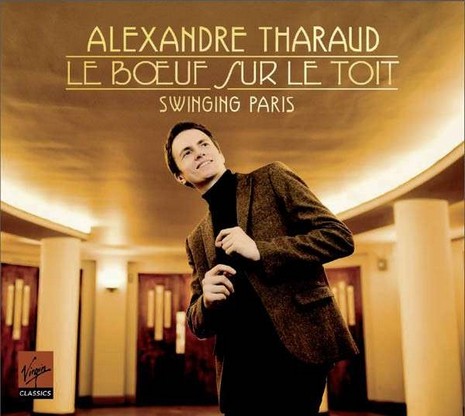 'An engaging exploration of 1920s Parisian jazz and the cabaret venue where it flourished…'
On October 22nd, French Pianist Alexandre Tharaud released Swinging Paris Le Boeuf Sur le Toit, a new album of jazz music inspired by the legendary 1920s Parisian cabaret. The album features a kaleidoscopic selection of music from composers ranging from Ravel to Gershwin to W.C. Handy, and includes a diverse group of guest artists including Natalie Dessay, Madeleine Peyroux and more. This new release caps a busy year for Alexandre–he starred in Michael Haneke's film Amour, which took the top prize at the Cannes Film Festival (Tharaud also provided the soundtrack, which will be released on Virgin Classics in January of 2013), and was also featured on the smash hit Fifty Shades of Grey The Classical Album.
http://www.youtube.com/watch?v=587ms7OUESI
Alexandre Tharaud, EPK for Le Boeuf Sur le Toit
Tharaud previewed Swinging Paris Le Boeuf Sur le Toit to a sold-out New York City crowd this past April, with the New York Times reporting: "Mr. Tharaud played 'Chopinata,' a clever jazz fantasy on Chopin themes by Clément Doucet, who was the house pianist at Boeuf Sur le Toit during its heyday. It was fun to hear his breezy account of 'Five O Clock Foxtrot,' an arrangement of a dance episode from Ravel's opera L'Enfant et les Sortilèges. He ended with a tasteful rendition of 'The Man I Love,' the Gershwin classic."
The cabaret Le Boeuf Sur le Toit (literally The Ox on the Roof) was a hotspot and melting pot of Parisian and international culture in the 1920s. As Tharaud explains: "Every evening you would come across composers like Maurice Ravel, Erik Satie and the members of Les Six…even Stravinsky! There were French popular singers like Maurice Chevalier, Yvonne Georges, Kiki de Montparnasse and then, among the throng, lots of artists, such as Man Ray, Diaghilev, Coco Chanel, Georges Simenon…though they came from different worlds, everybody on the Paris scene came to Le Boeuf Sur le Toit for jazz and new music amidst the excitement of the Roaring Twenties. The cabaret's importance in the history of jazz can be gauged by its immortalization in the French term for having a jam session, faire le boeuf."
To help him "faire le boeuf," Tharaud is joined here by a hand-picked group of colleagues. From the world of classical music come soprano Natalie Dessay (making her debut on the mouth trumpet!), pianist Frank Braley ("He is crazy about Gershwin," explains Tharaud); tenor Jean Delescluse and percussionist Florent Jodelet. Joining from the world of jazz and popular music are three singer-songwriters: Madeleine Peyroux (an American of French extraction) and French chansonnier singers Juliette and Bénabar, and guitarist David Chevallier (here on banjo). The actor Guillaume Galliene, a resident of France's most prestigious theatre, the Comédie-Française, takes on a cheeky comic song. -–Amazon Editorial Review
From Le Boeuf Sur le Toit, Alexandre Tharaud performs Gershwin's 'The Man I Love'
'…perfect late-night fare, scintillatingly played'
The ballet by Milhaud gave its name in 1922 to a Parisian cafe that became a centre of fashionable nightlife. The versatile pianist Alexandre Tharaud has gathered some friends together to demonstrate the range and atmosphere of this hothouse: Natalie Dessay sings a blues, and Frank Braley joins him for the heart of the disc, four glorious two-piano arrangements by Jean Wiener and Clément Doucet, which Tharaud has transcribed. The Chopin and Wagner parodies should perhaps be buried, and for atmosphere you need to add your own smoke- and drink-filled room, but the music is perfect late-night fare, scintillatingly played. -–Nicholas Kenyon, The Guardian UK, October 27, 2012
At WQXR's Café Concert, Alexandre Tharaud performs Clement Doucet's 'Chopinata,' from his new album, Le Boeuf Sur le Toit
'…all demonstrate the range and atmosphere of the famed club…'
In Paris in 1921, the legendary cabaret Le Boeuf sur le Toit (The Ox on the Roof) opened in Paris, providing a hangout for celebrities like Coco Chanel, Jean Cocteau and Maurice Ravel, not to mention Django Reinhardt, whose paintings were exhibited there in 1947, or Darius Milhaud, whose ballet score furnished its name. In time the nightspot spawned not only new songs, but also cheeky piano paraphrases of the music of great masters.
The French pianist Alexandre Tharaud has compiled 20 pieces that were identified with the legendary venue including numbers by Ravel, Milhaud, Gershwin, Kern, Porter, Kalman, W.C. Handy and others. Some of these are great party gags to be shared among music lovers, others are beauties to be enjoyed, and all demonstrate the range and atmosphere of the famed club.
Alexandre Tharaud, with vocalist Juliette, performs 'J'ai pas su y faire' from his new album, Le Boeuf Sur le Toit
There's a foxtrot version of Chopin melodies called "Chopinata" and an elaborate condensation of Wagner's Tristan and Isolde called "Isoldina." There are American Songbook hits by Gershwin and Porter and several selections by the French piano duo of Jean Wiener and Clement Doucet, who were regulars at Le Boeuf.
Among the friends Tharaud gathers is soprano Natalie Dessay, who does a credible "Blues chanté," pop-cabaret singer Madeleine Peyroux (in "Let's Do It") and the pianist Frank Braley, who fills out several four-hand piano pieces.
WQXR.org Album of the Week, October 28, 2012