Reality Check
Jon Soltz, chairman of VoteVets.org, the largest progressive group of veterans in the country, sent us this note and photo in the wake of another of Mitt Romney's demeaning comments about women, and asked us to share it with our readers.
Those of us who served know that there are a lot of strong, smart, independent women in our nation. Now, one of these amazing women, the former head of Medical Operations at Ramstein Air Force Base, is telling Mitt Romney to show them some respect.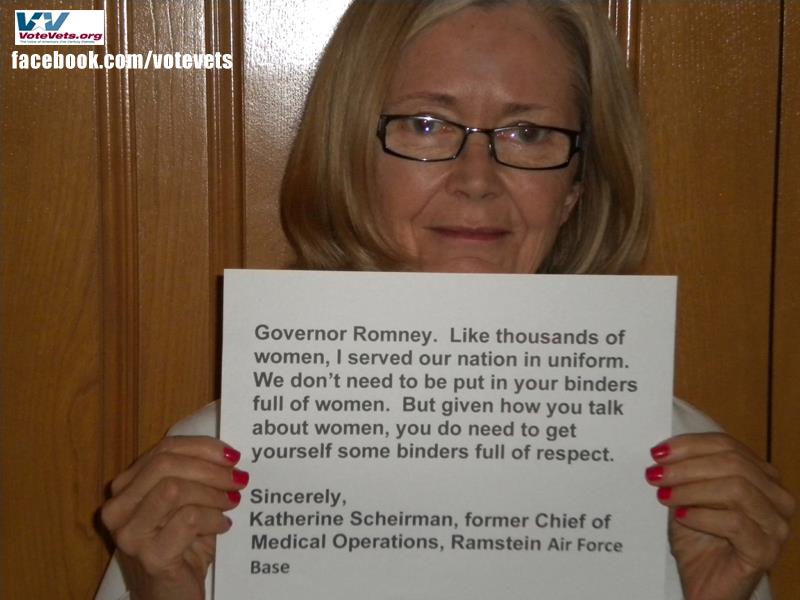 From blaming single moms for gun violence, to saying women should go home early from work to cook dinner for their husbands, to, yes, those "binders full of women," Mitt Romney continually insulted women at the last debate.
This should offend men, as well as women.  I know, from my two tours in Iraq, that women not only served, they saved the lives of men I served with. Mitt Romney's characterization of women is demeaning to those incredible women in uniform, who so many of us owe our lives to.
That's why I'm sharing this photo, and asking all of you to, as well. Thanks for your support.
Sincerely,
Jon Soltz
Iraq War Veteran
Chairman, VoteVets.org
Lee Roy Honored for Inspirational Song
Lee Roy of the award-winning brother/sister duo The Roys was honored by Power Source Magazine on Oct. 15 for his Number 1 Inspirational Country Single, "I Wonder What God's Thinking."  The presentation took place during Day 2 of Inspirational Country Music Week (October 14-18) aboard the historic General Jackson Showboat. "I Wonder What God's Thinking" questions the Lord's perception of today's often selfish society that frequently ignores our fellow humans in need. The poignant song was featured on The Roys' critically acclaimed debut CD, Lonesome Whistle, released last year by Rural Rhythm.
"Every award is meaningful in its own way," the devout Lee says. "But to be recognized for my efforts as a songwriter is especially humbling, since I believe in divine inspiration. I wrote it after watching the news and considering how separated so many of us seem to have become from each other and from God."
http://www.youtube.com/watch?v=552Rzb-Mq-k
The Roys, 'I Wonder What God's Thinking'
Preceding the release of Lonesome Whistle, The Roys were featured with an in-depth interview in the Artists On the Verge series in TheBluegrassspecial.com's February 2011 issue; the duo's new Rural Rhythm EP, New Day Dawning, which debuted at #2 on the Billboard Bluegrass Albums Chart in early September and two weeks later topped Amazon's Bluegrass Best Sellers list, was a featured review in the first issue of Deep Roots.
Update: On Oct. 18, The Roys won their second consecutive Bluegrass Artist of the Year award from ICM. They had been nominated in three categories this year: Entertainer of the Year, Vocal Duo of the Year and Bluegrass Artist of the Year.
Fogerty Rocks Canada, Returns to Studio; New Album Due Next Year
John Fogerty completed a rousing month-long romp across Canada in September that featured 16 sold-out shows, rave reviews and ample evidence that the rock 'n' roll titan is working at the peak of his powers.
Following the tour's completion, Fogerty returned to the studio to finish his first album for Vanguard Records, Wrote a Song for Everyone, scheduled for release early next year. While we prefer our Fogerty undiluted, the inside word is that he's accompanied by a number of guest artists on the project, including Alan Jackson, Miranda Lambert, the Foo Fighters, Bob Seger, Brad Paisley, Keith Urban and My Morning Jacket. The most intriguing pair by far, though, is with the great young band Dawes, lead by the gifted songwriter-guitarist Taylor Goldsmith. (The first in-depth feature on Dawes can be found in the March 2009 issue of TheBluegrassSpecial.com, in which the band was selected, along with Delta Spirit and HoneyHoney, as Artists on the Verge for that year.)
John Fogerty, 'Centerfield,' a video that shows Yankees players actually hitting the ball. Posted at YouTube by JohnFogertyVEVO.
 For readers in, around or near Tuscon and Mesa, Arizona, on Oct. 18 and 19, Fogerty's coming to your town. Visit Fogerty's website for updates on his new album project and more tour dates.