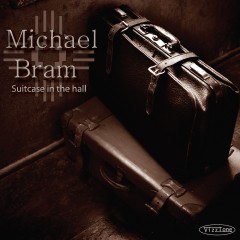 SUITCASE IN THE HALL
Michael Bram
Swingnation/VizzzTone
Although he's now cut three albums under his own name, Michael Bram is far better known in the pop world as the drummer and musical director for Grammy winning singer-songwriter Jason Mraz, or possibly for his touring/recording credits with the likes of Willie Nelson, Bob Margolin, Debbie Davies, Joss Stone, Gina Sicilia, Steve Riley, et al. That's all going to change pretty soon, because the third of those three solo albums, the new Suitcase In the Hall, is a tape-measure home run of soulful singing, inspired playing, terrific songs and great vibes from first to last.
Michael Bram and the Alternators, 'Suitcase In the Hall,' at Lucille's Cafe in B.B. King's Blues Club & Grill, New York City, November 20, 2010
 With his buddy, the formidable Dave Gross, producing and playing his usual incredible lead guitar, Bram struts, swaggers and moans his way through a dozen engaging country and blues tunes, five of which are his own impressive originals. The Bram copyrights alone are enough to make you sit up and take notice: "The Way You've Changed" is a stone-cold country weeper of love gone wrong, sounding in its steel- and twang-drenched tones like something you might've dialed up on southern radio in the mid-'50s. Cindy Cashdollar supplies the echoed, evocative steel tears, Gross adds the twang, and Bram simply becomes the song with a vocal subsumed by sorrow. There too is a point to be made about this artist: no one is going to mistake Bram for, say, Raul Malo, as a vocalist, but the more you hear his dry, easygoing tenor the more you believe him. He simply sounds real, he believes what he says, and, to torture the sports analogy further, he plays within himself, lets the game come to him. The title track, "Suitcase In the Hall," is a standard 12-bar blues pertaining to the singer's intent to take his leave of an inconsiderate woman (the suitcase in question is packed and ready to go), a message Bram gets across with just enough ferocity that its recipient would know he ain't foolin', as lead guitarist Chris Vitarello underscores our protagonist's intent with some nice walking lines on the top strings along with a few stinging and wailing solos for emphasis, as Jeremy Baum adds an atmospheric smidgen of B3 and Bram himself pitches in with a tasty, shimmering harp solo. The stomping album opener, "It Don't Matter Where You Get Your Appetite" ("as long as you eat at home" is the continuation of that sentiment), features another well-tempered Gross solo–concise, even understated in contrast to the heat of Bram's vocal—that draws a listener's attention to the real-world wisdom being espoused herein; speaking of real-world wisdom, Bram's "Chinese Hot Mustard," with its sputtering sax (a fine turn by Matt Cowan) and barrelhouse piano (Jeremy Baum doing the honors), takes issue with a delivery man who forgot to include an invaluable condiment in his take-out order—now them's the blues.
As good as he is putting his own songs over, though, Bram proves himself a top-notch interpretive singer as well, especially on the country tunes he covers here. Kristofferson's "Nobody Wins" (with Cashdollar's weeping steel laying on the hurt) is appropriately desolate and dirge-like, with Bram surveying a love affair's denouement in a dry, defeated voice; his tender version of "I Love You So Much It Hurts" (a big country hit in 1948 for its writer, Floyd Tillman, and since covered by great singers such as Ray Charles, Patsy Cline, Tennessee Ernie Ford and the Mills Brothers, among others) is doubly affecting for being so plain—Bram can't and doesn't try to compete with those who have come before him in assaying this tune, but simply sings the lyrics' heartfelt confessions in a direct, conversational style resonant with feeling, with only Gross's minimalist twangy guitar shadowing him for effect. The same low-key approach informs the album's sign-off number, a spare, deliberate take on Hank Cochran's "Can I Sleep In Your Arms," a lonely man's post-breakup appeal for TLC with a melody derived from "Red River Valley" and a forlorn ambiance stemming from Cashdollar's mournful steel and Bram's remorseful appeal. Turning to the blues, he swaggers with authority through the Howlin' Wolf-Willie Dixon gem, "Howlin' for My Darlin'," a swaggering appreciation of a good woman's charms notable as much for Bram's dynamic harp work and Gross's electrifying guitar solo as for its muscular lead vocal; even better is his assured strut through the Dixieland-fried version of Leroy Carr's "I'm Going Away and Leave My Baby," an exuberant, hearty party moment thanks to the swinging clarinet and trumpet contributions of Matt Cowan and Jon-Erik Kelso respectively. As this blast sails out of the park, what more to say but, "Touch 'em all, Michael—you've sent everyone home happy"?