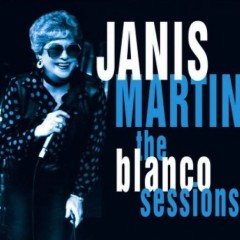 THE BLANCO SESSIONS
Janis Martin
Cow Island Music
Everyone knows that until recently rock 'n' roll had hardly provided the most hospitable climate for female artists; in its nascent stage, male domination was most pronounced, but a few hardy women proved too good to ignore, by the industry or by fans. Wanda Jackson was far and away the most successful and best known female rocker of '50s vintage, to the point where the casual fan might think she was the only female rocker of the first golden era, but in fact a number of young women ignored the "No Help Wanted" sign on rock 'n' roll's door and managed to barge into its men's club. Many of these artists made wonderful records that gained little or scant notice–think Laurie Collins of the Collins Kids, Barbara Pittman (Sun Records' only female artist, who inspired Jack Clement's classic "Ballad of a Teenage Queen" but whose few Sun recordings gained more notice long after her retirement than when they were new), The Davis Sisters (out of which came the great Skeeter Davis, whose classic country hits often crossed over to become pop hits as well), Rose Maddox (far better known and more successful as the red-hot mama working with her brothers in the firebrand honky tonk outfit Maddox Brothers and Rose, known as "American's Most Colorful Hillbilly Band and began recording what sounds suspiciously like rockabilly for the 4 Star label in 1946).
http://www.youtube.com/watch?v=fK1mGk_9xkk
Janis Martin, 'The Female Elvis,' wails 'My Boy Elvis'
Vintage Janis Martin, 'Love Me, Love' (written by Boudleaux Bryant)
However, all of these artists were nominally regarded as country or honky tonk, not rock 'n' roll. With young (15 when she started recording for RCA in 1956, shortly after Elvis had arrived from Sun and broken out big-time with "Heartbreak Hotel" and "Hound Dog") Janis Martin of Virginia, there was no doubting her lineage: aggressively promoted by her label as "The Female Elvis," she eagerly embraced the rubric. Having started her career as a country artist appearing on the Old Dominion Barn Dance on Richmond's powerful WRVA radio station, where she performed with the likes of Jim Reeves and Hank Snow, young Janis forthrightly declared herself a rock 'n' roller, not a country singer, and set out to prove herself as such. With RCA she was mentored and produced by Chet Atkins, who also played lead guitar on her sessions and surrounded her with other of his A-team players. Between 1956 and 1958 she cut 26 sides for RCA; the first single from those sessions, 1956's "Will You Willyum" b/w "Drugstore Rock 'n' Roll" (a Martin original), sold 750,000 copies. Vocally she was lively and energetic, with a crystal-clear voice and swaggering delivery that belied her tender years, but it didn't have the heft to belt and growl like the older (by three years) Wanda. Still, her cover of Roy Orbison's "Ooby Dooby" is still one of the finest versions of that song, rivaling Roy's original; her rockin' ode to the King, "My Boy Elvis," was the best of the era's non-satirical tributes to the Hillbilly Cat; and her version of Hank Snow's great hit from 1954, "I Don't Hurt Anymore," finds producer Atkins employing pop background singers behind Janis's strong, aching vocal, indicating Chet may have seen Janis capable of navigating the same pop-country waters as Tony Bennett, Rosemary Clooney, Guy Mitchell and Marty Robbins, who were all working in New York City and having hits with producer Mitch Miller. Her status as a mere footnote in rock 'n' roll history is one of those mysteries that cannot be attributed to inferior recordings, because hers were solid in every respect, including attitude.
http://www.youtube.com/watch?v=24BJYiGUxkE
Janis Martin's version of 'I Don't Hurt Anymore' (1957) with pop background singers
http://www.youtube.com/watch?v=4Tp3uAaDEuk&feature=relmfu
Janis Martin, 'Hard Times Ahead,' one of the 1960 sides she cut for Palette after being dropped by RCA after the label found out she was pregnant.
Unbeknownst to RCA (or her parents), though, before she even signed with RCA Martin had eloped with her boyfriend, an Army paratrooper who was stationed overseas, in Germany. (Ironically, one of Janis's RCA sides is a song titled "Let's Elope, Baby.") In 1957, while touring Europe as part of a USO show, she met up with her husband, who had been given a 30-day leave, and wouldn't you know it, she got pregnant. RCA dropped her from its roster the next year, she gave birth to a son, and in 1960 signed with a Belgian label called Palette, where she made some of her most assured recordings, none ever released in the U.S. By then she was on her second marriage, and this husband demanded she leave the business, which she did for a full decade. Come 1970 she had formed a new band while working for the Danville, VA, police department, and ultimately (thanks in no small part to her 1978 marriage to a man who encouraged her to pursue her career in music) made her way to the rockabilly circuit in Europe, where her performances were greeted with raucous response. Stateside her travels brought her into the orbit of Rosie Flores, ten years Martin's junior and something of a Martin acolyte whose original music had a deep rockabilly foundation. Flores got Martin back on record again, in 1995, as a guest on her Rockabilly Fly album. In 2006 Flores relocated back to her native Austin after a time in L.A., and one of her first projects upon returning home was to produce some new recordings with Janis Martin, at a small studio in Blanco, Texas. As had Chet Atkins in 1956, so did Flores in 2006 in surrounding the singer with top-flight musicians: Dave Biller on guitars; Beau Sample on upright bass; her pal Bobby Trimble on drums (and co-producing with Flores); T Jarrod Bonta on electric piano; and others sitting on selected cuts on tenor sax, electric bass and harmonica. They cut 11 songs, none of them re-treads of her RCA or Palette sides but evergreens she had never committed to disc before.
From The Blanco Sessions, Janis Martin rocks through 'As Long As I'm Moving,' written by Charles Calhoun and originally recorded by Ruth Brown, who had a Top 10 R&B hit with her single in 1955.
For four years Flores shopped the resulting album to no avail; then, thanks in part to a Kickstarter campaign and the support of Cow Island Music, The Blanco Sessions has seen the light of day. Guess what? It's terrific. Comprised almost entirely of uptempo rockabilly and honky-tonk tunes, it rocks, it rolls and generally makes you want to follow the advice Martin suggests in the album's second track, from the pen of the great Charles Calhoun, namely to "Wham Bam Jam." And if in her younger years she worked in the shadow of Wanda Jackson, she had the last laugh, because Martin's sturdy, deep voice has aged far better than Jackson's, and man, does she ever have rock 'n' 'roll spirit to beat the band. She and Flores tear it up in their rousing duet on the oft-covered "Wild One," which is also blessed by sizzling guitar and piano solos; she struts and stomps through a glorious "It'll Be Me," the clever, Jack Clement-penned B side of Jerry Lee's "Whole Lotta Shakin' Goin' On," with Biller shadowing her with his own spitfire guitar exclamations; her powerhouse sprint through Rick Nelson's "I Believe What You Say" (the rockabilly classic from the Burnette brothers, Dorsey and Johnny) inspired Biller and especially Bonta (on piano) to spice up the track with breathless solos of their own; and she delivers the appropriately dark, foreboding howl needed to make Dave Alvin's "Long White Cadillac" (best known in Dwight Yoakam's version) sound suitably doom-laden even as she goes down kickin', One of the album's few quiet moments, though, is its grandest: a version of "Sweet Dreams" repurposed as a stripped-down, piano-driven honky tonk heartbreaker, no strings, just a small combo playing sensitively, reflectively, behind her (a beautiful piano solo midway by Bonta, followed by a twangy guitar solo from Biller that is a model of abject despair) as Martin sends up a husky, blues-drenched vocal, beautifully phrased to evoke the depth of the singer's heartbreak. In signing off, Martin duets with Kelly Willis on a keening, countrified version of Bill Monroe's bluegrass monument "Walk Softly On This Heart of Mine," taking it straight into the honky tonk with major assists from Bonta's piano and Darin Murphy's wailing harmonica; suffice it to say that the contrast in the dark and light in the voices of Martin and Willis respectively blurs the title sentiment into something between the plea of a wounded soul and the demand of one seething for revenge.
Janis Martin's self-fulfilling prophecy 'Let's Elope Baby'
http://www.youtube.com/watch?v=KAqRtshU0P4
Janis Martin's biggest hit, 'Will You, Willyum,' sold 750,000 upon its release in 1956 (it was backed by a Martin original, 'Drugstore Rock 'n' Roll').
In her liner notes, Flores recounts the truly tragic turn of events that ensued once the recording was completed: Janis left the "Blanco Sessions" feeling upbeat, proud, and that she had accomplished something really great, as she told me in a phone call that brought tears of joy to my eyes. But just a few weeks later, I received another call from her with the shocking news that she had been diagnosed with Stage 4 lung cancer. Janis was taken away from us just four months later. (Ed. note: She died on September 3, 2007; her son, Kevin  Parton, had passed away the previous January.)
http://www.youtube.com/watch?v=w-6NgUFj-Xw&feature=related
Janis Martin tells her story
Janis Martin in concert, 2007
 Though it was not her fate to enjoy the acclaim that has greeted The Blanco Sessions, or the recognition of the contribution she made to rock 'n' roll history in her youth, Janis Martin at least departed this mortal coil certain she had given it her all, and her all was more than good enough, during those hectic two days in Texas. May we all go out in such style as she did.