I really don't want to run my mouth too much, honestly, about Olivier Tallec's Waterloo & Trafalgar.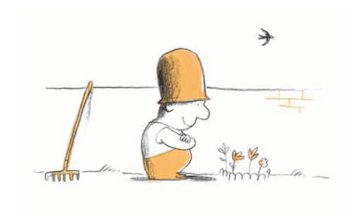 And that's because the book itself doesn't come out until late October and I don't want to ruin the reading experience for you.
I'll say this much, though:
Tallec was born in France and worked in advertising before doing children's book illustration. He's illustrated about sixty children's books, many of them brought here to the States by Enchanted Lion Books, who have published this new one. In this, his first wordless picture book, he demonstrates—though he's got a good track record with it already—his exceptional skills with visual storytelling.
In a story told in only blue, orange, and black, we meet two men—Waterloo and Trafalgar, names Tallec chose due to the way they sound, not to mention he felt that children would like them—experiencing what is very much a cold war. They are watching one another, each over a wall and with weapons at the ready. The men threaten one another most aggressively when the snail the man in orange comes to love heads over to the man-in-blue's side, only to be cooked up for dinner. The man in blue kicks the snail's shell back over to the other side, and all hell breaks loose. Or, at least it threatens, too, but never actually does. The cold war in which they are engaged merely trudges on. (It is here observant readers will see clever die-cuts in orange and blue and in the shapes of stars, which hint at unity. The cover, I should note, speaking of die cuts, features two distinct ones, one for each soldier.)
The war continues through the seasons, that is, until they are forced to meet, but I don't want to give away the ending. It's enough to say, perhaps, that they find harmony and also learn that not only is there more than the meets the eye in their surroundings, but also that they have more in common than they initially realized. And, as the editor writes in a note at the beginning of the book, "[e]ach reader will absorb the story in his or her own way."
Along the way, there is much humor (be sure to enlarge the last spread pictured below), particularly given Tallec's talents with character development and expression. Take this spread, for instance, which you can click to embiggen. In fact, I highly recommend doing that:
(Click to enlarge)
With emotion and charm, as well as a very retro palette and style, he brings readers a thought-provoking story of war and peace. It would be great paired with Davide Cali's The Enemy: A Book About Peace, illustrated by Serge Bloch, which I covered here at 7-Imp and which Publishers Weekly described as "an absurd waiting game worthy of Beckett." The same could be said of Tallec's striking book.
Here are some more spreads. Enjoy.
(Click to enlarge)
WATERLOO & TRAFALGAR. First American Edition 2012 by Enchanted Lion Books. Spreads reproduced by permission of publisher.
This and many more of Jules's adventures in books, kids' lit and illustration can be found at her acclaimed blog, 
Seven Impossible Things Before Breakfast
, where the blog about Komako Sakai was published on 
May 12, 2013
 and the blog about Elisabeth Craster appeared on 
May 5, 2013
. Visit often. It'll do your body and soul good.