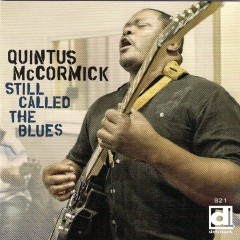 STILL CALLED THE BLUES
Quintus McCormick
Delmark
Singer, songwriter and stellar guitarist Quintus McCormick keeps adding to his fan base with each new album. What blues fans in Chicago have known for a while might well become common knowledge among those in other precincts around the country, namely that Mr. McCormick is one of the most reliable proponents and purveyors of in-the-pocket urban blues. He doesn't look to re-invent the wheel, but rather reminds listeners that the fraught territory of human interactions–especially that gulf between the sexes–is where this music lives, and it's still called the blues. In fact that very sentiment is the title of his third Delmark long player, and in the title track (which Johnny Taylor put his indelible mark on in 1995, on his This Is Your Night album) he emphasizes its truth with series of piercing, stinging solos in the classic style, riding proud over a funky groove spiced with the spirited, lively keyboard work of the redoubtable Roosevelt Purifoy, and of course tells it as it is when he sings of the blues recognizing no class boundaries–"makes no difference what you do or say/blues may still come your way," he asserts in his straightforward, told-you-so delivery, in a gritty voice at once assertive and empathetic.
At Chicago's Kingston Mines blues club, March 16, 2009, the Quintus McCormick Band performs 'Hoochie Coochie Man' and 'Get You Some Business'
The male-female nexus brings out the best in McCormick's writing (and in his choice of outside material), and his guitar work follows in lockstep with his pointed, often humorous takes on his lovelife. In "That's My Baby," he extols the virtues of a woman sensitive and attentive to his every mood, a real gem he describes in this priceless observation: "On the streets she's straight Mary Poppins/in the sheets a diabolical freak," which is the best use of the word "diabolical" in a song in ages. No novelty tune this, though, but rather a sweet, pastoral, deeply felt love song with a '70s soul feel, thanks to Jerry DiMuzio's fluttering flute lines dancing like a butterfly around McCormick's Johnny Taylor-ish come-on. John Chorney's moody, jazzy keyboard touches animate McCormick's heart tugging soul ballad, "Always," a yearning vow of devotion expressed with typical Quintus flair ("I'll give you love so power packed/that you'll always come back…") in an interesting vocal approach that blends some Brook Benton-style baritone dips with pinched, nasally passages reminiscent of Little Anthony.
McCormick has some surprises in store here, too, apart from the repurposed title song. Check out his own "What Am I Gonna Do," in which he returns home from work to find his woman has packed up and fled the scene, leaving him to ponder his next move. If the bright, gently pumping horn section (arranged by Chicago Horns leader Kenny Anderson), the slinky groove and Quintus's scratchy guitar and smooth vocal ring some kind of bell, it may be because the song is a thinly veiled tribute, clearly, to a true Chicago soul giant who is in danger of receding into obscurity, he being the late, great Tyrone Davis. "What Am I Gonna Do" is the reverse iteration of Davis's mammoth and enduring 1967 hit, "Can I Change My Mind," in which the man has left the woman and wants to come back. Elsewhere, on B.B. King's  #5 R&B hit from 1953, "Woke Up This Morning," McCormick stays true to the feel of B's original recording, with its pulsating rhumba beat mutating into a more conventional stride about midway through, but supplants the powerhouse Bill Harvey horn section on the King version with a furious, keening guitar assault of his own devising and rousing barrelhouse piano courtesy John Chorney, while cutting loose with one of his most arresting vocals on the disc. And from the George Jackson catalogue he revives "Old Time Rock and Roll," best known in the Bob Seger hit version from 1979. McCormick plays it bluesier than Seger dared, and his swaggering, hoarse vocal gives the tune a certain edge, an urgency, that makes you feel like something is at stake. Which just goes to show, you may think it's rock and roll, but it's still called the blues. Take that lesson to heart.