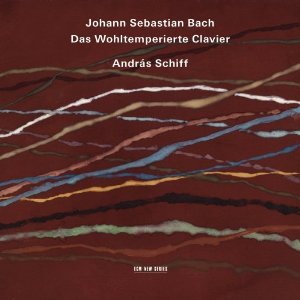 As a young pianist, András Schiff earned wide esteem for his 1980s recordings of the major keyboard works of J.S. Bach; in recent years, as part of his long-term relationship with ECM, he has gone back to Bach as a sage veteran, earning more acclaim for his New Series recordings of the Goldberg Variations (2001) and the six Partitas (2007). The New York Times said, "Mr. Schiff is, in Bach, a phenomenon. He doesn't so much perform it as emit, breathe it." In August 2011, Schiff turned his focus to the 48 preludes and fugues of The Well-Tempered Clavier, making studio recordings of both books in the Auditorium Radiosvizzera Italiana, Lugano.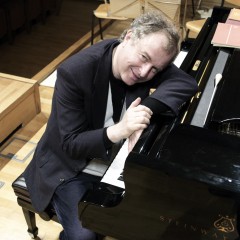 An iconic inspiration for composers from Mozart and Beethoven to Chopin and Brahms and beyond, The Well-Tempered Clavier has long been considered the Old Testament of the keyboard literature (with Beethoven's piano sonatas as the New Testament). In his liner notes to this four-CD set, Paul Griffiths underscores the suitability of Bach's timeless keyboard work for the modern piano: "Bach's inquiry into so many nuances, of touch, of interplay between hands and between contrapuntal lines, of character and of expressivity, has helped form keyboard technique as we know it, and his music belongs to the instrument of Beethoven, of Chopin, of Debussy, of Kurtág, especially when that instrument is played with the mastery and sensitivity of Schiff in these performances (…) Noteworthy is his floated melody and his rhythmic sense–his realization that so much of Bach's music is song or dance. Grandeur and intimacy are also here. Wit, too."
Noting that Mr. Schiff had recorded The Well-Tempered Clavier earlier in his distinguished career, The Guardian's Andrew Clements praised the pianist's new recordings for the maturity his playing reveals, lauding him for "losing many of the expressive mannerisms that often seemed self-conscious and contrived, and sometimes disrupted its natural poise."
András Schiff on the recording of Bach's The Well-Tempered Clavier: If you ask, 'What is the right instrument for Bach?', it is impossible to answer that question.'
In his September 19 review, Clements added: What has remained constant, though, has been the sense of enquiry and discovery that Schiff brings to all his interpretations, the deep thought that invariably lies behind them. The sleeve notes for this ECM set include an essay in which he discusses the use (or, more accurately, the non-use) of the sustaining pedal when playing the 48 on a modern concert grand. He argues that none of the keyboard instruments available to Bach had such a device, and that therefore its use in a performance today needs to be strictly rationed: "Clarity is essential with Bach," he writes, "The purity of counterpoint and voice-leading must be self-evident, never muffled or confused. Thus a discreet use of the pedal is not forbidden as long as these rules are observed."
Certainly the clean, limpid textures of these performances are one of their most striking characteristics. Another is the sense of rightness about almost every tempo that Schiff adopts; nothing seems hurried or laboured, so that the tone of each prelude seems perfectly judged and fugues unfold naturally, with every voice given its own distinctive colouring and the space it needs. Just occasionally you do long for a bit of eccentricity, for an interpretation that takes you unawares, but really the playing is so immaculate and projects such authority that it seems churlish to want it step out of its carefully thought-out character.
'…a natural poise, elegance and clarity of texture'
András Schiff, from his 1986 recording of The Well-Tempered Clavier, Prelude and Fugue No. 1
It's been an eventful season for J.S. Bach's keyboard music, with the recent 80th birthday celebration for the late Glenn Gould putting his celebrated recordings of the Goldberg Variations and Art of Fugue back in the spotlight. Whether coincidental or not, Hungarian pianist András Schiff is returning to Bach with a new recording of the Well-Tempered Clavier, the iconic two-volume set of 24 preludes and fugues in every key.
This is Schiff's second foray into the Well-Tempered Clavier, his first coming in 1985, just three years after Gould's death. By that point, Schiff was in his early 30s and well on his way to becoming a major-league Bach interpreter. He had finished third at the 1975 Leeds piano competition when he daringly chose to play Bach's cerebral Keyboard Concerto in D minor rather than a big, showy concerto by Tchaikovsky or Rachmaninoff. In the decades since, he has made multiple recordings of Bach's Goldberg Variations and Partitas, while also putting his stamp on generous swaths of Mozart, Schubert and Schumann.
In an age when many pianists favor quirky Bach performances, Schiff's latest readings are straightforward, direct and highly focused. Unlike many in the post-Gould generation, Schiff doesn't overstate his slurs and articulations, calling attention to them, nor does he favor extreme tempo choices. This can lower the performance's interpretive profile, to be sure, but it also gives the set a natural poise, elegance and clarity of texture. –WQXR-FM Album of the Week, September 30, 2012
 '…a sleek and extravagantly beautiful new recording…'
Schiff has long been an eloquent interpreter of Bach on the modern piano, bringing out the music's contrapuntal texture with extraordinary clarity. But his treatment of The Well-Tempered Clavier adds a level of tenderness and lyricism that hasn't always been so pointedly in evidence. Each prelude and fugue brings with it not a new key, but a new expressive sound world, by turns reflective or forthright, aggressive or languorous. And through it all, Schiff keeps a spotlight – not too starkly, but without letting any details slip – on the interplay of individual melodic lines that is the essence of Bach's fugal writing. The result, a sleek and extravagantly beautiful new recording, is at once a brilliant structural essay and a rhapsodic display of warmth and tact. –Joshua Kosman, SFGate, Oct. 7, 2012
http://www.youtube.com/watch?v=kr4212tq6TQ
András Schiff, Bach's Prelude and Fugue, XVIIII in G Sharp Minor, from his 1986 recording of The Well-Tempered Clavier
A Principled Pianist
In announcing the Vancouver Recital Society's presentation of András Schiff in concert at the Chan Centre on October 5, the Vancouver Sun added a postscript documenting his principled stands against "the social and political evils of our age." In part the Sun reported:
Schiff has not been afraid to use his renown and reputation as an artist to speak out about what he considers the social and political evils of our age, issues where matters of principle require comment.
Schiff's latter-day involvement in European politics is representative of his willingness to take stands. In 2000 he cancelled a performance (of Bach, as it happens) at the Austrian Embassy in Washington D.C, in protest against the rise of Joerg Haider and his Austrian Freedom Party. (The Sun failed to note that Mr. Schiff also renounced his Austrian citizenship in protest.)
On January 17 he joined Hungarian conductor Ádám Fischer and six other Hungarian intellectuals and artists in publishing an open letter "To the artists of Europe and the World" protesting "racism against Roma," along with anti-Semitism, xenophobia, chauvinism and reactionary nationalism, adding: "these symptoms are deeply worrying. They evoke memories that we have hoped were long forgotten."
Hungarian nationalists attacked Mr. Schiff for his statements; Mr. Schiff, in turn, in an interview with the German newspaper Der Tagesspiel, accused the Hungarian government of racism, anti-Semitism and neo-fascism, and declared he would never visit Hungary again.
Prior to his concert appearance at Vancouver's Chan Centre on October 5, András Schiff penned an essay about the challenges posed by Bach's keyboard music for the website of the Vancouver Recital Society, the concert's sponsoring organization. Click here for the full text of "Senza pedale ma con tanti colori (Without the pedal but with plenty of colour)."