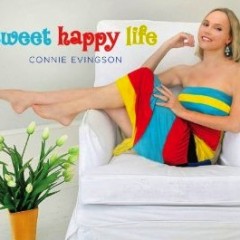 SWEET HAPPY LIFE
Connie Evingson
Minnehaha Music
To paraphrase one of his own well-known lyrics, Norman Gimbel has been killing us softly with his songs for a long time, starting in 1956 with his first big hit as a lyricist, "Canadian Sunset," which was also the first Top 10 single for Andy Williams.Though an Oscar, Grammy and Emmy winner, Gimbel's name rarely is mentioned in the same breath with the other titans of classic pop of the latter half of the 20th Cenetury–the likes Mercer, Van Heusen, Hal David and a handful of others whose lyrics are regarded as the apex of classic pop songwriting. In this sense he's more like another of his contemporaries, Carl Sigman—who wrote the beautiful "Ebb Tide," "Love Story" and "All In the Game," among many, many other monuments—in not quite being a household name even though his songs are so much with us. Time has been on the side of the late Sigman, though, thanks to his son Michael (a contributing editor of this publication and a Huffington Post blogger as well), whose efforts at promoting his father's publishing catalogue have succeeded in generating more awareness (at least among those who follow this music) of his father's achievements.
Perhaps with this week's Album of the Week, Hibbing, Minnesota, native Connie Evingson will become a singing Boswell to Gimbel's writing Johnson, and more people will come to know the man who crafted classic upon classic 20th Century tune. Give a smart, affecting singer a batch of good songs and something of worth often ensues. Give that same singer a batch of some of the finest songs of the past 50 years or so, and you get something approaching timelessness. Thus Sweet Happy Life, this week's Album of the Week, in which Ms. Evingson probes the intricacies and poetry of Norman Gimbel's lyrics over the course of 16 alluring performances that also burnish her own reputation as a formidable interpretive singer.
From Sweet Happy Life, Connie Evingson's take on 'Meditation,' music by Antonio Carlos Jobim, lyrics by Norman Gimbel.
For starters, listeners will be struck by the backing combo's tasteful, sensitive support. The basic lineup appearing on most of the 16 tracks includes Joan Griffith (guitar), Laura Caviani (piano), Bob Bowman (bass), David Schmalenberger (drums), Dave Karr (sax and clarinet), Josh Alvaro (percussion), Danny Embrey (guitar), along with others sitting in for a tune or two. Regardless of who's playing what on which tracks, the music boasts a continuity of nuanced confluences, whether those occur in the rhythmic drive of Tanner Taylor's piano, Karr's plump sax fills and the quiet bass coda courtesy Gordon Johnson on a cool version of "Canadian Sunset"; the complementary, gently swinging dialogue between Caviani's piano and the twin guitars of Embrey and Griffith—with Schmalenberger's brush drums keeping the pulse lively—on Toots Thielemans' classic "Bluesette"; or the buoyant, life affirming title track, with music by Luis Bonfa, on which Embrey, Griffith, Caviani, Bowman and Schmalenberger get into an infectious Latin mode as Karr takes flight on sax, in turn setting the stage for some giddy guitar and drum solos in one of the album's most engaging arrangements.
From her Jazz at the Jungle summer series, Connie Evingson performs Jobim-Gimbel's 'Agua de Beber' and 'Girl from Ipanema.' Both tunes are included on her new album, Sweet Happy Life, a salute to the lyrics of Norman Gimbel.
Some readers no doubt are looking at the above song titles and saying something on the order of "Wait—'Bluesette' has lyrics?" Yes, Norman Gimbel found a love song lurking in Toots's signature instrumental, and Ms. Evingson tells the tale with a jaunty vocal that makes effective use of her lower, sultry timbre and her scatting technique in evoking both the hopeful and the guarded moments Gimbel's lyrics limn. Some may be surprised at the number of Latin evergreens for which Gimbel composed English lyrics: a favorite of Antonio Carlo Jobim, he supplied the English lyrics for the immortal "Girl from Ipanema," here given a deliberate, dreamy treatment close in spirit to the ethereal original with Astrud Gilberto, featuring a nice rhythmic alteration about a quarter of the way through when Griffith's lone and lonely gut-string guitar accompaniment fades and the combo enters in full samba flower keyed by Dave Karr's hearty sax solo, with Ms. Evingson swinging the lyric in a most engaging manner. The album begins with "Agua de Beber," another Jobim classic, this one boasting a strong cover version by Frank Sinatra on the album he cut with Jobim in 1967 (See the review of Francis Albert Sinatra & Antonio Carlos Jobim: The Complete Reprise Recordings in the June 2010 issue of TheBluegrassSpecial.com.). With Dave Karr's ebullient flute flitting and fluttering all around the arrangement, this version struts and sways in a heated samba as the singer, when not engaged in a frenetic scatting passage, engages the band rhythmically with her vocal, driving the tune to a lofty elevation. Jobim's "Meditation," first recorded by Cal Tjader in 1962 (and also by Sinatra and Jobim on that 1967 album), is an occasion for Ms. Evingson to give a display of perfectly nuanced yearning for an impending reunion with her lover, burning with a medium-cool passion, restrained but not so much as to hide the visceral longing she feels for another's touch—the moment when she murmurs sotto voce, "I just think of you/and the thought of you holding me near/makes my loneliness soon disappear," reveals more erotic desire than all fifteen shades of grey.
At her Jazz at the Jungle Summer Samba concert on June 12, 2011, Connie Evingson performs 'Canadian Sunset,' music by Eddie Haywood, lyrics by Norman Giimbel. The studio version is featured on her new album, Sweet Happy Life.
Apart from the Latinalia the artist explores, she also delves into other aspects of the Gimbel catalogue that may have escaped much public notice. Two of the outstanding songs here are both from Jacques Demy's unusual 1964 film musical The Umbrellas of Cherbourg starring Catherine Deneuve and Nino Castelnuovo. In the movie, every bit of dialogue is sung and the color photography by Jean Rabier is strikingly  vivid, a la Vincent Minnelli. Two hits songs emerged from the soundtrack composed by Oscar winner Michel Legrand, with lyrics by Norman Gimbel: a pop-flavored vote for taking a chance on love, "Watch What Happens" is suitably light and airy, with a knowing, coquettish vocal on Ms. Evingson's part, and tart piano support from Ms. Caviani (Tony Bennett's recording of this song was definitive to the point of being included on some versions of the soundtrack album, even though it wasn't recorded for or used in the movie). A long list of great singers—beginning with Sinatra and including Bobby Darin, Petula Clark, Astrud Gilberto, Tony Bennett—have tried their hands at "I Will Wait for You," that gem of unqualified commitment, sheer physical longing and the unassailable power of love. Laura Caviani again provides precisely the right twilight atmospheric touch on piano as Joan Griffith fashions understated, to-the-point guitar commentary on her hollow body electric, all of which serves to heighten the passion of Ms. Evingson's declarations, while enhancing the unassailable conviction she conveys in her vows. As an extra added surprise, the album includes the first recorded version of "Adventure," a Jobim song with never-before-recorded Gimbel lyrics. Accompanied only by Joan Griffith tenderly fingerpicking her electric guitar and Christa Saeger bowing dramatic, brooding, elongated phrases on cello, Evingson captures all of Gimbel's summons to dare to love fearlessly and fully—in her most ethereal moment, when she seems in the throes of an out of body experience, fevered but disarmingly seductive, she beckons the listener to "turn from the safety/and dance to the danger/and hear the unheard of/and know the unknown/we'll enter together this night of adventure/that offers us all things, and promises none/will there be love there to keep and remember/the night has the answer/in time we will know."  It's a stunner, one of Gimbel's most poetic expressions on the fearlessness necessary to love fully and deeply, no matter the uncertain outcome of it all. Ms. Evingson is absorbed completely in its premise, her seeming distance at times serving to make her ever more seductive, a truth her accompanists acknowledge in ttheir dark, spare, contemplative dialogues.
And what to say of the moving, smoldering performance of "Killing Me Softly with His Song" but that it is a marvel of a singer completely attuned to every stirring of the writer's heart. Like the best pop-jazz vocalists, Connie Evingson wears her sophistication well, preferring nuance to flowery shows of emotionally empty virtuosity. Norman Gimbel has had many good and an impressive number of great singers do justice to his lyrics. With Sweet Happy Life Connie Evingson takes her place in the top rank of Gimbel interpreters. Moreover, this is a record with real staying power, the kind that stands up to repeat listenings and reveals itself anew each time you cue it up. Talk about killing us softly with his songs.