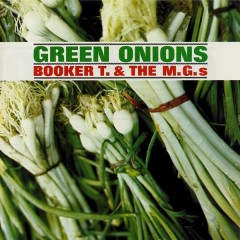 GREEN ONIONS
Booker T. & The M.G.s
Stax Remasters Series
Concord Music Group
On a hot Memphis day in June 1962 a group of gifted musicians—young, but seasoned—were sitting around the Stax Records studio on McLemore Avenue awaiting the arrival of rockabilly wild man Billy Lee Riley, an alumni of Sun Records across town, for a recording session. Exactly what happened during the time Riley was supposed to be there recording is up for grabs, as some of the participants say Riley didn't show up at all, or was too drunk to perform, or didn't have enough material at hand. One of the musicians booked to play the session, guitarist Steve Cropper, clearly remembers a couple of tracks going down before producer (and Stax co-owner) Jim Stewart said it was time to call it a day. Instead of packing up, though, Cropper and his mates began jamming on a bluesy riff the organist, Booker T. Jones, had been fiddling with for a while.
Cropper had been playing around Memphis for years in his R&B band the Royal Spades, which changed its name to the Mar-Keys and cut one of the first big Stax hits, 1961's "Last Night." Drummer Al Jackson was the son of the leader of one of Memphis's most popular black orchestras, and had himself played with his dad's band as well as with groups led by Willie Mitchell and Ben Branch, two of the most respected names in the Bluff City's black music scene. Bassist Lewie Steinberg's father had played piano on Beale Street at Pee Wee's Saloon and his talented brothers had played horns in bands backing Lionel Hampton, B.B. King and Bobby "Blue" Bland, whereas his sister Nan had been a vocalist with Fats Waller and Andy Kirk (still another brother was a professional bass player); Lewie himself had worked with Willie Mitchell's and Phineas Newborn's bands and was a veteran session player. Booker T., the kid in the group (he was 17 at the time of the Riley session), had accomplished much in his youth.
Booker T. & The M.G.s, 'Green Onions,' on Hollywood A Go-Go, 1965. That's Packy Axton, son of Stax co-founder Estelle Axton, on sax (he doesn't play on this track).
"Booker T. Jones' talents became apparent at a very early age," wrote Bob Altshuler in the liner notes for the first Booker T. & The M.G.s album, Green Onions. "By the time he entered high school, Booker was already a semi-professional, and quickly recognized as the most talented musician in his school. He was appointed director of the school band for four years, and in addition, organized the school dance orchestra, which played for proms throughout the mid-South. In the classroom, he concentrated on the studies of music theory and harmony.
"Booker's multiple activities earned him a coveted honor, that of being listed in the students' 'Who's Who of American High Schools.' Booker's first instrument was the string bass, but he soon switched to the organ, for which listeners of popular music can be grateful. …
"Booker came to the attention of recording executive Jim Stewart in Memphis, and while still in high school, he worked as a staff musician for Stax Records, appearing as sideman on many recording dates for that label. It became obvious that one day Booker would be ready to record under his own name."
From the Green Onions album, Booker T. & The M.G.s take on Dave 'Baby' Cortez's 'Rinky Dink'
With a working title of "Behave Yourself," the blues riff Jones was developing on the organ was slow and anguished, with a Percy Mayfield feel, but would occasionally break out into more intense, sputtering exclamations before settling back into a moody groove heavy on dark shadows emanating from left-hand ruminations on the keys. Steinberg and Jackson laid back with a steady, understated thump, and eventually Cropper entered with a brittle, crying single-string run. Thus the pattern until about 50 seconds remain, when Jones and Cropper get into a brief but energetic tussle, after which the tune mellows out slowly to its conclusion. A good slow dance number, as well as being an effective showcase for Jones's ability to coax personality out of his instrument, "Behave Yourself" impressed Jim Stewart enough that he thought it should be released as a single, if a suitable B side could be found.
Again, Booker T. had an undeveloped riff at hand—cool and swinging, with a bluesy feel with a slight ominous overtone. Jackson set the strutting tempo, Steinberg was on the money with his walking bass lines, and Cropper found himself a couple of moments to launch strafing attacks of startling emotional intensity before disappearing back into the group dynamic supporting Jones's relentless, repeating organ riff. Apparently the only change Stewart suggested was for Cropper to move one his guitar solos closer to the front of the song. In another couple of takes the track was completed, and a two-sided single was in the can.
Presently two orders of business beckoned. What to call the new song the band had just worked up? According to Jones, in an interview he did with the website songfacts.com, his response to Stewart asking about the song title was to answer, "'Green Onions'!"  Why "Green Onions?" asked Stewart. Jones: "Because that is the nastiest thing I can think of and it's something you throw away."
From the Green Onions album, 'Lonely Avenue,' the Ray Charles hit penned by Doc Pomus, done Booker T. & The M.G.s style
Next, what to call the musicians playing "Green Onions"?
The Booker T. part was easy; eventually they settled on M.G.s as a band name, out of the fellows' mutual affection for the speedy little two-seater MG sports car, one of which was owned by their friend the erratic but brilliant producer Chips Moman, with whom Jones had played in a group named after another of Moman's cars, the Triumphs. In recent years Jones has confirmed Moman's car as the source of the group name, claiming that after Moman left the label the Stax publicity department came up with "Memphis Group" to explain the acronym rather than risk a copyright infringement case with the car manufacturer bearing the same initials.
As simple as that one of the greatest of all rock 'n' roll instrumentals was born, and with it the greatest of all southern soul house bands, which not only backed almost all the formidable artists that passed through the Stax studio but also carved out a productive career in its own right—between August 1962 and October 1971, by which time Jones had left the Stax family after he and the band had released the Melting Pot album, Booker T. & The M.G.s boasted  a catalogue numbering eleven albums and 23 singles, with several of the latter being crossover pop and R&B hits. Among all-instrumental groups of their time, Booker T. & The M.G.s ranks second only to The Ventures (who released their first album and single two years before Booker T. & The M.G.s came on the scene) in their recorded output and influence on succeeding generations of musicians.
As part of its Stax Remasters Series, the Concord Music Group has reissued the first Booker T. & The M.G.s album, Green Onions, to honor the 50th anniversary of song and long player alike. (Fact check: the updated liner notes claim Booker T. copped the signature, driving riff in "Green Onions" from Sonny Boy Williamson's "old blues classic, 'Help Me.'" That would have been a neat trick, given that Sonny Boy didn't record "Help Me" until 1963.) In addition to the original album's spruced-up even dozen tunes, the expanded edition includes two live bonus tracks recorded in 1965 at the 5/4 Ballroom in Los Angeles, by which time bassist Duck Dunn (who had been in the Mark-Keys with Cropper) had replaced Steinberg in the lineup and the legendary quartet was at its peak. Indeed, the briskly paced rendition of "Green Onions" recorded at the 5/4 hits with sledgehammer force, especially in Cropper's fierce soloing, which in its aggressive frailing, bending, piercing, slashing attack reflects the influence some of the outstanding British blues guitarists had exerted on Cropper's style at that point, notably Jeff Beck, given the muscularity of Cropper's sound. The guitarist delivers another spectacular, jaw dropping performance on the other live track, a sizzling take on "You Can't Sit Down" (here titled simply "Can't Sit Down"), modeled after the Phil Upchurch Combo's original 1961 instrumental, with an arrangement offering plenty of room for Jones, Dunn, Jackson and sax man Packy Axton to add their scintillating two cents' worth as well. (A year after this the Dovells' would add vocals to 'You Can't Sit Down' and have a #3 single with it, making it the version best remembered today.) Al Jackson has his moment here as well, with a funky drum solo reflective of his unpredictable style and also illustrative of what Cropper meant when he told author Jim Payne (in the latter's book Give The Drummers Some!), "Al Jackson was the greatest single stroke player I ever heard in my life. He'd just throw something in there every now and then and you'd go, Wow! Or he'd do some little tom thing that would come out of nowhere."
From Green Onions, 'Can't Sit Down,' modeled after the Phil Upchurch Combo's 1961 instrumental and recorded a full year before the Dovells added lyrics and scored a #3 single hit with the song.
Otherwise this 50th anniversary edition of Green Onions features the band working out on some of the day's top hits. Dave "Baby" Cortez's infectious "Rinky-Dink" gives Cropper a chance to do the Mickey Baker "Love Is Strange" licks to a T in between Jones fueling the track with his melodious, thick-toned Hammond; a rousing take on "I Got a Woman" is as much an Al Jackson showcase as it is one for Jones; the rendition of Mr. Acker Bilk's lovely, haunting "Stranger On the Shore" (a #1 single two months before "Green Onions" was released; in December of '62 the Tornados' "Telstar" topped the chart—it was a good year for instrumentals) features not only Jones's rich, dreamy organ lead but supplants Bilk's heavily vibratoed clarinet with Cropper's thick-toned, shimmering and altogether introspective guitar (Cropper might have been inspired by the mournful guitar fills Phil Upchurch so memorably supplied to Dee Clark's 1961 million seller, "Raindrops"—Upchurch looms large in the Cropper style at this point); an appropriately bereft accounting, with testy soloing by Jones and Cropper, of the Doc Pomus gem originally rendered by Ray Charles, "Lonely Avenue"; and a positively uplifting, raucous workout on the Isley Brothers' "Twist and Shout," featuring Cropper cutting loose wildly on one of his solos while Jones's aggressive B3 powers the arrangement forward.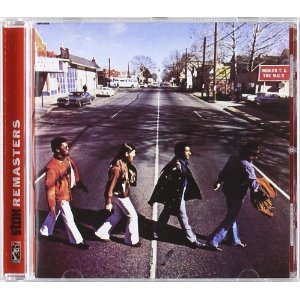 While we're all celebrating Booker T. & The M.G.s 50th anniversary as a group, we are bold to check out another Concord reissue in its Stax Remasters Series, that being the new edition of 1970's McLemore Avenue, Booker T. & The M.G.s' salute to the Beatles. A real mutual admiration society had formed between the two groups (John Lennon once said he dreamed of writing an instrumental for Booker T. & The M.G.s), and after the Fab Four had received them enthusiastically in England (bending down to kiss Cropper's ring at the airport), Jones, Cropper, Jackson and Dunn responded with one of their finest and most adventurous long players, showcasing instrumental versions of the songs on Abbey Road. To press the point, the cover shot captures the band members crossing McLemore Avenue single file (with the old Stax marquee visible off to the left in the frame), a la the Abbey Road cover (although they are all wearing shoes, unlike McCartney on the Beatles cover—but then he was dead, right?).
The reissued McLemore Avenue includes five bonus tracks of Beatles songs issued on various other Booker T. albums, but the heart of it is the official, altogether amazing album remastered, which boils down to three medleys (15:50, 7:28 and 10:44 in length) and a nuanced treatment of "Something" with shifting tempos and textures, some of the latter being supplied by Jones's colorful piano, as well as by Cropper's stinging guitar solos and repeated, atmospheric handclaps underpinning Jones's jazzy soloing and Cropper's more blues-based explorations.
'…highlighting [Abbey Road's] beauty without sacrificing its energy, always working within the framework the Beatles constructed while taking a few left turns of their own devising': From McLemore Avenue, Booker T. & The M.G.s explore the medley of 'Sun King/Mean Mr. Mustard/Polythene Pam/She Came In Through the Bathroom Window/I Want You (She's So Heavy)'
Of the medleys, it's hard to single one out, because each has something special going for it; but the 10:44 amalgamation of "Sun King/Mean Mr. Mustard/Polythene Pam/She Came In Through the Bathroom Window/I Want You (She's So Heavy)" is especially breathtaking—one effect of this being an all-instrumental take on Abbey Road is to underscore the beauty of the Lennon-McCartney-Harrison melodies along with the inventiveness of the arrangements they crafted for this, their penultimate and most exhilarating artistic statement. Booker T. & The M.G.s understand completely what this music is about and have taken care to highlight its beauty without sacrificing its energy, always working within the framework the Beatles constructed while taking a few left turns of their own devising. Special attention should be paid to Duck Dunn, whose melodic bass throughout this medley is one of his finest on record and proof of how close he and McCartney were in their sense of the instrument's possibilities within a given score and with respect to its role in the band context. All in all, McLemore Avenue is a total triumph in all respects, truly a jewel in a crown bedecked with same.
So happy 50th to Booker T. & The M.G.s. Would that Al Jackson and Duck Dunn were here to celebrate the occasion. But their spirit abides. Oh, how it does abide.
Green Onions and McLemore Avenue share the Deep Roots Album of the Week honors for September 18-25.