The second largest grain producer in Latin America generates revenue of about $550 million USD per year, produces or handles more than 2.6 million tons of grain per year, farms more than 617,000 acres every year, employs 900 staff people, 5000 farmers, and 4000 supply-chain workers…and does not own a single acre.
They don't even own a tractor.
The company is named Los Grobo and is the end result of nearly a century of a family farming tradition among the Grobocopatel family of Argentina. Starting in 1920, the family patriarch began farming on a 15-acre land grant. Over the decades the family acquired more and more land, and eventually had more than 10,000 acres in production.
At that point, the family-based company (the subject of a fascinating Harvard Business School case study in 2010, readable here) began to make a major shift. Previously, the Grobocopatels, like farmers worldwide, had focused on acquiring more land, buying more equipment, and reinvesting profits into the farm itself. That changed when Gustavo Grobocopatel, at the ripe old age of 23, graduated from an agronomy program at the University of Buenos Aires and, together with his MBA wife, joined the family firm in 1984.
Gustavo (who still runs Los Grobo today) had a very different vision of farming than has been traditional among farm analysts–though it is a vision of farming that many farmers themselves might endorse. He does not believe that the financial strength of a farming enterprise comes from its land holdings, its supplier deals, its machinery and capital-intensive equipment. Rather, the enterprise's strength comes from the knowledge and expertise of the farmers that work the land. It is a human-capital-centric business model that disdains land purchases and actively avoids investing in fixed capital–and instead hires the best agronomists, soil chemists, and other agricultural professionals it can find.
Los Grobo partners with 5,000 individual farmers, who own plots large and small throughout the southern half of South America. It sends its experts to help the farmers manage planting, herbicide and pesticide administration, financial transactions, sales, and all the other business details that go into a farmer's life. The company directly leases some land and produces its own crops, but the bulk of its revenue (and about half of the enterprise's considerable profits) comes from lease deals with these partners throughout South America. It leases the equipment it needs, where and when it needs it, and keeps fixed assets to an absolute minimum.
In addition, Los Grobo provides a wide range of management and consulting services to farmers, helping arrange financing, teaching best practices, etc. In fact, the company invested heavily in no-till agriculture back in the 1980s, pioneering this method of soil management and greatly increasing its profitability at the same time. The company's employees spend their time managing the company's own rented cropland, and more time out at the client farmers' properties, both helping to manage the crop production as well as training the local farmers in the Los Grobo approach.
Is every farm destined to become a Los Grobo, or managed by one? Probably not. For one thing, the company maintains its profits in part by selecting the best farmers, with the best land, where it can make good deals and handle the supply chain in an efficient and cost-effective manner. However, I was drawn to the Los Grobo story because it seems to me that Gustavo hit onto something fundamental back in 1984, when other agricultural corporations were obsessing about land prices and trying to consolidate operations into giant megafarms: It isn't the farm. It's the farmer.
For more information, visit the Grupo Los Grobo website
Posted June 21, 2012 at Alex Tiller's Blog on Agriculture and Farming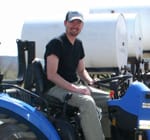 Hello, and thanks for checking out my blog.  My name is Alex Tiller and I grew up in rural Ohio (Clark County) where my family still owns farmland (corn and beans). I am a member of the American Society of Farm Managers and Rural Appraisers and am also an agribusiness author/blogger. I write about commercial farming, family farms, organic food production, sustainable agriculture, the local food movement, alternative renewable energy, hydroponics, agribusiness, farm entrepreneurship, and farm economics and farm policy. I visit lots of farms in different areas of the country (sometimes the world) that grow all kinds of different crops and share what I learn with you through this blog.? You can contact me via email by clicking here: Email Alex at
http://blog.alextiller.com/contact
Additional Resources:
'Los Grobo: Farming's Future?', a detailed study of Los Grobo's history and business model as it moved into other South American countries, written by David E. Bell and Cintra Scott of the Harvard Business School, was published on January 28, 2010 and is available as a pdf at www.losgrobo.com.ar.
Write Bell and Scott: Gustavo was convinced his company's knowledge-based network model-developed and refined in Argentina-was the future of farming throughout South America and beyond. But was it? As Los Grobo moved into Paraguay, Uruguay, and Brazil, Gustavo discovered how much local laws and culture could affect the implementation of his model. Working with local partners to gain native-grown insights, Gustavo strove to adjust "the Los Grobo way" to fit new contexts, making changes as necessary. Was the outsourcing model that had served Gustavo's family business so well really suitable beyond the borders of its native Argentina? Was it a model for the world, as Gustavo believed?
Excerpt from 'Los Grobo: Farming's Future?'
The Future's Great Challenge

"There are several concerns going forward," said Gustavo in his urban Buenos Aires office, far from the fields he grew up in. "One: Do we have the right structure in place? Two: How do we raise capital moving forward? Three: Can our network model be adapted to fit new contexts?
"Over the next 20 to 30 years, food will be really important," Gustavo continued. "We want to create the platform that can best deliver food productively. We want to attract new talent to the industry and provide new services."
Gustavo cited statistics estimating that half of the world's agricultural growth over the next 20 to 30 years would take place in South America, specifically in Mercosur. "If there's the need for 50 million more hectares of arable land, 25 million will come from Latin America and 10 million from Africa," Gustavo said. He hoped Los Grobo could leverage its Latin American expertise to launch in Africa when the time was right. If things went well in Brazil, Gustavo thought he might leverage his Portuguese-speaking talent to consider entering Mozambique and/or Angola.
Celebrating its 25th anniversary back in 2008, Gustavo had said he dreamt of being in a café in Mozambique with his wife Paula and overhearing a couple of locals wondering where the ubiquitous name Los Grobo came from. Would they ever guess it came from Argentine farmers who exported their platform for a network of knowledge-based agriculture from South America to Africa and the rest of the world? Was Gustavo's dream at all realistic?
For another, more skeptical perspective, check out the June 1, 2012 article 'Los Grobo says Brazil expansion to spur revenue,' posted at the website Food Crisis and The Global Land Grab (Governments and Corporations are Buying Farmland in Other Countries to Grow Their Own Food–Or Simply to Make Money).