Crossing Over: The Ward Singers' Willa Ward-Royster
Willa Ward-Royster, who along with sister Clara and mother Gertrude, Royster was a member of the Famous Ward Singers of Philadelphia, one of gospel music's most popular singing groups, died on August 13 at the age of 92. At the time of her passing she was living in southwest Philadelphia.
Ward-Royster suffered from Alzheimer's disease and other ailments in recent years, but until her doctor advised her to stop performing, she was still singing and playing the piano at nursing homes and the Keswick Theatre into her 80s.
The Clara Ward Singers, with Willa Ward singing lead on 'I Heard the Voice of Jesus'
Born in Philadelphia to George Ward and the former Gertrude Murphy, Willa taught herself piano and was able to hear a piece of music on the radio and sit down and play it. She dropped out of the Philadelphia High School for Girls to join the Ward family's gospel group, which flourished in the '40s and '50s after being founded in 1931 by Ward family matriarch, Gertrude. The group, which included Willa and her sister Clara, and later added another future gospel giant Marion Williams, irritated some gospel purists with its pronounced flashiness–they wore sequined gowns instead of robes, and sported wigs along with an abundance of jewelry, and traveled in Cadillacs (they later performed at Las Vegas casinos and in other secular venues). In 1950 the Ward Singers performed at Carnegie Hall with Mahalia Jackson and in ensuing years played several concerts at Radio City Music Hall. Their 1948 recording of the Rev. W. Herbert Brewster's "Surely God Is Able" is reputed to be the first gospel record to be a million-seller. They were also invited as guests on TV shows hosted by Ed Sullivan, Mike Douglas, Steve Allen, Dinah Shore and Johnny Carson.
The Ward Singers' original 1948 recording of the Rev. W. Herbert Brewster's 'Surely God Is Able,' the first million-selling gospel record, with Clara Ward taking the first lead, Marion Williams the second.
Both Willa and Clara started musical groups of their own. After suffering a pair of strokes, Clara, only 48, died in 1973; Gertrude died in 1981. Willa's last public performance was at the Kimmel Center for the Performing Arts in '09.
She is survived by her daughter, Rita Scarlett, who occasionally sang with her mother, and another daughter, Charlotte Sims; a granddaughter, Felicia Bell; and a grandson, Larry Sims Jr. Her first husband, John Moultrie, a contractor and music producer who managed her career briefly, died in 1966; she later married Harry J. Royster, who owned a variety store in Philadelphia. He died in 1983.
"She was an interesting woman," her daughter Rita Scarlett told John F. Morrison of philly.com. "She had no frown wrinkles on her face, only laugh wrinkles. Everybody loved Willa. She made people feel good."
Royster recounted the life and times of the Ward Singers in her memoir, How I Got Over (written with with Toni Rose).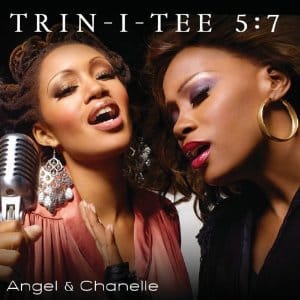 Music World, Trin-I-Tee 5:7 Call It a Day
Music World and Trin-I-Tee 5:7 have parted ways, as the duo sets out to explore new career opportunities.
"Angel and Chanelle scored their first Grammy nomination as well as a Grammy night worldwide TV performance with Music World. Their careers will always be linked to Music World. We will miss them and wish them the best of luck," said Music World CEO Mathew Knowles.
"We thank Music World and Mathew Knowles for everything they have done for us," said Trin-I-Tee 5:7's Angel Taylor and Chanelle Haynes.
"Angel and Chanelle are very excited and looking forward to exploring and pursuing new opportunities within the entertainment industry," said Christopher Brown of Brown & Rosen LLC, counsel to Trin-I-Tee 5:7.
Trin-I-Tee 5:7, 'Bring Your Praise,' from the chart topping 2011 album Angel & Channelle.
Founded in the late '90s in New Orleans as a trio comprised of Angel Taylor, Channelle Haynes and Terri Brown, and taking its name from the Biblical scripture 1 John 5:7 (which refers to the Trinity), Trin-I-Tee 5:7 became the most popular trio in gospel history, selling more than 2.5 million albums and becoming the first threesome to score a certified platinum album (T57). In 1999 Brown left the group and was replaced by Adrian Anderson. Last year Haynes and Taylor announced Anderson's departure and their decision to continue on as a duo. The Angel & Channelle album, released on May 31, 2011, made its debut atop both the Billboard Top Gospel Albums chart and the Top Christian/Gospel Albums chart. The CD also entered at #2 on Billboard's Top R&B/Hip Hop Albums chart, #5 on the Independent chart and #19 on the Billboard 200.
Marching To That Celestial Shore: Gladys Beamon Gregory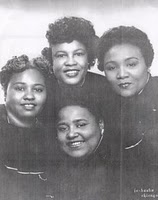 In the words of "Tell the Angels," a great gospel hymn she made her own, Gladys Beamon Gregory, member of the famed Little Lucy Smith Singers (shown here, with Ms. Gregory at left), marched "to that celestial shore" on August 12. Her passing was reported by Bob Marovich in an August 12 post on The Black Gospel Blog.
Born in Chicago in 1925, Gregory was a gospel singer's gospel singer. She was a member of the original Lucy Smith Trio from All Nations Pentecostal Church on Chicago's South Side, whose founder and pastor, Elder Lucy Smith, was the first African American minister in Chicago to broadcast her worship services over the radio.
The Lucy Smith Trio became the Little Lucy Smith Singers with Smith, Gregory, Catherine Campbell, and Sarah McKissick. Their sweet harmonies were captured on several singles for Leonard Allen's States label, including their hit, "Somebody Bigger Than You And I." They also backed Singing Sammy Lewis on one single.
Gladys Beamon Gregory, 'Tell the Angels'
Tragedy Strikes Shekinah Glory Ministry Again With Death of Andre Lester Mobley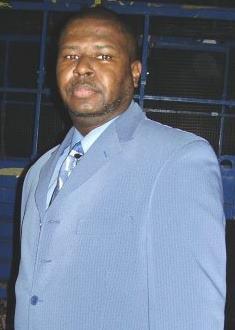 Andre Lester Mobley, 46, a founding member of the platinum selling-ensemble Shekinah Glory Ministry, passed away on August 2nd from blood clot complications. "There are heavy hearts in Shekinah Glory Ministry and the Kingdom Records family today, " says Kingdom Records president Joan Sullivan. "Another soldier gone." This tragic death follows the passing of another veteran member of the group, Pepe Epting, who died suddenly of renal failure in June. One longtime friend wrote on Facebook that Mobley was "a man of a gentle, quiet and humble spirit."
Born November 17, 1965, Mobley joined Valley Kingdom Ministries (the church home of Shekinah Glory Ministry and Kingdom Records) on April 5, 1992 when he played the organ during the 8 a.m. service. He played on three of Shekinah Glory Ministry's hit recordings, including Praise Is What I Do, Live and Jesus. (He does not appear on the group's forthcoming CD, Surrender, which will be released nationally on September 25.) Mobley's survivors include two children, Andrea and Avery.