Lyrics as instructional moments….
OUT OF THE ASHES
Yvonne Marie
More than an EP but smaller in content than an album, Out of the Ashes is the sophomore offering from independent Christian singer, songwriter and producer Yvonne Marie.
Crowned with locks of hair that tumble playfully across her brow, Yvonne Marie appreciates all styles of music and exhibits several on the album's seven tracks. Her tastes range from the rock steady "New Day" and the Latin flair of "Sing to the Lord," to the rock-infused title track. Her sweet spot appears to be CCM-flavored melodies as expressed on "Daughter of the King" and "You Are God."
Ms. Marie sings with an earthy neo-soul alto, wise but playful, and delivers lyrics like instructional moments–not surprising, since she is a teacher as well as a singer. Her lyrics about living and self-worth, particularly "The Greatest of These" and "Daughter of the King," likely speak to her experience as a mentor to girls and young women in a program called G.E.M.S. (Girls of Excellence and Magnificent Splendor). The most interesting lyric on the album, however, is the title track, where she sings about delivery from ashes (hard times) to beauty, a recurring theme on her blog.
The finest musical moment is when Ms. Marie lifts up "Nothing But the Blood" a cappella, harmonizing with herself. It's a straight-ahead reading of the gospel song–no flowers or curlicues, no church-wrecking, aisle-walking, Holy Ghost shouting–but nevertheless genuine and heartfelt.  "You Are God" and the title track have compelling melodies that mature with repeated listening.
Picks: "Nothing But the Blood," "Out of the Ashes."
Wiser and stronger…
V4…THE OTHER SIDE
J Moss
Verity Records
Like a gospel music version of The Truman Show, we have had front row seats to hear gospel artist J Moss, son of Essie and the late Bill Moss, grow up on record.
From the Bilesse single, "Great God Almighty," recorded when "Jimmy" was in elementary school, to the Moss Brothers, his solo outing on The J Moss Project, V2—a masterpiece of praise party swag—and the more contemplative Just James, J Moss's emergence as a person and artist has had its own soundtrack.
J Moss, 'Work Your Faith.' Music video produced by Eric Wheelwright and posted at YouTube channel wrightway11
V4…The Other Side finds J Moss the singer a more prominent figure than J Moss the PAJAM electronic musician. To be sure, PAJAM is ever-present on the album, though dampened on anguished ballads such as "Take Me" and "Strong Enough," on which J Moss shares his internal struggles in honest musical conversations with God. "I want to spread my wings but I worry about what other people think," he pleads on "Strong Enough," echoing what is no doubt on the mind of 99 percent of his listeners.
On "Good and Bad," one hears the sounds of cleansing water as J Moss thanks God, who "loved me through my good and my bad." The artist explained the thinking behind this song, which is also the album's current radio single: "The mindset of hopelessness that is so prevalent today was the inspiration behind this song. People think God and church no longer care. 'Jesus ain't thinkin' about me.' I got tired of reading that on Facebook and seeing it in faces of the people all around me. People just want to give up. The Lord gave me that song to give people hope in time of storm."
'Take Me,' from J. Moss's new album, V4…The Other Side
Still, I find myself drawn to J Moss's high energy pieces, which on V4…The Other Side include the opening "God's Got It," "Keep Your Head Up," "Shout," a club mix of "Good and Bad," and the album's finest cut, "The Prayers." Accompanied by Hezekiah Walker and Clark Sister Dorinda Clark-Cole, J Moss pays tribute to his Pentecostal roots with an infectiously head-bobbing, hand-clapping, light-hearted song about unselfish prayer in a selfish world.
Additional guest artists on V4…The Other Side include cousins Kierra Sheard and Karen Clark Sheard, who assist on the upbeat "Good Day;" and James Fortune, who offers his trademark spoken interjections on "You Did."
'Prayers,' a foot stomping celebration with J Moss, Hezekiah Walker and LFC, from J Moss's new album, V4…The Other Side. Posted at the YouTube channel JMOSSTV
"The Other Side of Victory" is an emotional ballad that articulates J Moss's thoughts about being on the other, perhaps more complex, side of the river of adversity. The artist explained: "We have to know how to behave as stronger, wiser, better people in Christ, and we have to thank God for getting us through."
Wiser and stronger are good adjectives to describe V4…The Other Side.
Picks: "God's Got It," The Prayers."
Only a live audience is missing…
YOU DESERVE
Chrystal Rucker
EPM Music Group
Chrystal Rucker has a gospel voice.
Not a pop or an R&B voice that sings gospel, nor a jazz or neo-soul voice in the service of the sacred. Rucker has the flatfooted commanding shout, the flowers and trills, and the gut-wrenching squalls of a stone singer. She demonstrates all of these techniques on her latest single, which also happens to be the title track of her debut CD, You Deserve.
A mainstay of the Church of God in Christ, Rucker has been off the gospel highway for the past two years, recovering from a severe stroke. She is back and her voice sounds none the worse for wear. In fact, the praise lyrics that populate the CD are likely to be heartfelt expressions of gratitude for making a way out of no way. Certainly the bluesy passages on "I Live Your Word" and "Live to Love"—another radio-ready track—come from the wellspring of her health scare.
'You Deserve,' the title track from Chrystal Rucker's new album
The saints will be familiar with Rucker's popular cover of the Hawkins' "Changed," where she sings the role of Tramaine, ad libs and all. Later, a B3-dominated "Hymn Medley" puts Rucker in front of the church, singing simple praises like gospel singers have done for decades.
Despite Rucker's church-honed artistry, her magnum opus is "You Will Be My God," one of the most beautiful anthems I've heard all year. The singer's soaring high notes and breathtaking vocal lines are nothing short of perfection.
The only thing missing from You Deserve is a live audience. I hope Chrystal Rucker's next CD is a live project so one can hear the audience interaction, which I am certain that, in her case, is significant.
Picks: "You Deserve," "Live to Love," "You Will Be My God."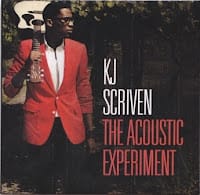 Unplugging his praise…
THE ACOUSTIC EXPERIMENT
KJ Scriven
Experiment is the key word in KJ Scriven's six-track The Acoustic Experiment. While acoustic guitar in gospel is not unheard of—it was an essential tool of quartet singing for decades—as a main instrument, it is new to contemporary gospel. I first heard an acoustic guitar used prominently in gospel ten years ago, on Israel Houghton's Real. As an acoustic player myself, it piqued my curiosity and I felt it set the right mood for Israel's musings. Although picking up traction, especially in the wake of the multicultural, multi-genre praise and worship phenomenon, the acoustic six-string is still a relative newcomer to the urban gospel scene.
The EPK for KJ Scriven's The Acoustic Experiment: 'It's a very intimate and personal project. It's almost as if it's my diary, talking to God.'
KJ Scriven, a musician's son from Fayetteville, North Carolina, is the latest young artist to unplug his praise. Gathering Kenny Oxendine and Nelson Moore, who assist on guitars/bass and drums, respectively, Scriven lifts his worship nice and easy.
"Words Of My Mouth" (Psalm 19:14) is an appropriate opening track: a prayerful, introspective mantra that paves the way for gently rhythmic tracks such as "I Will Trust." By "Without You," which closes the EP/mini-album, the volume, intensity, and electricity are potted up but the music is still delicately delivered.
'I Will Trust,' KJ Scriven, from The Acoustic Experiment
Of the six selections, "Love's Paradox" is the most interesting not only because of its head-shaking but appreciative view of God who loves His people even when they hurt Him, but also for its Edge-like layers of throbbing electric guitar and seamless interpolation of the gospel hymn, "Yes, Jesus Loves Me."
KJ Scriven is a thoughtful, earnest singer with the ideal voice (think John Legend meets Dave Matthews) for the alt-gospel ensemble he has assembled.
Picks: "Love's Paradox."
A fresh outlook on life and what it can be…
HELP SOMEONE
NU DNA
Mini Tracks Music
Since DNA is the bits and bytes that make up the human form, NU DNA means a new life.
New life, or the "new me" versus the "old me," is precisely the thematic principle behind the group NU DNA and its project, Help Someone.
The Black Gospel Blog first wrote about the Michigan-based NU DNA as "emerging artists" back in November 2004. The male trio—Marc and Larry Frye and Kelvin Keith—infuses its always-optimistic songs of encouragement and personal struggle with smooth urban R&B and moderate electronic beats. Think Commissioned or the early Winans aggregation, but with 21st century swag.
NU DNA presents a preview of its new album, Help Someone
The two-part "Hands" brackets a group of songs about the "new me"/"old me" conflict, with the ballad "Save Me Now" being the altar call, the album's emotional apex, and its most radio-friendly selection. By that point, it's doxology and "You Make Me Great," an up-tempo praiser, closes out the project.
NU DNA's fresh outlook on life and what it can be also encompasses problems in the nation and the world. The title track pleads for an end to racism, hate, war, and other things that divide humanity and keep it from attaining its own "new me."  "Failed Mission" brings the global issue to the local level; a series of vignettes about people who have made bad choices tees up the group's admonition for change.
NU DNA, 'What I Really Like, featuring Mike Winans. From the new album, Help Someone.
Mike Winans, who contributes two songs to the project, joins the team vocally on "What I Really Like." What they really like, incidentally, is that things are going to get better because God is "always here." Chip Dixson cameos on the self-titled opening track.
NU DNA sings with genuine conviction and earnestness. Both come through loud and clear on Help Somebody, released on the Chicago-based Mini Tracks Music imprint.
Picks: "Save Me Now."
Joy, peace and the presence of the Lord…
HE IS GOOD–THE LIVE EXPERIENCE
Terrell Taylor
TNT Ministries
Experience is an ideal description of singer-songwriter Terrell Taylor's music. Possessing a praise and worship sound that evokes Shekinah Glory Ministry, Taylor's song-scape is designed with the totality of the worship service in mind and best enjoyed in its entirety.
Captured live at the Assembly of God Tabernacle in Decatur, Georgia, He Is Good–The Live Experience is Taylor's sixth independent CD but his first national project. From the copyright information, it appears he wrote the songs over a period of seven years, from 2000 to 2007. In many respects, then, the album also serves as Taylor's "…and then I wrote." For example, listeners may recall one of the selections, "Fill This Place," from its appearance on Azusa Praise.
Terrell Taylor, 'In the Blood of the Lamb,' from his new album, He Is Good–The Live Experience
The first half of the album features zesty, rhythmically bracing pieces such as the title track, which transitions effortlessly into the equally bouncy "O Taste And See." Terrell, who holds two degrees in music, sings in a commanding voice, and the background vocalists are so polished they could be session singers.
By mid-album, however, the mood shifts and blood pressure drops as songs such as "In the Blood of the Lamb" and "Fill This Place" bring the church to a quiet, meditative state. The hypnotic and contemplative mood set by the melodies, repetitive lyrics, and harmonies bears comparison to the music of the French Taize community. "In the Blood" is the preamble to an altar call and includes the background vocalists' interpolation of the congregational favorite, "Nothing But the Blood."
"He Is" gets an A for being the most creative and interesting selection on the album. Framed by musical director Paul Anderson's recurrent baroque motif on piano, the melody and lyrics are just as uncomplicated as the album's other selections but the beats are polyrhythmic and the music is jazz fusion in sacred garments.
From his 2007 album, Let Us Worship–The Live Experience, Terrell Taylor performs 'His Promises Are Yes and Amen'
On "I See Nations," the album's concluding track, Terrell offers a litany of countries and cultures where worship is occurring. While lyrically a report on the global phenomenon of Christianity, "I See Nations" also pays musical tribute to the multiculturalism of praise and worship and Terrell's P&W in particular.
When asked what he wanted the listener to take away from He Is Good–The Live Experience, Taylor responded, "I want the listener to experience what we experienced the night of the recording…joy, peace, and the presence of the Lord." The album does just that.
Picks: "He Is."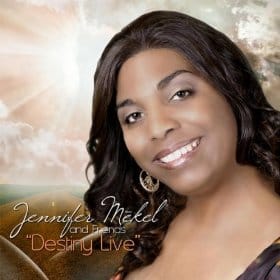 sweet spot: jazz-inflected praise songs…
'DESTINY LIVE'
Jennifer Mekel and Friends
Power of Word and Music Ministries
Jennifer Mekel duets with skilled producer H. Doobie Powell on Powell's "It Won't Work." The single is the energetic and joyful opening number for Mekel's "Destiny Live."
A singer since her toddler days, Mekel is a licensed and ordained minister whose church home is the Mount Calvary Baptist Church in Akron, Ohio, where she serves in pastoral care, worship and administration. "Destiny Live," her solo debut album, covers eight songs—-all but two written by Mekel herself—and several instrumental preludes and postludes.
Jennifer Mekel, on Atlanta Live, performs 'Psalm 34' and 'Nobody Nowhere,' from her new album 'Destiny Live'
An electrifying version of the gospel hymn "Pass Me Not" finds Mekel in a duet with Pastor Melford Elliott, a powerful traditional singer in his own right. The old-fashioned church wrecker with a dash of contemporary gospel flavoring at the end had the desired emotional effect on the live recording audience.
Despite her almost effortless singing on "Pass Me Not," Mekel's sweet spot appears to be jazz-inflected praise songs. Her strongest performances are heard on the smooth and peaceful "You Are Good," "Debt of Gratitude"—a Kurt Carr, Walter Hawkins, and Hezekiah Walker composition—and the concluding "Sometimes Speechless." "You Are Good" demonstrates just how close musically gospel and jazz are to one another (saxophonist Harold Rayford calls them first cousins).
Jennifer Mekel, on Atlanta Live, performs 'It Won't Work' from her new album, 'Destiny Live'
On his piano solo to close out "Psalm 34," Eddie Brown has the keys all but preaching to the audience. Kevin Powell's B3 prelude to "Pass Me Not" is muscular and acrobatic. In-demand guitarist Jonathan Dubose, Jr. is also present in the band.
Mekel demonstrates decent vocal range and successfully navigates all but a few of the musical passages. Sometimes she veers into uncertain territory, a casualty of the physical demands of a live performance. Also, the loping "Pass Me Not" would have worked best had it been positioned as the next to last song on the album, instead of the second, because of the energy it generated. Still, on "Destiny Live" one hears a fine female singer with the capacity to get even better with her next solo album.
Picks: "It Won't Work," "Pass Me Not."
Singing songs that glorify…
TIME TO SAY
Wincey
Winceyco Music
www.winceycomusic.com
"I'm musically inclined to sing the songs that glorify."
So croons singer-songwriter Wincey Terry-Bryant on the title track of her self-produced Time to Say, an album she began recording in 2008.
The songs, she writes on her website, were birthed out of a time of "heartbreaks and disappointments in and out of the music industry" that led to a disillusionment that sounds straight out of Emily Dickinson: "Resigning myself to accept the consolation prize that I considered to be my life." Wincey continued to follow her passion and calling and the appropriately-titled Time to Say is the result.
The musical inclination Wincey references on the title track is a mix of cool and understated melodies and lyrics, a gentle vocal delivery, and a touch of light jazz. It might just be me, but Wincey evokes the light touch of Dionne Warwick when she crooned Bacharach-David tunes to the top of the charts.
Wincey's electronic press kit
A good example of the album's simplicity is "My Prayer," an expression of gratitude that follows the singer through the day, from morning to evening prayer. The current single, "I Remember," is another easy melody and vocal. "Beautiful" is an acoustic love song to the Most High.
Wincey's most demonstrative singing is saved for "War," a rhythmically funky declaration of combat on evil through dance and singing as praise made manifest. Real brass in the form of trumpets, sax, and trombone lift the performance, while a small combo supports "Separate Me," the album's most musically interesting moment. It is also tricky lyrically, as some lines move with the unpredictability of scat singing.
Time to Say makes for a pleasant listen because of Wincey's soothing voice and the expertise of the supporting musicians.
Picks: "I Remember," "Separate Me."
in the spirit of gospel's original crooners…
DECLARATION
CD Porter
Fresh Oil Entertainment
www.CDPortermusic.com
CD Porter is a singer, songwriter, producer, musician, and Worship Director for New Life Anointed Ministries of Woodbridge, Virginia. He is also among the current bumper crop of male P&W stylists whose lineage can be traced, whether they know it or not, to gospel's original crooners: Robert Anderson and Charles Watkins.
Porter's national debut project, Declaration, showcases his pleasant tenor voice, ideally suited for P&W and evocative of Jonathan Nelson. Setting the album's tone and theme by quoting 1 Chronicles 16:24 ("Declare His glory among the nations"), Porter and his sweet-singing background vocalists lend an optimistic arrangement to "With One Sound" that, not unlike Micah Stampley's "One Voice," has an equally optimistic lyric of universal understanding.
CD Porter performs 'You Are God Alone' on Atlanta Live. Posted at YouTube by CDPorterMUSIC
"You Are My All" is notable for its complex, Take 6-style harmonies and smidgen of old school lyric content when Porter declares, "When I was sick in my body, you healed me." The song also pays indirect tribute to Richard Smallwood in its dramatic chord changes, a tribute telegraphed by Porter when he sings, "You are the center of my joy."
With its funky soul beat, "God Thing" encourages listeners to let their little light shine and share their love, because loving one another is indeed a "God thing."
Mid-project, Porter becomes dramatic and atmospheric. The intensely-sung "When I Worship" is the apex of this meditative phase. By the remix of "Nobody-Higher," Porter is back bouncing to an urban R&B beat, and gets downright electric on "So Good."
None of the songs on Declaration have an evergreen feel, but overall the album is well produced, well sung and nicely balanced.
Picks:  "When I Worship."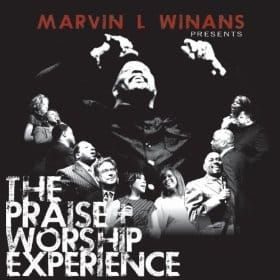 Reaping in joy…
MARVIN L. WINANS PRESENTS: THE PRAISE & WORSHIP EXPERIENCE
Pastor Marvin L. Winans
MLW Productions
Fans can follow Winans on Twitter @marvinwinans and
Facebook:/marvinwinans
"Fear not what people do, and even less what they say, for it will be okay."
Pastor Marvin L. Winans must feel as if his lyrics from "For I Have Heard Your Cry," a selection off of his new CD, The Praise & Worship Experience, are prophetic, given his recent carjacking and robbery. Hopefully, he can also appreciate other lines from the song, such as "you have so many tears, but you're gonna reap in joy."
Reaping in joy is what The Praise & Worship Experience is all about. The album was recorded live at Perfecting Church in Detroit, the church Winans co-founded in 1989. It is his first full-length CD in five years and his debut offering on MLW Productions, a company he founded and runs with his son, Marvin Winans, Jr.
Pastor Marvin L. Winans on the personal challenges of 2012
The album opens to a gentle piano accompaniment as Winans sings the prayerful "Draw Me Close." The selection transitions into "Thy Will Be Done," as the Perfecting Praise mass choir and praise-and-worship team build in intensity with the musicians. This ultimately sets the tone for ten or so mellow to mid-tempo tracks designed with the Sunday morning worship service in mind.
The CD features a sizable roster of gospel stars, such as Marvin Sapp, who wraps his trademark husky voice around the aforementioned "For I Have Heard Your Cry." Other equally robust male vocalists/preachers such as Pastor Donnie McClurkin and Bishop Paul Morton add their touches to the program. Mary Mary's buoyant vocals lift the already upbeat "That's the Love of God."
Outstanding operatic vocals on "Influence My Heart" from Jacqueline Echols and Rod Dixon (Cook, Dixon & Young) take listeners back to a time before gospel, when deliberative churches in the urban North sang anthems and oratorios on Sunday mornings, and classically-trained singers and musicians led the music department.
From The Praise and Worship Experience, Pastor Marvin L. Winans offers 'Draw Me Close'
For me, the high point of the live performance happens toward the conclusion, when an Elder Utah Smith-like fuzz guitar signals the start of a traditional hand-clapper, "The Lord Is With Me," featuring Adrian "Agee" Smith. The ensemble marches straight into revival mode or, as Pastor Winans says, to the little church of his childhood at 2135 Mack Avenue. A medley of "music from the old church" injects COGIC into the performance, and "Just Another Day," sung by Delores "Mom" Winans and Pastor Donnie McClurkin, is quintessentially flatfooted gospel. The B3 warbles as if Twinkie Clark is working the pedals.
Marvin L. Winans Presents: The Praise & Worship Experience opens with introspection and concludes with audience and artists alike reaping their joy.
Picks: "Draw Me Closer/Thy Will Be Done," "The Lord Is With Me."