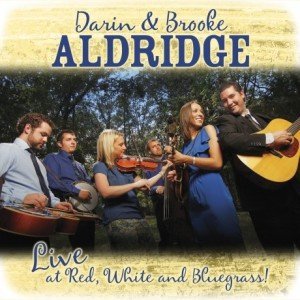 LIVE AT RED, WHITE AND BLUEGRASS
Darin and Brooke Aldridge
Crossroads/Mountain Home
Not for nothing are Darin and Brooke Aldridge called the "Sweethearts of Bluegrass." The husband-and-wife duo's mutual affection is evident in the beautiful intensity of their mountain harmonies, and on this new live album recorded at last year's Red, White and Bluegrass Festival in Morgantown, NC, you can practically feel their bond in the warmth of their between-songs patter. How much they treasure what they have in each other emerges sometimes unexpectedly, as it does in the keening, heart tugging emotion informing the yearning sentiments of the sad and lovely bluegrass ballad, "Sweetest Waste of Time." Darin's sturdy tenor stands out for the conviction he invests in every phrase and Brooke's high, ringing mountain cry, like a more rustic Sara Evans with a dash of Patty Loveless, is nothing less than a thing of beauty, but when both voices mesh the contrasting textures blend into an affecting sound with few parallels in contemporary music.
The Aldridges are the names above the title, but in no way are they the whole show. They're supported by an exemplary band populated by versatile musicians who speak multiple musical languages. Matt Love (a young newcomer to the outfit, on banjo and guitar), Collin Willis (dobro), Dwayne Anderson (bass) and Rachel Johnson Boyd (fiddle) comprise a smooth, soulful quartet (Darin and Brooke both play mandolin and Darin doubles on guitar) that impresses with its spark on the high stepping numbers–such as the uptempo bluegrass heartbreaker that opens the set (and is also the first cut on the duo's latest studio album, So Much In Between), "Lonely Ends Where Love Begins," with Love's insistent banjo, Boyd's fiery fiddle and Willis's dobro flurries fashioning striking solo statements augmenting the Aldridge's soaring, countrified harmonies–and with its sensitivity to the message in reflective moments, such as occurs on the bluegrass gospel beauty, "When He Beckons Me Home." Here the players' restraint provides a properly solemn backdrop but isn't lacking for a certain urgency that adds intensity both to Brooke's emotional lead vocal and to the close, vaulting harmonies; on another gospel number (also from the new studio album), "He's
Already There," the attack is more pointed and driving behind Brooke's richly colored lead vocal, rising majestically behind her and Rachel Boyd Johnson's piercing, high lonesome harmonizing on the chorus of a stirring salvation song. Willis gets his own turn to step out with some fancy dobro work on the lively "Foggy Mountain Rock," an infectious instrumental with enough room in it for Anderson to put the "rock" into it with his slapping bass solo and for Love and Boyd to answer Willis's challenge with their own tasty solo spots.
Darin and Brooke Aldridge perform Neil Young's 'Powderfinger' at the Doyle Lawson Bluegrass Festival, May 6, 2011, at Denton Farm Park, Denton, NC. Posted at YouTube by Ted Lehmann.
Darin and Brooke Aldridge at Music City Roots, February 1, 2012, perform 'No One Needs to Know.' This and the 'Sweetest Waste of Time' video posted at YouTube by darinbrookeFan.
Some surprises are afoot via interesting cover choices. A bluegrass treatment of "No One Needs to Know," one of Shania Twain's finest moments on record, supplants Twain's sultriness with Brooke's appealing coyness; the understated, acoustic guitar-dueled treatment of "To Know Him Is to Love Him" hews closely to the country-tinged treatment given it by the fabled Trio of Emmylou Harris, Dolly Parton and Linda Ronstadt (which may explain why Darin curiously refers to it as "an old Emmylou Harris number" rather than citing the Teddy Bears' original version) and hits the heart directly; Matt Love on banjo leads the furious romp through a sizzling bluegrass treatment of Neil Young's "Powderfinger," with its showcase moments being two heated solo tradeoffs between Love, Boyd and Willis bookending the Aldridge's fiercest vocalizing of the set. Unfolding in a deeply rural setting, the story centers on a desperate 22-year-old man whom circumstances have left alone ("daddy's gone, my brother's out hunting in the mountains, Big John's been drinking since the river too Emmy-Lou…") with his family as what appears to be an armed police boat "with a big red beacon and a flag" comes into view. Surrender is not an option–his crime is never specified–as he responds to "the first shot" by firing back, and then taking a bullet in return–"then I saw black/and my face splashed in the sky."  Smart move by the Aldridges, turning this into a bluegrass murder ballad comparable in its sudden, brutal violence to "Knoxville Girl" or just about anything by San Francisco's Earl Brothers, and the closest in mood and execution to Neil Young's pitiless original with Crazy Horse on Rust Never Sleeps. A concert staple for the Aldridges (Ted Lehman's video, above, was shot in 2011), its inclusion in a set otherwise marked largely by sweetness and light suggests a sense of daring not uncommon in traditional bluegrass, but not all that frequent either. Stay tuned–this could get interesting indeed.