Radiant, with a scent like roses…
A Boston Globe editorial of January 9 said so much: 'Her singing was as well-groomed as her appearance; the tension in her voice was between its poise and the swooning emotions underneath. She was the vocal approximation of the lead characters in the Douglas Sirk-directed melodramas that were so popular in that era. Nonetheless, most Bostonians and vacationers on Cape Cod probably have forgotten how Page's recording of the song 'Old Cape Cod' turned a beloved local summer spot into an international symbol of beauty and tranquility. The song made even 'salty air' and 'sand dunes' sound lushly romantic."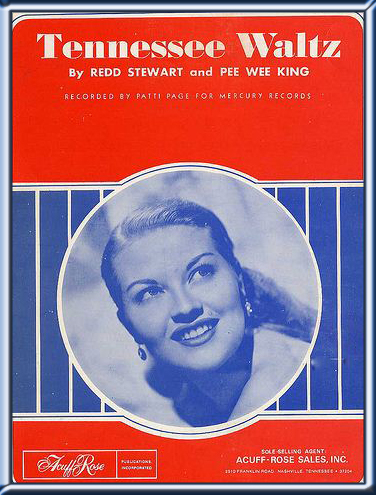 "Page," of course, is Patti Page, who died on January 1 at the Seacrest Village Retirement Community in Encinitas, California, according to her manager. She was 85 years old. To those who grew up—literally grew up—as she was becoming the best selling female artist of the '50s (this, with young Rosemary Clooney and more seasoned great singers on the order of Jo Stafford and Margaret Whiting making wonderful pop records as well), the Page voice—its "poise and the swooning emotions underneath"–was one of the era's most alluring sounds, and seemingly omnipresent. Once was a time when "How Much Is That Doggie In the Window" seemed to playing on every radio station and being performed every day on TV. Teens and adults alike were swooning, and falling in love to, "Old Cape Cod," "Allegheny Moon" ("Allegheny Moon, I need your help/to find romance tonight…"), "I'll Remember Today" ("For always and always, I'll remember today/how you held me and kissed me/in the tenderest ways…"), "Mockin' Bird Hill" and, though as a child it struck me as such a sad song, "Tennessee Waltz."
I came to know much more about Patti Page as I grew up in what was one of her home towns, Tulsa, Oklahoma. Specifically, she had started out at age 10, singing in a trio with her sisters; at 15 she dazzled her fellow students with a performance at a student assembly at Daniel Webster High School; at 18 she was a local hit as the featured vocalist on a show on Tulsa's KTUL radio, and it was there that the girl born Clara Ann Fowler, in Claremore, Oklahoma, became known as Patti Page, her professional monicker having been inspired by the local Page Milk Company being a sponsor of her KTUL show. Much later, when I was involved in music myself on a professional level—but as a journalist and historian, not as a performer (proof enough that God is sensitive to the feelings of his flock)—I learned her early Mercury recordings had been produced by another omnipresent figure from my youth, good old "Sing Along With" Mitch Miller, and moreover, that Mitch had been the first to employ a primitive technique of multiple recording to introduce Patti Page to the world as the Patti Page Quartet. (Yes, Les Paul perfected multiple recording, but Mitch beat him to the punch on record—although you could make a case for jazz great Sidney Bechet's "Sheik of Araby," a 1941 recording on which Bechet recorded himself playing six instruments, as the landmark entry in what Paul would dub Sound on Sound recording.) I heard her records on local pop stations; I heard them on the big KVOO country radio station; I ogled teens dancing to them on Channel 2's Dance Party Saturday afternoon TV show. To my young ears, Patti Page records always sounded beautiful and soulful and perfect. She released a new Christmas album in 2003, Sweet Sounds of Christmas, and though her voice had weathered a bit and was no longer the silky, evocative instrument it was on her classic 1955 Yuletide LP, Christmas With Patti Page, it did live up to its billing as being sweet.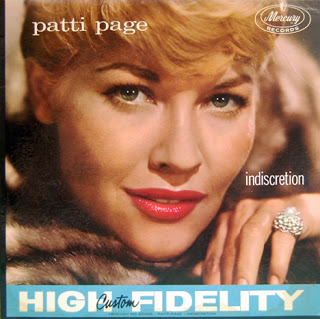 So many recorded landmarks she leaves us, with her great "Tennessee Waltz" still standing as the definitive of the many versions, some great in their own right, recorded in ensuing decades. Great as it is, though, "Tennessee Waltz" is not the Patti Page moment that has burned itself indelibly into my memory.
That moment took place in either late 1954 or early '55—all I can tell you is, it was winter in Tulsa. My family had moved from Oklahoma City to Tulsa in '54, settling first in a house right on Route 66 (or 11th Street), near Oklahoma Osteopathic Hospital, before moving about two miles directly east, to a place on Birmingham, two blocks off 11th. I remember my folks talking about "the Fowlers" who lived on the same street, on the next block. One day shortly after Christmas during the abovementioned timeframe, in a year when Santa Claus had left a complete Lone Ranger outfit for me under the tree (to which I immediately accessorized with my pink and white striped bathrobe in order to really strike fear into the hearts of bad guys everywhere by seeming to be a blend of Superman and the Lone Ranger), I wandered down the street, guns at the ready, picking off varmints and ne'er-do-wells at every turn, not really paying attention to how far I had gone in bringing justice to the neighborhood.
As it turned out, I was right in front of "the Fowlers"' house when a car pulled up and out stepped the most beautiful blonde-haired woman I had ever seen wearing the most beautiful blue dress I had ever seen. She was radiant. She smiled the most beautiful smile I had ever seen, and said, "Don't shoot! I'm a friend!"
I don't remember saying anything. I just stared. She came over and bent down to meet my eyes.
"My name's Patti. What's yours?"
I don't know if I answered.
Do you like the Lone Ranger?"
I assume I at least nodded yes, if I didn't say it.
"Are you a good guy like the Lone Ranger?"
Pretty sure I said yes to this.
"Well, I know the Lone Ranger and I'm going to tell him he has a deputy here in Tulsa who's going to keep the peace for him. Is that okay with you?"
No doubt I agreed in some fashion.
"Okay, then. You be good and mind your parents, and I'll get word to the Lone Ranger for you."
She leaned over and gave me a peck on the cheek, patted me on top of my cowboy hat, and went inside "the Fowlers"' house.
Did I mention that she smelled better than any human being I had ever encountered before?
Readers will be glad to know I have since washed the cheek upon which Patti Page planted her soft red lips ever so gently. But when I heard the news of her passing, and the strains of "Tennessee Waltz"  coming from the radio, where my love affair with her had begun, I was deputized again, and the memory of a soft kiss and a scent like roses ached in my heart.
Patti Page, after all, really left her mark on me.
Thanks to the magic of multiple recording, the Patti Page Quartet performs 'With My Eyes Wide Open I'm Dreaming.' Recorded in November 1949 and released 1950, this was Page's first million selling single, peaking at #11 on the pop charts. The song was introduced in 1934, in the movie Shoot the Works, by Jack Oakie and Dorothy Dell.
Patti Page, 'All My Love (Bolero),' a 1957 performance of her first #1 single, released in 1950
Patti Page, 'Tennessee Waltz' (1950), her second #1 single
Patti Page, 'Mockin' Bird Hill' (1951), #2
Patti Page, 'How Much Is That Doggie in the Window?" Written by Bob Merrill and released by Mercury in 1953, the single went to #1 and stayed atop the chart for eight weeks.
Patti Page, 'My Jealous Eyes' (1952), the B side of 'How Much Is That Doggie In the Window'
Patti Page, 'I Went to Your Wedding' (1952), #1
Patti Page, 'Changing Partners" (1953), #3, stayed on the charts for 21 weeks, into 1954. This 1956 live performance is from The Patti Page Show.
Patti Page, 'Old Cape Cod' (1957), #3
Patti Page, 'I'll Remember Today' (1957), #23